Multi-Body Interactions in Molecular Docking Program Devised with Key Water Molecules in Protein Binding Sites
1
School of Information Science and Engineering, East China University of Science and Technology, 130 Meilong Road, Shanghai 200237, China
2
Shanghai Key Laboratory of New Drug Design, School of Pharmacy, East China University of Science and Technology, 130 Meilong Road, Shanghai 200237, China
*
Author to whom correspondence should be addressed.
Received: 17 August 2018 / Revised: 7 September 2018 / Accepted: 7 September 2018 / Published: 11 September 2018
Abstract
Water molecules play an important role in modeling protein-ligand interactions. However, traditional molecular docking methods often ignore the impact of the water molecules by removing them without any analysis or keeping them as a static part of the proteins or the ligands. Hence, the accuracy of the docking simulations will inevitably be damaged. Here, we introduce a multi-body docking program which incorporates the fixed or the variable number of the key water molecules in protein-ligand docking simulations. The program employed NSGA II, a multi-objective optimization algorithm, to identify the binding poses of the ligand and the key water molecules for a protein. To this end, a force-field-based hydration-specific scoring function was designed to favor estimate the binding affinity considering the key water molecules. The program was evaluated in aspects of the docking accuracy, cross-docking accuracy, and screening efficiency. When the numbers of the key water molecules were treated as fixed-length optimization variables, the docking accuracy of the multi-body docking program achieved a success rate of 80.58% for the best RMSD values for the recruit of the ligands smaller than 2.0 Å. The cross-docking accuracy was investigated on the presence and absence of the key water molecules by four protein targets. The screening efficiency was assessed against those protein targets. Results indicated that the proposed multi-body docking program was with good performance compared with the other programs. On the other side, when the numbers of the key water molecules were treated as variable-length optimization variables, the program obtained comparative performance under the same three evaluation criterions. These results indicated that the multi-body docking with the variable numbers of the water molecules was also efficient. Above all, the multi-body docking program developed in this study was capable of dealing with the problem of the water molecules that explicitly participating in protein-ligand binding.
View Full-Text
►

▼

Figures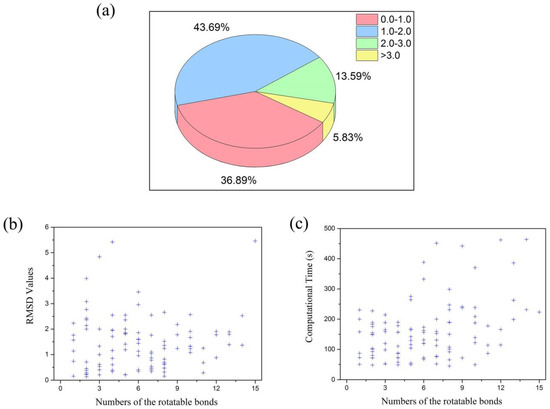 Figure 1
This is an open access article distributed under the
Creative Commons Attribution License
which permits unrestricted use, distribution, and reproduction in any medium, provided the original work is properly cited (CC BY 4.0).

Share & Cite This Article
MDPI and ACS Style
Xiao, W.; Wang, D.; Shen, Z.; Li, S.; Li, H. Multi-Body Interactions in Molecular Docking Program Devised with Key Water Molecules in Protein Binding Sites. Molecules 2018, 23, 2321.
Note that from the first issue of 2016, MDPI journals use article numbers instead of page numbers. See further details here.
Related Articles
Comments
[Return to top]