Synthesis and Antiproliferative Activity of New Cyclodiprenyl Phenols against Select Cancer Cell Lines
1
Departamento de Química, Universidad Técnica Federico Santa María, Av. Santa María 6400, Vitacura 7630000, Santiago, Chile
2
Escuela de Obstetricia y Puericultura, Facultad de medicina, Campus de la Salud, Universidad de Valparaíso, Angamos 655, Reñaca, Viña del Mar 2520000, Chile
3
Laboratorio de Microbiología Celular, Instituto de Investigación e Innovación en Salud, Facultad de Ciencias de la Salud, Universidad Central de Chile, Santiago 8320000, Chile
4
Center for Integrative Medicine and Innovative Science (CIMIS), Facultad de Medicina, Universidad Andrés Bello, Santiago 8320000, Chile
5
Centro de Investigación Australbiotech, Universidad Santo Tomás, Avda. Ejército 146, Santiago 8320000, Chile
6
Departamento De Ciencias Básicas, Campus Fernando May Universidad del Biobío, Avda. Andrés Bello s/n casilla 447, Chillán 3780000, Chile
7
Instituto de Microbiología Clínica, Facultad de Medicina, Universidad Austral de Chile, Los Laureles s/n, Isla Teja, Valdivia 5090000, Chile
8
Centro de Investigaciones Biomedicas (CIB), Facultad de Medicina, Campus de la Salud, Universidad de Valparaíso, Angamos 655, Reñaca, Viña del Mar 2520000, Chile
9
Laboratorio de Productos Naturales y Síntesis Orgánica, Departamento de Química, Facultad de Ciencias Naturales y Exactas, Universidad de Playa Ancha, Avda. Leopoldo Carvallo 270, Playa Ancha, Valparaíso 2340000, Chile
*
Authors to whom correspondence should be addressed.
Received: 2 August 2018 / Revised: 31 August 2018 / Accepted: 11 September 2018 / Published: 12 September 2018
Abstract
Six new cyclodiprenyl phenols were synthesized by direct coupling of perillyl alcohol and the appropriate phenol. Their structures were established by IR, HRMS and mainly NMR. Three human cancer cell lines—breast (MCF-7), prostate (PC-3) and colon (HT-29)—were used in antiproliferative assays, with daunorubicin and dunnione as positive controls. Results described in the article suggest that dihydroxylated compounds
2
–
4
and monohydroxylated compound
5
display selectivity against cancer cell lines, cytotoxicity, apoptosis induction, and mitochondrial membrane impairment capacity. Compound
2
was identified as the most effective of the series by displaying against all cancer cell lines a cytotoxicity close to dunnione antineoplastic agent, suggesting that the cyclodiprenyl phenols from perillyl alcohol deserve more extensive investigation of their potential medicinal applications.
View Full-Text
►

▼

Figures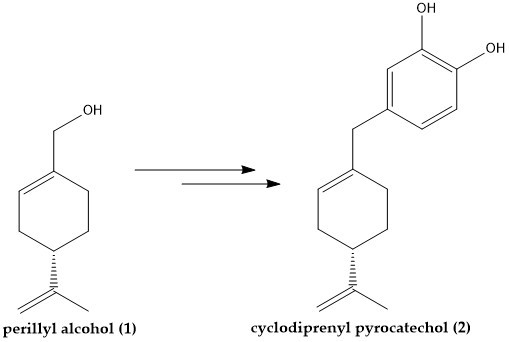 Graphical abstract
This is an open access article distributed under the
Creative Commons Attribution License
which permits unrestricted use, distribution, and reproduction in any medium, provided the original work is properly cited (CC BY 4.0).

Share & Cite This Article
MDPI and ACS Style
Said, B.; Montenegro, I.; Valenzuela, M.; Olguín, Y.; Caro, N.; Werner, E.; Godoy, P.; Villena, J.; Madrid, A. Synthesis and Antiproliferative Activity of New Cyclodiprenyl Phenols against Select Cancer Cell Lines. Molecules 2018, 23, 2323.
Note that from the first issue of 2016, MDPI journals use article numbers instead of page numbers. See further details here.
Related Articles
Comments
[Return to top]