Open Access This article is
freely available
re-usable
Article
Comparative Transcriptome Profiling Reveals Defense-Related Genes against
Meloidogyne incognita
Invasion in Tobacco
1
Department of Tobacco, College of Tobacco, Henan Agricultural University, Zhengzhou 450002, Henan, China
2
Nanyang Branch of Henan Province Tobacco Company, Nanyang 473003, Henan, China
3
Xiaogan Agricultural Technical Extension Station, Xiaogan 432000, Hubei, China
*
Author to whom correspondence should be addressed.
Received: 29 July 2018 / Accepted: 17 August 2018 / Published: 20 August 2018
Abstract
:
Root-knot nematodes
Meloidogyne incognita
are one of the most destructive pathogens, causing severe losses to tobacco productivity and quality. However, the underlying resistance mechanism of tobacco to
M. incognita
is not clear. In this study, two tobacco genotypes, K326 and Changbohuang, which are resistant and susceptible to
M. incognita
, respectively, were used for RNA-sequencing analysis. An average of 35 million clean reads were obtained. Compared with their expression levels in non-infected plants of the same genotype, 4354 and 545 differentially expressed genes (DEGs) were detected in the resistant and susceptible genotype, respectively, after
M. incognita
invasion. Overall, 291 DEGs, involved in diverse biological processes, were common between the two genotypes. Genes encoding toxic compound synthesis, cell wall modification, reactive oxygen species and the oxidative burst, salicylic acid signal transduction, and production of some other metabolites were putatively associated with tobacco resistance to
M. incognita
. In particular, the complex resistance response needed to overcome
M. incognita
invasion may be regulated by several transcription factors, such as the ethylene response factor, MYB, basic helix–loop–helix transcription factor, and indole acetic acid–leucine-resistant transcription factor. These results may aid in the identification of potential genes of resistance to
M. incognita
for tobacco cultivar improvement.
Keywords:
tobacco;
Meloidogyne incognita
; transcriptome profiling; resistance
Supplementary Materials
The following supplementary materials are available online: Table S1: Validated list of gene primers used for quantitative real-time PCR and Table S2: Kyoto Encyclopedia of Genes and Genomes enriched pathways.
Author Contributions
T.Y. conceived and designed the experiments; X.L. wrote the paper and analyzed the data; and the rest of the authors contributed to the implementation of this study.
Funding
This study was supported by the Natural Science Foundation of Henan Province (grant number 162300410144).
Acknowledgments
The authors thank the support from Tobacco Breeding Laboratory. We also thank Yang Tiezhao for his guidance in determining.
Conflicts of Interest
The authors declare no conflict of interest.
Sample Availability: Samples of the compounds RC, RI, SC and SI are available from the authors.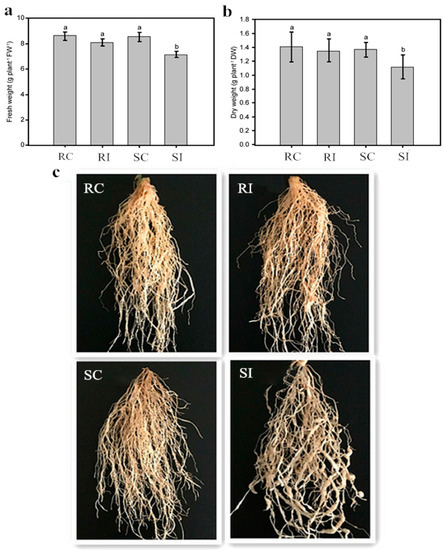 Figure 1. Phenotypic traits of K326 and Changbohuang. (a) Fresh weight. (b) Dry weight. (c) Symptoms of nematode infection. Notes: Means followed by the small letters are significantly different at 0.05 levels, respectively.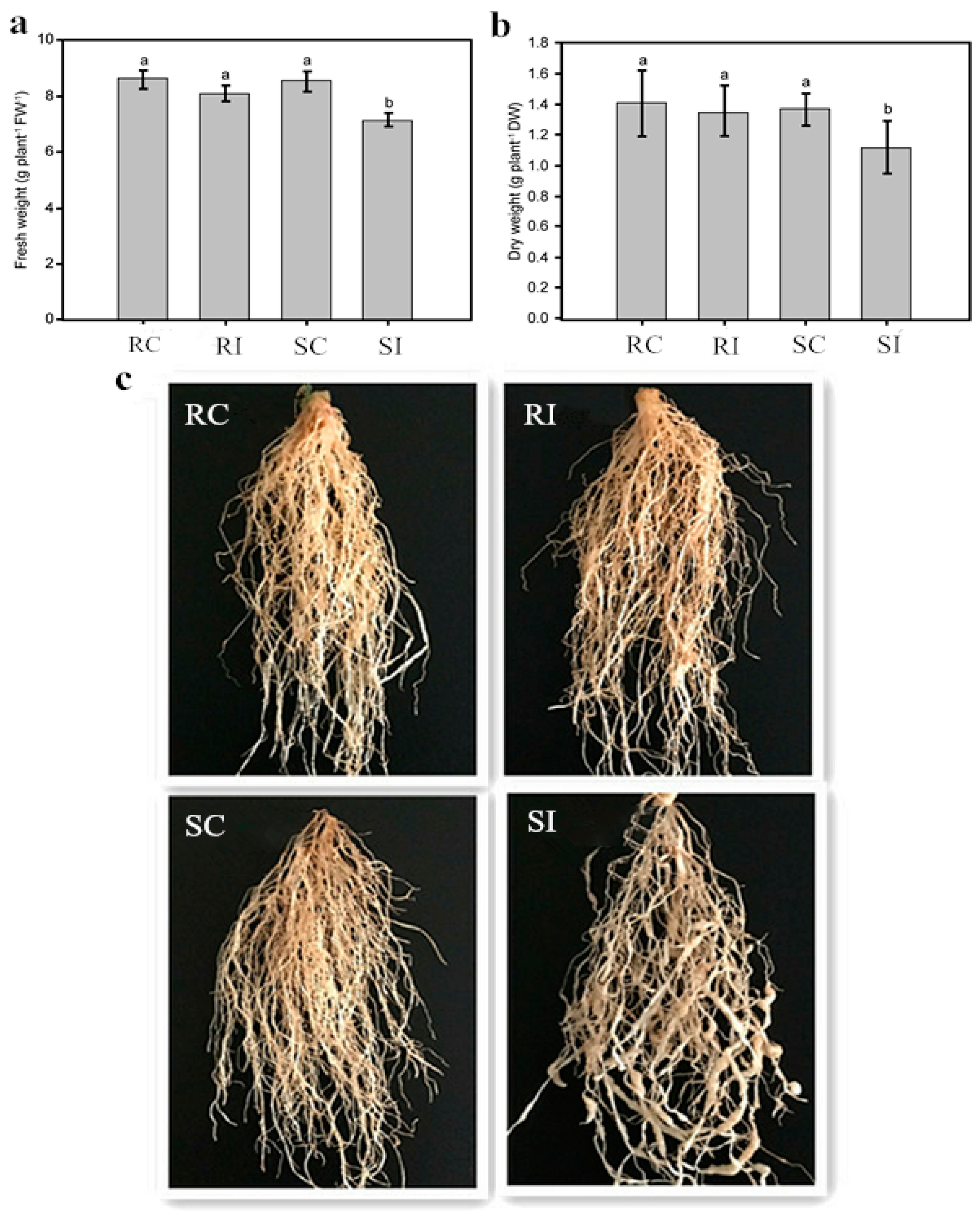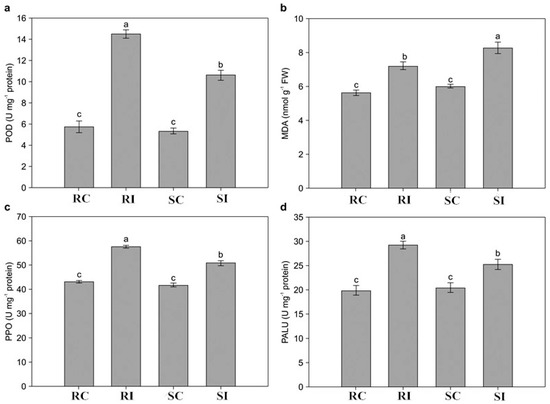 Figure 2.
Changes in physiological parameters in the resistant (R) and susceptible (S) genotype in response to
Meloidogyne incognita
infection. Three independent experimental replicates were analyzed for each sample, and the data are presented as the mean ± SE (
n
= 3). Different lowercase letters represent significant differences (
p
< 0.05). POD = peroxidase; PPO = polyphenol oxidase; PAL = phenylalanine ammonialyase; MDA = malondialdehyde.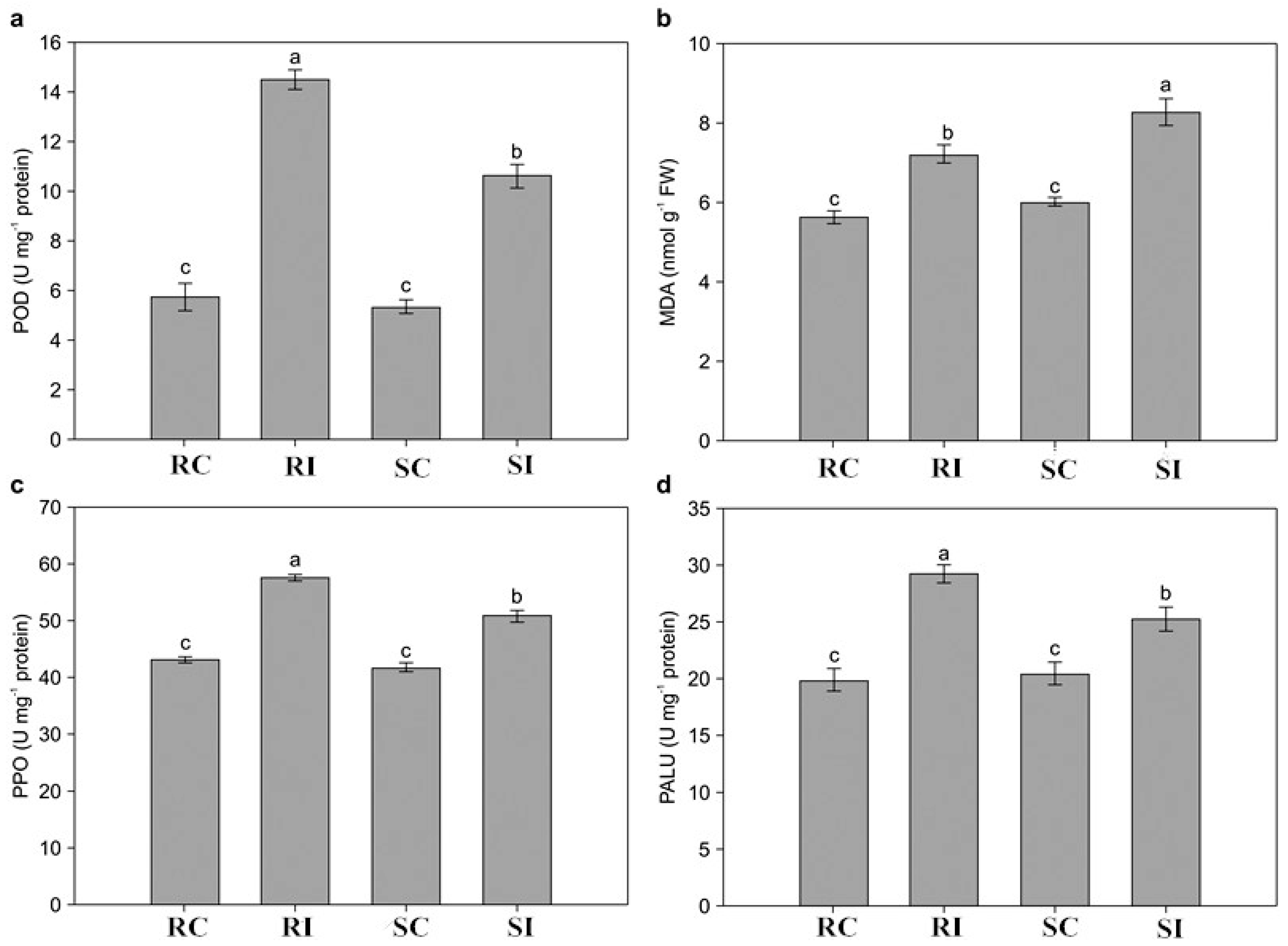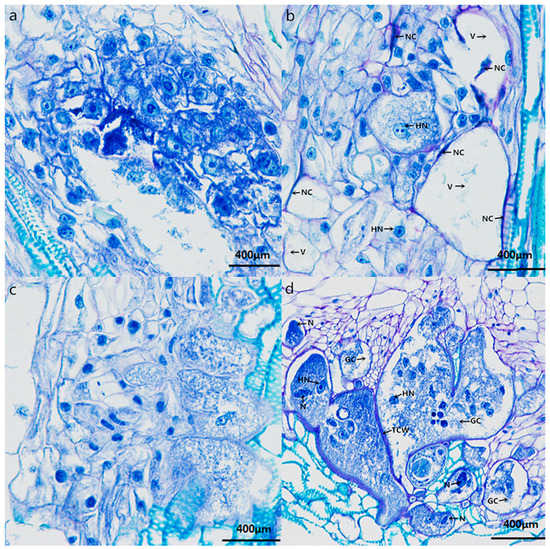 Figure 3. Histopathological observation between resistant and susceptible tobacco cultivars inoculated with nematodes. (a,b) are RC and RI root sections. (c,d) are SC and SI root sections. GC, giant cell; N, nematode; NC, necrosis cell; V, vacuole; HN, hypertrophied nucleus; TCW, thickened cell wall.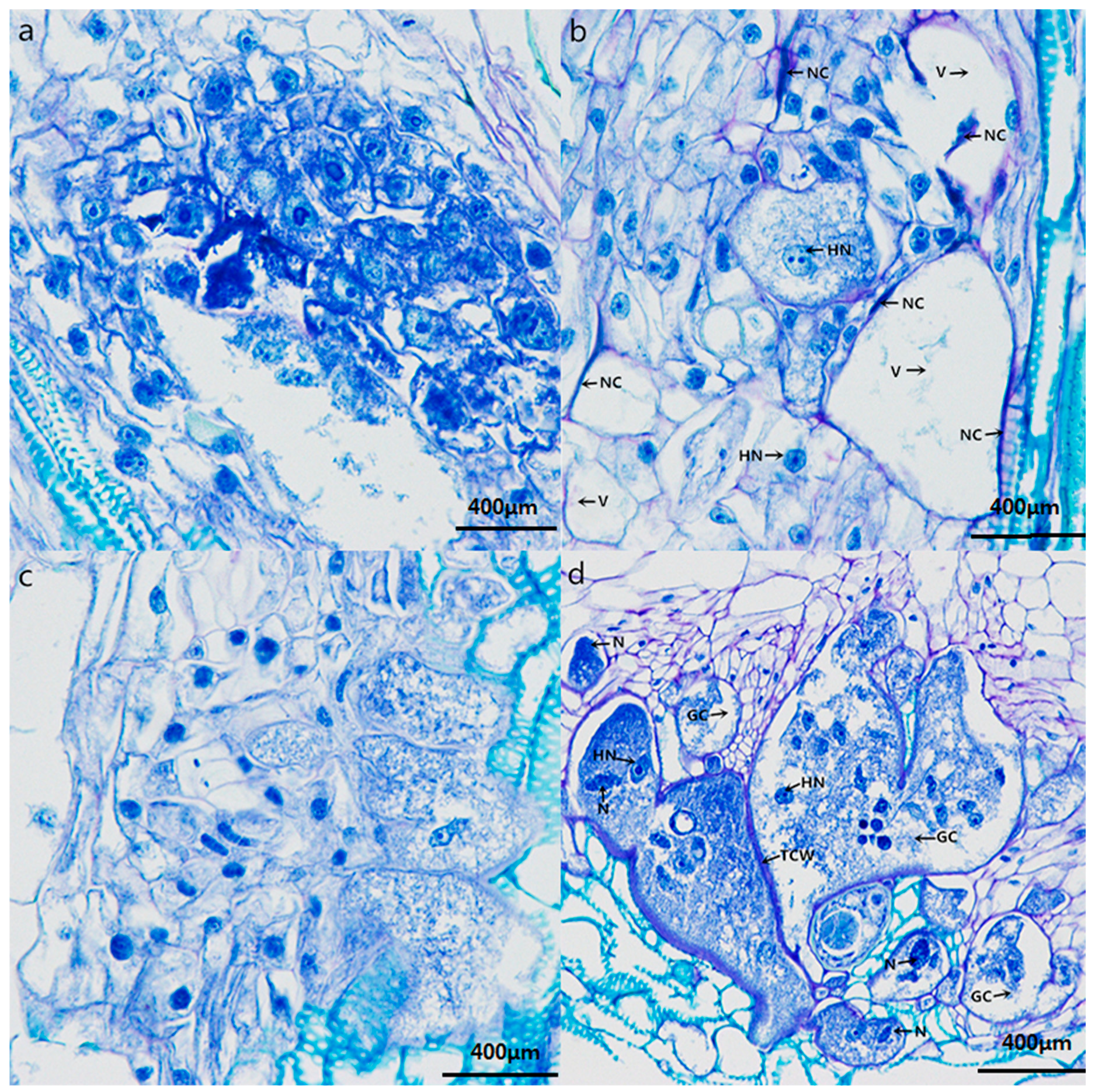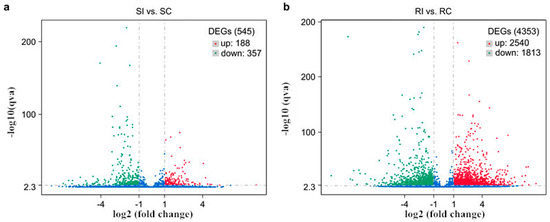 Figure 4. Volcano plots of differential gene expression. The log2 (inoculated/non-inoculated) indicates the expression level for each gene. Green dots represent downregulated genes, and red dots represent upregulated ones. Blue dots represent genes that showed no differential expression. (a) Susceptible genotype, inoculated vs. non-inoculated (SI vs. SC). (b) Resistant genotype, inoculated vs. non-inoculated (RI vs. RC).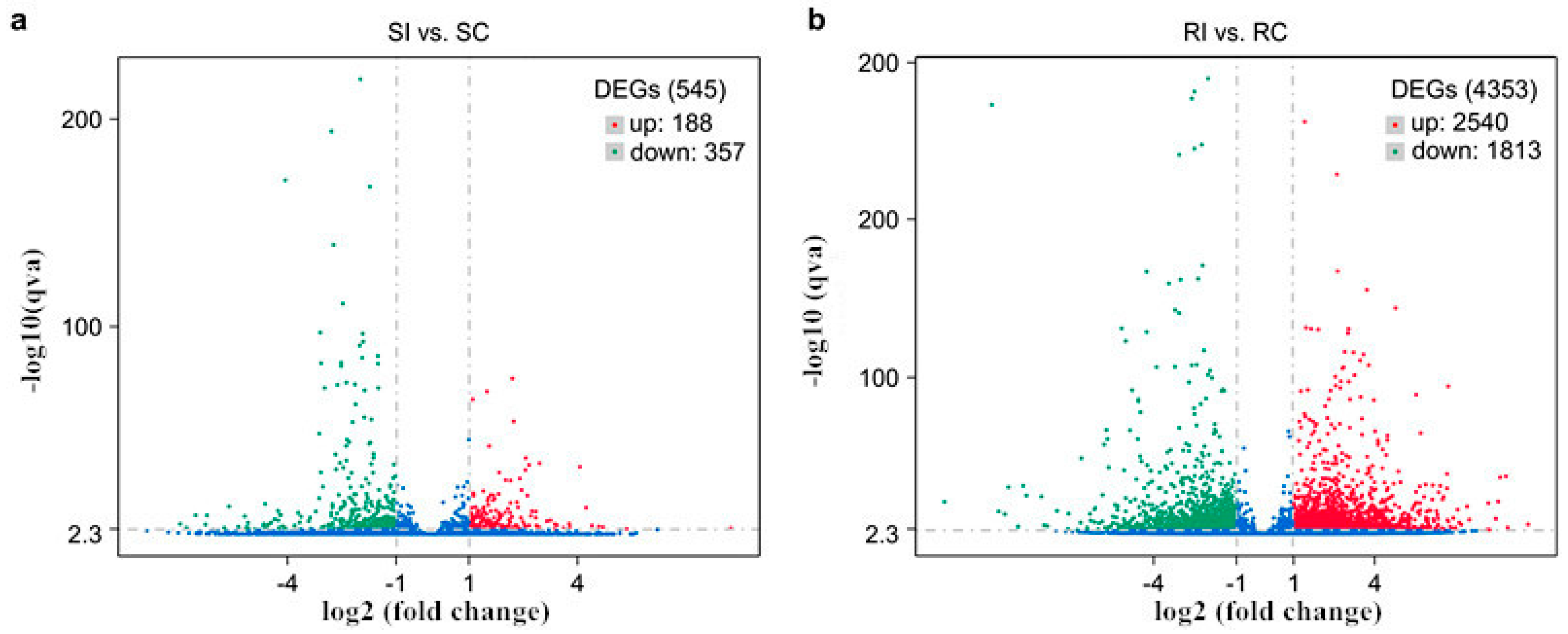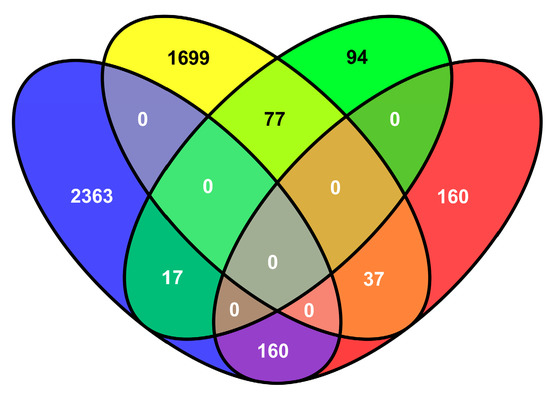 Figure 5. Venn diagram of differential gene expression. Blue and yellow ovals represent upregulated and downregulated differentially expressed genes (DEGs) in the resistant genotype, respectively. Green and red ovals represent upregulated and downregulated DEGs in the susceptible genotype, respectively.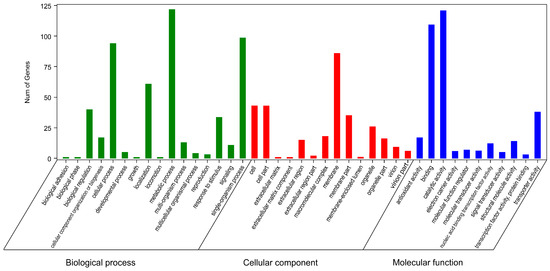 Figure 6. Gene ontology analysis revealed significant enrichment of the 291 common differentially expressed genes in certain categories.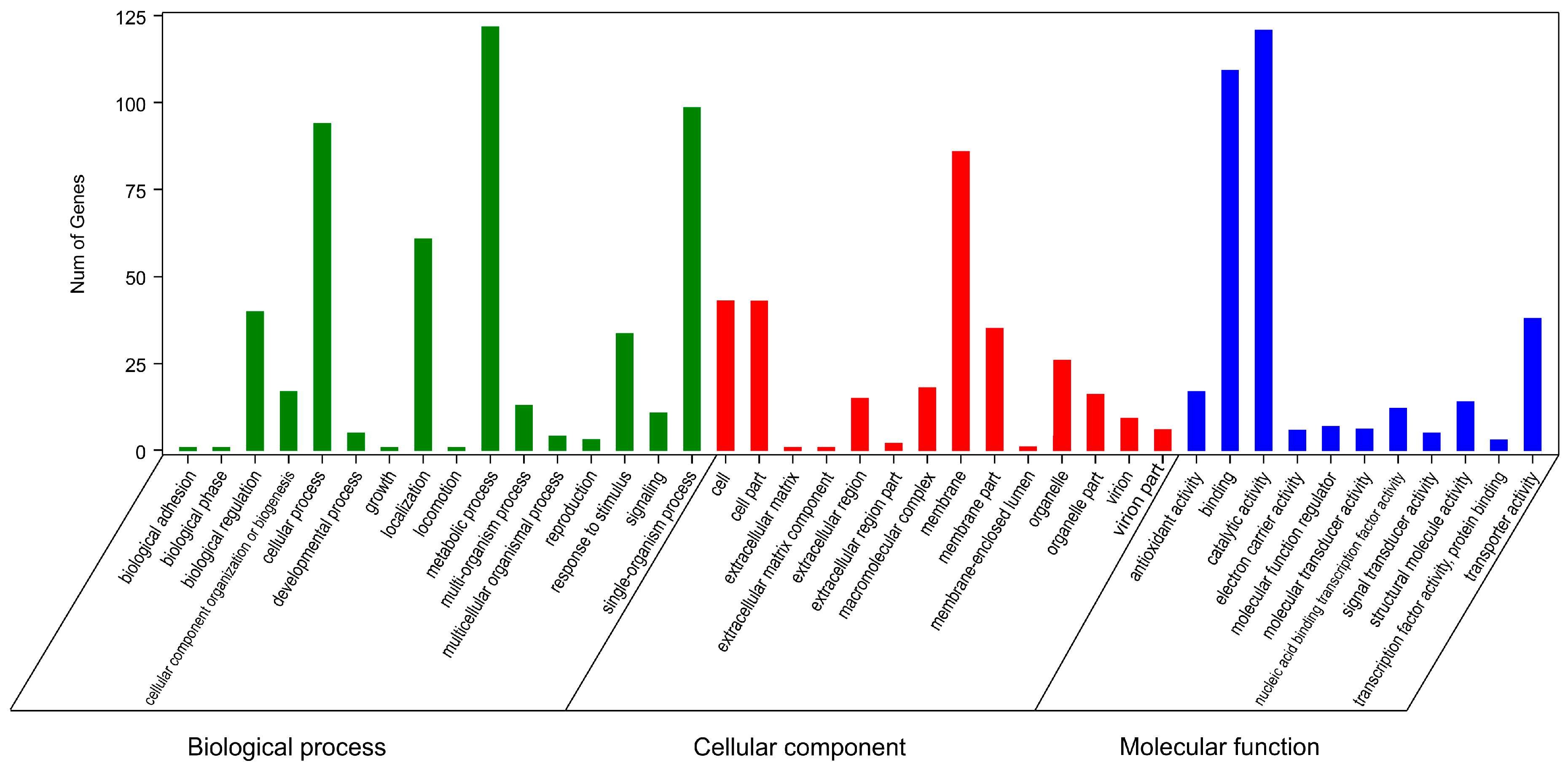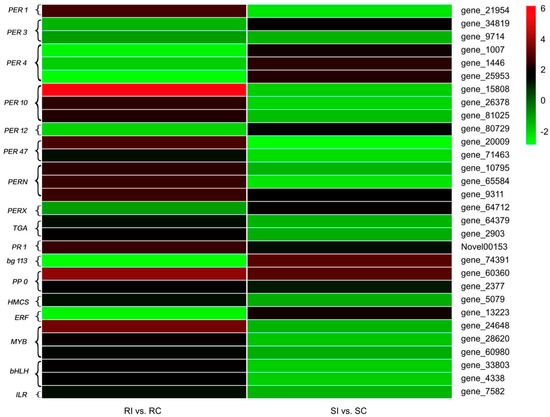 Figure 7.
Comparison of the resistance-related genes expressed in the resistant (R) and susceptible (S) genotype in response to
Meloidogyne incognita
infection using heatmaps. The colored bars represent the log
2
fold change in the RI vs. RC and SI vs. SC libraries.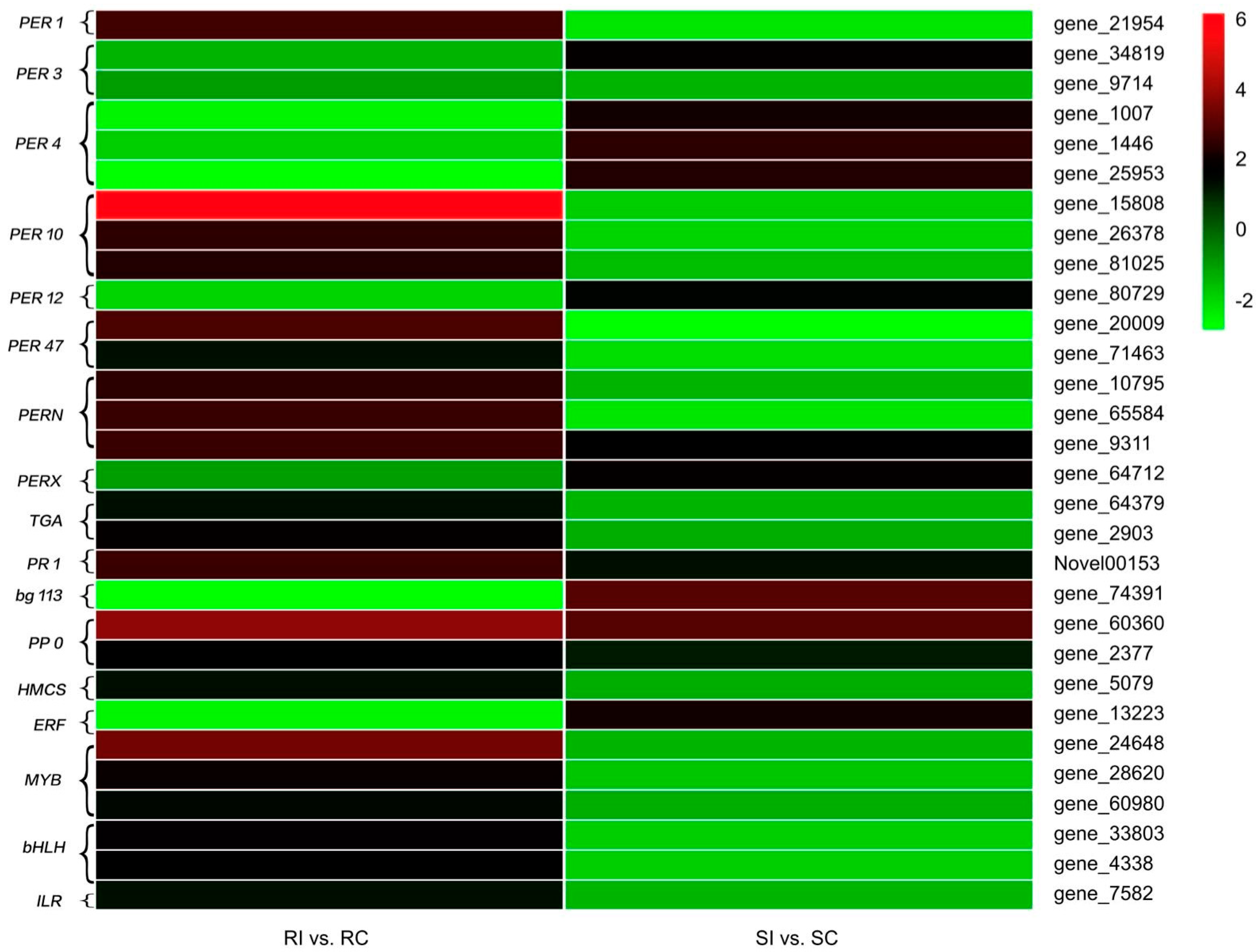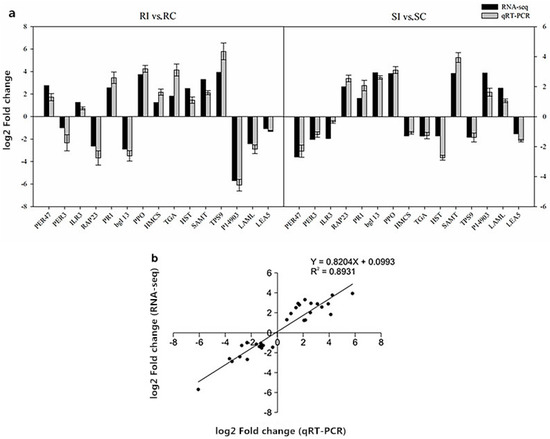 Figure 8.
(
a
) Quantitative real-time polymerase chain reaction (qRT-PCR) validation of selected differentially expressed genes. (
b
) The RNA-Seq data (X-axis) were plotted against the qRT-PCR data (Y-axis). The function of the regression line and the
R
2
value are shown.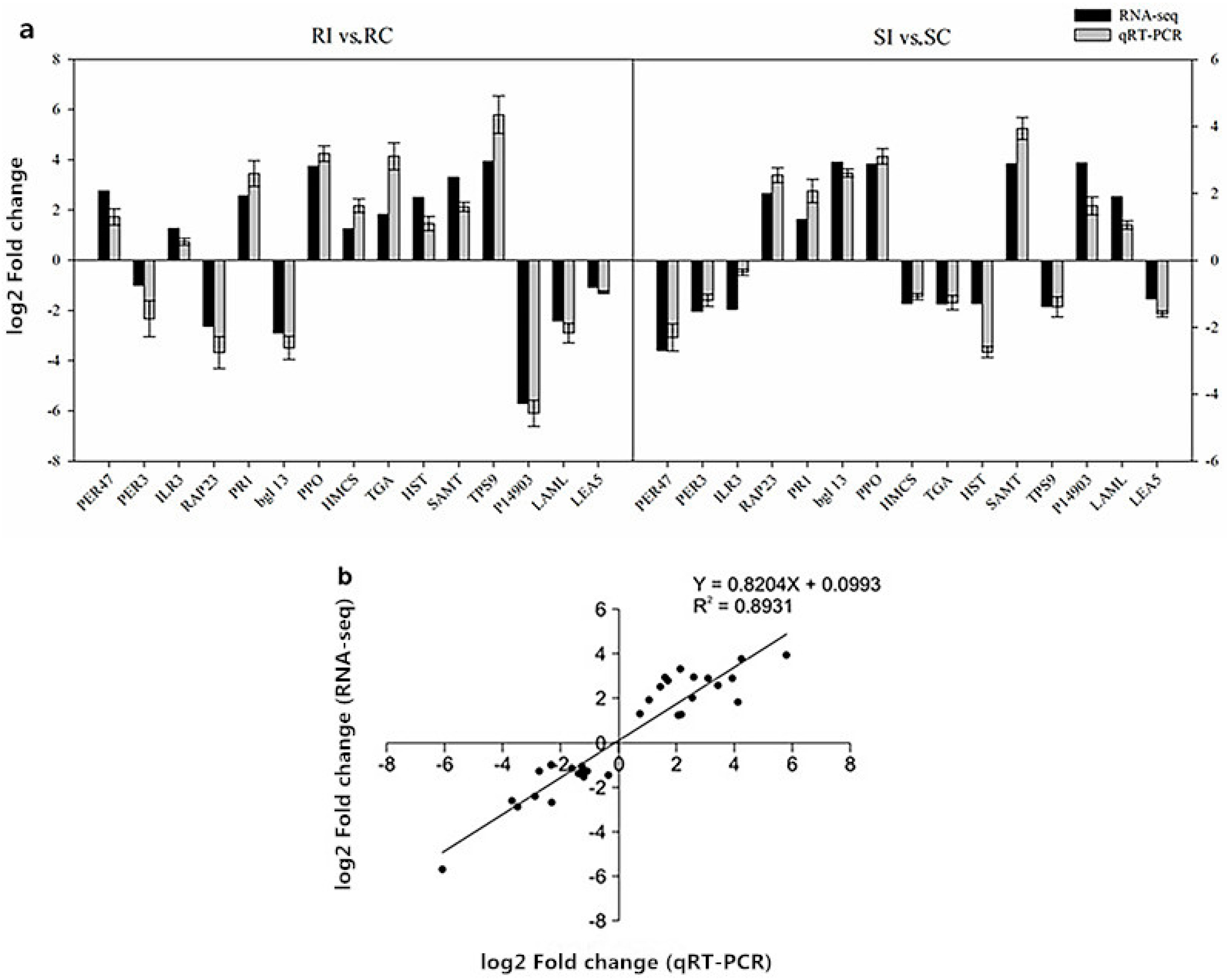 Table 1. Statistical analysis of transcriptome data in the resistant (R) and susceptible (S) genotype.
| Treatment | Raw Reads | Clean Reads | Total Mapped Reads (%) | Reads Mapped to Multiple Locations (%) | Uniquely Mapped Reads (%) |
| --- | --- | --- | --- | --- | --- |
| RC | 56,013,982 | 53,593,540 | 45,054,720 (84.07%) | 732,943 (1.37%) | 44,321,777 (82.7%) |
| RI | 46,922,130 | 45,634,502 | 37,457,092 (82.08%) | 676,444 (1.48%) | 36,780,648 (80.6%) |
| SC | 44,485,484 | 43,237,234 | 35,906,665 (83.05%) | 654,003 (1.51%) | 35,252,662 (81.53%) |
| SI | 47,795,944 | 46,339,310 | 38,154,998 (82.34%) | 701,137 (1.51%) | 37,453,861 (80.83%) |
| Average | 48,804,385 | 47,201,146 | 39,143,369 (82.89%) | 691,132 (1.47%) | 38,627,522 (81.42%) |

© 2018 by the authors. Licensee MDPI, Basel, Switzerland. This article is an open access article distributed under the terms and conditions of the Creative Commons Attribution (CC BY) license (http://creativecommons.org/licenses/by/4.0/).