Synthesis of a Novel Fluorescent Ruthenium Complex with an Appended Ac4GlcNAc Moiety by Click Reaction
1
Beijing Area Major Laboratory of Peptide and Small Molecular Drugs, Engineering Research Center of Endogenous Prophylactic of Ministry of Education of China, School of Pharmaceutical Sciences, Capital Medical University, Beijing 100069, China
2
Key Laboratory of Systems Biomedicine (Ministry of Education) and Collaborative Innovation Center of Systems Biomedicine, Shanghai Center for Systems Biomedicine (SCSB), Shanghai Jiao Tong University, 800 Dongchuan Road, Shanghai 200240, China
*
Author to whom correspondence should be addressed.
Received: 9 June 2018 / Revised: 1 July 2018 / Accepted: 2 July 2018 / Published: 6 July 2018
Abstract
The
O
-linked β-
N
-acetylglucosamine (
O
-GlcNAc) modification is an abundant post-translational modification in eukaryotic cells, which plays a fundamental role in the activity of many cells and is associated with pathologies like type II diabetes, Alzheimer's disease or some cancers. However, the precise connexion between
O
-GlcNAc-modified proteins and their function in cells is largely undefined for most cases. Confocal microscopy is a powerful and effective tool for in-cell elucidation of the function of biological molecules. Chemical labeling of non-ultraviolet or non-fluorescent carbohydrates with fluorescent tag is an essential step that makes intra-cellular microscopic inspection possible. Here we report a strategy based on the 1,3-dipolar cycloaddition, called click chemistry, between unnatural
N
-acetylglucosamine (GlcNAc) analogues Ac
4
GlcNAc (substituted with an azido group) and the corresponding fluorescent tag Ru(bpy)
2
(Phen-alkyne)Cl
2
(
4
) to synthesize the fluorescent dye Ru(bpy)
2
(Phen-Ac
4
GlcNAc)Cl
2
(
5
) under mild and neutral reaction conditions. Moreover,
5
showed good stability, desirable fluorescence characteristics, and exhibited rather low levels of cytotoxicity against sensitive MCF-7 cells. Additionally, we have achieved successful fluorescent imaging of
5
transported in living MCF-7 cells. Cell images displayed that proteins are potentially labelled with
5
in the cytoplasm.
View Full-Text
►

▼

Figures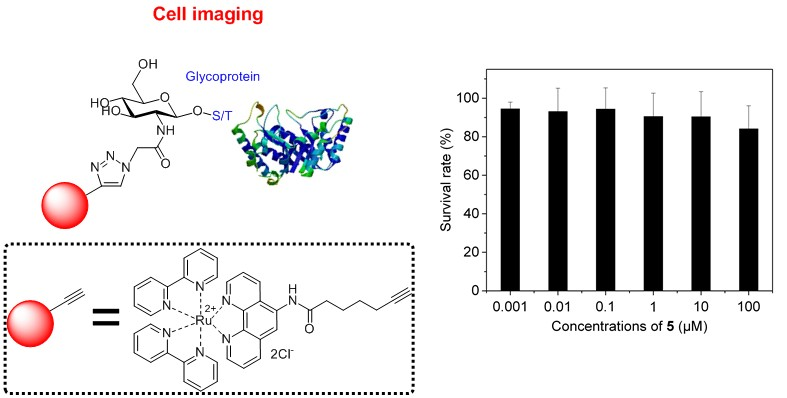 Graphical abstract
This is an open access article distributed under the
Creative Commons Attribution License
which permits unrestricted use, distribution, and reproduction in any medium, provided the original work is properly cited (CC BY 4.0).

Share & Cite This Article
MDPI and ACS Style
Cheng, Q.; Cui, Y.; Xiao, N.; Lu, J.; Fang, C.-J. Synthesis of a Novel Fluorescent Ruthenium Complex with an Appended Ac4GlcNAc Moiety by Click Reaction. Molecules 2018, 23, 1649.
Note that from the first issue of 2016, MDPI journals use article numbers instead of page numbers. See further details here.
Related Articles
Comments
[Return to top]