Aflatoxins and
A. flavus

Reduction in Loaf Bread through the Use of Natural Ingredients

1

Laboratory of Food Chemistry and Toxicology, Faculty of Pharmacy, University of Valencia, Av. Vicent Andrés Estellés s/n, 46100 Burjassot, Spain

2

School of AgriculturalSciences and Veterinary Medicine, PontifíciaUniversidade Católica do Paraná, BR 376 Km 14, 83010-500 São José dos Pinhais, Brazil

†

These authors contributed equally to this work.

*

Author to whom correspondence should be addressed.

Received: 6 June 2018 / Revised: 28 June 2018 / Accepted: 3 July 2018 / Published: 4 July 2018
Abstract
In this study, the antifungal activity of yellow mustard (YMF) and oriental mustard (OMF) meal extracts against 14 strains of fungi was tested on a solid medium. The results obtained with the YMF were next confirmed in liquid medium determining the minimum inhibitory concentration (MIC) and the minimum fungicide concentration (MFC). Finally, the use of YMF as a natural preservative to extend the useful life of bread was evaluated. Breads with different concentrations of YMF (2, 4, 6 and 8 g/kg) were prepared and contaminated with
Aspergillus flavus
ISPA 8111 and
Penicillium nordicum
CECT 2320. For 10 days the formation of mycelium was observed, and after that the fungal growth and the mycotoxins production was determined. The results obtained with the YMF were compared with breads treated with the commercial additive sodium propionate (E-281). The results showed a significant reduction of the fungal population using 6 g/kg and 8 g/kg of YMF in bread contaminated with
A. flavus
and with
P. nordicum
and an extensions of the breads shelf life of 7 and 5 days, respectively, in comparison with the control experiment. A reduction of 78% of AFB
1
was observed using 6 g/kg of YMF while no AFB
1
production was detected employing 8 g/kg of YMF in bread preparation.
View Full-Text
►

▼

Figures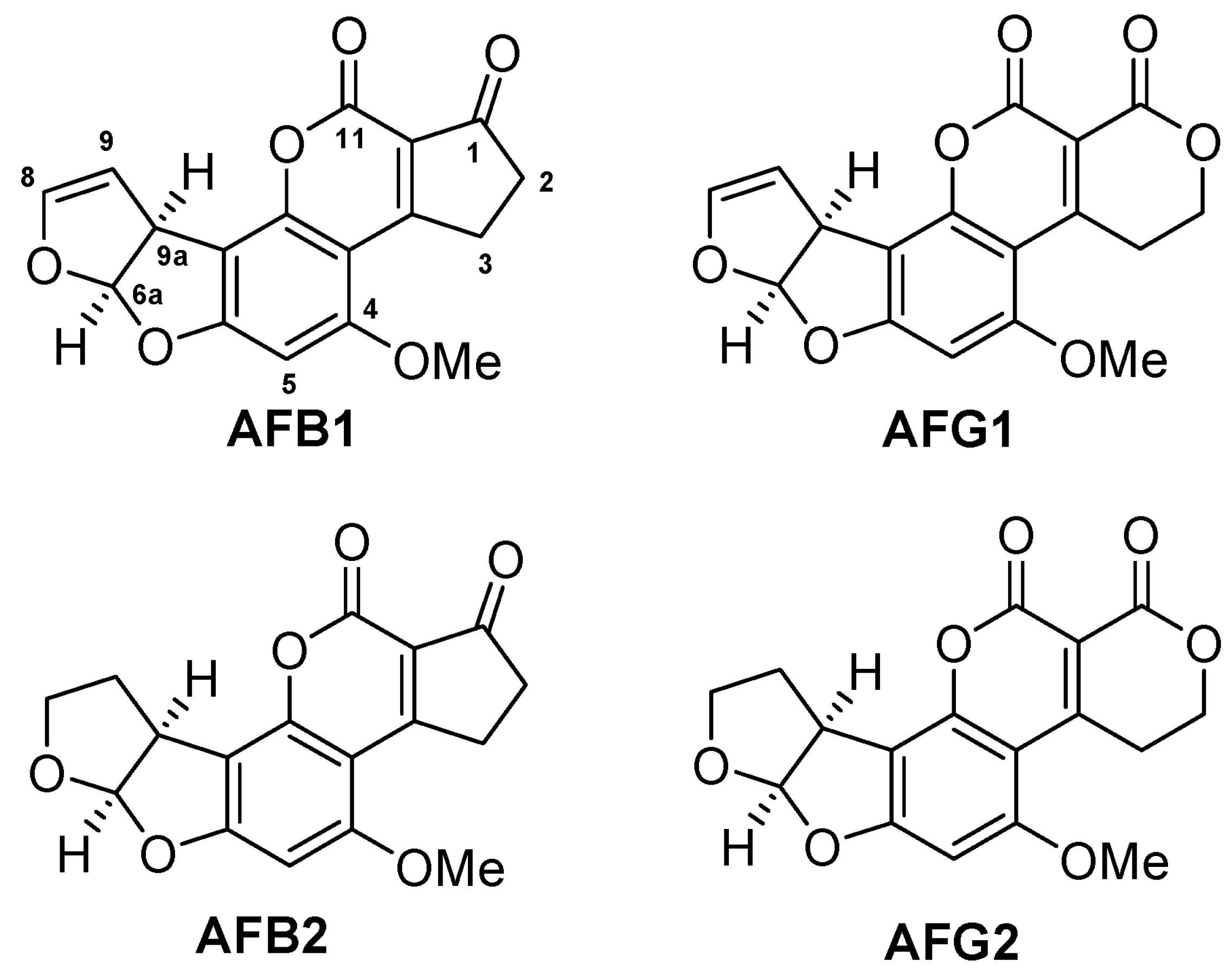 Figure 1
This is an open access article distributed under the
Creative Commons Attribution License
which permits unrestricted use, distribution, and reproduction in any medium, provided the original work is properly cited (CC BY 4.0).

Share & Cite This Article
MDPI and ACS Style
Quiles, J.M.; Torrijos, R.; Luciano, F.B.; Mañes, J.; Meca, G. Aflatoxins and A. flavus Reduction in Loaf Bread through the Use of Natural Ingredients. Molecules 2018, 23, 1638.
Note that from the first issue of 2016, MDPI journals use article numbers instead of page numbers. See further details here.
Related Articles
Comments
[Return to top]