Open Access This article is
freely available
re-usable
Article
Coumarin Content, Morphological Variation, and Molecular Phylogenetics of
Melilotus
1
State Key Laboratory of Grassland Agro-Ecosystems, Key Laboratory of Grassland Livestock Industry Innovation, Ministry of Agriculture, College of Pastoral Agriculture Science and Technology, Lanzhou University, Lanzhou 730020, China
2
Agricultural Technology Extension and Training Center, Agricultural and Animal Husbandry of Zhongwei, Zhongwei 755000, China
3
AgResearch Ltd., Grasslands Research Center, Palmerston North 11008, New Zealand
4
PGG Wrightson Seeds, P.O. Box 175, Lincoln, Christchurch 7640, New Zealand
*
Author to whom correspondence should be addressed.
Received: 8 December 2017 / Accepted: 28 March 2018 / Published: 2 April 2018
Abstract
:
Melilotus albus
and
Melilotus officinalis
are widely used in forage production and herbal medicine due to the biological activity of their coumarins, which have many biological and pharmacological activities, including anti-HIV and anti-tumor effects. To comprehensively evaluate
M. albus
and
M. officinalis
coumarin content (Cou), morphological variation, and molecular phylogeny, we examined the Cou, five morphological traits and the molecular characterization based on the
trn
L-F spacer and internal transcribed spacer (ITS) regions of 93 accessions. Significant (
p
< 0.05) variation was observed in the Cou and all five morphological traits in both species. Analysis of population differentiation (Pst) of the phenotypic traits showed that powdery mildew resistance (PMR) had the greatest Pst, meaning that this trait demonstrated the largest genetic differentiation among the accessions. The Pst values of dry matter yield (DMY) and Cou were relatively high. Biplot analysis identified accessions with higher DMY and higher and lower Cou. Analysis of molecular sequence variation identified seven haplotypes of the
trn
L-F spacer and 13 haplotypes of the ITS region. Based on haplotype and sequence analyses, the genetic variation of
M. officinalis
was higher than that of
M. albus.
Additionally, ITS sequence analysis showed that the variation among accessions was larger than that among species across three geographical areas: Asia, Europe, and North America. Similarly, variation among accessions for both the
trn
L-F and ITS sequences were larger than the differences between the geographical areas. Our results indicate that there has been considerable gene flow between the two
Melilotus
species. Our characterization of Cou and the morphological and genetic variations of these two
Melilotus
species may provide useful insights into germplasm improvement to enhance DMY and Cou.
Keywords:
chloroplast sequence; coumarin;
Melilotus
; morphological trait; molecular phylogenetics; nuclear ITS
1. Introduction
Coumarins, a class of structurally unique and important natural compounds, exist in many plant species in Nature [
1
,
2
,
3
] and present potential medicinal value [
4
]. Many medicines containing coumarin-based compounds such as warfarin and phenprocoumon are often not specifically linked to coumarin in medical papers [
5
], and instead, are usually described as having anticoagulant properties or interacting with drugs with anticoagulant properties [
4
]. The coumarin-derivative prehispanolone from Chinese motherwort (
Leonurus cardiaca
) reduces fibrinogen and blood viscosity and inhibits platelet aggregation [
6
]. These functions make coumarins important medicinal compounds. Coumarin is a plant secondary metabolite in
Melilotus
[
7
], and its content varies significantly among different
Melilotus
species, with mean contents ranging from 0.06 to 0.753% of dry matter [
8
].
Melilotus
belongs to the family Leguminosae, in the subfamily Papilionoideae, of the clover tribe (Tribus Trifolieae Bronn) [
9
].
Melilotus
, commonly referred to as wild alfalfa, consists of 19 species that originated in Eurasia [
10
]. In China,
Melilotus
is mainly distributed in Liaoning, Shanxi, Gansu and Inner Mongolia [
11
]. This plant demonstrates good drought, cold and salt tolerance and is used as pharmaceutical material, fodder, green manure, and a soil conservation crop [
12
]. The most widely-cultivated species,
M. albus
and
M. officinalis
(
Figure S1
), are primarily used as fodder but also as medicinal plants [
13
]. The morphology of the two species is very and classification is largely based on flower color:
M. albus
has white flowers, and
M. officinalis
has yellow flowers [
14
].
Melilotus
contains various chemical components such as coumarin [
15
], which possesses high medicinal value, but reliable and accurate methods for differentiating
M. albus
and
M. officinalis
during the vegetative stage are not available.
M. albus
is generally cross-fertile with a low degree of self-fertility in both the annual and biennial types.
Genetic variation in germplasm is the foundation of successful plant breeding, and wild germplasm is a valuable source of new alleles associated with desirable characteristics, such as higher yield, higher or lower coumarin content (Cou), and resistance to pests and diseases. It is essential that plant genetic resources are properly conserved and characterized. There are many examples of the successful use of native or exotic germplasm in plant breeding. To facilitate the use of germplasm resources, basic information on germplasm must be obtained. DNA sequences represent sources of information for biological systematics [
16
]. DNA sequences are often used to infer phylogenetic trees, which permit visualization of the diversity and relationships in different populations [
17
,
18
]. The chloroplast
trn
L-F DNA spacer has higher variability than many other regions in the plant genome [
19
], and the nuclear ribosomal internal transcribed spacer (ITS) region has alternating gene and spacer regions and tandem repeat structures [
20
,
21
,
22
,
23
]. A combined cpDNA and ITS approach has been successfully used to analyze systematics in various plants [
24
,
25
,
26
,
27
]. Sequences of matK,
trn
L-F and ITS were used to evaluate the relationships in Orchidaceae [
28
,
29
,
30
]. Phylogenetic analysis of the Lamiaceae based on sequences of the
trn
L intron,
trn
L-F intergenic spacer, and rps16 intron revealed that Lamioideae was divided into nine tribes [
31
]. A study combining molecular and morphological data found that
Eremospatha
,
Laccosperma
, and
Oncocalamus
(Palmae) constitute a monophyletic group [
32
,
33
]. These three genera share certain morphological characteristics (such as rachis and inflorescences) [
34
] and possess distinctive traits (including reproductive systems) [
32
]. Our previous analysis using a chloroplast gene showed that 18 species of the genus
Melilotus
formed a monophyletic clade [
35
]. Analysis of the genetic diversity and population structure using SSR markers in accessions of the genus
Melilotus
revealed substantial variation among the 18 species and among or within populations [
36
,
37
]. Despite the importance of
M. albus
and
M. officinalis
as crops in Eurasia, Africa, and North America, there is a lack of information regarding Cou, genetic variation, and systematics of these plant species. In the present work, a total of 93 accessions, including 42 accessions of
M. albus
and 51 accessions of
M. officinalis
, were collected. To evaluate potential genetic variation and to screen for high dry matter yield (DMY) and higher/lower Cou for future
Melilotus
breeding, we conducted coumarin analysis, morphological evaluation based on five traits and molecular characterization based on the
trn
L-F spacer and ITS region.
4. Materials and Methods
4.1. Germplasm
A total of 93 accessions were evaluated in this study, comprising 42 accessions of
M. albus
and 51 accessions of
M. officinali
s (
Table S3
). All seeds of accessions were obtained from the National Plant Germplasm System (NPGS, USA). In addition to the germplasm accessions, two cultivars (LX03,
M. officinalis
and LX05,
M. albus
) obtained from the local seed industry (Tongwei Longzhong Forage Seed Company, Tongwei county, Gansu province, China) were included in our study. The collection contained 36 wild, 15 cultivated, and 12 bred strains, as well as 30 accessions with uncertain pedigree according to the germplasm bank passport information (
Table S3
).
4.2. Field Experiment
4.2.1. Preparation of Plant Material
Sixty seeds from each accession were sown in plastic pots (13 cm × 12 cm) containing a potting mix of sandy soil and peat (1:1 by volume). After germination, the seedlings were planted into pots with the soil mixture in a glass house. Twenty seedlings of each accession, uniform in size, were transplanted into the field after eight weeks. The field trial was established at Yuzhong (35°57′ N, 104°09′ E) in Gansu Province, China, in June 2012. The long-term annual rainfall at Yuzhong is 382 mm, with an evaporation of 1343 mm and an average temperature of 6.7 °C throughout the year.
4.2.2. Field Trial
The field trial had a randomized complete block design with two replicates. Each accession was represented by 10 plants per replicate grown at a plant spacing of 30 cm × 30 cm. Prior to planting, the experimental area was prepared as a seedbed. Post planting, all trial management was conducted according to local procedures, and weeding occurred regularly. No irrigation was applied.
4.2.3. Agronomic Traits
As most
Melilotus
species are biennial, we did not consider first-year establishment data to be important for our breeding program; all measurements were carried out during the second year. Data were collected for the following traits: PH, DMY, LSR, Cou, and PMR. PH (cm) was measured with ten plants per accession per replicate at the early flowering stage, and the aboveground plant parts were harvested. The plant material was air-dried to a constant weight at room temperature and then separated by hand into leaf and stem fractions. The mass composition of whole plants (DMY) was calculated from the weights of the leaves and stems, and the LSR was calculated. The Cou (% of DMY) was measured following the UV method of Tang [
56
], in which 1.0 g of well-mixed plant material was extracted for 40 min in 50 mL of 50% ethanol using an ultrasonic bath. After ultrasound-assisted extraction, all of the filtrate was combined, and its volume was reduced using a rotating vacuum evaporator. Then, 10 mL of methanol was added, and the Cou was quantified using a UV-VIS spectrophotometer via light absorption at 310 nm, which is the maximum absorption of coumarin residues. The PMR of the plants was scored in the field following the method of Xie [
57
]. The plants were scored under field conditions during early autumn, which is a period of high powdery mildew infection, using a scale of 0 for no visible symptoms to 4 for a highly susceptible reaction.
4.2.4. Analysis of Variance and Pattern Analysis
To evaluate accession differentiation at the phenotype level, the variance component among accessions divided by the sum of variance components among and within accessions was computed for each trait (Pst). A key objective in the breeding program for both
M. officinalis
and
M. albus
is to improve the DMY and the Cou. Therefore, a combination of cluster analysis and principal component analysis (PCA) [
58
,
59
] was conducted to summarize the accession-by-trait data matrix for the traits PH, DMY, LSR, Cou, PMR, and GH. Cluster analysis was conducted by performing UPGMA clustering in GenStat 18th Edition (
https://www.vsni.co.uk/webstore/old-webstore/software/ genstat/
). Biplots were generated from the PCA to enable the assessment of genotypic variation among germplasm accessions on a multivariate scale. Only traits for which there was significant (
p
< 0.05) genotypic variation among the accessions were included in the pattern analysis.
4.3. Molecular Phylogeny
4.3.1. DNA Extraction, Amplification, and Sequencing
Young leaves were collected from twenty plants of each accession, frozen in liquid nitrogen, and stored at −80 °C until they were used for DNA isolation via the SDS extraction method [
60
]. Preliminary universal primer scanning was conducted on 10 individuals sampled from 10 different accessions. ITS1, 5.8s, and ITS2 were amplified as a single molecule using the flanking primers EC-1 (5′-GAGGAAGGAGAAGTCGTAAC-3′) and EC-2 (5′-GTTCGCTCGCCGTTACTAAG-3′) [
61
]. The
trn
L-F spacer was amplified using the primer pair
trn
L (CGAAATCGGTAGACGCTACG) and
trn
F (ATTTGAACTGGTGACACGAG) according to Taberlet et al. [
62
]. PCR amplification [
63
] was carried out in a 30 μL volume containing 12 μL of deionized water, 15 μL of Takara Taq DNA polymerase master mix, 1 μL of each primer (5 pmol/mL), and 1 μL of template DNA (40 ng/mL). The cycling conditions for amplification consisted of a single cycle at 94 °C for 3 min for initial denaturation; 36 cycles at 94 °C for 30 s, 52 °C for 45 s, and 72 °C for 1 min; and a final extension at 72 °C for 10 min. The PCR products were checked for fragment length and separation in 1% agarose gels and then sequenced using a Big Dye kit with the appropriate primers in an ABI 3730 DNA sequencer at Shanghai Shenggong Biotechnological, Ltd. (Shanghai, China).
All raw sequences were checked by Chromas software (Shanghai Shenggong Biotechnological, Ltd. Shanghai, China), and for sequences that were inaccurate, the corresponding PCR samples were re-prepared and sequenced again. If sequence quality was acceptable, the sequences were aligned by using DNAMAN to ensure their identity as
Melilotus
sequences.
4.3.2. Phylogenetic Analyses
The sequences were aligned in ClustalW (within MEGA 6.0) [
64
] and manually adjusted using MEGA 6.0 [
65
]. Maximum parsimony analyses involved a heuristic search strategy with 1000 replicates of random sequence addition in combination with tree bisection and reconnection (TBR) branch swapping in MEGA 6.0. A phylogenetic tree was constructed with ITS and
trn
L-F combined sequences in MEGA 6.0. Separate ITS and
trn
L-F phylogenetic trees were inferred by Bayesian inference via MrBayes-3.2.6 [
66
] (two runs of 10,000,000 generations with four chains for ITS and three chains for
trn
L-F) under a GTR model with base frequencies, gamma shape parameter, and proportion of invariants estimated from the data (referred to as GTR + I + G). All character states were treated as unordered and equally weighted. Informative insertions and deletions (indels) were coded as binary characters (0, 1) according to Graham et al. (2000). A strict consensus tree was constructed from the most parsimonious trees. Haplotype diversity (
Hd
) and nucleotide diversity (π) analyses were conducted using DnaSP v5 [
67
]. Fu's
Fs
test [
68
] for all sequences was used to test each haplotype group to determine if all samples followed neutral evolution. Inter-accession differentiation between, and within, the two species was evaluated by AMOVA [
69
] using Arlequin software, version 3 [
70
]. The sequences of the outgroup
M. lupulina
were downloaded from GenBank (KX167243.1 and KU600399.1). The multiple sequence alignments and phylogenetic trees were submitted to TreeBase (
http://purl.org/phylo/treebase/phylows/study/TB2:S22217
).
Acknowledgments
This work was financially supported by the Program for Changjiang Scholars and Innovative Research Team in University (IRT_17R50), the National Natural Science Foundation of China (31572453), the Open Project Program of the State Key Laboratory of Grassland Agro-ecosystems (SKLGAE201702), and the 111 project (B12002). We thank Carol Baskin from Kentucky University for kindly revising the manuscript; Shugao Fan, Tingna Liu, Xiaohui Huang, Yu Chang, Zhiqian Li and many other colleagues for their assistance with germplasm evaluation and data collection; Zhaofeng Wang and Qisheng Feng for useful advice; and the anonymous reviewers for their helpful comments and detailed suggestions for our revisions.
Author Contributions
J.Z., Y.W. and Z.J. conceived and designed the experiments; H.D., K.L. and Z.Y. performed the experiments; F.W. and Z.D. analyzed the data; Z.J. and A.S. contributed reagents/materials/analysis tools; F.W. and J.Z. wrote the paper.
Conflicts of Interest
The authors declare no conflict of interest.
Sample Availability: Samples of the compounds are not available from the authors.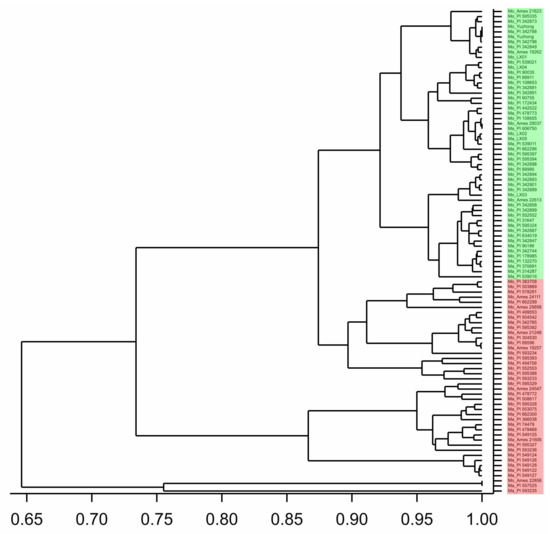 Figure 1.
Dendrogram of
M. officinalis
and
M. albus
accessions generated based on six traits using UPGMA as implemented in GenStat software. Two parts were clustered: the green part was largely
M. officinalis
accessions, and the red part was largely
M. albus
accessions. Mo:
M. officinalis
, Ma:
M. albus.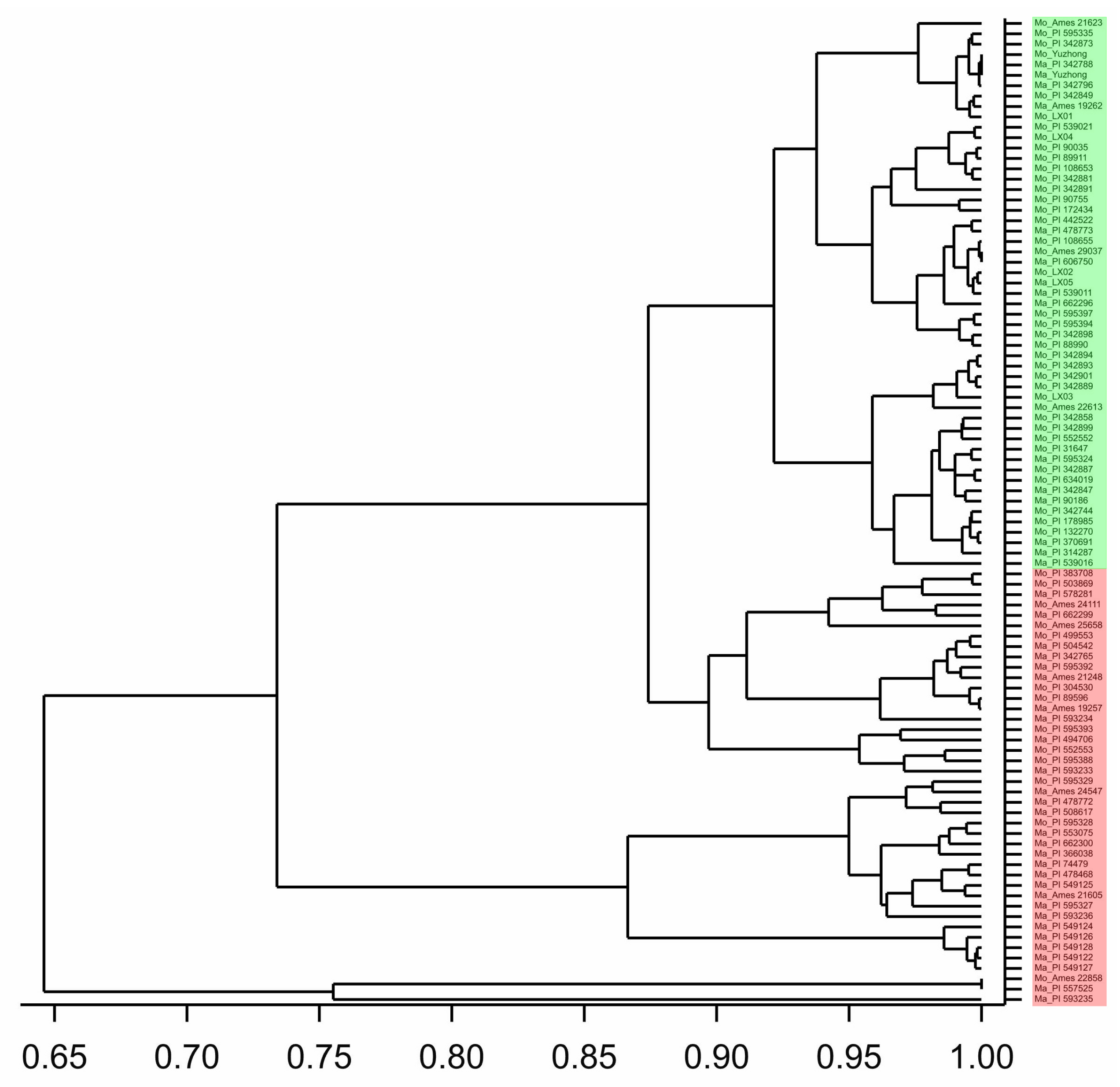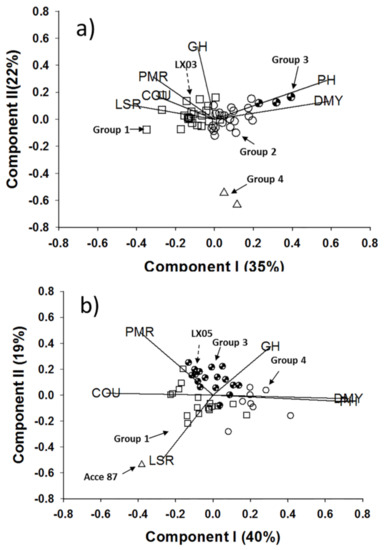 Figure 2.
Biplots generated using the accession-by-trait matrix approach for the six traits. PH, plant height; DMY, dry matter yield; LSR, leaf:stem ratio; Cou, coumarin content; and PMR, powdery mildew resistance, measured for (
a
)
M. officinalis
accessions and (
b
)
M. albus
accessions. In each biplot, the variation along components I and II is expressed as a percentage. The different symbols indicate the accession groups generated from the cluster analysis. The two local commercial lines LX03 and LX05 are indicated. The vectors represent the six traits.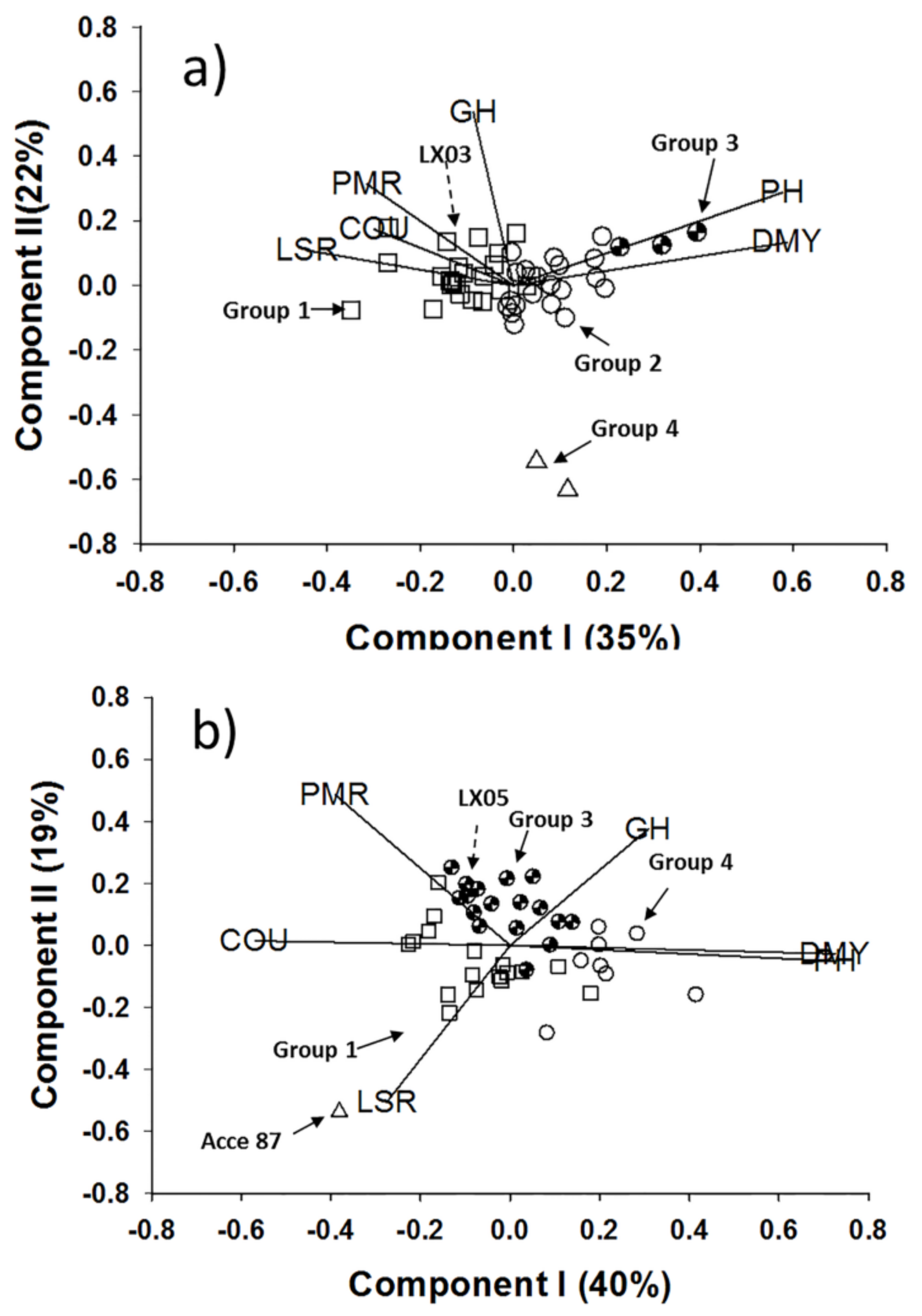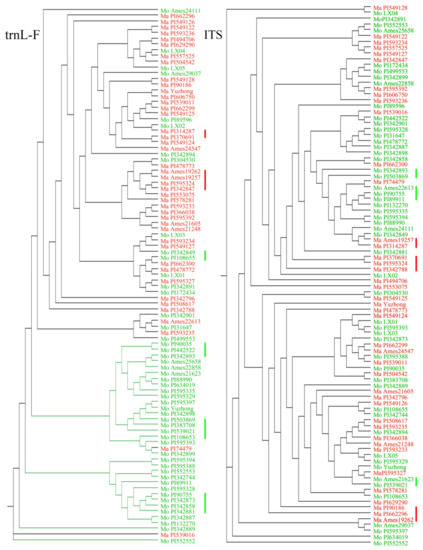 Figure 3.
Bayesian tree constructed with MrBayes based on the
trn
L-F and ITS datasets.
M. albus
accessions are indicated with red,
M. officinalis
accessions are indicated with green; the red bars indicate accessions from
M. albus
Group 3 in
Table 2
, and the green bars indicate accessions from
M. officinalis
Group 1 in
Table 2
.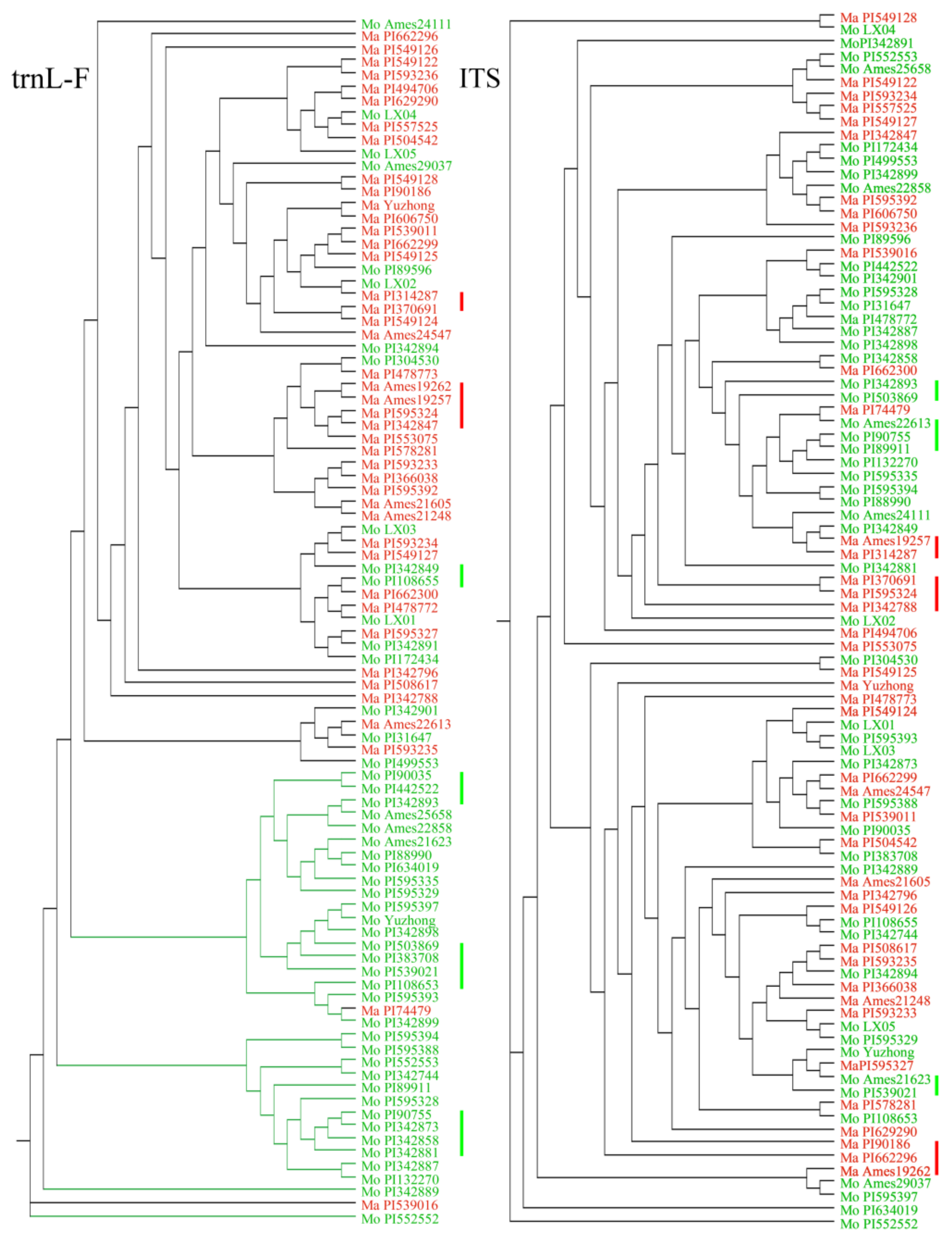 Figure 4.
Phylogenetic relationships of haplotypes resolved in
M. albus
and
M. officinalis
. The single maximum parsimonious tree is presented. Bootstrap values (>50%) are denoted above (maximum parsimony). Pie and column charts indicate the frequency of accessions within each haplotype, and unique alleles are indicated by different colors. The first pie chart column shows species distribution, the second column shows growth habit (GH), and the third column shows geographical distribution.
trn
L-F, phylogenetic tree based on cpDNA
trn
L-F haplotypes; nrITS, phylogenetic tree based on nrITS haplotypes (Mo,
M. officinalis
; Ma,
M. albus
; An, Annual; Bi, Biennial; S, South America; N, North America; A, Asia; E, Europe).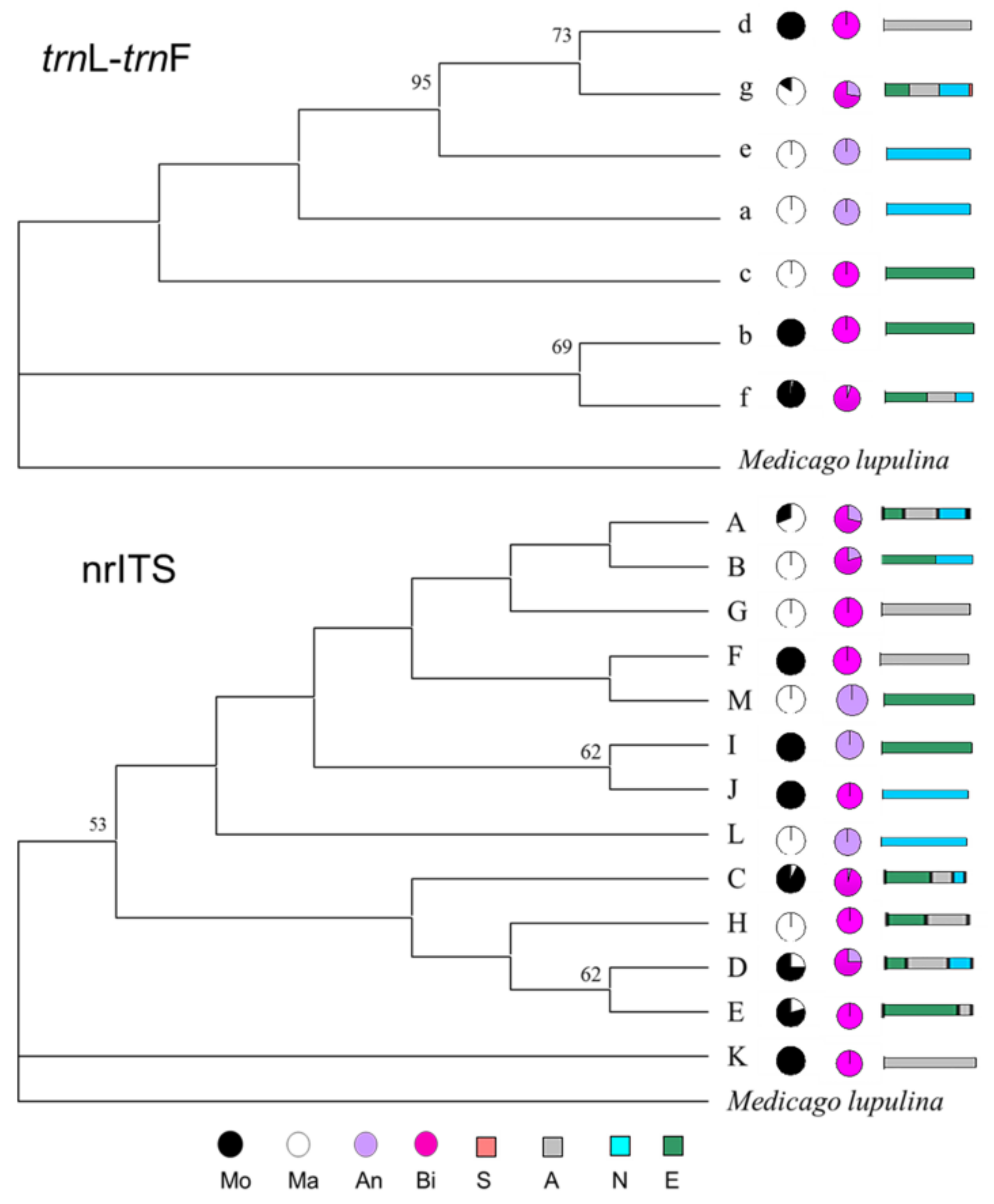 Table 1.
Ranges, means, and population differentiation (Pst) for traits measured in
M. officinalis
and
M. albus
accessions
†
.
Trait

M. Officinalis

M. Albus

Range
Mean
Significance
Pst
Range
Mean
Significance
Pst
PH
20–100
62
*
0.4254
11–161
65
*
0.4103
DMY
4–41
17
*
0.4127
0.5–43
16
*
0.4642
LSR
0.7–1.8
1.17
*
0.4238
0.3–3.4
1.00
*
0.4138
Cou
0.3–1.5
0.83
*
0.4022
0.2–1.3
0.73
*
0.4094
PMR
1–4
2.75
*
0.5251
1–4
2.16
*
0.5434
GH
1–2
1.96
*
0.3405
1–2
1.56
*
0.3690
* Significantly different at

p

< 0.05; † PH, plant height (cm); DMY, dry matter yield (g/plant); LSR, leaf:stem ratio; Cou, coumarin content (%); PMR, powdery mildew resistance (0, 1 to 4 scale); GH, growth habit (1, annual; 2, biennial); Pst, population differentiation.

Table 2.
Within-group accession means for each of the six traits based on the four clusters generated from the cluster analysis of
M. officinalis
and
M. albus
germplasm entries evaluated in Yuzhong, China.
Species
Groups
No. in Group
PH
DMY
LSR
COU
PMR
GH

M. officinalis

Group 1
23
55
12
1.255
0.908
3.39
2
Group 2
20
43
20
1.104
0.79
2.15
2
Group 3
3
92
35
1.04
0.526
2.67
2
Group 4
2
48
17
0.98
0.673
1.5
1

M. albus

Group 1
17
58
13
0.974
0.769
2.29
1
Acce 87
1
11
0.52
3.421
1.158
1
1
Group 3
17
63
14
0.828
0.771
2.53
2
Group 4
8
94
29
1.115
0.511
1.25
1.875
PH, plant height (cm); DMY, dry matter yield (g/plant); LSR, leaf:stem ratio; Cou, coumarin content (%); PMR, powdery mildew resistance (0, 1 to 4 scale); GH, growth habit (1, annual; 2, biennial); Acce 87 is the code of accession PI 557525.
Sequence
Dataset
Length

N

h

Hd

± SD
π ± SD

trn

L-F

M. albus

459
44
4
0.171 ± 0.075
0.0017 ± 0.0015

M. officinalis

439
49
3
0.357 ± 0.064
0.0050 ± 0.0016
All
459
93
7
0.592 ± 0.021
0.0069 ± 0.0013
ITS

M. albus

714
44
7
0.490 ± 0.091
0.0010 ± 0.0009

M. officinalis

714
49
9
0.703 ± 0.645
0.0017 ± 0.0014
All
714
93
13
0.701 ± 0.036
0.0017 ± 0.0014
N

, number of sequences;

h

, number of haplotypes;

Hd

, haplotype diversity;

π

, nucleotide diversity; SD, standard deviation.

Table 4.
Analyses of molecular variance (AMOVAs) for
Melilotus
accessions based on
trn
L-F and nrITS sequences.
Region
Sequence
Source of Variation
d.f.
Sum of Squares
Variance Components
Percentage of Variation
Fst
A

trn

L-F
Among species
1
3.199
0.206
55.820
0.558
Among accessions
31
4.737
0.163
44.180
Total
32
7.935
0.370
ITS
Among species
1
0.549
0.016
4.710
0.047
Among accessions
31
9.355
0.323
95.290
Total
32
9.903
0.339
E

trn

L-F
Among species
1
5.417
0.347
75.020
0.750
Among accessions
34
3.583
0.116
24.980
Total
35
9.000
0.463
ITS
Among species
1
2.419
0.134
30.320
0.303
Among accessions
34
10.152
0.308
69.680
Total
35
12.571
0.442
N

trn

L-F
Among species
1
3.841
0.400
78.650
0.786
Among accessions
26
2.714
0.109
21.350
Total
27
6.556
0.509
ITS
Among species
1
0.882
0.065
18.850
0.188
Among accessions
26
6.733
0.281
81.150
Total
27
7.615
0.346
A & E & N

trn

L-F
Among regions
3
1.463
0.012
3.850
0.038
Among accessions
92
23.295
0.268
96.150
Total
93
95.000
24.758
ITS
Among regions
3
1.855
0.014
3.840
0.038
Among accessions
92
29.808
0.339
96.160
Total
93
31.663
0.352
A, Asian; E, Europe; N, North America; d.f., degrees of freedom; Fst, Fixation index.

© 2018 by the authors. Licensee MDPI, Basel, Switzerland. This article is an open access article distributed under the terms and conditions of the Creative Commons Attribution (CC BY) license (http://creativecommons.org/licenses/by/4.0/).