Vp

StyA1/

Vp

StyA2B of

Variovorax paradoxus

EPS: An Aryl Alkyl Sulfoxidase Rather than a Styrene Epoxidizing Monooxygenase

1

Institute of Biosciences, Environmental Microbiology, TU Bergakademie Freiberg, Leipziger Str. 29, 09599 Freiberg, Germany

2

Microbial Biotechnology, Ruhr University Bochum, Universitätsstr. 150, 44780 Bochum, Germany

*

Author to whom correspondence should be addressed.

Academic Editor: Willem van Berkel

Received: 16 March 2018 / Revised: 27 March 2018 / Accepted: 1 April 2018 / Published: 2 April 2018
Abstract
Herein we describe the first representative of an E2-type two-component styrene monooxygenase of proteobacteria. It comprises a single epoxidase protein (
Vp
StyA1) and a two domain protein (
Vp
StyA2B) harboring an epoxidase (A2) and a FAD-reductase (B) domain. It was annotated as
Vp
StyA1/
Vp
StyA2B of
Variovorax paradoxus
EPS.
Vp
StyA2B serves mainly as NADH:FAD-oxidoreductase. A
K
m
of 33.6 ± 4.0 µM for FAD and a
k
cat
of 22.3 ± 1.1 s
−1
were determined and resulted in a catalytic efficiency (
k
cat
K
m
−1
) of 0.64 s
−1
μM
−1
. To investigate its NADH:FAD-oxidoreductase function the linker between A2- and B-domain (AREAV) was mutated. One mutant (AAAAA) showed 18.7-fold higher affinity for FAD (
k
cat
K
m
−1
of 5.21 s
−1
μM
−1
) while keeping wildtype NADH-affinity and -oxidation activity. Both components,
Vp
StyA2B and
Vp
StyA1, showed monooxygenase activity on styrene of 0.14 U mg
−1
and 0.46 U mg
−1
, as well as on benzyl methyl sulfide of 1.62 U mg
−1
and 3.11 U mg
−1
, respectively. The high sulfoxidase activity was the reason to test several thioanisole-like substrates in biotransformations.
Vp
StyA1 showed high substrate conversions (up to 95% in 2 h) and produced dominantly (
S
)-enantiomeric sulfoxides of all tested substrates. The AAAAA-mutant showed a 1.6-fold increased monooxygenase activity. In comparison, the GQWCSQY-mutant did neither show monooxygenase nor efficient FAD-reductase activity. Hence, the linker between the two domains of
Vp
StyA2B has effects on the reductase as well as on the monooxygenase performance. Overall, this monooxygenase represents a promising candidate for biocatalyst development and studying natural fusion proteins.
View Full-Text
►

▼

Figures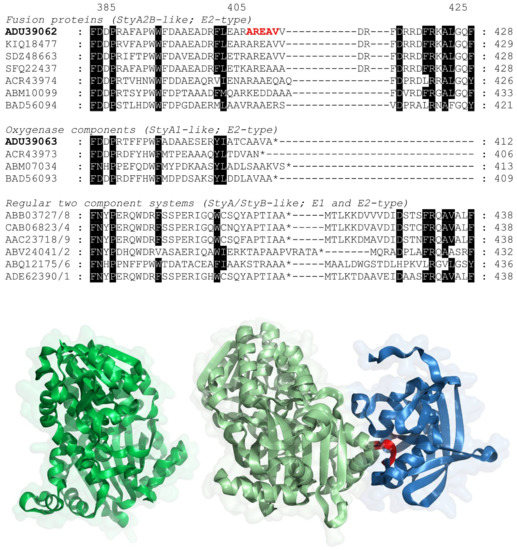 Figure 1
This is an open access article distributed under the
Creative Commons Attribution License
which permits unrestricted use, distribution, and reproduction in any medium, provided the original work is properly cited (CC BY 4.0).

Share & Cite This Article
MDPI and ACS Style
Tischler, D.; Schwabe, R.; Siegel, L.; Joffroy, K.; Kaschabek, S.R.; Scholtissek, A.; Heine, T. VpStyA1/VpStyA2B of Variovorax paradoxus EPS: An Aryl Alkyl Sulfoxidase Rather than a Styrene Epoxidizing Monooxygenase. Molecules 2018, 23, 809.
Note that from the first issue of 2016, MDPI journals use article numbers instead of page numbers. See further details here.
Related Articles
Comments
[Return to top]