Open Access This article is
freely available
re-usable
Review
Mitochondria: Central Organelles for Melatonin′s Antioxidant and Anti-Aging Actions
1
Department of Cellular and Structural Biology UT Health San Antonio, San Antonio, SD 78229, USA
2
Centro de Investigacion Biomedica de Occidente, Instituo Mexicana del Seguro Social, Guadalajara 44346, Mexico
3
Departamento de Quimica, Universidad Autonoma Metropolitana-Iztapatapa, Mexico D.F. 09340, Mexico
*
Author to whom correspondence should be addressed.
Received: 9 January 2018 / Accepted: 16 February 2018 / Published: 24 February 2018
Abstract
:
Melatonin, along with its metabolites, have long been known to significantly reduce the oxidative stress burden of aging cells or cells exposed to toxins. Oxidative damage is a result of free radicals produced in cells, especially in mitochondria. When measured, melatonin, a potent antioxidant, was found to be in higher concentrations in mitochondria than in other organelles or subcellular locations. Recent evidence indicates that mitochondrial membranes possess transporters that aid in the rapid uptake of melatonin by these organelles against a gradient. Moreover, we predicted several years ago that, because of their origin from melatonin-producing bacteria, mitochondria likely also synthesize melatonin. Data accumulated within the last year supports this prediction. A high content of melatonin in mitochondria would be fortuitous, since these organelles produce an abundance of free radicals. Thus, melatonin is optimally positioned to scavenge the radicals and reduce the degree of oxidative damage. In light of the "free radical theory of aging", including all of its iterations, high melatonin levels in mitochondria would be expected to protect against age-related organismal decline. Also, there are many age-associated diseases that have, as a contributing factor, free radical damage. These multiple diseases may likely be deferred in their onset or progression if mitochondrial levels of melatonin can be maintained into advanced age.
Keywords:
oxidative stress; free radicals; electron transport chain; oxidative phosphorylation; free radical theory of aging; melatonin uptake; melatonin synthesis
2. Melatonin Origin and Distribution
3. Sites of Reactive Oxygen Species Generation
4. Melatonin and Its Metabolites: Determinants of Oxidative Stress
That melatonin is highly effective in reducing oxidative damage is illustrated in an extensive list of reports published in the last 25 years [
113
,
114
,
115
,
116
,
117
]. Mechanistically, the means by which melatonin neutralizes ROS is also well described and includes direct scavenging actions [
30
,
47
,
118
,
119
,
120
,
121
] and indirect processes by which ROS is enzymatically converted to less harmful species [
14
,
107
,
122
,
123
,
124
]. In mitochondria, the enzymatic dismutation of O
2
•
−
involves the stimulation of SIRT3 by melatonin; this leads to the deacetylation and activation of SOD2, thereby limiting oxidative damage to this vital organelle [
125
,
126
,
127
]. The action of melatonin at the mitochondrial level is consistent with its designation as a mitochondria-targeted antioxidant [
14
,
71
].
While melatonin very effectively reduces oxidative stress in all experimental and clinical settings in which it has been tested [
87
,
128
,
129
,
130
,
131
], it has an advantage over other antioxidants, since not only is melatonin a scavenger of toxic species, but several of its products are as well [
132
,
133
] (
Figure 3
). In what is referred to as melatonin's antioxidant cascade, after melatonin interacts with a toxic species it is metabolized enzymatically or non-enzymatically to other antioxidants that are equal to or better than melatonin in detoxifying free radicals [
134
]. These metabolites include cyclic 3-hydroxymelatonin [
135
],
N
1-acetyl-
N
2-formyl-5-methoxykynuramine (AFMK) [
132
],
N
1-acetyl-5-methoxykynuramine (AMK) [
133
], and perhaps others. Thus, whereas classical antioxidants scavenge a single radical, via its cascade of reactions, melatonin detoxifies multiple radical species. This, coupled with its indirect antioxidant actions described above and its ability to bind transition metals [
136
], causes melatonin to be a potent repressor of oxidative stress. Moreover, a variety of melatonin analogues, which are produced in vivo, also function as antioxidants [
137
]. Finally, after being damaged by free radicals, melatonin aids in promoting DNA repair [
138
].
Considering the wide array of complex actions that melatonin seemingly manifests relative to reducing oxidative stress, it is likely that our understanding of how melatonin actually functions in a highly oxidizing environment is wholly incomplete. The mechanisms that have been put forth to explain melatonin′s comprehensive capacity to provide antioxidant protection leads one to surmise that what is being observed are merely epiphenomena of a more basic molecular action of this phylogenetically-ancient molecule. Future research will likely reveal additional actions(s) of this functionally-diverse agent.
5. Melatonin in Mitochondria: A Fortuitous Association
The importance of the findings suggesting that mitochondria produce their own melatonin cannot be over emphasized. Mitochondria are a major site of free radical generation and, therefore, oxidative damage. Malfunctions of mitochondria have numerous debilitating consequences in terms of cellular loss, organ dysfunction, and organismal decline (see below).
6. Melatonin, Oxidative Stress, and Aging
That morphological, functional, and molecular deterioration occurs with increasing age is indisputable for all living organisms; however, the rate at which different taxa degenerate varies widely. A reliable explanation for these differences is yet to be fully defined and, in fact, aging mechanisms of a given species likewise constitute a major point of scientific debate.
7. Concluding Remarks
Based on the literature surveyed in this review, it might be assumed that the routine long term use of supplemental antioxidants would aid in deferring aging and in delaying the onset or progression of age-associated diseases. However, taking conventional antioxidants, e.g., vitamins C or E, even in large quantities to improve performance or delay fragility has certainly not been unequivocally successful [
213
,
214
]. In contrast, the most frequent recommendation to support the anti-aging goals is dietary intake rich in multiple antioxidants and other nutrients [
215
].
Considering these observations and recommendations, it is reasonable to question whether treatment with melatonin, a molecule with obvious antioxidant activities, would yield results different than those provided (or not provided) by the vitamin antioxidants. When it functions to reduce oxidative damage, it is a more general antioxidant and displays multiple means to limit free radical damage [
15
,
30
,
47
,
71
,
120
,
121
]; this is a feature generally not shared by the vitamin antioxidants that have specific actions. Moreover, melatonin targeting to and synthesis in mitochondria likely affords it protective means not shared by the vitamin antioxidants. Thus, melatonin is an unconventional antioxidant with uncommon actions, some of which are probably yet to be identified.
It may also be futile to expect that the use of a single molecule would defer aging considering the complexity of the aging process [
216
]. Yet, interest in sole treatments such as metformin [
217
,
218
] is in vogue, and this molecule has generated a clinical trial [
219
]. Only two reports known to the current authors that compared the benefits of metformin relative to those of melatonin have been published [
220
]. In the first of these reports, the ability of melatonin and metformin, alone or in combination, to reduce testicular damage due to torsion-mediated ischemic injury was compared [
221
]. Histologically, these agents were equally effective in preserving spermatogenic activity and providing antioxidant protection to the gonads. Combining the two treatments, however, did not further improve the parameters measured in the ischemic testes. In the second report, melatonin and metformin were compared relative to their ability to limit oxidative stress to the heart of rats with mammary tumors [
220
]. Each molecule individually reduced free radical-mediated lipid and protein damage while promoting antioxidant enzyme activities, although melatonin was generally more effective in protecting against oxidative stress. The outcome of the latter comparison prompted the authors to conclude that melatonin has significantly greater antioxidant activity than metformin at the level of the heart. Experimental treatments that include both melatonin and metformin may be timely and could yield useful data for the design of clinical studies with an interest in modifying aging processes.
An important take-home message from this review is that melatonin should not be thought of as a regular antioxidant; the published data, which is extensive, indicates otherwise. The mere fact that it is both consumed in the diet and exogenously produced, perhaps in every mitochondria/chloroplast-containing cell of every living organism, makes melatonin unique. Additionally, the fact that melatonin is so closely associated with mitochondria should make it of significant interest in any study in which the endpoints include deferring the onset of diseases, improving the quality of life, or prolonging longevity.
Acknowledgments
No funding was provided in support of the research in this research summarized in this report.
Conflicts of Interest
None of the authors have a conflict of interest.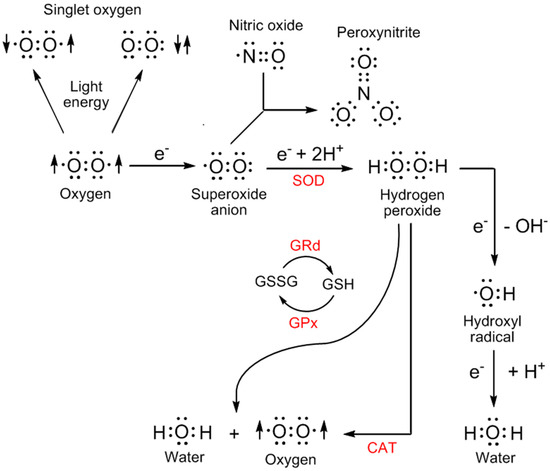 Figure 1. The chemical reduction or the addition of energy to ground state oxygen generates products referred to as reactive oxygen species (ROS). The most reactive of these derivatives are peroxynitrite and the hydroxyl radical. The conversion of hydrogen peroxide to the hydroxyl radical requires a transition metal with the conversion usually being referred to as the Fenton reaction. The red asterisk (*) identifies products that have been reported to be directly scavenged by melatonin and its metabolites. The evidence of these scavenging reactions is much stronger for some ROS than for others. Melatonin also stimulates antioxidant enzymes, e.g., superoxide dismutases (SOD), glutathione peroxidases (GPx), and glutathione reductase (GRd) to indirectly remove toxic ROS. The most toxic species, i.e., peroxynitrite and the hydroxyl radical, are not enzymatically degraded; they can only be removed by a direct scavenger. CAT = catalase.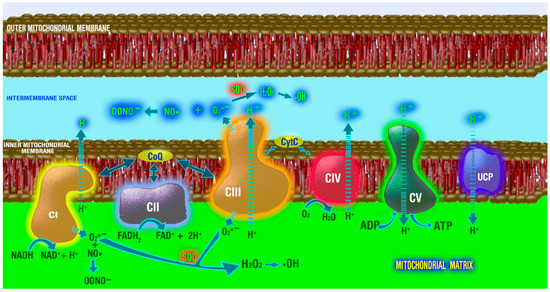 Figure 2. This figure illustrates the structure of a mitochondrion and the location of the complexes (CI-CV) that constitute the electron transport chain that engages in oxidative phosphorylation, which results in the generation of energy in the form of ATP. Free radicals are formed when electrons leak and reduce nearby oxygen (O2) molecules to form the superoxide anion radical (O2•−). CI releases electrons into the mitochondrial matrix, while CIII releases them into both the matrix and the intramembrane space. Once formed, the O2•− can be dismutated by superoxide dismutase (SOD) to hydrogen peroxide (H2O2) with its eventual conversion to the hydroxyl radical (•OH). O2•− can also couple with nitric oxide (NO•) to produce the peroxynitrite anion (ONOO−). Since melatonin is both taken up and synthesized in mitochondria, it is in an optimal position to scavenge these toxic species.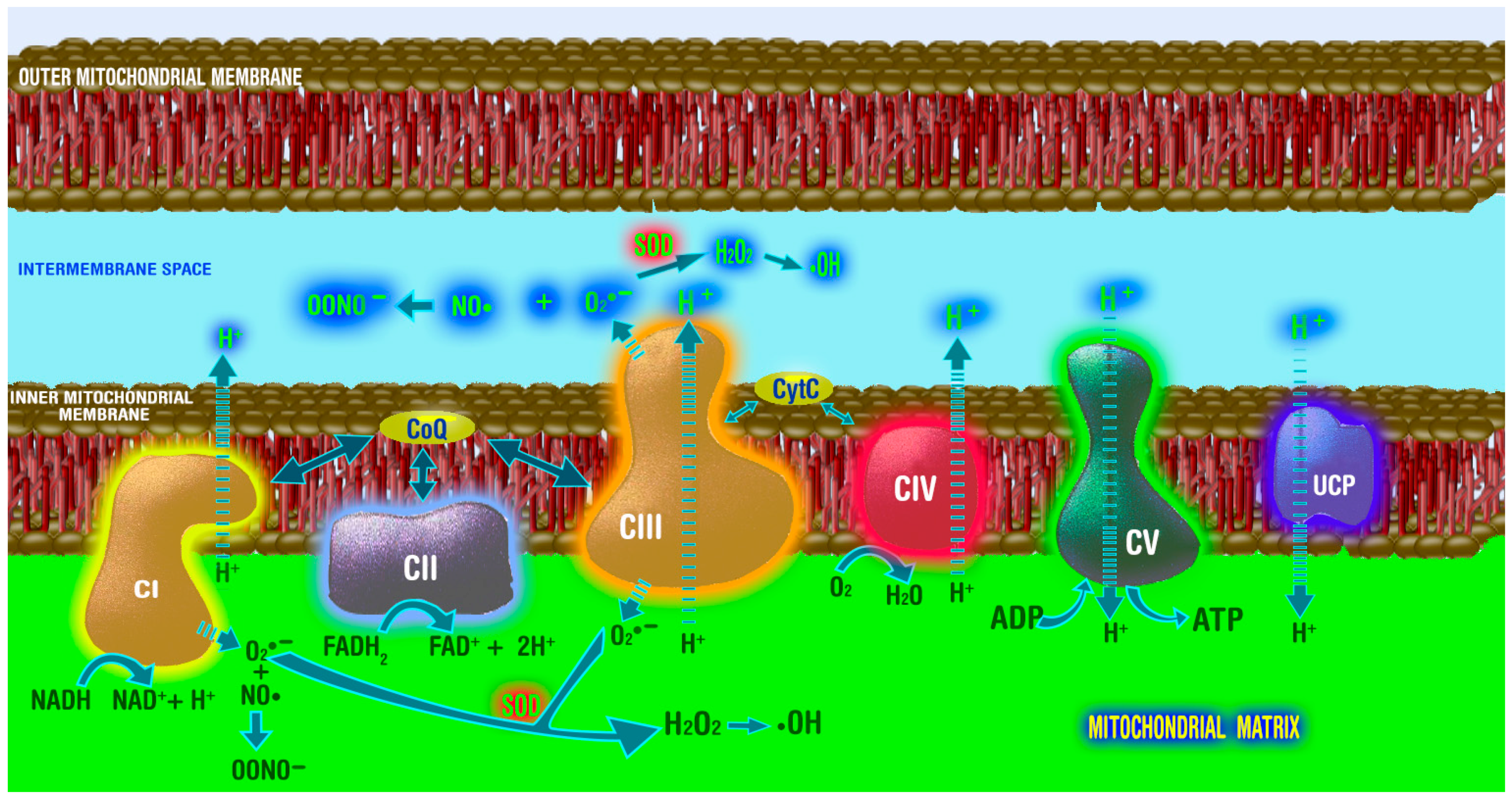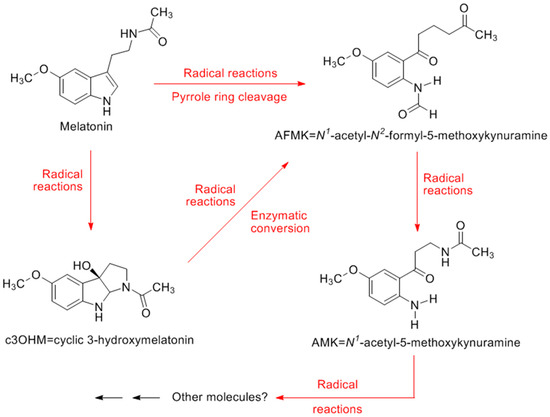 Figure 3. The structure of melatonin and some of its metabolites that have been shown to detoxify reactive oxygen and reactive nitrogen species. Additionally, some of these have other actions that enhance their ability to reduce oxidative stress, e.g., chelation of transition metal ions, promotion of antioxidant enzymes, inhibition of pro-oxidant enzymes, reducing electron leaking from the respiratory chain complexes, etc. Also shown is the sequence by which these metabolites are formed. This sequential formation of metabolites from melatonin, along with their ability to scavenge radicals, is referred to as melatonin′s antioxidant cascade.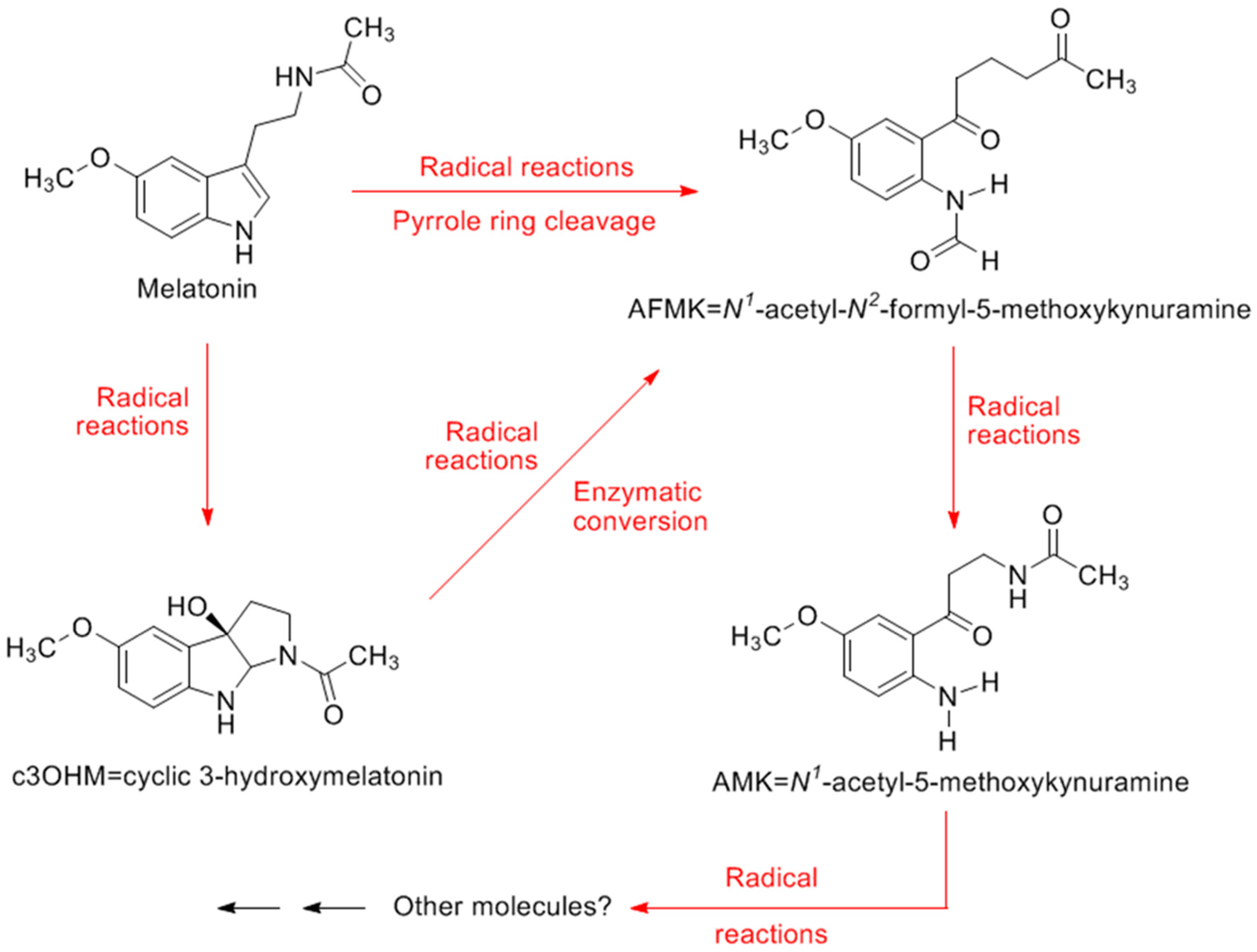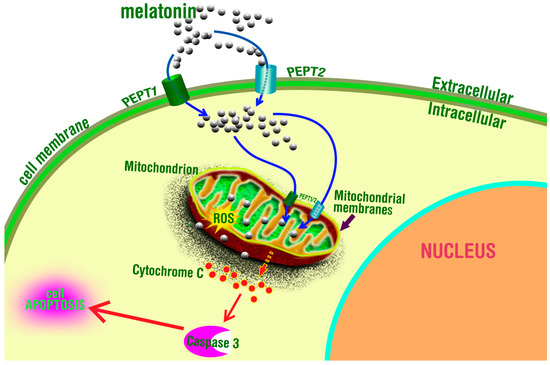 Figure 4. The oligopeptide transporters, PEPT1/2, have recently been reported to be present in mitochondrial membranes. These transporters are believed to move melatonin into mitochondria against a gradient. This may explain the much higher concentration of melatonin in mitochondria than in other subcellular compartments. Moreover, high melatonin levels in mitochondria would be consistent with the marked ability of this antioxidant to protect these organelles from free radical damage as it occurs during aging and as a result of diseases of aging that have a free radical component.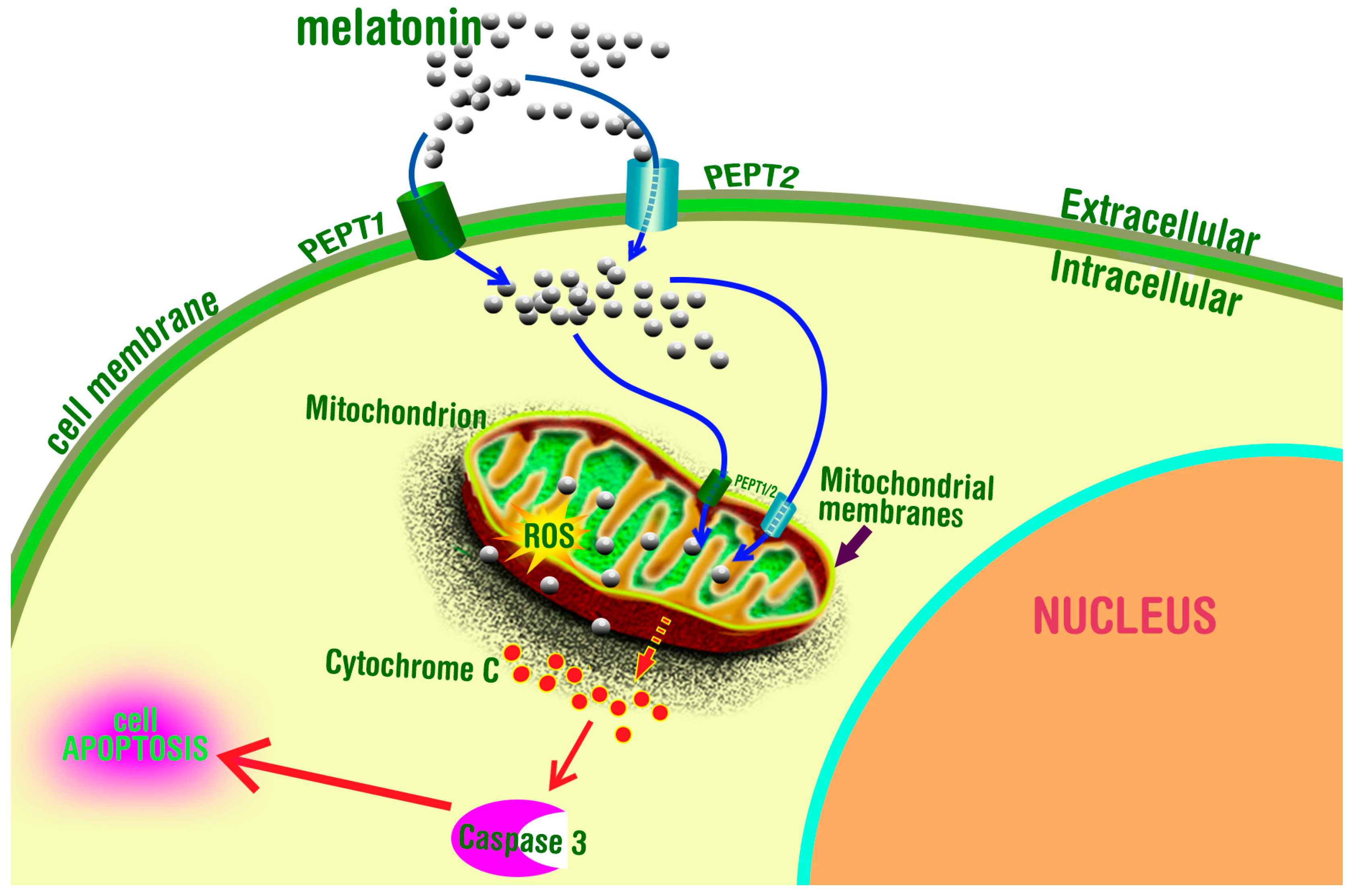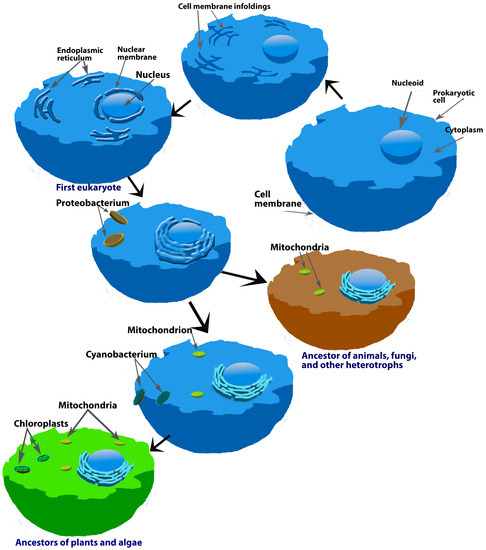 Figure 5. This is an illustration of what is referred to as the endosymbiotic theory for the origin of mitochondria (and chloroplasts) and why these organelles in present-day eukaryotes likely have the ability to produce melatonin. A couple of billion years ago, prokaryotes phagocytized proteobacteria, which are known to synthesize melatonin; these bacteria were initially digested and used as nutrition. During evolution, the ingested bacteria eventually developed a mutually-beneficial symbiotic relationship with the cells that ingested them and they evolved into mitochondria. When they did so, the evolved mitochondria retained the ability to produce melatonin (brown image). As a result, present-day eukaryotic cells synthesize melatonin as shown in several reports cited in the current review. Likewise, some of the same prokaryotes also engulfed photosynthetic, melatonin-producing bacteria which evolved into chloroplasts of plant cells (green image); chloroplasts also have been shown to be involved in melatonin synthesis. Since plant cells have both chloroplasts and mitochondria may explain why plants generally have higher cellular concentrations of melatonin than do animal cells, which only have mitochondria.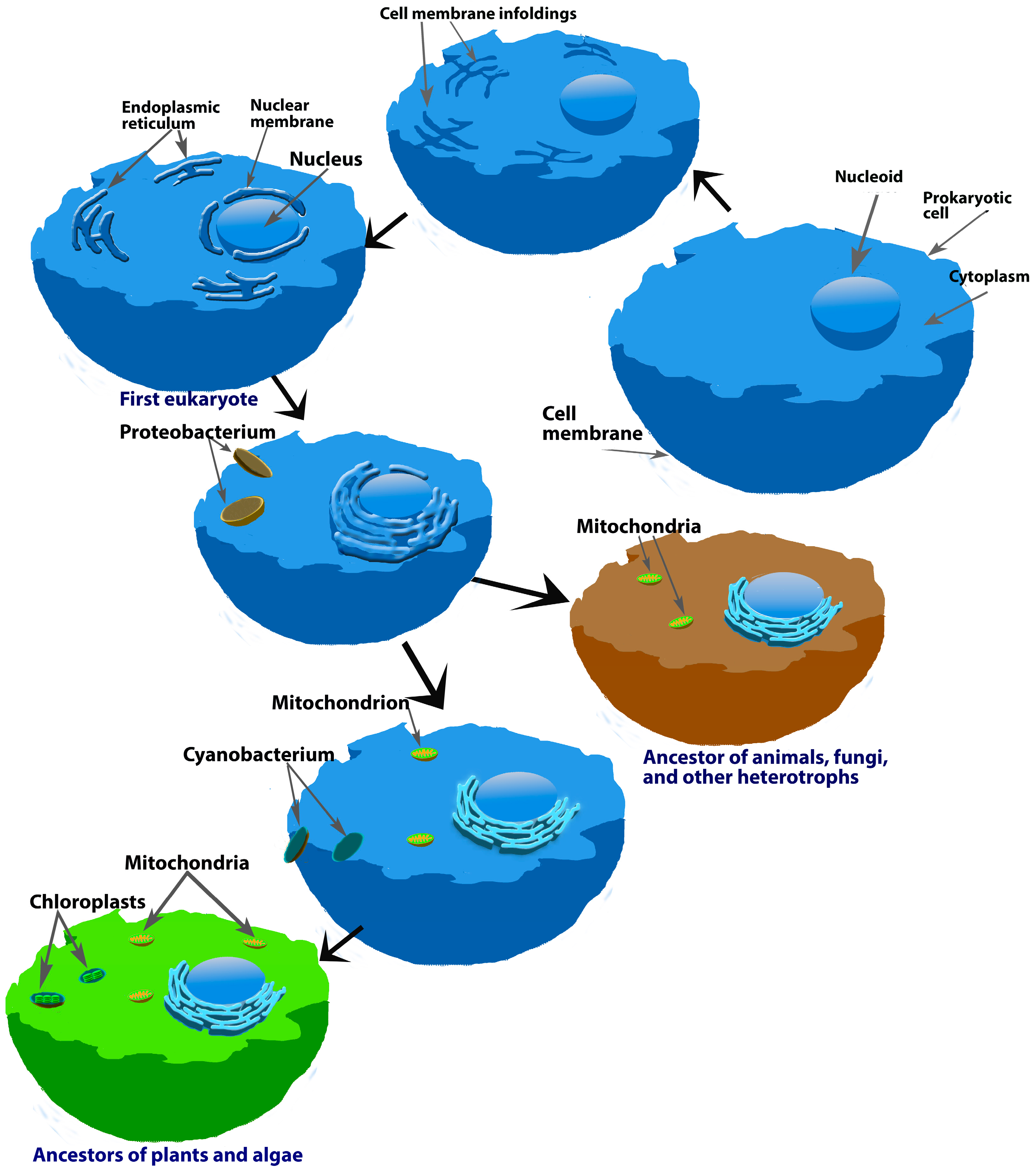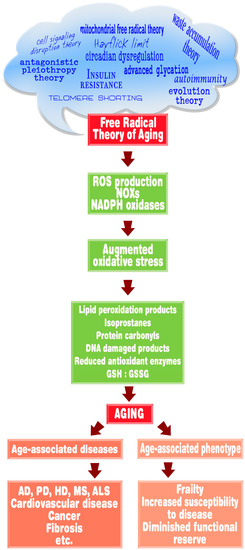 Figure 6. This figure is a flow diagram that links free radicals and the associated oxidative damage with the progression of the aging phenotype and the onset and development of age-related diseases. The cloud at the top lists many of the iterations of the free radical theory of aging that have been introduced over the last 60 years. In the current review, we discuss the evidence that melatonin could be relevant to the processes summarized. ROS = Reactive oxygen species; AD = Alzheimer disease; PD = Parkinson disease; HD = Huntington disease; MS = Multiple sclerosis; ALS = amyotrophic lateral sclerosis.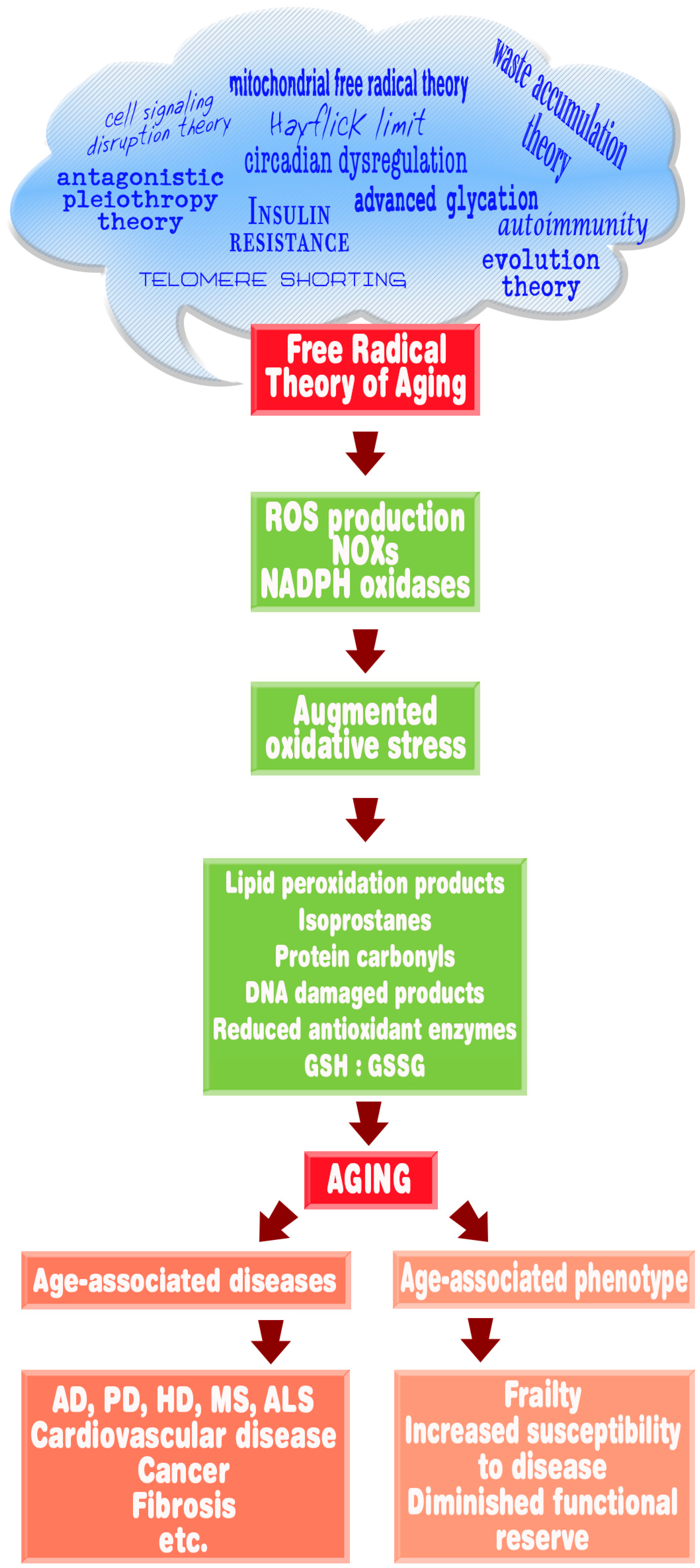 © 2018 by the authors. Licensee MDPI, Basel, Switzerland. This article is an open access article distributed under the terms and conditions of the Creative Commons Attribution (CC BY) license (http://creativecommons.org/licenses/by/4.0/).