Design and Properties of Ligand-Conjugated Guanine Oligonucleotides for Recovery of Mutated G-Quadruplexes
1
Frontier Institute for Biomolecular Engineering Research (FIBER), Konan University, 7-1-20 Minatojima-Minamimachi, Chuo-ku, Kobe 650-0047, Japan
2
Institute of Chemical Biology and Fundamental Medicine, Siberian Branch of the Russian Academy of Sciences, 8 Lavrentiev Ave., 630090 Novosibirsk, Russia
3
Novosibirsk State University, 2 Pirogov Str., 630090 Novosibirsk, Russia
4
Department of Chemistry, Division of Advanced Materials Science, Pohang University of Science and Technology (POSTECH), Pohang 37673, Korea
5
Graduate School of Frontiers of Innovative Research in Science and Technology (FIRST), Konan University, 7-1-20 Minatojima-Minamimachi, Chuo-ku, Kobe 650-0047, Japan
*
Author to whom correspondence should be addressed.
†
Present Address: Department of Organic Chemistry, Faculty of Science, University of Geneva, 30 quai Ernest Ansermet, 1211 Geneva, Switzerland
Academic Editor: Danzhou Yang
Received: 14 November 2018 / Revised: 27 November 2018 / Accepted: 5 December 2018 / Published: 6 December 2018
Abstract
The formation of a guanine quadruplex DNA structure (G4) is known to repress the expression of certain cancer-related genes. Consequently, a mutated G4 sequence can affect quadruplex formation and induce cancer progression. In this study, we developed an oligonucleotide derivative consisting of a ligand-containing guanine tract that replaces the mutated G4 guanine tract at the promoter of the vascular endothelial growth factor (VEGF) gene. A ligand moiety consisting of three types of polyaromatic hydrocarbons, pyrene, anthracene, and perylene, was attached to either the 3′ or 5′ end of the guanine tract. Each of the ligand-conjugated guanine tracts, with the exception of anthracene derivatives, combined with other intact guanine tracts to form an intermolecular G4 on the mutated VEGF promoter. This intermolecular G4, exhibiting parallel topology and high thermal stability, enabled VEGF G4 formation to be recovered from the mutated sequence. Stability of the intramolecular G4 increased with the size of the conjugated ligand. However, suppression of intermolecular G4 replication was uniquely dependent on whether the ligand was attached to the 3′ or 5′ end of the guanine tract. These results indicate that binding to either the top or bottom guanine quartet affects unfolding kinetics due to polarization in DNA polymerase processivity. Our findings provide a novel strategy for recovering G4 formation in case of damage, and fine-tuning processes such as replication and transcription.
View Full-Text
►

▼

Figures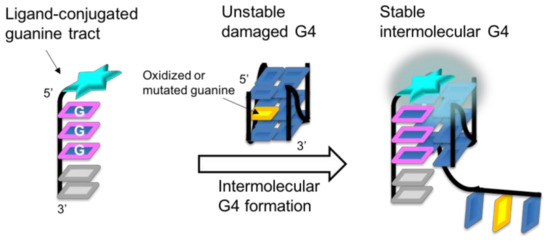 Figure 1
This is an open access article distributed under the
Creative Commons Attribution License
which permits unrestricted use, distribution, and reproduction in any medium, provided the original work is properly cited (CC BY 4.0).

Share & Cite This Article
MDPI and ACS Style
Takahashi, S.; Chelobanov, B.; Kim, K.T.; Kim, B.H.; Stetsenko, D.; Sugimoto, N. Design and Properties of Ligand-Conjugated Guanine Oligonucleotides for Recovery of Mutated G-Quadruplexes. Molecules 2018, 23, 3228.
Note that from the first issue of 2016, MDPI journals use article numbers instead of page numbers. See further details here.
Related Articles
Comments
[Return to top]