The Role of Solvent-Accessible Leu-208 of Cold-Active
Pseudomonas fluorescens

Strain AMS8 Lipase in Interfacial Activation, Substrate Accessibility and Low-Molecular Weight Esterification in the Presence of Toluene

1

Enzyme Technology/Molecular Biomedicine Laboratory, Enzyme and Microbial Technology Research Centre, Institute of Bioscience, Universiti Putra Malaysia, 43400 Serdang, Malaysia

2

Enzyme and Microbial Technology Research Centre, Faculty of Biotechnology and Biomolecular Sciences, University Putra Malaysia, 43400 Serdang, Malaysia

3

Enzyme and Microbial Technology Research Centre, Department of Cell Biology and Molecule, Faculty of Biotechnology and Biomolecular Sciences, Universiti Putra Malaysia, 43400 Serdang, Malaysia

4

Enzyme and Microbial Technology Research Centre, Department of Biochemistry, Faculty of Biotechnology and Biomolecular Sciences, Universiti Putra Malaysia, 43400 Serdang, Malaysia

5

Enzyme and Microbial Technology Research Centre, Department of Microbiology, Faculty of Biotechnology and Biomolecular Sciences, Universiti Putra Malaysia, 43400 Serdang, Malaysia

*

Author to whom correspondence should be addressed.

Received: 7 July 2017 / Revised: 31 July 2017 / Accepted: 4 August 2017 / Published: 12 August 2017
Abstract
The alkaline cold-active lipase from
Pseudomonas fluorescens
AMS8 undergoes major structural changes when reacted with hydrophobic organic solvents. In toluene, the AMS8 lipase catalytic region is exposed by the moving hydrophobic lid 2 (Glu-148 to Gly-167). Solvent-accessible surface area analysis revealed that Leu-208, which is located next to the nucleophilic Ser-207 has a focal function in influencing substrate accessibility and flexibility of the catalytic pocket. Based on molecular dynamic simulations, it was found that Leu-208 strongly facilitates the lid 2 opening via its side-chain. The K
M
and K
cat
/K
M
of L208A mutant were substrate dependent as it preferred a smaller-chain ester (pNP-caprylate) as compared to medium (pNP-laurate) or long-chain (pNP-palmitate) esters. In esterification of ethyl hexanoate, L208A promotes a higher ester conversion rate at 20 °C but not at 30 °C, as a 27% decline was observed. Interestingly, the wild-type (WT) lipase's conversion rate was found to increase with a higher temperature. WT lipase AMS8 esterification was higher in toluene as compared to L208A. Hence, the results showed that Leu-208 of AMS8 lipase plays an important role in steering a broad range of substrates into its active site region by regulating the flexibility of this region. Leu-208 is therefore predicted to be crucial for its role in interfacial activation and catalysis in toluene.
View Full-Text
►

▼

Figures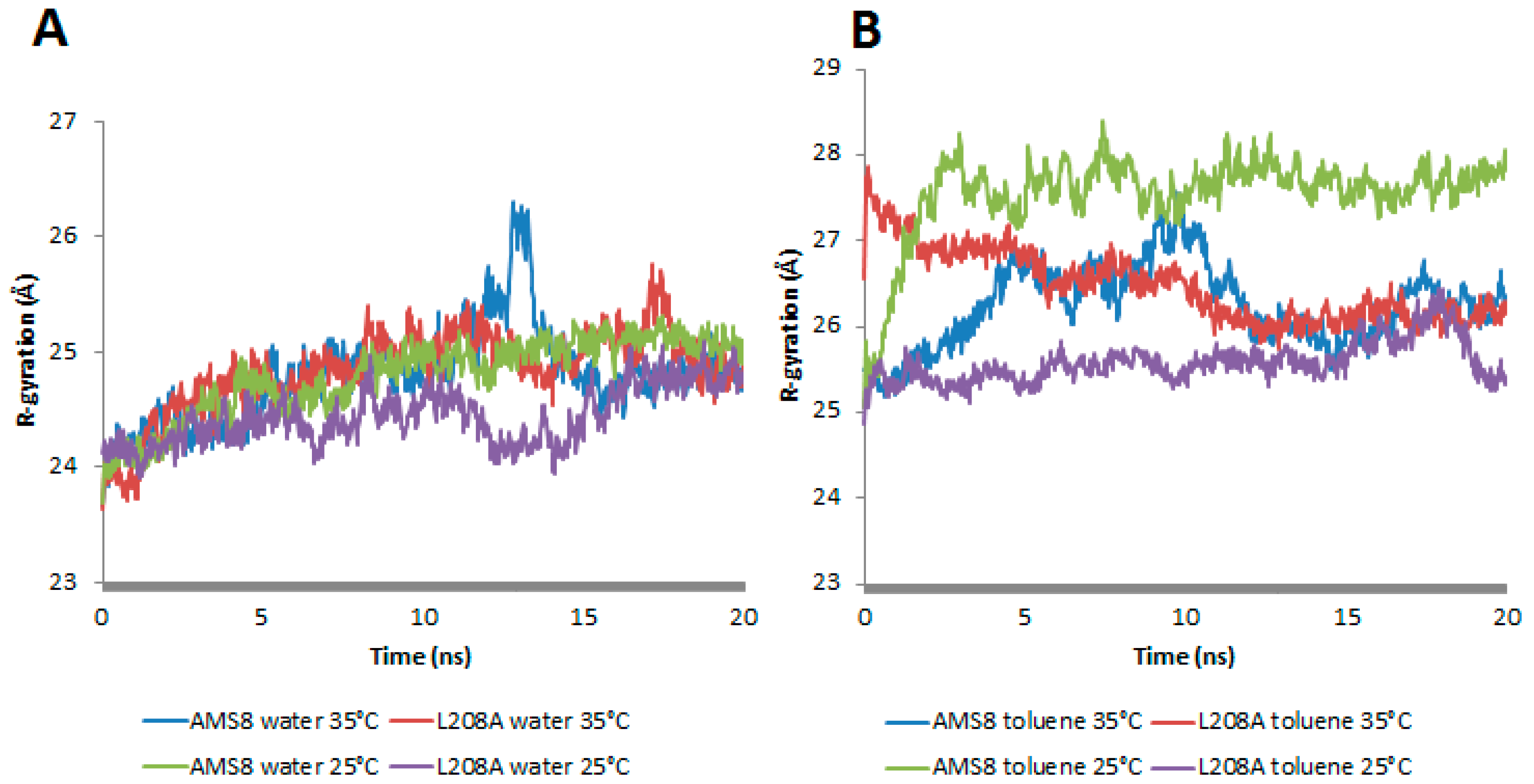 Figure 1
This is an open access article distributed under the
Creative Commons Attribution License
which permits unrestricted use, distribution, and reproduction in any medium, provided the original work is properly cited (CC BY 4.0).

Share & Cite This Article
MDPI and ACS Style
Yaacob, N.; Ahmad Kamarudin, N.H.; Leow, A.T.C.; Salleh, A.B.; Raja Abd Rahman, R.N.Z.; Mohamad Ali, M.S. The Role of Solvent-Accessible Leu-208 of Cold-Active Pseudomonas fluorescens Strain AMS8 Lipase in Interfacial Activation, Substrate Accessibility and Low-Molecular Weight Esterification in the Presence of Toluene. Molecules 2017, 22, 1312.
Note that from the first issue of 2016, MDPI journals use article numbers instead of page numbers. See further details here.
Related Articles
Comments
[Return to top]