Anti-Inflammatory Phenolic Acid Esters from the Roots and Rhizomes of
Notopterygium incisium

and Their Permeability in the Human Caco-2 Monolayer Cell Model

1

State Key Laboratory of Natural and Biomimetic Drugs, Department of Natural Medicines, School of Pharmaceutical Sciences, Peking University Health Science Center, Peking University, No. 38, Xueyuan Road, Haidian District, Beijing 100191, China

2

School of Chinese Materia Medica, Jiangxi University of Traditional Chinese Medicine, Nanchang 330004, China

3

State Key Laboratory of Innovative Drug and Efficient Energy-Saving Pharmaceutical Equipment, Jiangxi University of Traditional Chinese Medicine, Nanchang 330006, China

*

Author to whom correspondence should be addressed.

Academic Editor: Isabel C.F.R. Ferreira

Received: 8 May 2017 / Revised: 1 June 2017 / Accepted: 2 June 2017 / Published: 4 June 2017
Abstract
A new ferulic acid ester named 4-methyl-3-
trans
-hexenylferulate (
1
), together with eight known phenolic acid esters (
2
–
9
), was isolated from the methanolic extract of the roots and rhizomes of
Notopterygium incisium
. Their structures were elucidated by extensive spectroscopic techniques, including 2D NMR spectroscopy and mass spectrometry. 4-Methoxyphenethyl ferulate (
8
) NMR data is reported here for the first time. The uptake and transepithelial transport of the isolated compounds
1
–
9
were investigated in the human intestinal Caco-2 cell monolayer model. Compounds
2
and
6
were assigned for the well-absorbed compounds, compound
8
was assigned for the moderately absorbed compound, and compounds
1
,
3
,
4
,
5
,
7
, and
9
were assigned for the poorly absorbed compounds. Moreover, all of the isolated compounds were assayed for the inhibitory effects against nitric oxide (NO) production in the lipopolysaccharide-activated RAW264.7 macrophages model and
L-N
6
-(1-iminoethyl)-lysine (L-NIL) was used as a positive control. Compounds
1
,
5
,
8
, and
9
exhibited potent inhibitory activity on NO production with the half maximal inhibitory concentration (IC
50
) values of 1.01, 4.63, 2.47, and 2.73 μM, respectively, which were more effective than L-NIL with IC
50
values of 9.37 μM. These findings not only enriched the types of anti-inflammatory compounds in
N. incisum
but also provided some useful information for predicting their oral bioavailability and their suitability as drug leads or promising anti-inflammatory agents.
View Full-Text
►

▼

Figures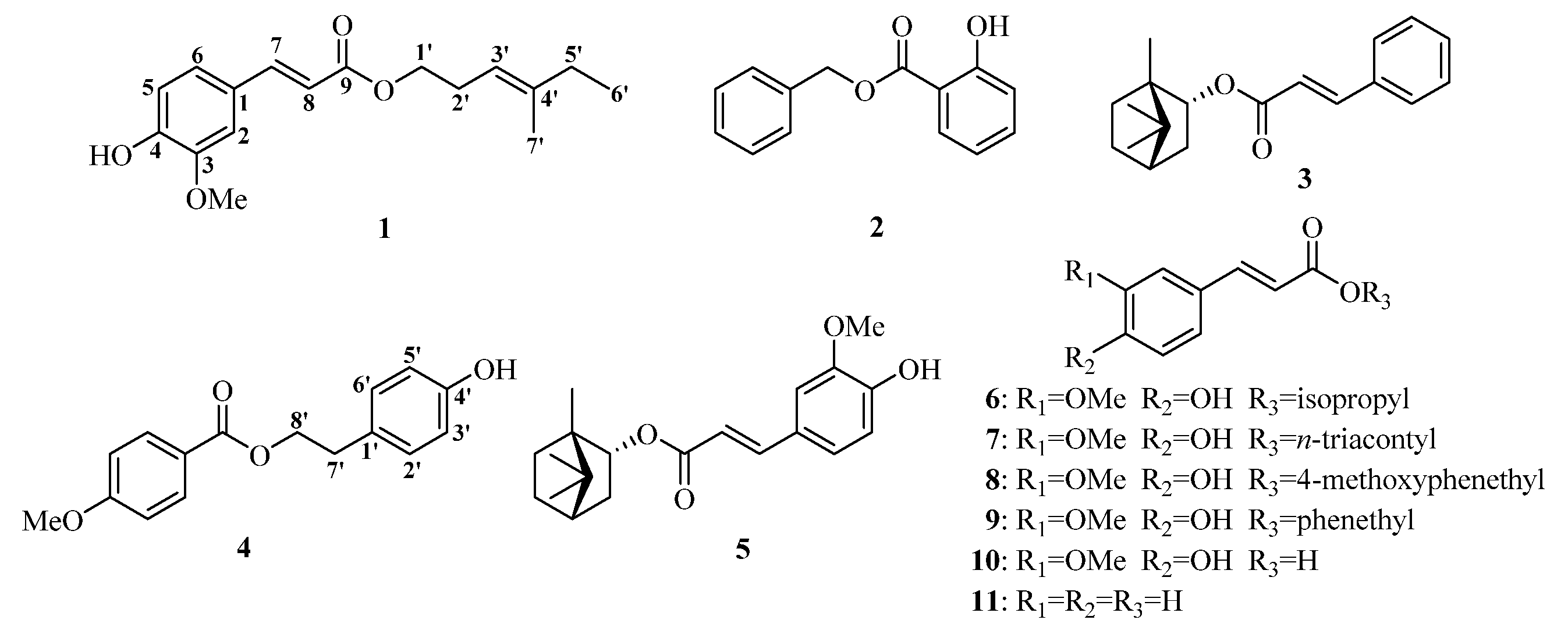 Figure 1
This is an open access article distributed under the
Creative Commons Attribution License
which permits unrestricted use, distribution, and reproduction in any medium, provided the original work is properly cited (CC BY 4.0).

Share & Cite This Article
MDPI and ACS Style
Wu, X.-W.; Wei, W.; Yang, X.-W.; Zhang, Y.-B.; Xu, W.; Yang, Y.-F.; Zhong, G.-Y.; Liu, H.-N.; Yang, S.-L. Anti-Inflammatory Phenolic Acid Esters from the Roots and Rhizomes of Notopterygium incisium and Their Permeability in the Human Caco-2 Monolayer Cell Model. Molecules 2017, 22, 935.
Note that from the first issue of 2016, MDPI journals use article numbers instead of page numbers. See further details here.
Related Articles
Comments
[Return to top]