Altholactone Inhibits NF-κB and STAT3 Activation and Induces Reactive Oxygen Species-Mediated Apoptosis in Prostate Cancer DU145 Cells
1
The Key Laboratory of Molecular Epigenetics of MOE, Institute of Genetics and Cytology, Northeast Normal University, Changchun 130024, China
2
Faculty of Science and Technology, Government College University Faisalabad (GCUF), Faisalabad 38000, Pakistan
3
Dental Hospital, Jilin University, Changchun 130021, China
4
Department of Chemistry, University of Sargodha, Sub-campus Bhakkar 30000, Pakistan
5
Chemical Biology Research Group, RIKEN Center for Sustainable Resource Science, Chemical Biology Department, Wako, Saitama 351-0198, Japan
*
Authors to whom correspondence should be addressed.
Academic Editor: Derek J. McPhee
Received: 29 December 2016 / Revised: 29 January 2017 / Accepted: 2 February 2017 / Published: 7 February 2017
Abstract
Altholactone, a natural compound isolated from
Goniothalamus
spp., has demonstrated anti-inflammatory and anticancer activities, but its molecular mechanisms are still not fully defined. Nuclear factor kappa B (NF-κB) and signal transducer and activator of transcription 3 (STAT3) play pivotal roles in the cell survival of many human tumors. The objective of this study was to elucidate the mechanism of action of altholactone against prostate cancer DU145 cells and to evaluate whether its effects are mediated by inhibition of NF-κB and STAT3 activity. Altholactone inhibited proliferation of DU145 cells and induced cell cycle arrest in S phase and triggered apoptosis. Reporter assays revealed that altholactone repressed p65- and TNF-α-enhanced NF-κB transcriptional activity and also inhibited both constitutive and IL-6-induced transcriptional activity of STAT3. Consistent with this, altholactone down-regulated phosphorylation of STAT3 and moreover, decreased constitutively active mutant of STAT3 (STAT3C)-induced transcriptional activity. Altholactone treatment also results in down-regulation of STAT3 target genes such as survivin, and Bcl-2 followed by up regulation of pro-apoptotic Bax protein. However, pre-treatment with the antioxidant N-acetylcysteine (NAC) significantly inhibited the activation of Bax and prevented down-regulation of STAT3 target genes. Collectively, our findings suggest that altholactone induces DU145 cells death through inhibition of NF-κB and STAT3 activity.
View Full-Text
►

▼

Figures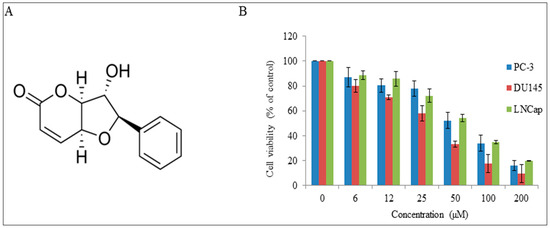 Figure 1
This is an open access article distributed under the
Creative Commons Attribution License
which permits unrestricted use, distribution, and reproduction in any medium, provided the original work is properly cited (CC BY 4.0).

Share & Cite This Article
MDPI and ACS Style
Jiang, C.; Masood, M.; Rasul, A.; Wei, W.; Wang, Y.; Ali, M.; Mustaqeem, M.; Li, J.; Li, X. Altholactone Inhibits NF-κB and STAT3 Activation and Induces Reactive Oxygen Species-Mediated Apoptosis in Prostate Cancer DU145 Cells. Molecules 2017, 22, 240.
Note that from the first issue of 2016, MDPI journals use article numbers instead of page numbers. See further details here.
Related Articles
Comments
[Return to top]