Two-Ply Composite Membranes with Separation Layers from Chitosan and Sulfoethylcellulose on a Microporous Support Based on Poly(diphenylsulfone-
N

-phenylphthalimide)

1

Institute of Macromolecular Compounds of the Russian Academy of Sciences, Bolshoi pr. VO 31, St. Petersburg 199004, Russia

2

Shubnikov Institute of Crystallography, Federal Scientific Research Centre "Crystallography and Photonics", Russian Academy of Sciences, Leninskiy pr. 59, Moscow 119333, Russia

3

National Research Centre "Kurchatov Institute", Akademika Kurchatova pl. 1, Moscow 123182, Russia

4

Institute of Experimental Medicine, Almazov National Medical Research Centre, Akkuratova ul. 2, St. Petersburg 197341, Russia

*

Author to whom correspondence should be addressed.

Received: 21 October 2017 / Revised: 4 December 2017 / Accepted: 12 December 2017 / Published: 14 December 2017
Abstract
Two-ply composite membranes with separation layers from chitosan and sulfoethylcellulose were developed on a microporous support based on poly(diphenylsulfone-
N
-phenylphthalimide) and investigated by use of X-ray diffraction and scanning electron microscopy methods. The pervaporation properties of the membranes were studied for the separation of aqueous alcohol (ethanol, propan-2-ol) mixtures of different compositions. When the mixtures to be separated consist of less than 15 wt % water in propan-2-ol, the membranes composed of polyelectrolytes with the same molar fraction of ionogenic groups (-NH
3
+
for chitosan and -SO
3
−
for sulfoethylcellulose) show high permselectivity (the water content in the permeate was 100%). Factors affecting the structure of a non-porous layer of the polyelectrolyte complex formed on the substrate surface and the contribution of that complex to changes in the transport properties of membranes are discussed. The results indicate significant prospects for the use of chitosan and sulfoethylcellulose for the formation of highly selective pervaporation membranes.
View Full-Text
►

▼

Figures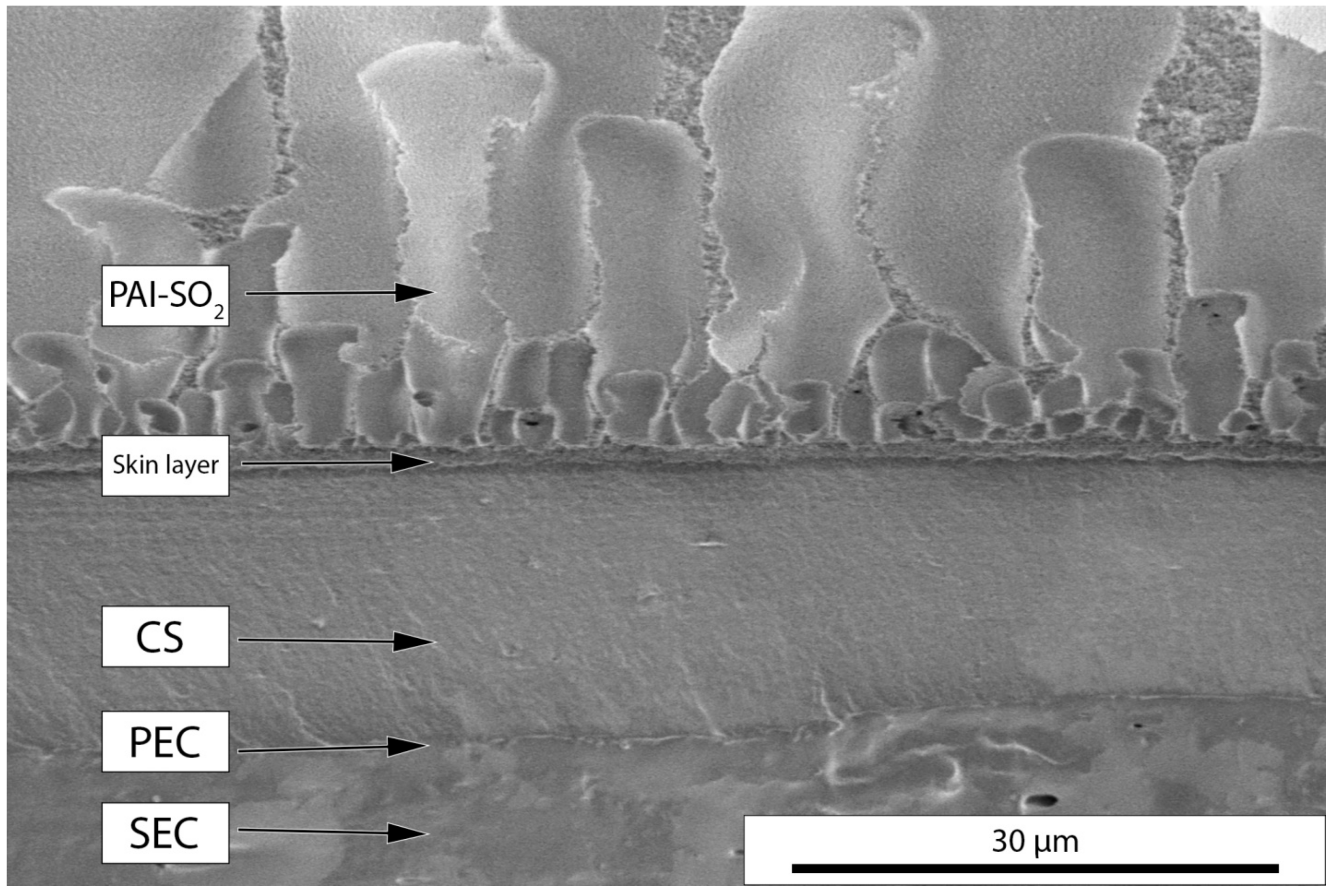 Figure 1
This is an open access article distributed under the
Creative Commons Attribution License
which permits unrestricted use, distribution, and reproduction in any medium, provided the original work is properly cited (CC BY 4.0).

Share & Cite This Article
MDPI and ACS Style
Kononova, S.V.; Kruchinina, E.V.; Petrova, V.A.; Baklagina, Y.G.; Romashkova, K.A.; Orekhov, A.S.; Klechkovskaya, V.V.; Skorik, Y.A. Two-Ply Composite Membranes with Separation Layers from Chitosan and Sulfoethylcellulose on a Microporous Support Based on Poly(diphenylsulfone-N-phenylphthalimide). Molecules 2017, 22, 2227.
Note that from the first issue of 2016, MDPI journals use article numbers instead of page numbers. See further details here.
Related Articles
Comments
[Return to top]