Open Access This article is
freely available
re-usable
Article
The Eukaryotic Elongation Factor 1 Alpha (eEF1α) from the Parasite
Leishmania infantum
Is Modified with the Immunomodulatory Substituent Phosphorylcholine (PC)
1
Protein Analytics, Institute of Biochemistry, Faculty of Medicine, Justus-Liebig-University Giessen, Friedrichstrasse 24, 35392 Giessen, Germany
2
Department of Veterinary Medicine, University of Bari, Str. prov. per Casamassima km 3, Valenzano, 70010 Bari, Italy
3
Department of Pharmacology, Goethe University College of Pharmacy, 60438 Frankfurt, Germany
*
Correspondence: Tel.: +49-641-994-7462; Fax: +49-641-994-7489
†
These authors contributed equally to this manuscript.

Received: 27 October 2017 / Accepted: 24 November 2017 / Published: 29 November 2017
Abstract
:
Proteins and glycolipids have been found to be decorated with phosphorylcholine (PC) both in protozoa and nematodes that parasitize humans and animals. PC epitopes can provoke various effects on immune cells leading to an immunomodulation of the host's immune system that allows long-term persistence of the parasites. So far, only a limited number of PC-modified proteins, mainly from nematodes, have been identified. Infections caused by
Leishmania
spp. (e.g.,
L. infantum
in southern Europe) affect about 12 million people worldwide and are characterized by a wide spectrum of clinical forms in humans, ranging from cutaneous to fatal visceral leishmaniasis. To establish and maintain the infection, these protozoa are dependent on the secretion of effector molecules into the host for modulating their immune system. In this project, we analyzed the PC modification of
L. infantum
promastigotes by 2D-gel based proteomics. Western blot analysis with the PC-specific antibody TEPC-15 revealed one PC-substituted protein in this organism, identified as eEF1α. We could demonstrate that the binding of eEF1α to one of its downstream effectors is dependent on its PC-modification. In this study we provide evidence that in this parasite the modification of eEF1α with PC may be essential for its function as an important virulence factor.
Keywords:
Leishmania infantum
; promastigote; proteomics; phosphorylcholine; immunomodulation; immunofluorescence
Acknowledgments
The authors thank Michael Dreisbach, Christina Schmidt and Hans-Günter Welker for excellent technical assistance. The support of Melanie Meister (Institute of Biochemistry) and Christian Zimmermann (Department of Pediatrics) for confocal microscopy is greatly acknowledged. Domenico Otranto is greatly acknowledged for his support.
Author Contributions
Thomas Timm, Giada Annoscia and Guenter Lochnit designed the project. Thomas Timm, Giada Annoscia and Jochen Klein perfomed the experiments. Thomas Timm, Giada Annoscia and Guenter Lochnit wrote the manuscript.
Conflicts of Interest
The authors declare no potential conflicts of interest.
Sample Availability: Samples of the compounds are not available from the authors.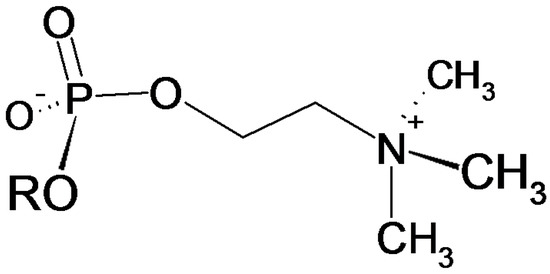 Figure 1.
Structure of the phosphocholine functionality with R being an
N
-glycan or the sidechaine of an amino acid.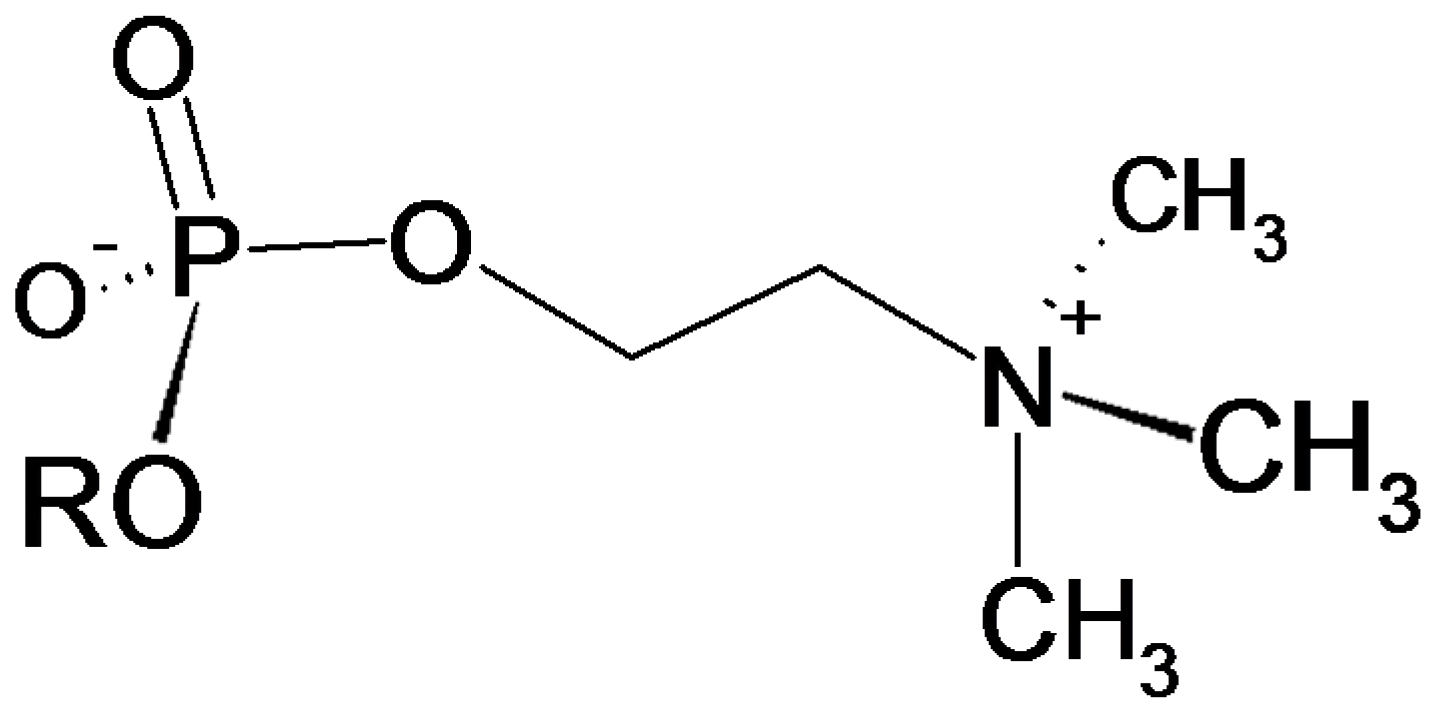 Figure 2.
2D-Gel electrophoretic separation of
L. infantum
proteins. (
A
) Gel stained with Flamingo for total protein visualization and (
B
,
C
) ECLs of a Western blot probed with the PC-specific antibody TEPC15. One spot is detected as being PC-modified, even if the film is overexposed: image (
C
) is exposed for 10 min, although the spot is already visible after 1 min (
B
). The corresponding spot in (
A
) is labelled with a circle.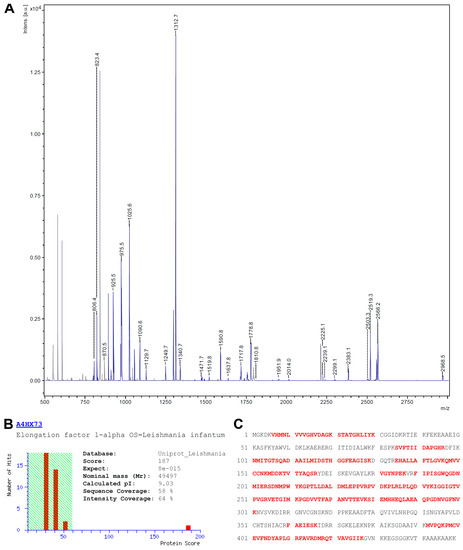 Figure 3.
Identification of eEF1α. (
A
) MS-Spectrum of the tryptic digest of the processed protein spot. Peaks matching to the sequence of eEF1α are shown in blue; (
B
) Identification of eEF1α with a MOWSE score of 187 (scores above 59 are significant;
p
< 0.05). The theoretical values for the molecular weight and pI correspond to the observed ones; (
C
) Sequence of eEF1α with peptides identified by database search highlighted in red.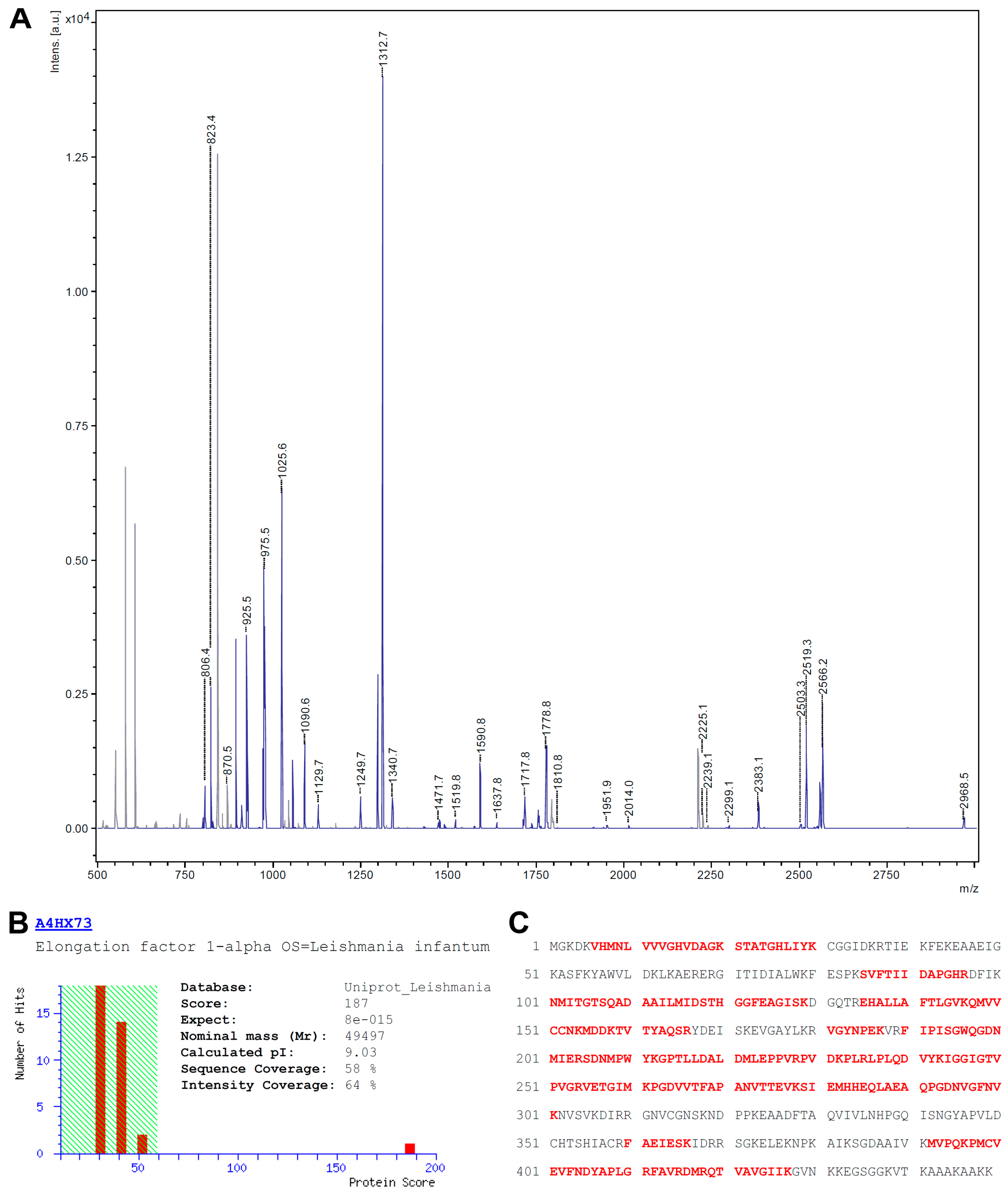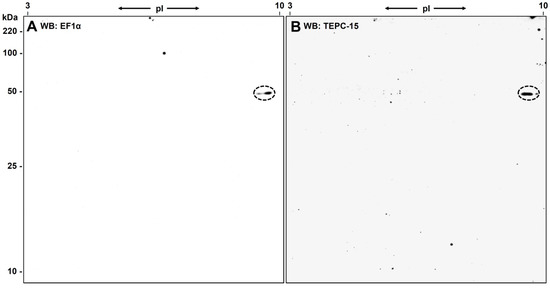 Figure 4.
2D-Western blot analyses with eEF1α- and PC-specific antibodies. (
A
) ECL of a Western blot probed with PA5-17213, an eEF1α-specific antibody. The elongation factor is detected at its expected molecular weight (49.5 kDa) but at a slightly higher pI (9.5 compared to an expected pI of 9.03). There is also a second spot of the same size but at lower pI detectable, representing another protein species of eEF1α (
B
). Both spots of eEF1α shown in (
A
) are recognized by the PC-specific antibody TEPC-15. Note that this
Leishmania
were cultivated for ten days but display no difference in PC-substitution compared to the ones cultivated only for three days.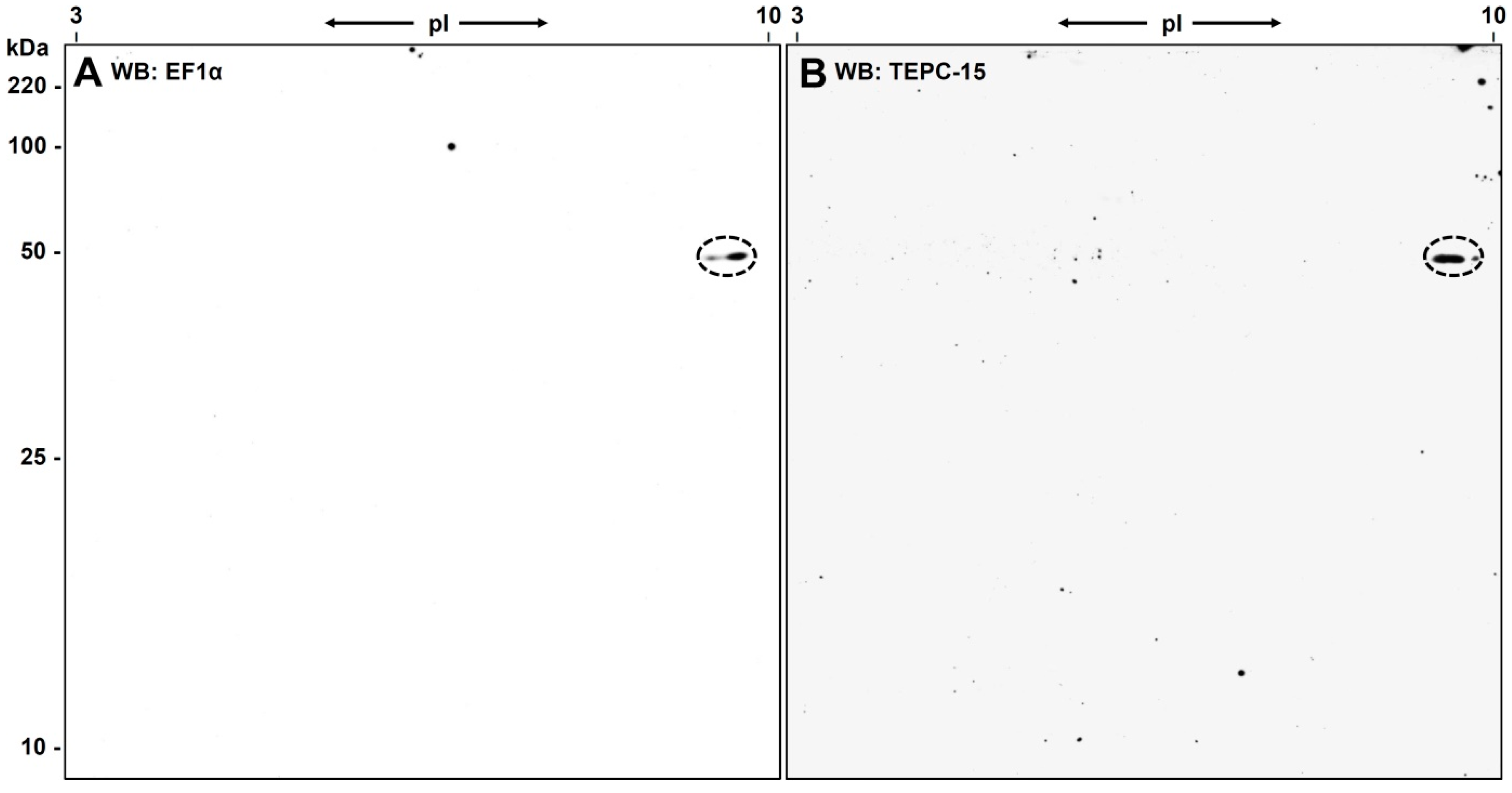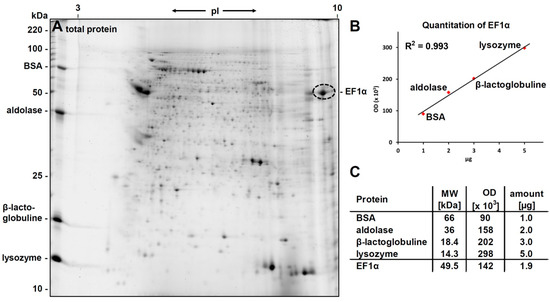 Figure 5. Quantitation of the extracted eEF1α. (A) Gel stained with Flamingo for total protein visualization. To quantify individual spots by densitometric analysis, four proteins with specific amounts were run along the sample in the second dimension; (B) The plot shows the linear correlation of optical densities of the four proteins with their nominal amount; (C) The table displays the data for the calibration proteins and the derived amount of eEF1α contained in 400 µg of total protein extract.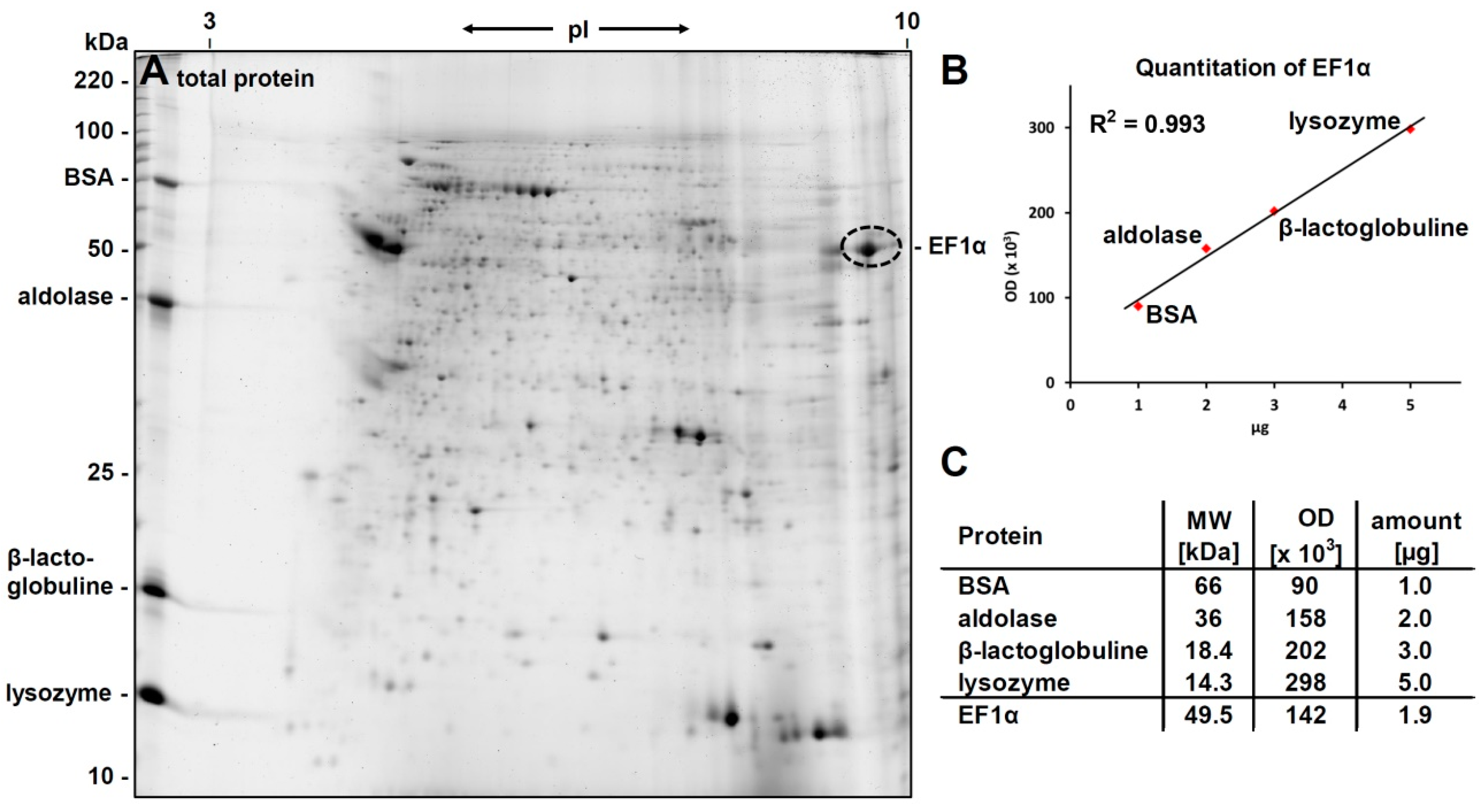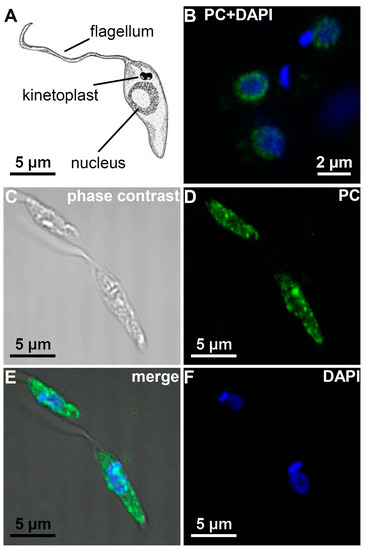 Figure 6.
Localization of the PC epitope by confocal microscopy in
L. infantum
promastigotes. (
A
) Drawing of a
L. infantum
promastigote (modified from valleyveterinarygroup.com); (
B
) Confocal image of three
L. infantum
promastigotes after three days in culture. The nucleus and the kinetoplast are stained with DAPI (shown in blue). The PC epitope is recognized by the TEPC-15 antibody as a pearly ring around the nucleus (shown in green); (
C
–
F
) Confocal images of two
L. infantum
promastigotes after ten days in culture. The PC epitope is now localized throughout the whole cytoplasm (
D
); still having a rather dotted and non-homogeneous appearance; Image (
E
) shows a merge of the phase contrast image (
C
) with the PC- (
D
) and DAPI stain (
F
).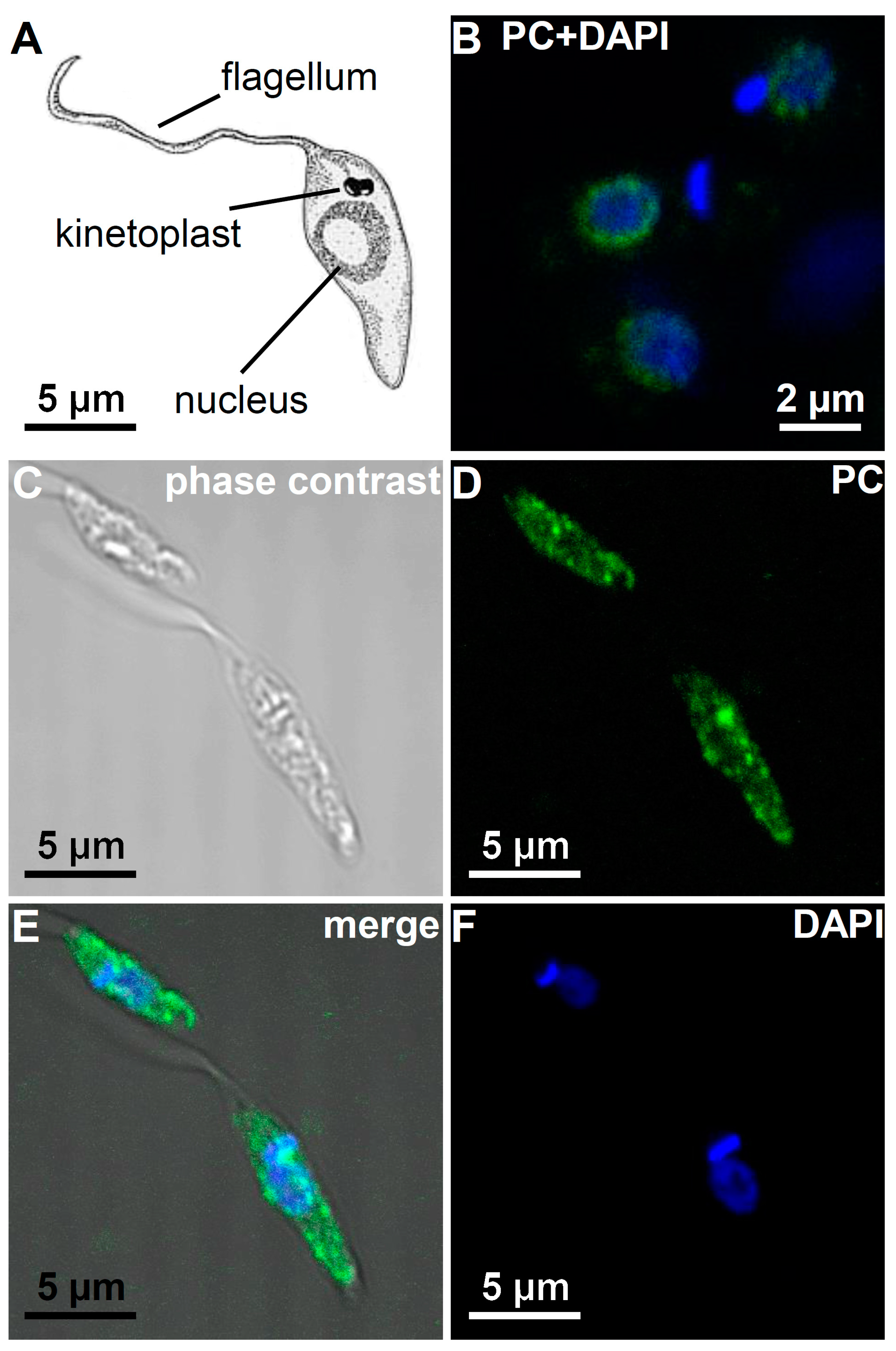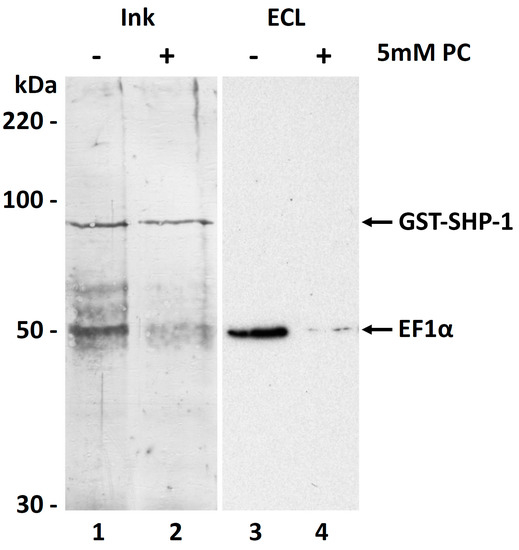 Figure 7.
Interaction of
L. infantum
EF1α with human SHP-1.
Leishmania
EF1α co-purifies with human GST-SHP-1 as detected in a Western blot by the eEF1α-specific antibody (lane
3
). This interaction is almost completely abolished in presence of 5 mM phosphorylcholine (lane
4
). Lanes
1
and
2
show an Ink-staining of the proteins co-eluting with the GST-tagged phosphatase SHP-1 directly on the PVDF membrane. Whereas the SHP-1 (~90 kDa) is visible in both lanes at similar amounts, a band corresponding to EF1α (~50 kDa) is much stronger in lane 1 than in lane 2, were PC interrupts their interaction.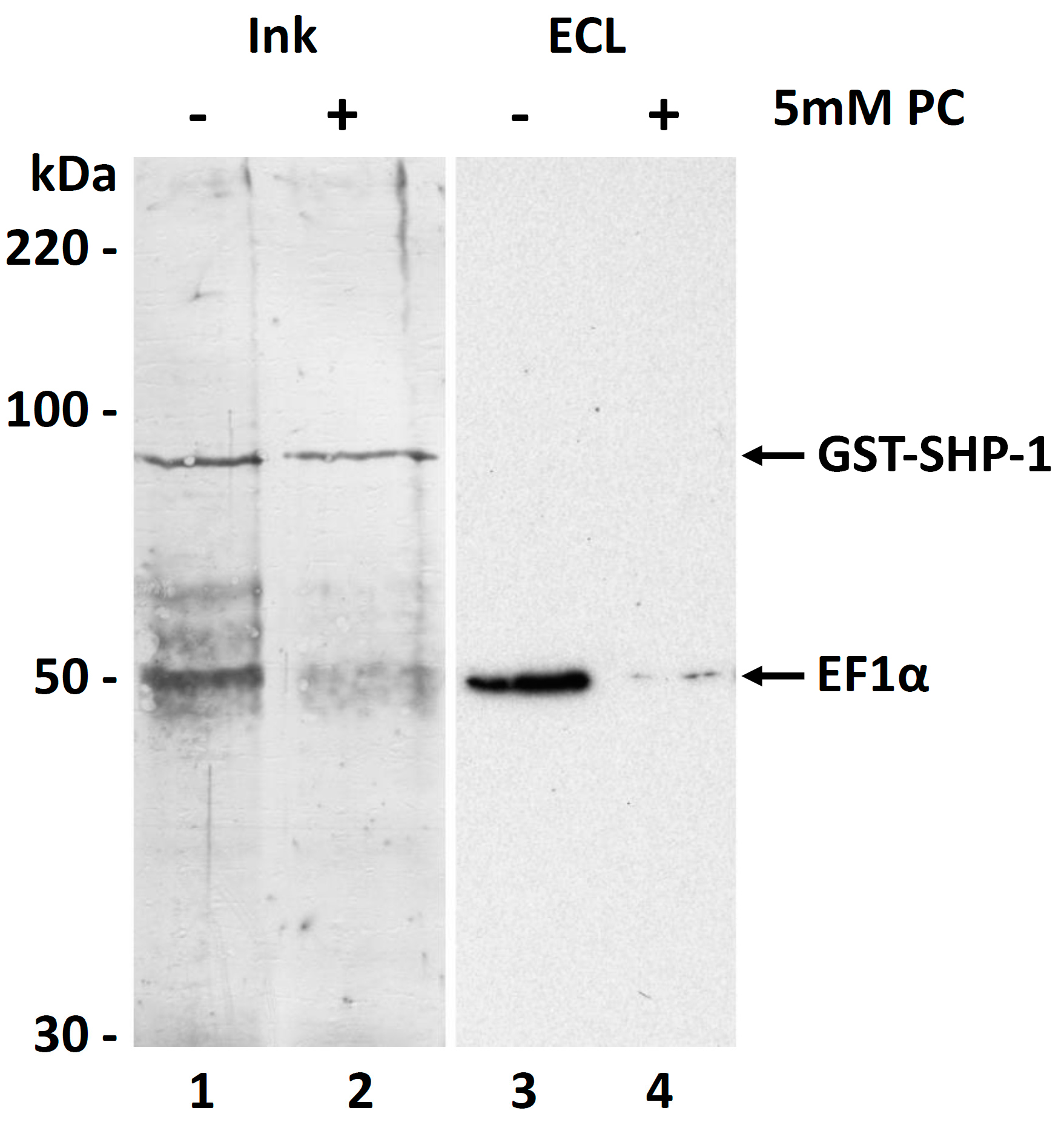 © 2017 by the authors. Licensee MDPI, Basel, Switzerland. This article is an open access article distributed under the terms and conditions of the Creative Commons Attribution (CC BY) license (http://creativecommons.org/licenses/by/4.0/).