Amaranth Protein Hydrolysates Efficiently Reduce Systolic Blood Pressure in Spontaneously Hypertensive Rats
1
Nutritional Sciences, Department of Chemical and Biological Sciences, University of Sonora, Hermosillo, Sonora 83000, Mexico
2
Faculty of Physical Education and Sport, University of Sinaloa, Culiacán, Sinaloa 80019, Mexico
3
Nutrition Sciences Academic Unit, University of Sinaloa, Culiacán, Sinaloa 80019, Mexico
4
Faculty of Chemical and Biological Sciences, University of Sinaloa, Culiacán, Sinaloa 80199, Mexico
*
Authors to whom correspondence should be addressed.
Received: 1 October 2017 / Revised: 25 October 2017 / Accepted: 3 November 2017 / Published: 9 November 2017
Abstract
Alcalase is the enzyme of choice to release antihypertensive peptides from amaranth proteins, but the hydrolysis conditions have not been optimized yet. Furthermore, in vivo assays are needed to confirm such a hypotensive effect. Our aim was to optimize the hydrolysis of amaranth protein with alcalase and to test in vivo the hypotensive effect of the hydrolysates. A response surface analysis was carried out to optimize the hydrolysis reaction. The response variable was the Angiotensin Converting Enzyme (ACE-I) inhibition. The hydrolysis degree was determined (free alpha-amino groups measurement). The optimized hydrolysate bioavailability was assessed in the sera of mice and the hypotensive effect was assessed in spontaneously hypertensive rats. Control groups were administered captopril or water. The optimized hydrolysis conditions were: pH = 7.01, temperature = 52 °C, enzyme concentration 0.04 mU/mg, and time = 6.16 h. The optimized hydrolysate showed a 93.5% of ACE-I inhibition and a hydrolysis degree of 74.77%. After supplementation, the hydrolysate was bioavailable in mice from 5 to 60 min, and the hypotensive effect started at 4 h in spontaneously hypertensive rats (
p
< 0.05 vs. water group). This effect was similar to the captopril hypotensive effect for the next 3 h (
p
> 0.05). The use of amaranth-optimized hydrolysates as hypotensive supplements or ingredient for functional foods seems feasible.
View Full-Text
►

▼

Figures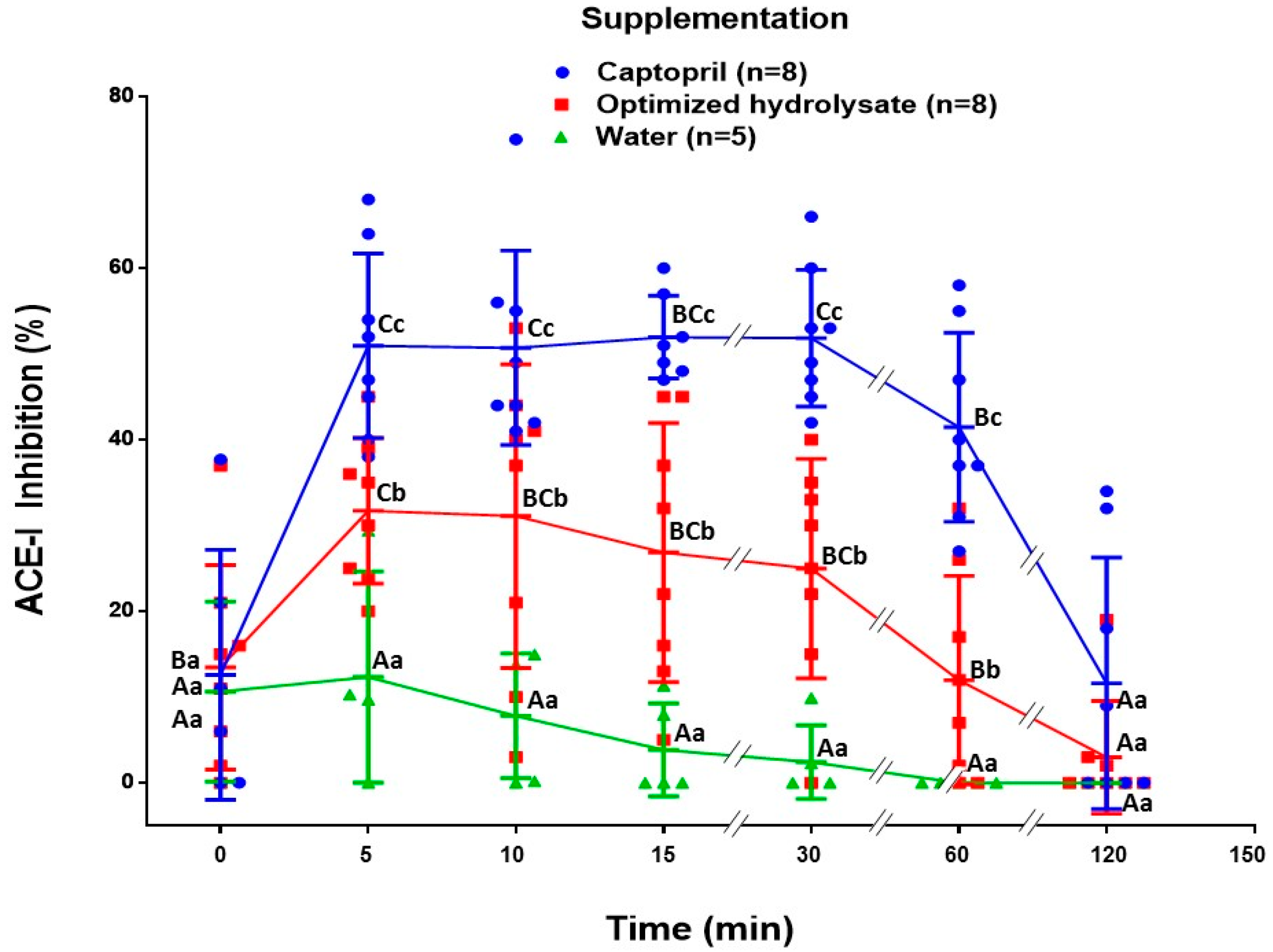 Figure 1
This is an open access article distributed under the
Creative Commons Attribution License
which permits unrestricted use, distribution, and reproduction in any medium, provided the original work is properly cited (CC BY 4.0).

Share & Cite This Article
MDPI and ACS Style
Ramírez-Torres, G.; Ontiveros, N.; Lopez-Teros, V.; Ibarra-Diarte, J.A.; Reyes-Moreno, C.; Cuevas-Rodríguez, E.O.; Cabrera-Chávez, F. Amaranth Protein Hydrolysates Efficiently Reduce Systolic Blood Pressure in Spontaneously Hypertensive Rats. Molecules 2017, 22, 1905.
Note that from the first issue of 2016, MDPI journals use article numbers instead of page numbers. See further details here.
Related Articles
Comments
[Return to top]