Biological Properties of Low-Toxic PLGA and PLGA/PHB Fibrous Nanocomposite Scaffolds for Osseous Tissue Regeneration. Evaluation of Potential Bioactivity
1
Department of Experimental Surgery and Biomaterials Research, Wrocław Medical University, Pasteura 1, 50-367 Wrocław, Poland
2
Department of Material and Commodity Sciences and Textile Metrology, Technical University of Lodz, Zeromskiego 116, 90-924 Lodz, Poland
3
Department of General Radiology, Interventional Radiology and Neuroradiology, Wrocław Medical University, Pasteura 1, 50-367 Wrocław, Poland
*
Author to whom correspondence should be addressed.
Received: 5 September 2017 / Revised: 19 October 2017 / Accepted: 24 October 2017 / Published: 28 October 2017
Abstract
Abstracts:
The aim of the study was to evaluate the biocompatibility and bioactivity of two new prototype implants for bone tissue regeneration made from biodegradable fibrous materials. The first is a newly developed poly(l-lactide-co-glycolide), (PLGA), and the second is a blend of PLGA with synthetic poly([R,S]-3-hydroxybutyrate) (PLGA/PHB). The implant prototypes comprise PLGA or PLGA/PHB nonwoven fabrics with designed pore structures to create the best conditions for cell proliferation. The bioactivity of the proposed implants was enhanced by introducing a hydroxyapatite material and a biologically active agent, namely, growth factor IGF1, encapsulated in calcium alginate microspheres. To assess the biocompatibility and bioactivity, allergenic tests and an assessment of the local reaction of bone tissue after implantation were performed. Comparative studies of local tissue response after implantation into trochanters for a period of 12 months were performed on New Zealand rabbits. Based on the results of the in vivo evaluation of the allergenic effects and the local tissue reaction 12 months after implantation, it was concluded that the two implant prototypes, PLGA + IGF1 and PLGA/PHB + IGF1, were characterized by high biocompatibility with the soft and bone tissues of the tested animals.
View Full-Text
►

▼

Figures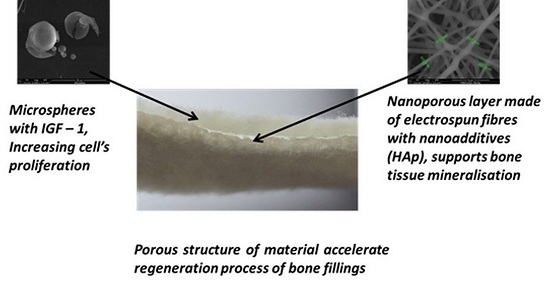 Graphical abstract
This is an open access article distributed under the
Creative Commons Attribution License
which permits unrestricted use, distribution, and reproduction in any medium, provided the original work is properly cited (CC BY 4.0).

Share & Cite This Article
MDPI and ACS Style
Żywicka, B.; Krucińska, I.; Garcarek, J.; Szymonowicz, M.; Komisarczyk, A.; Rybak, Z. Biological Properties of Low-Toxic PLGA and PLGA/PHB Fibrous Nanocomposite Scaffolds for Osseous Tissue Regeneration. Evaluation of Potential Bioactivity. Molecules 2017, 22, 1852.
Note that from the first issue of 2016, MDPI journals use article numbers instead of page numbers. See further details here.
Related Articles
Comments
[Return to top]