Influence of Harvest Season and Cultivar on the Variation of Phenolic Compounds Composition and Antioxidant Properties in
Vaccinium ashei

Leaves

1

Departamento de Farmácia Industrial, Programa de Pós-Graduação em Ciências Farmacêuticas, Universidade Federal de Santa Maria, Santa Maria RS 97105-900, Brazil

2

Departamento de Ciências da Saúde, Curso de Farmácia, Universidade Regional Integrada do Alto Uruguai e das Missões, Frederico Westphalen RS 98400-000, Brazil

3

Departamento de Ciências Exatas e da Terra, Curso de Química, Universidade Regional Integrada do Alto Uruguai e das Missões, Frederico Westphalen, RS 98400-000, Brazil

4

Departamento de Tecnologia e Ciência dos Alimentos, Programa de Pós-Graduação em Ciência e Tecnologia dos Alimentos, Centro de Ciências Rurais, Universidade Federal de Santa Maria, Santa Maria RS 97105-900, Brazil

*

Author to whom correspondence should be addressed.

Received: 20 August 2017 / Revised: 14 September 2017 / Accepted: 20 September 2017 / Published: 30 September 2017
Abstract
The effect of variation of harvest season and cultivar on the total phenolic content (TPC), total flavonoid content (TFC), HPLC-UV/DAD profile and antioxidant properties in
Vaccinium ashei
(Rabbiteye blueberry) leaves grown in Brazil was evaluated. The cultivars collected in December and March were Aliceblue, Powderblue, Climax, Bluegem and FloridaM. It was observed that leaves from March had the highest TPC values (222 ± 1 mg gallic acid equivalents/g to Aliceblue cultivar) and highest TFC values (49.8 ± 0.8 and 48.7 ± 0.7 µg rutin/g to Clímax and Powderblue cultivars, respectively). The chromatographic profile was quantitatively similar, however, the proportions of each compound were influenced by cultivar and harvest season. Chlorogenic acid and rutin were the main identified phenolic compounds, but chlorogenic acid was the most abundant in both harvest seasons. Antioxidant capacities values ranged from 5.80 ± 0.04 to 105 ± 2 µg/mL (DPPH) and 178 ± 5 to 431 ± 8 mmol Trolox/100 g (ORAC). The cultivar Bluegem by March had the highest values in both assays. The results indicate that the blueberry leaves from different cultivars and harvest seasons have different phenolic compounds content and different antioxidant capacities. In addition, the antioxidant properties demonstrated a high correlation with rutin content.
View Full-Text
►

▼

Figures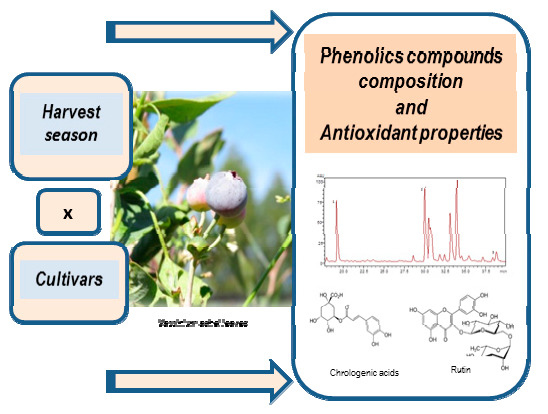 Graphical abstract
This is an open access article distributed under the
Creative Commons Attribution License
which permits unrestricted use, distribution, and reproduction in any medium, provided the original work is properly cited (CC BY 4.0).

Share & Cite This Article
MDPI and ACS Style
Cezarotto, V.S.; Giacomelli, S.R.; Vendruscolo, M.H.; Vestena, A.S.; Cezarotto, C.S.; Da Cruz, R.C.; Maurer, L.H.; Ferreira, L.M.; Emanuelli, T.; Cruz, L. Influence of Harvest Season and Cultivar on the Variation of Phenolic Compounds Composition and Antioxidant Properties in Vaccinium ashei Leaves. Molecules 2017, 22, 1603.
Note that from the first issue of 2016, MDPI journals use article numbers instead of page numbers. See further details here.
Related Articles
Comments
[Return to top]