Open Access This article is
freely available
re-usable
Article
Asperpyrone-Type Bis-Naphtho-γ-Pyrones with COX-2–Inhibitory Activities from Marine-Derived Fungus
Aspergillus niger
1
Hubei Biopesticide Engineering Research Center, Hubei Academy of Agricultural Science, Wuhan 430064, China
2
Key Laboratory of Tropical Marine Bio-Resources and Ecology, Guangdong Key Laboratory of Marine Materia Medica, South China Sea Institute of Oceanology, Chinese Academy of Sciences, Guangzhou 510301, China
3
Department of Pharmacy, Medical College, Wuhan University of Science and Technology, Wuhan 430065, China
4
School of Traditional Chinese Medicine, Southern Medical University, Guangzhou 510515, China
*
Authors to whom correspondence should be addressed.
†
These authors contributed equally to this paper.
Academic Editor: Norbert Latruffe
Received: 13 June 2016 / Accepted: 16 July 2016 / Published: 20 July 2016
Abstract
:
Bis-naphtho-γ-pyrones (BNPs) are an important group of aromatic polyketides derived from fungi, and asperpyrone-type BNPs are produced primarily by
Aspergillus
species. The fungal strain
Aspergillus niger
SCSIO Jcsw6F30, isolated from a marine alga,
Sargassum
sp., and identified according to its morphological traits and the internal transcribed spacer (ITS) region sequence, was studied for BNPs secondary metabolisms. After HPLC/MS analysis of crude extract of the fermentation broth, 11 asperpyrone-type BNPs were obtained directly and quickly by chromatographic separation in the extract, and those isolated asperpyrone-type BNPs were structurally identified by NMR and MS analyses. All of the BNPs showed weak cytotoxicities against 10 human tumor cells (IC
50
> 30 μM). However, three of them, aurasperone F (
3
), aurasperone C (
6
) and asperpyrone A (
8
), exhibited obvious COX-2–inhibitory activities, with the IC
50
values being 11.1, 4.2, and 6.4 μM, respectively. This is the first time the COX-2–inhibitory activities of BNPs have been reported.
Keywords:
bis-naphtho-γ-pyrones;
Aspergillus niger
; COX-2–inhibitory; HPLC/MS
Acknowledgments
This work was supported by grants from the Pearl River S&T Nova Program of Guangzhou (201610010017), the National Natural Science Foundation of China (41376162, 21202080, 41406187), Funds for the Development of Science and Technology of Guangdong Province (2016A020222009), the Hubei Agricultural Sciences and Technology Innovation Center (2012-620-008-002), the Guangzhou Scientific Research Project (2014J4100212), and the Special Support Project for Outstanding Young Scholars of Guangdong Province (Zhou X.).
Author Contributions
W. F. and J. W. contributed to fermentation, analysis and isolation of the compounds, X. L. contributed to the isolation and identification of the fungus, Y. L. and H. T. contributed to identification of the compounds and analyzed the data, X. Z. conceived and designed the experiments, and wrote the manuscript.
Conflicts of Interest
The authors declare no conflict of interest.
Abbreviations
The following abbreviations are used in this manuscript:
| | |
| --- | --- |
| BNPs | bis-naphtho-γ-pyrones |
| COX | cyclooxygenase |
| CC | column chromatography |
| NSAIDs | nonsteroidal anti-inflammatory drugs |
| SEM | scanning electron microscopy |
| HPLC/MS | high performance liquid chromatography/mass spectrometer |
| NMR | nuclear magnetic resonance |
Sample Availability: Samples of the compounds 1–11 are available from the authors.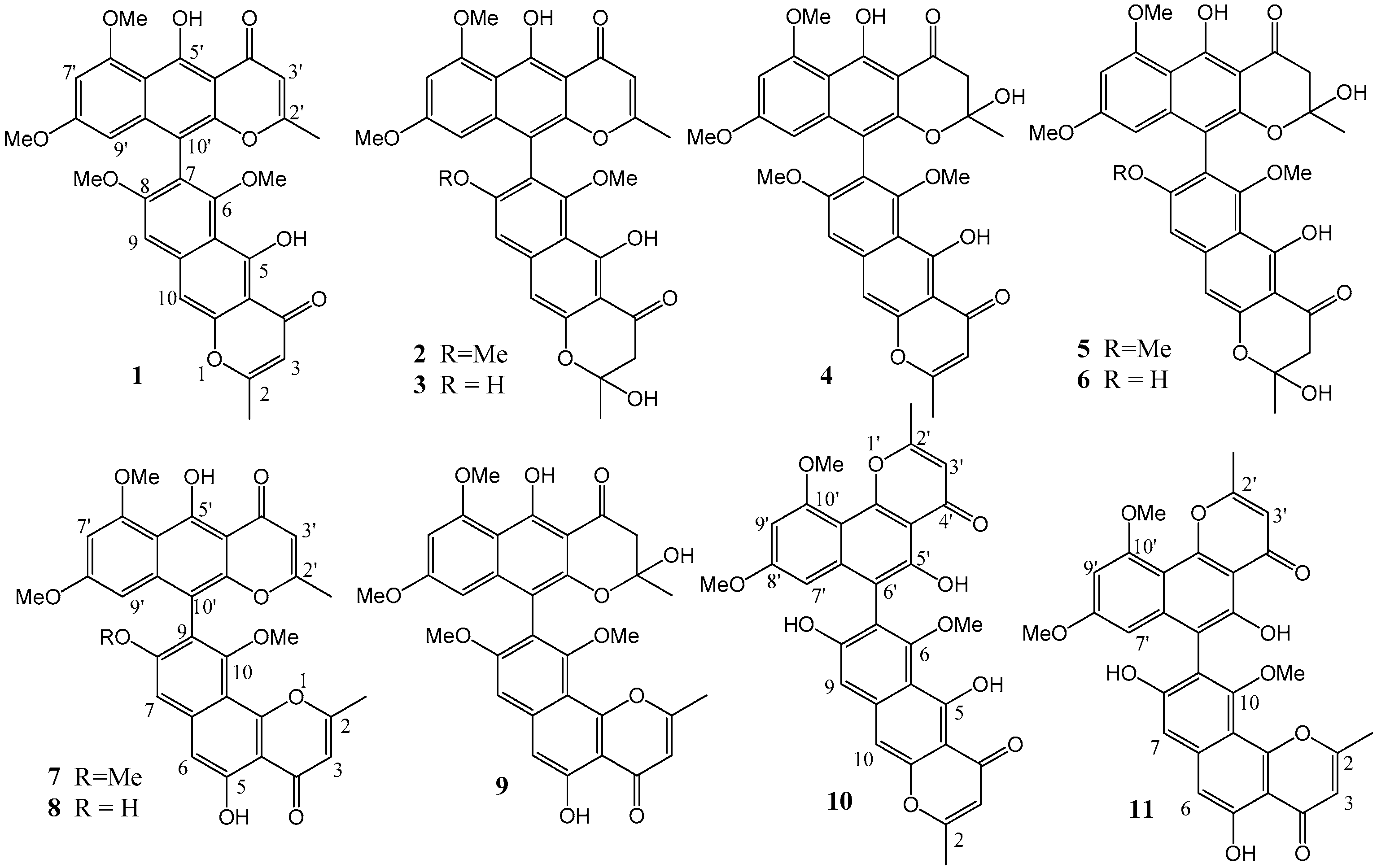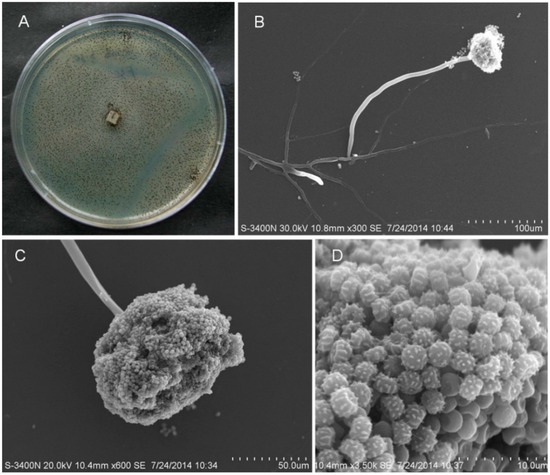 Figure 2.
Colony appearance and micromorphology of
A. niger
SCSIO Jcsw6F30. (
A
) Colony appearance after seven days at 25 °C (MB); (
B
,
C
) Conidiophores after seven days at 25 °C under SEM; (
D
) Conidia as seen using SEM.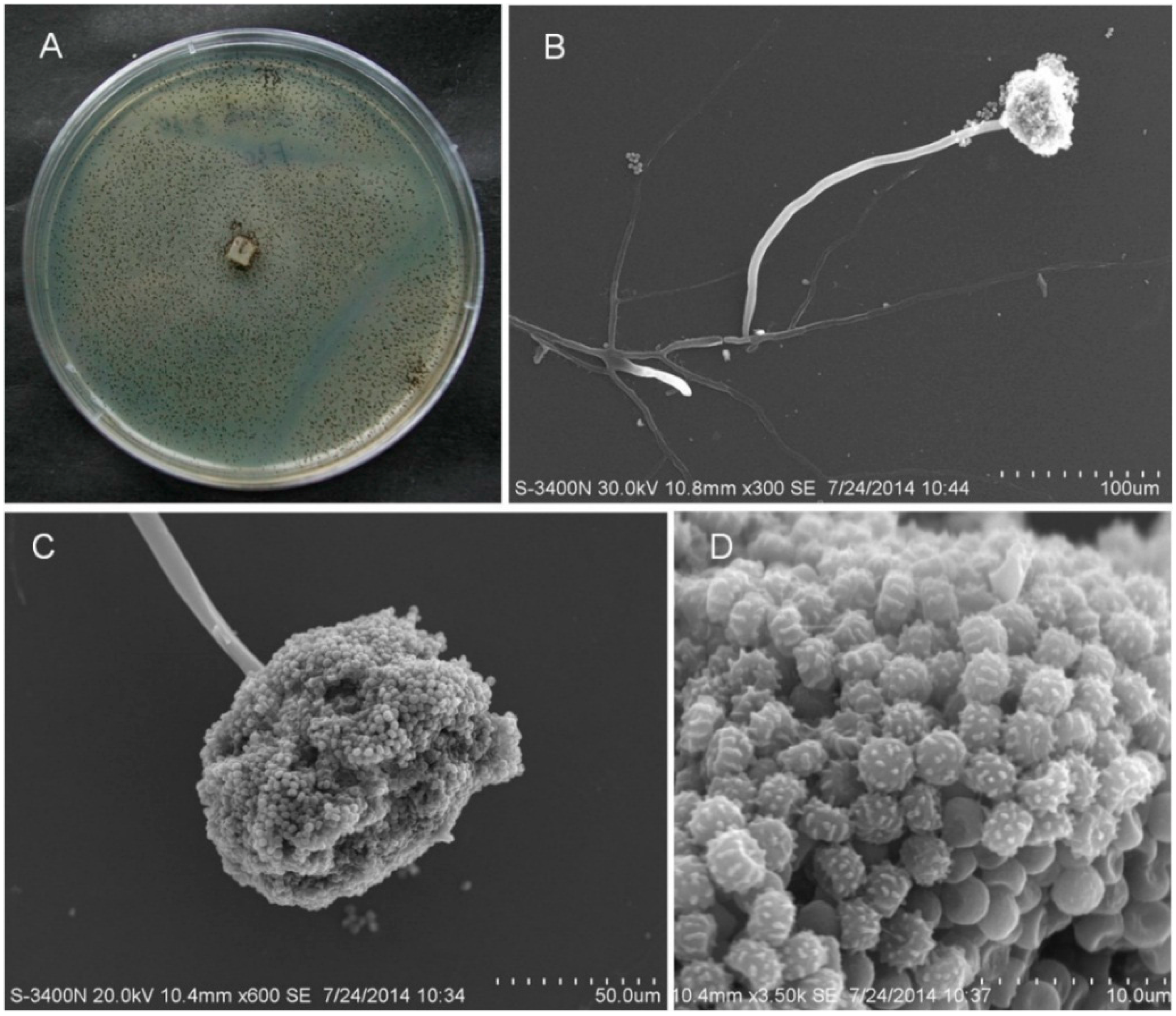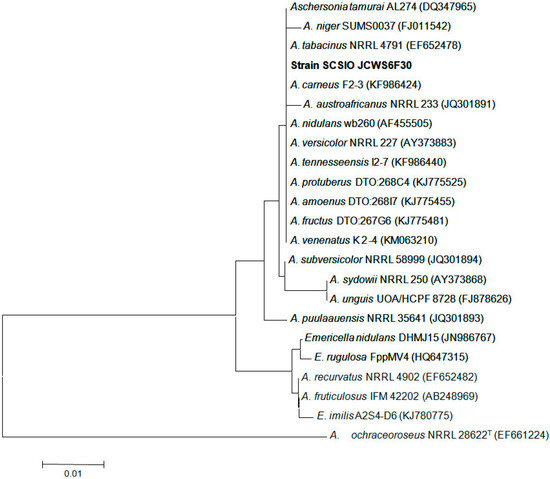 Figure 3. The neighbor-joining tree based on ITS1-5.8S-ITS2 sequences, showing the phylogenetic relationship between strain SCSIO Jcsw6F30 and related species. GenBank accession numbers are given in parentheses. Bar: 1% sequence divergence.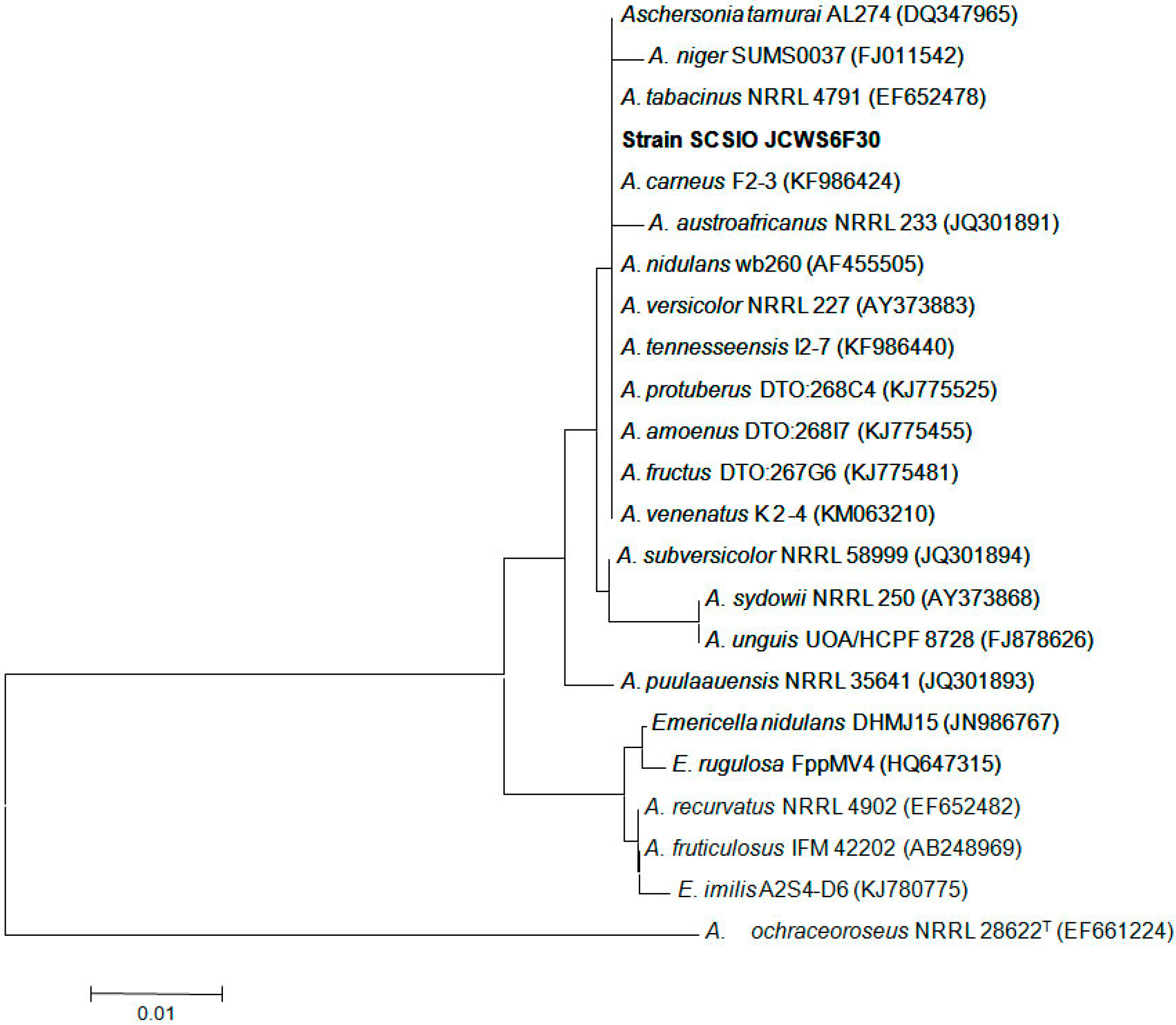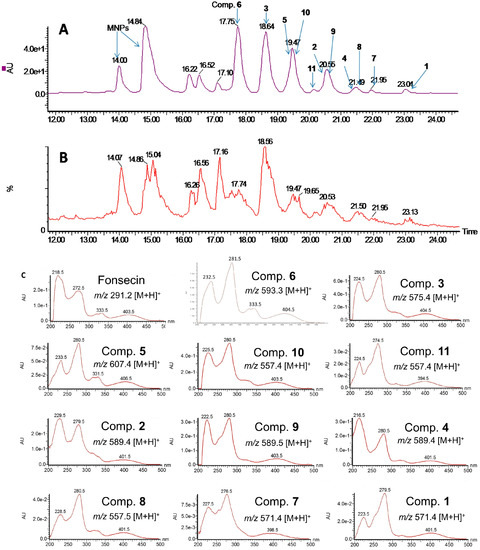 Figure 4. HPLC/MS data of the extract of the fermentation broth. (A) Main part of the HPLC (diode array) chromatogram of the extract; (B) Main part of the total ion chromatogram (TIC) of the extract; (C) All of the 11 BNPs (1–11) had similar UV absorption spectra (UV spectra are placed in order of retention time in chromatogram A), together with their molecular ion given by MS.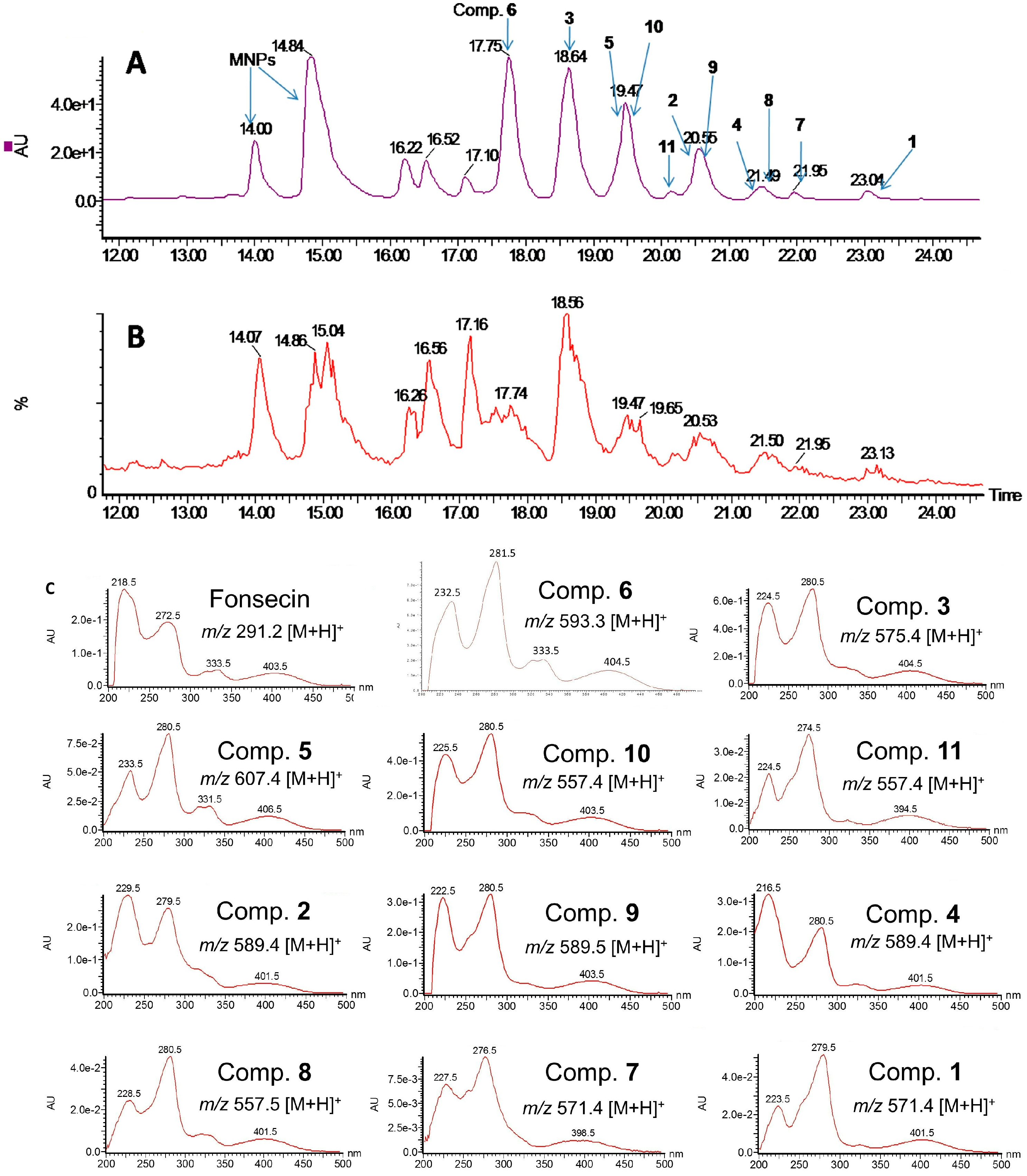 © 2016 by the authors. Licensee MDPI, Basel, Switzerland. This article is an open access article distributed under the terms and conditions of the Creative Commons Attribution (CC-BY) license ( http://creativecommons.org/licenses/by/4.0/).