Antimicrobial Activity and Modulatory Effect of Essential Oil from the Leaf of
Rhaphiodon echinus

(Nees & Mart) Schauer on Some Antimicrobial Drugs

1

Centro de Ciências Biológicas e da Saúde (CC BS), Departamento de Ciências Biológicas, Universidade Regional do Cariri (URCA), Crato 63105-000, CE, Brazil

2

Programa de Pós-Graduação em Bioquímica Toxicológica, Departamento de Bioquímica e Biologia Molecular, Universidade Federal de Santa Maria, Santa Maria 97105-900, RS, Brazil

3

Molecular Chemistry and Pharmacology Laboratory, Universidade Regional do Cariri (URCA), Crato 63105-000, CE, Brazil

4

Laboratório de Botânica Aplicada, Universidade Regional do Cariri (URCA), Crato 63105-000, CE, Brazil

5

Departamento de Bioquímica, Instituto de Ciências Básica da Saúde, Universidade Federal do Rio Grande do Sul, Porto Alegre 90035-191, RS, Brazil

6

Laboratory of Microbiology and Molecular Biology, Universidade Regional do Cariri (URCA), Crato 63105-000, CE, Brazil

7

Programa de Pós-Graduação em Farmacologia, Universidade Federal de Santa Maria, Santa Maria 97105-900, RS, Brazil

*

Author to whom correspondence should be addressed.

Academic Editor: Luca Forti

Received: 3 April 2016 / Revised: 30 May 2016 / Accepted: 31 May 2016 / Published: 8 June 2016
Abstract
Background
:
Rhaphiodon echinus
is a weed plant used in the Brazilian folk medicinal for the treatment of infectious diseases. In this study, the essential oil of
R. echinus
leaf was investigated for its antimicrobial properties.
Methods
: The chemical constituents of the essential oil were characterized by GC-MS. The antimicrobial properties were determined by studying by the microdilution method the effect of the oil alone, and in combination with antifungal or antibiotic drugs against the fungi
Candida albicans
,
Candida krusei
and
Candida tropicalis
and the microbes
Escherichia coli
,
Staphylococcus aureus
and
Pseudomonas
. In addition, the iron (II) chelation potential of the oil was determined.
Results
: The results showed the presence of β-caryophyllene and bicyclogermacrene in major compounds, and revealed a low antifungal and antibacterial activity of the essential oil, but a strong modulatory effect on antimicrobial drugs when associated with the oil. The essential oil showed iron (II) chelation activity.
Conclusions
: The GC-MS characterization revealed the presence of monoterpenes and sesquiterpenes in the essential oil and metal chelation potential, which may be responsible in part for the modulatory effect of the oil. These findings suggest that essential oil of
R. echinus
is a natural product capable of enhancing the antibacterial and antifungal activity of antimicrobial drugs.
View Full-Text
►

▼

Figures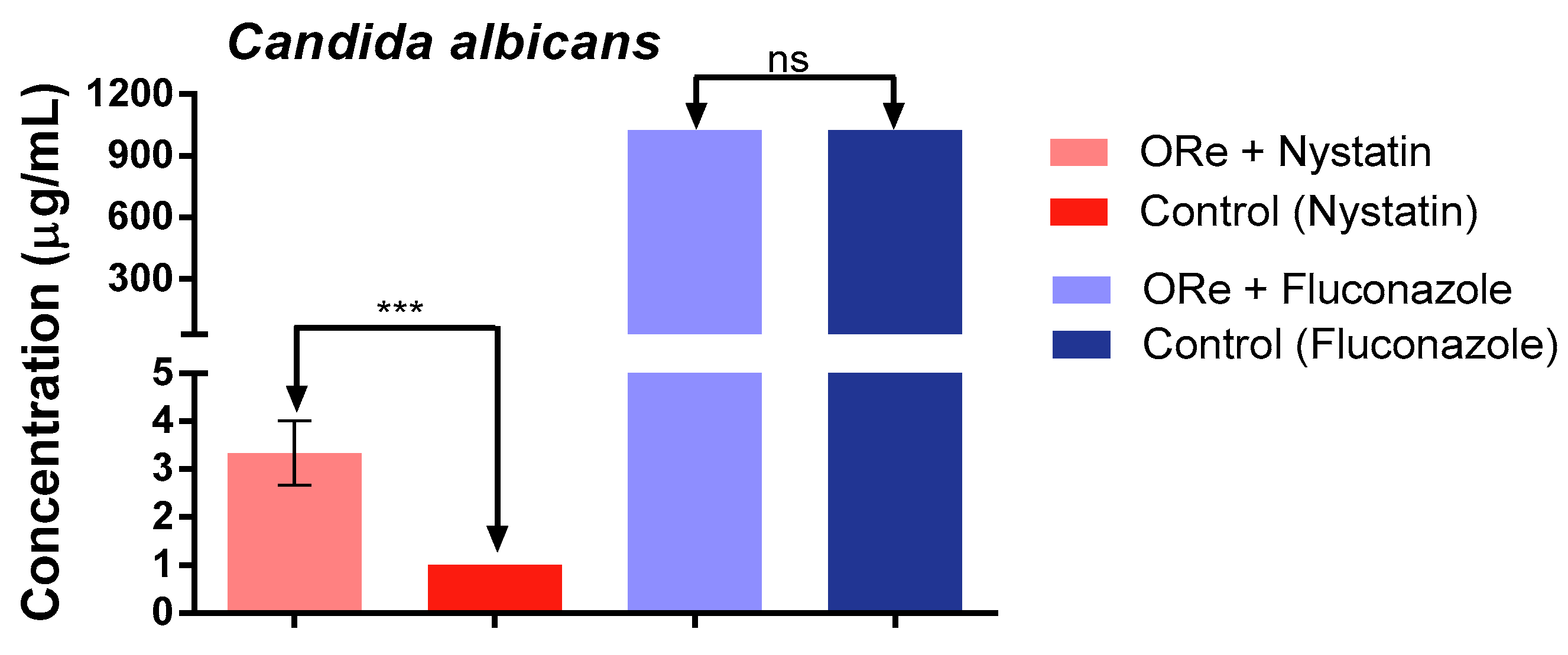 Figure 1
This is an open access article distributed under the
Creative Commons Attribution License
which permits unrestricted use, distribution, and reproduction in any medium, provided the original work is properly cited (CC BY 4.0).

Share & Cite This Article
MDPI and ACS Style
Duarte, A.E.; De Menezes, I.R.A.; Bezerra Morais Braga, M.F.; Leite, N.F.; Barros, L.M.; Waczuk, E.P.; Pessoa da Silva, M.A.; Boligon, A.; Teixeira Rocha, J.B.; Souza, D.O.; Kamdem, J.P.; Melo Coutinho, H.D.; Escobar Burger, M. Antimicrobial Activity and Modulatory Effect of Essential Oil from the Leaf of Rhaphiodon echinus (Nees & Mart) Schauer on Some Antimicrobial Drugs. Molecules 2016, 21, 743.
Note that from the first issue of 2016, MDPI journals use article numbers instead of page numbers. See further details here.
Related Articles
Comments
[Return to top]