Open Access This article is
freely available
re-usable
Review
The HK2 Dependent "Warburg Effect" and Mitochondrial Oxidative Phosphorylation in Cancer: Targets for Effective Therapy with 3-Bromopyruvate
1
Institute of Genetics and Microbiology, University of Wroclaw, Przybyszewskiego Street, 51-148 Wroclaw, Poland
2
KoDiscovery, LLC, UM BioPark, Suite 502 E&F, 801 West Baltimore Street, Baltimore, MD 21201, USA
3
Departments of Biological Chemistry and Oncology and member at large Sidney Kimmel Comprehensive Cancer Center, Johns Hopkins University School of Medicine, Baltimore, MD 21205-2185, USA
4
Institut des Sciences de la Vie, Université Catholique de Louvain, B-1348 Louvain-la-Neuve, Belgium
*
Author to whom correspondence should be addressed.
Academic Editor: Jean Jacques Vanden Eynde
Received: 17 October 2016 / Accepted: 11 December 2016 / Published: 15 December 2016
Abstract
:
This review summarizes the current state of knowledge about the metabolism of cancer cells, especially with respect to the "Warburg" and "Crabtree" effects. This work also summarizes two key discoveries, one of which relates to hexokinase-2 (HK2), a major player in both the "Warburg effect" and cancer cell immortalization. The second discovery relates to the finding that cancer cells, unlike normal cells, derive as much as 60% of their ATP from glycolysis via the "Warburg effect", and the remaining 40% is derived from mitochondrial oxidative phosphorylation. Also described are selected anticancer agents which generally act as strong energy blockers inside cancer cells. Among them, much attention has focused on 3-bromopyruvate (3BP). This small alkylating compound targets both the "Warburg effect", i.e., elevated glycolysis even in the presence oxygen, as well as mitochondrial oxidative phosphorylation in cancer cells. Normal cells remain unharmed. 3BP rapidly kills cancer cells growing in tissue culture, eradicates tumors in animals, and prevents metastasis. In addition, properly formulated 3BP shows promise also as an effective anti-liver cancer agent in humans and is effective also toward cancers known as "multiple myeloma". Finally, 3BP has been shown to significantly extend the life of a human patient for which no other options were available. Thus, it can be stated that 3BP is a very promising new anti-cancer agent in the process of undergoing clinical development.
Keywords:
3-bromopyruvate; antitumor therapy; Warburg effect; Crabtree effect; oxidative phosphorylation; glutathione; buthionine sulphoximine
1. Introduction
The "Warburg Effect" is cancers' oldest known hallmark, i.e., aberrant sugar (glucose) metabolism to lactic acid even in the presence of oxygen. The renowned scientist Otto Warburg working in Berlin, Germany during the early part of the past century made two key experimental discoveries as follows:
The net result of these two observations, i.e., "high level of glycolysis in cancer cells even in the presence of oxygen", is now commonly and appropriately referred to as the "Warburg effect". Following the subsequent discovery 18 years later that mitochondria are the site of ATP synthesis by oxidative phosphorylation [
2
,
3
], Warburg assumed that the high aerobic glycolysis that he and colleagues had observed previously in many cancers resulted from the lowered capacity of mitochondria to utilize oxygen, and may be a putative cause of cancer [
4
]. Although neither assumption was completely correct nor incorrect, there was much more to be learned as will be noted below as this brief review develops.
2. Experimental Knowledge Acquired to Date
2.1. Energy Production Considerations in Normal Cells and Cancer Cells
2.2. Anti-Energy Metabolism Inhibitors: An Effective Approach for Treating Cancer
2.3. Mechanism of Action of 3BP
2.5. Proper and Improper Use of 3BP
Finally, it should be emphasized that 3BP is a potential drug undergoing clinical development [
73
,
100
]. When properly formulated and used to treat either animals or humans, it has been shown to be a remarkably effective anti-cancer agent. As for any drug or other medication, 3BP must be properly formulated and never used in excess quantities. Unfortunately, very recently, and certainly to the authors surprise, a non-authorized, unprofessional, and dramatic application of 3BP by an individual with no knowledge about this small molecule and its proper formulation for use in animals or humans has been described by Hinnerk Feldwisch-Drentrup in Science [
101
]. For those skilled in the art, it is well known that drug toxicity is a question of purity (human grade) of the compound and is directly related to the ability to properly prepare a solution of suitable composition, concentration, formula, and pH. Please note that even the best drug used in high concentrations can be toxic due to side and secondary effects. Certainly, 3BP at the appropriate concentration and formulated with the correct solution choice is non-toxic to animals (mice, rats, rabbits, pigs) and humans, effectively destroys tumors that exhibit a Warburg effect, and is therefore detected using PET diagnostic technology. It is worth mentioning that presently in a few places in the world, including the Dayspring Cancer Clinic in Arizona (
http://www.dayspringcancerclinic.com
) effective clinical trials are being conducted for the treatment of various types of cancer using 3BP. Due to the forecasted "epidemic of cancer" in the coming years, it is hoped that this relatively inexpensive and effective anti-cancer and antifungal drug will pass successfully all clinical trials and will be available as soon as possible on the shelf at pharmacies throughout the world.
Acknowledgments
This work was supported by the Ministry of Science and Higher Education (Poland) within 'Statutory Research [1016/S/IGM/13'] and co-author KN is also financed by the National Science Center No. 2015/19/N/NZ7/00956. Co-authors PLP and YHK are both supported in part by contributions from private donors. Some of the earlier work on 3BP was carried out while the PLP was supported by NIH grant CA 10951.
Author Contributions
All the mentioned authors have contributed substantially to the work reported.
Conflicts of Interest
The authors declare no conflict of interest. The funding sponsors had no role in the design of the study; in the collection, analyses, or interpretation of data; in the writing of the manuscript, and in the decision to publish the results. All authors approved the reviewed final version of the manuscript.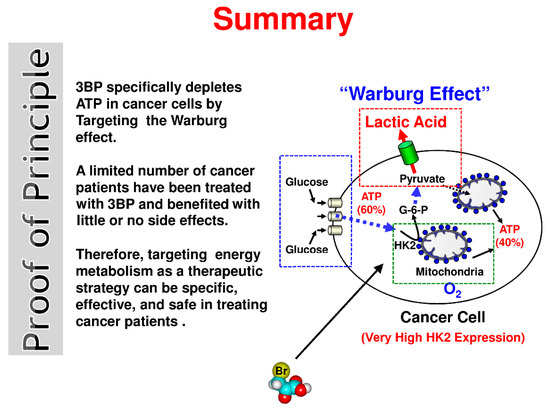 Figure 1. Summary, proof of principle—the simple mechanism by which 3-bromopyruvate (3BP) quickly and efficiently kills cancer cells through rapid energy depletion.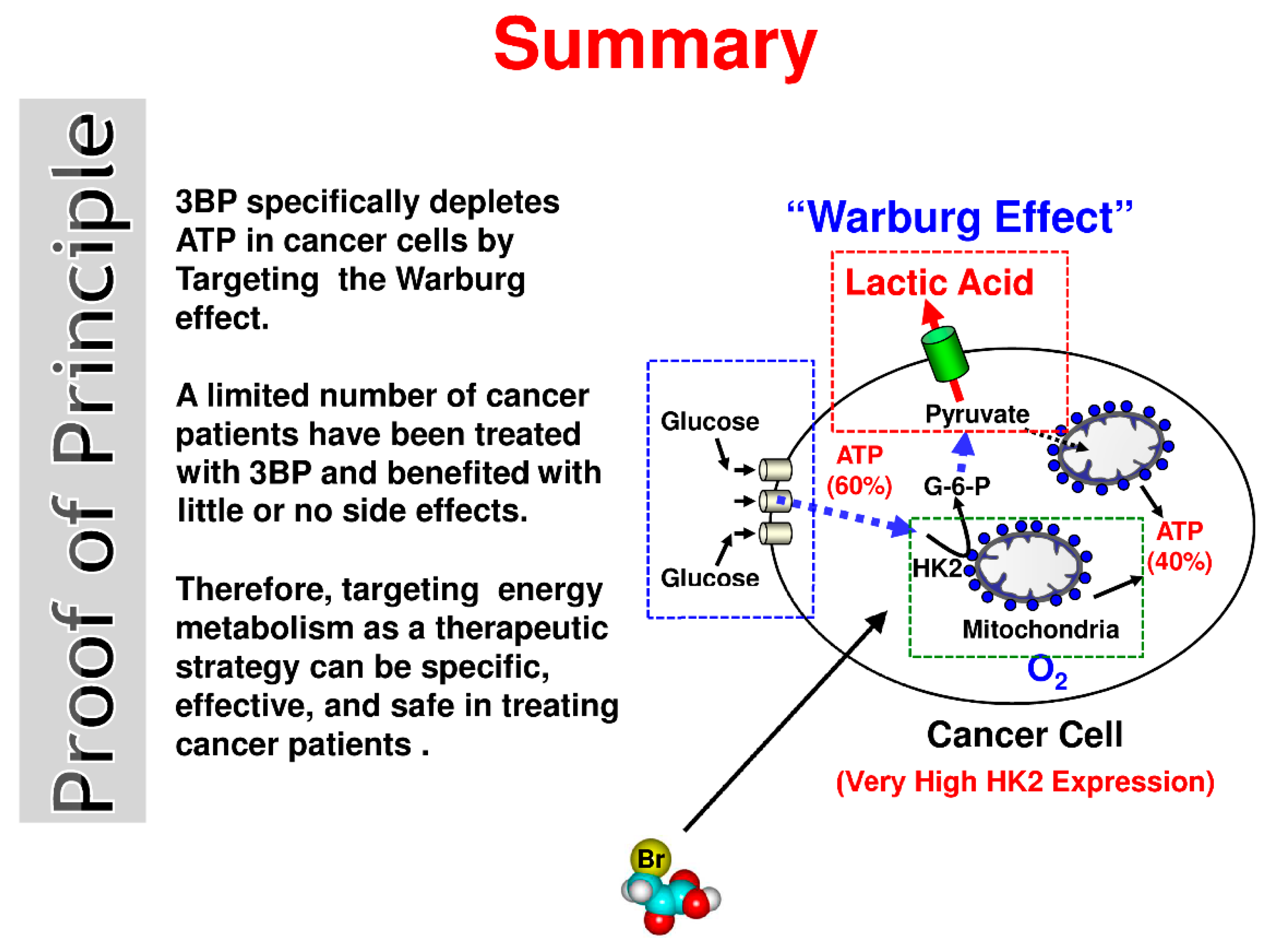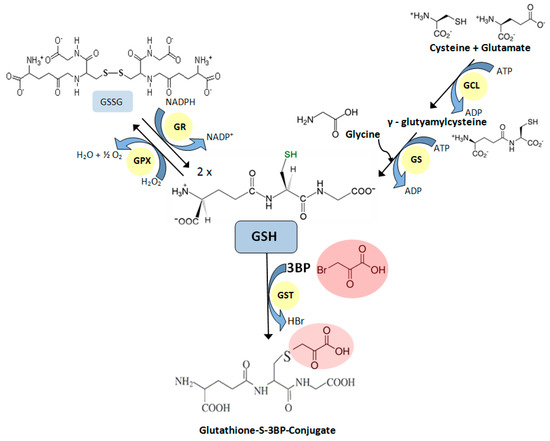 Figure 2. Glutathione metabolism. Crucial enzymes involved in glutathione metabolism: GCL—γ-glutamylcysteine synthetase; GS—glutathione synthetase; GR—glutathione reductase; GPX—glutathione peroxidase; GST—glutathione S-transferase.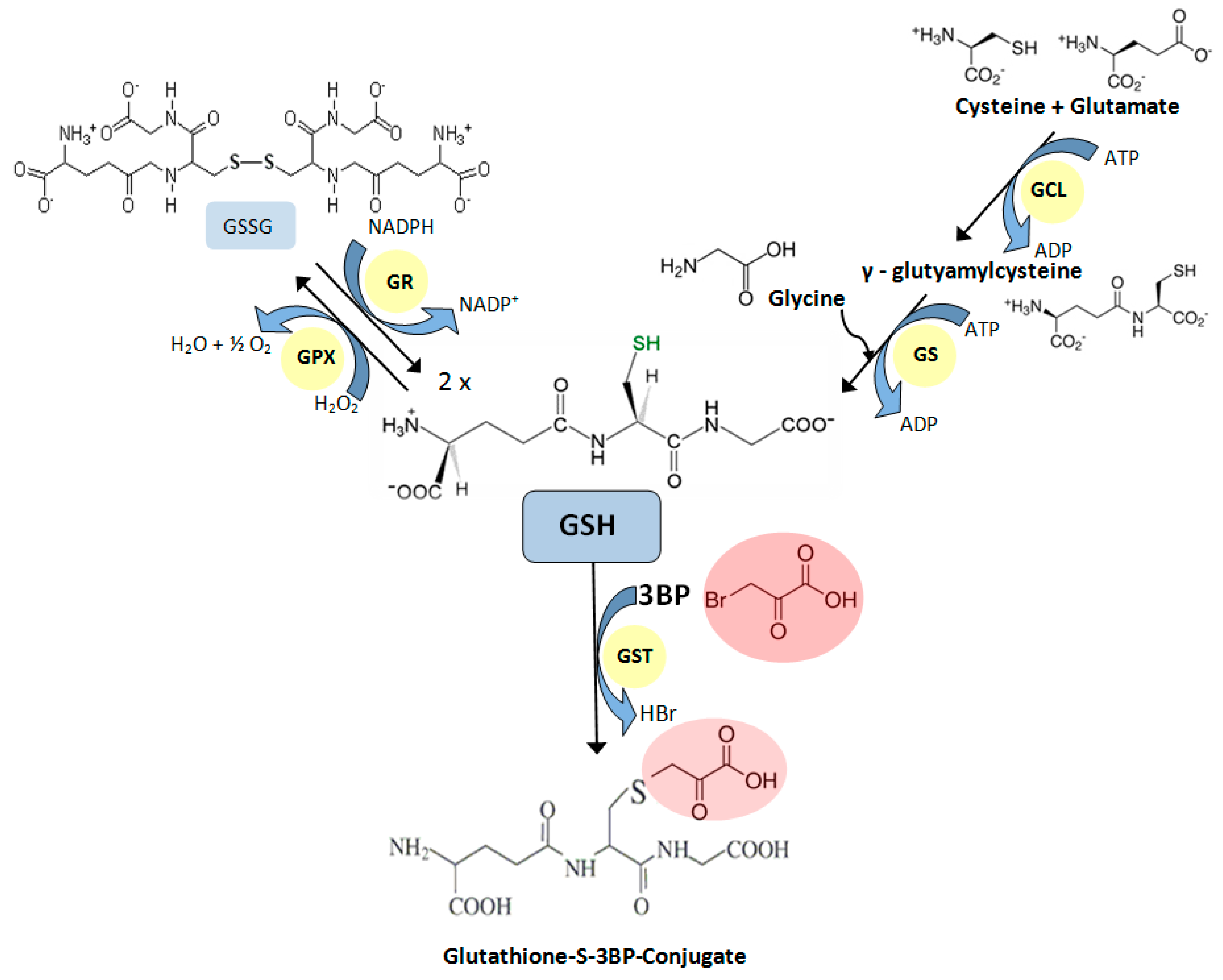 © 2016 by the authors. Licensee MDPI, Basel, Switzerland. This article is an open access article distributed under the terms and conditions of the Creative Commons Attribution (CC-BY) license ( http://creativecommons.org/licenses/by/4.0/).