Modulation of Autophagy by a Thioxanthone Decreases the Viability of Melanoma Cells
1
i3S-Instituto de Investigação e Inovação em Saúde, Universidade do Porto, Rua Alfredo Allen 208, 4200-135 Porto, Portugal
2
Cancer Drug Resistance Group, IPATIMUP—Institute of Molecular Pathology and Immunology of the University of Porto, Rua Júlio Amaral de Carvalho, 45, 4200-135 Porto, Portugal
3
Department of Pathology, FMUP—Faculty of Medicine of the University of Porto, Alameda Prof. Hernâni Monteiro, 4200-319 Porto, Portugal
4
Laboratory of Microbiology, Department of Biological Sciences, FFUP—Faculty of Pharmacy, University of Porto, Rua de Jorge Viterbo Ferreira 228, 4050-313 Porto, Portugal
5
Laboratory of Organic and Pharmaceutical Chemistry, Department of Chemical Sciences, FFUP—Faculty of Pharmacy, University of Porto, Rua de Jorge Viterbo Ferreira 228, 4050-313 Porto, Portugal
6
CESPU, Instituto de Investigação e Formação Avançada em Ciências e Tecnologias da Saúde, IUCS—Instituto Universitário de Ciências da Saúde, Rua Central de Gandra 1317, 4585-116 Gandra, Portugal
7
CIIMAR/CIMAR—Centro Interdisciplinar de Investigação Marinha e Ambiental, Universidade do Porto, Terminal de Cruzeiros do Porto de Leixões, Avenida General Norton de Matos, S/N, 4450-208 Matosinhos, Portugal
*
Author to whom correspondence should be addressed.
†
These authors equally contributed to this work.
Academic Editor: Jean Jacques Vanden Eynde
Received: 9 August 2016 / Revised: 30 September 2016 / Accepted: 1 October 2016 / Published: 10 October 2016
Abstract
(1) Background: Our previous studies unveiled the hit thioxanthone TXA1 as an inhibitor of P-glycoprotein (drug efflux pump) and of human tumor cells growth, namely of melanoma cells. Since TXA1 is structurally similar to lucanthone (an autophagy inhibitor and apoptosis inducer) and to
N
10
-substituted phenoxazines (isosteres of thioxanthones, and autophagy inducers), this study aimed at further assessing its cytotoxic mechanism and evaluating its potential as an autophagy modulator in A375-C5 melanoma cells; (2) Methods: Flow cytometry with propidium iodide (PI) for cell cycle profile analysis; Terminal deoxynucleotidyl transferase dUTP nick end labeling (TUNEL) assay, flow cytometry with Annexin V/PI labeling and Western blot for apoptosis analysis were conducted. A pharmacophore approach was used for mapping TXA1 onto pharmacophores for autophagy induction. Autophagy analyses included transmission electron microscopy for visualization of autophagic structures, fluorescence microscopy for observation of monodansylcadaverine (MDC) staining, pattern of LC3 expression in the cells and acridine orange staining, and Western blot for autophagic proteins expression; (3) Results: TXA1 induced autophagy of melanoma cells at the GI
50
concentration (3.6 μM) and apoptosis at twice that concentration. Following treatment with TXA1, autophagic structures were observed, together with the accumulation of autophagosomes and the formation of autophagolysosomes. An increase in LC3-II levels was also observed, which was reverted by 3-methyladenine (3-MA) (an early stage autophagy-inhibitor) but further increased by E-64d/pepstatin (late-stage autophagy inhibitors). Finally, 3-MA also reverted the effect of TXA1 in cellular viability; (4) Conclusion: TXA1 decreases the viability of melanoma cells by modulation of autophagy and may, therefore, serve as a lead compound for the development of autophagy modulators with antitumor activity.
View Full-Text
►

▼

Figures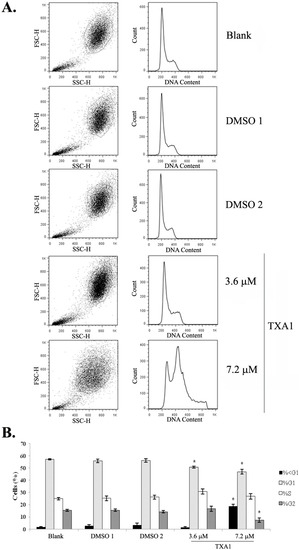 Figure 1
This is an open access article distributed under the
Creative Commons Attribution License
which permits unrestricted use, distribution, and reproduction in any medium, provided the original work is properly cited (CC BY 4.0).

Share & Cite This Article
MDPI and ACS Style
Lima, R.T.; Sousa, D.; Paiva, A.M.; Palmeira, A.; Barbosa, J.; Pedro, M.; Pinto, M.M.; Sousa, E.; Vasconcelos, M.H. Modulation of Autophagy by a Thioxanthone Decreases the Viability of Melanoma Cells. Molecules 2016, 21, 1343.
Note that from the first issue of 2016, MDPI journals use article numbers instead of page numbers. See further details here.
Related Articles
Comments
[Return to top]