Scopoletin Protects against Methylglyoxal-Induced Hyperglycemia and Insulin Resistance Mediated by Suppression of Advanced Glycation Endproducts (AGEs) Generation and Anti-Glycation
1
Department of Medicinal Plant Development, Yupintang Traditional Chinese Medicine Foundation, 4F., No.2, Ln. 138, Yongyuan Rd., Yonghe Dist., New Taipei City 234, Taiwan
2
Department of Animal Science and Technology, National Taiwan University, 59 Roosevelt Road Section 4, Taipei 10617, Taiwan
*
Author to whom correspondence should be addressed.
Academic Editor: Patricia Valentao
Received: 28 October 2014 / Accepted: 3 February 2015 / Published: 9 February 2015
Abstract
Recently, several types of foods and drinks, including coffee, cream, and cake, have been found to result in high methylglyoxal (MG) levels in the plasma, thus causing both nutritional and health concerns. MG can be metabolized by phase-II enzymes in liver through the positive regulation of nuclear factor-erythroid 2-related factor 2 (Nrf2). In this study, we investigated the ability of scopoletin (SP) to protect against MG-induced hyperglycemia and insulin resistance. Recently, SP was shown to be a peroxisome proliferator-activated receptor-γ activator to elevate insulin sensitivity. We investigated the effects of oral administration of SP on the metabolic, biochemical, and molecular abnormalities characteristic of type 2 diabetes in MG-treated Wistar rats to understand the potential mechanism of scopoletin for diabetes protection. Our results suggested that SP activated Nrf2 by Ser40 phosphorylation, resulting in the metabolism of MG into d-lactic acid and the inhibition of AGEs generation, which reduced the accumulation of AGEs in the livers of MG-induced rats. In this manner, SP improved the results of the oral glucose tolerance test and dyslipidemia. Moreover, SP also increased the plasma translocation of glucose transporter-2 and promoted Akt phosphorylation caused by insulin treatment in MG-treated FL83B hepatocytes. In contrast, SP effectively suppressed protein tyrosine phosphatase 1B (PTP1B) expression, thereby alleviating insulin resistance. These findings suggest that SP acts as an anti-glycation and anti-diabetic agent, and thus has therapeutic potential for the prevention of diabetes.
View Full-Text
►

▼

Figures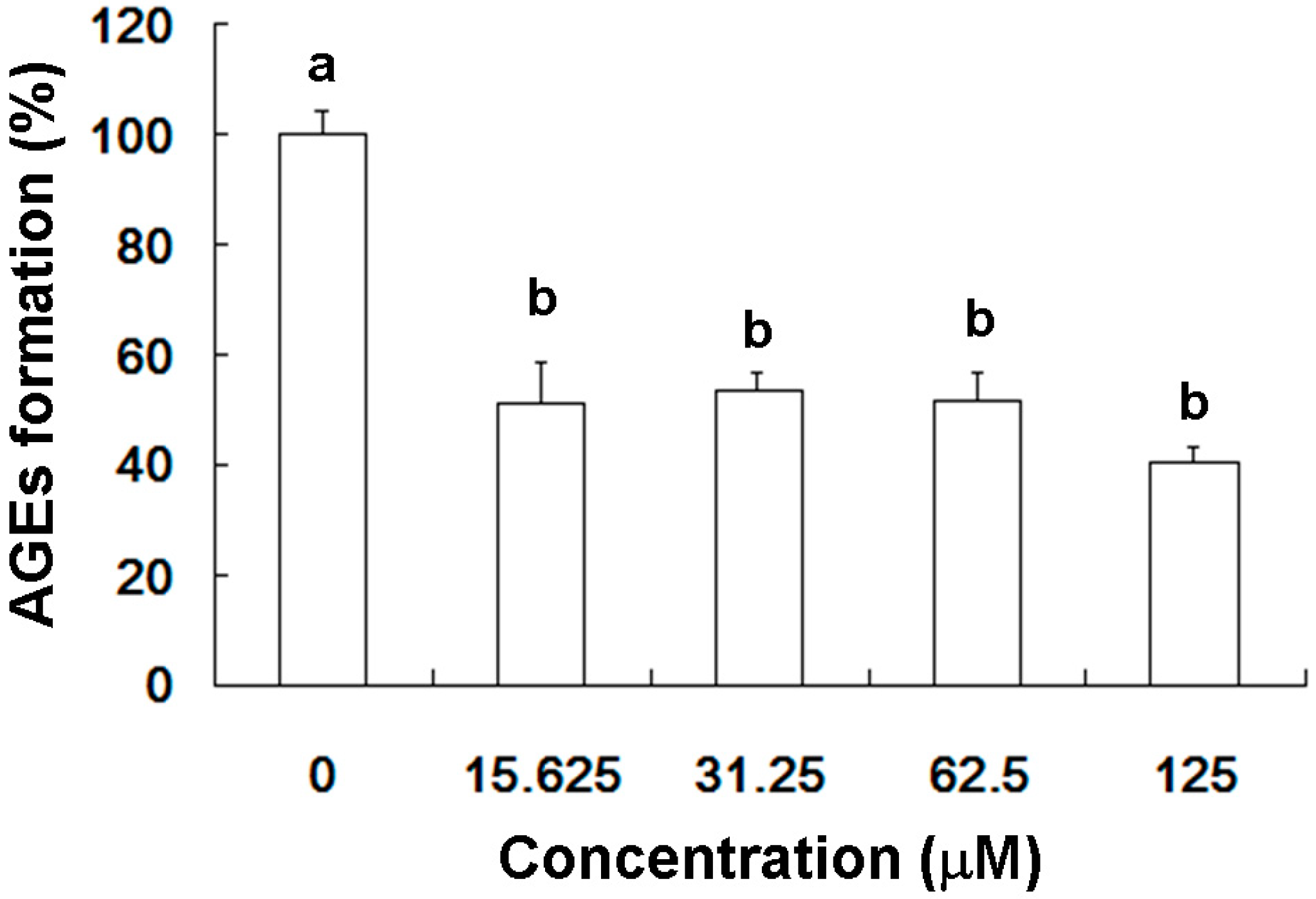 Figure 1
This is an open access article distributed under the
Creative Commons Attribution License
which permits unrestricted use, distribution, and reproduction in any medium, provided the original work is properly cited (CC BY 4.0).

Share & Cite This Article
MDPI and ACS Style
Chang, W.-C.; Wu, S.-C.; Xu, K.-D.; Liao, B.-C.; Wu, J.-F.; Cheng, A.-S. Scopoletin Protects against Methylglyoxal-Induced Hyperglycemia and Insulin Resistance Mediated by Suppression of Advanced Glycation Endproducts (AGEs) Generation and Anti-Glycation. Molecules 2015, 20, 2786-2801.
Related Articles
Comments
[Return to top]