Open Access This article is
freely available
re-usable
Review
Deciphering the Role of Phytoalexins in Plant-Microorganism Interactions and Human Health
1
Laboratory of Stress, Defenses and Plant Reproduction, Research Unit "Vines and Wines of Champagne", UPRES EA 4707, Department of Biology and Biochemistry, Faculty of Sciences, University of Reims, P.O. Box 1039, 51687 Reims cedex 02, France
2
Champagne Deville, 13 rue Carnot, Verzy 51380, France
*
Author to whom correspondence should be addressed; Tel.: +33-3-2691-3341; Fax: +33-3-2691-3340.
Received: 17 September 2014; in revised form: 29 October 2014 / Accepted: 29 October 2014 / Published: 5 November 2014
Abstract
:
Phytoalexins are low molecular weight antimicrobial compounds that are produced by plants as a response to biotic and abiotic stresses. As such they take part in an intricate defense system which enables plants to control invading microorganisms. In this review we present the key features of this diverse group of molecules, namely their chemical structures, biosynthesis, regulatory mechanisms, biological activities, metabolism and molecular engineering.
Keywords:
phytoalexins; plants; defense mechanisms; microorganisms; biological activity
1. Phytoalexins: A Global Survey
Work on phytoalexins has been prolific and the production of these compounds in infected tissues has become one of the most intensively studied mechanisms of disease resistance in plants. This review will focus on some of the main features of phytoalexins:
○

Chemical diversity

○

Main biosynthetic pathways and regulation networks

○

Biological activity against microorganisms

○

Molecular engineering for disease resistance in plants

○

Metabolism/Transport in fungi

○

Role in human health
2. Chemical Diversity of Phytoalexins
3. Main Biosynthetic Pathways
Various pathways are utilized for producing different phytoalexins. As it is not our goal to describe each of these biosynthetic routes in details, we will simply outline the three most characteristic ones:
(i)

The phenylpropanoic-polymalonic acid route

(ii)

The methylerythritol phosphate and geranyl-geranyl diphosphate pathway

(iii)

The indole phytoalexin pathway
3.1. Phytoalexins Deriving from the Phenylpropanoic-Polymalonic Acid Route
All flavonoid phytoalexins (isoflavonoids, isoflavones, pterocarpans, isoflavans, coumestans and arylbenzofurans) as well as stilbene phytoalexins and derivatives (dihydrophenanthrenes) are formed through the universal phenylpropanoic-polymalonic acid pathway. It begins with phenylalanine and the phenylalanine ammonia lyase (PAL) or to a lesser extent with tyrosine and the tyrosine ammonia lyase (TAL). The obtained
para
-coumaric acid is activated in
para
-coumaroyl-CoA by ligation to a coenzyme A by 4-coumaroyl:CoA ligase (C4L). Subsequently, chalcone synthase (CHS) on the one hand and stilbene synthase (STS) on the other hand use this same substrate and condense it with three successive units of malonyl-CoA, leading respectively to the production of naringenin chalcone, the first C15 intermediate in the flavonoid pathway and resveratrol, the precursor of all stilbenes. The possible biosynthetic routes to the main flavonoid and stilbene-like phytoalexins from the Leguminosae family are illustrated in
Figure 1
[
10
,
38
,
39
].
3.2. Mevalonoid-Derived Phytoalexins
These phytoalexins are represented by members of the monoterpene, sesquiterpene, carboxylic sesquiterpene and diterpene families. Specific attention will be given to the diterpene phytoalexin class [
8
]. This assumption has been confirmed by the observed synchronous accumulation of seven MEP pathway gene transcripts (OsDXS3, OsDXR, OsCMS, OsCMK, OsMCS, OsHDS and OsHDR) in elicitor-induced rice (
Oryza sativa
) cells and the next steps of this biosynthesis are predicted to occur in plastids. Diterpenoids result from the subsequent action of diverse enzymes using GGDP as the starting block. Class II diterpene cyclases named copalyldiphosphate synthases (CPS) are the first to act on GGDP catalyzing the initial cyclization of the latter to copalyldiphosphate (CDP). CDP is the required substrate for class I diterpene synthases named kaurene synthase like (KSL). Sequential action of CPS and KSL produces the olefin precursors of the main diterpene phytoalexin families [
8
]. Stereochemically differentiated isomers are used subsequently by KSL: the
ent
-CDP in the biosynthesis of phytocassanes A-E and oryzalexins A-F and the
syn
-CDP in the construction of momilactones A and B (
Figure 2
). Further additions of oxygen in the formation of oryzalexins, momilactones and phytocassanes require a series of cytochrome P450 (CYPs) (
Figure 2
).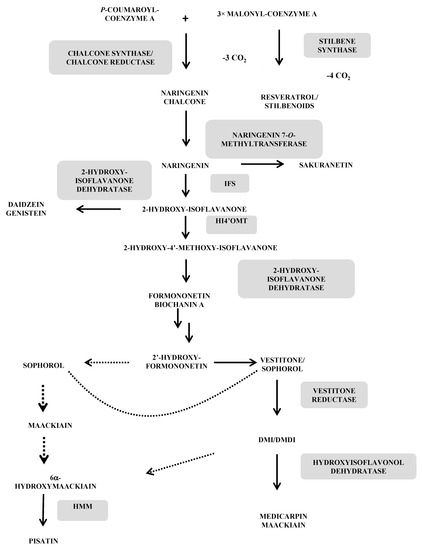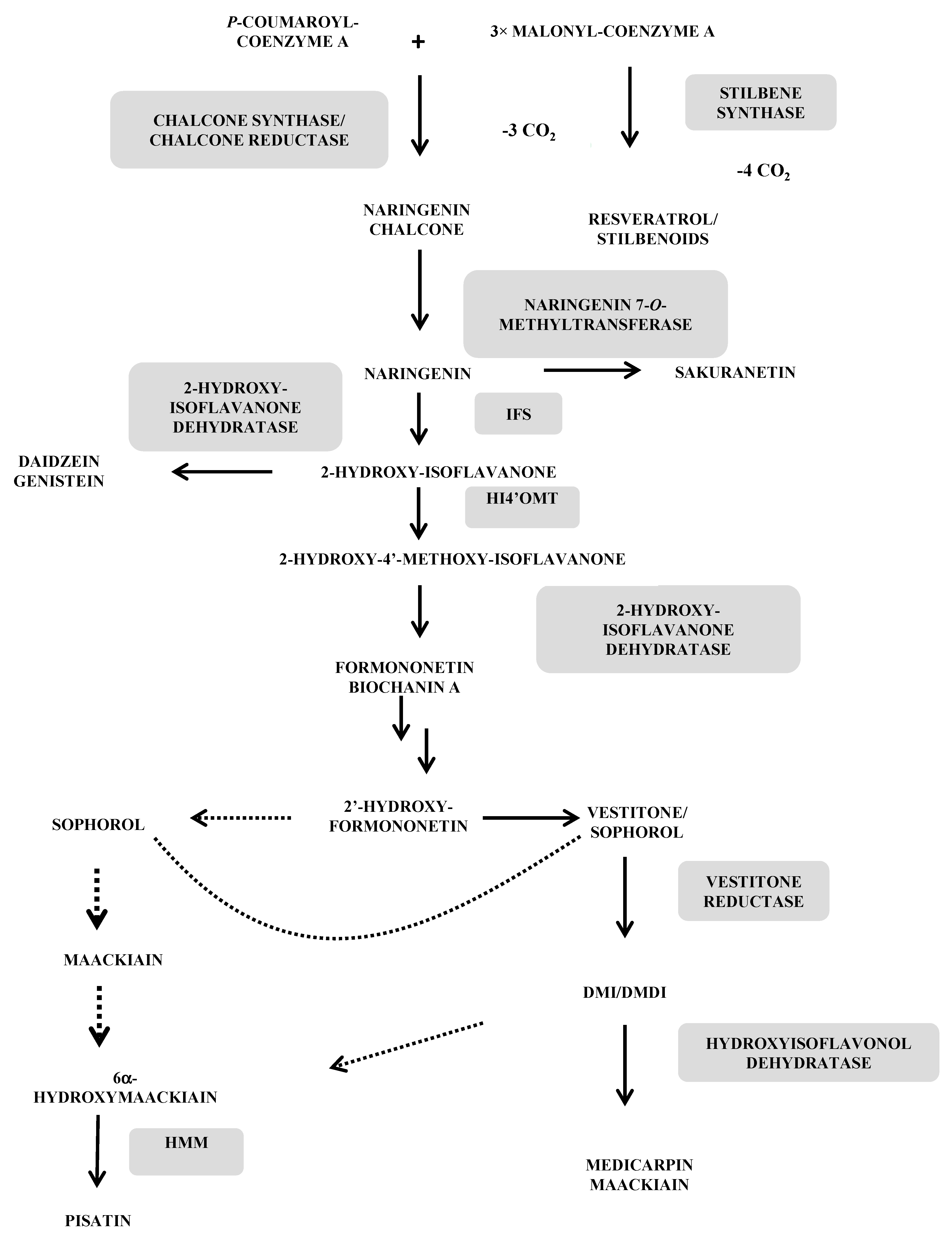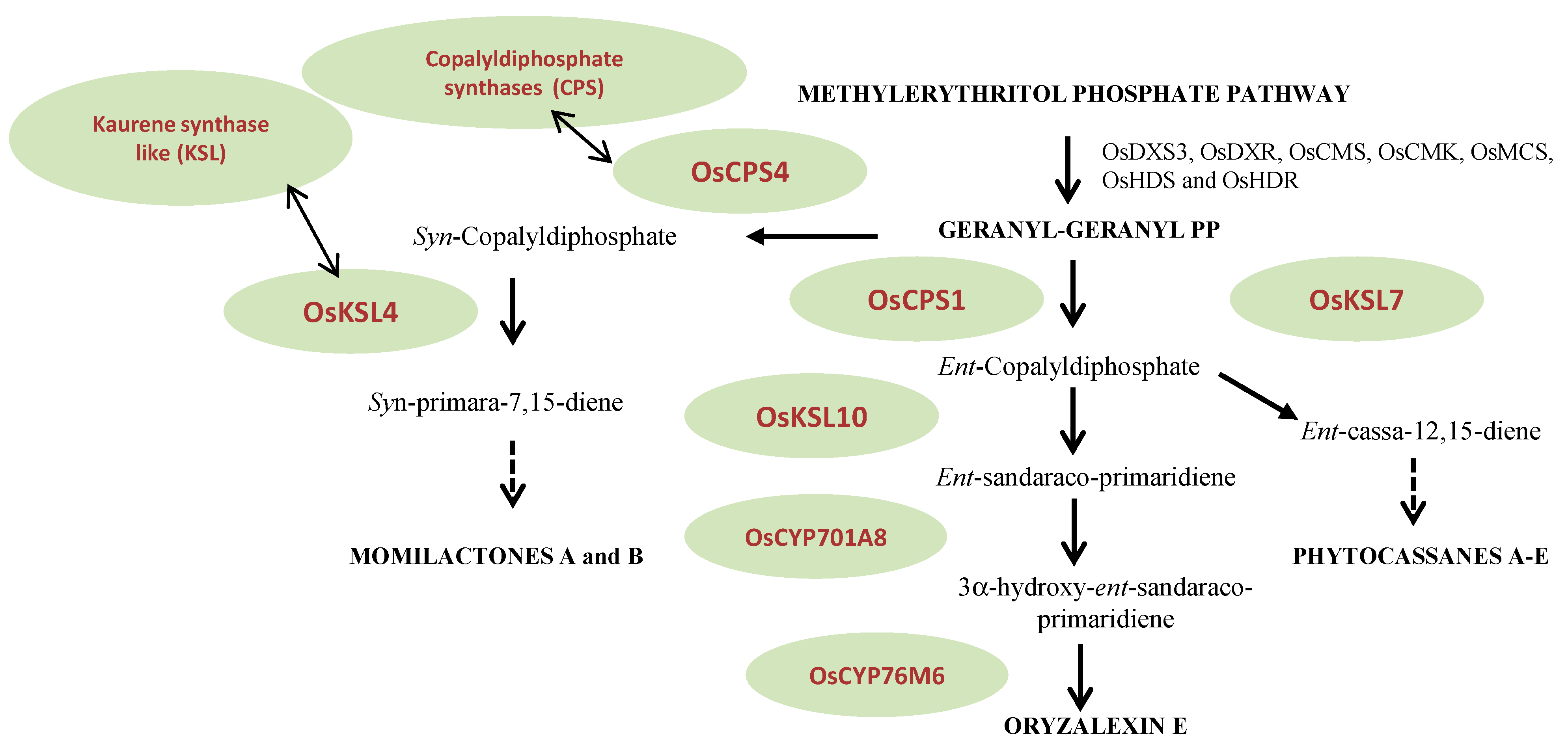 3.3. Indole Phytoalexins
Specific attention will be paid in this section to camalexin, the major phytoalexin of Arabidopsis. The indolic ring of camalexin is derived from tryptophan (Trp) which in turn arises from chorismate (
Figure 3
). The first step in the route from Trp to camalexin is under the control of two cytochrome P450 homologues CYP79B2 and CYP79B3, leading to indole-3-acetaldoxime. The latter is then transformed into indole-3-acetonitrile (IAN) via the cytochrome P450, CYP71A13. Subsequent conjugation of IAN with glutathione is performed by the combined action of a glutathione-S-transferase and most likely a cytochrome P450. The IAN glutathionyl derivative is then converted into IAN cysteinyl-glycine via a phytochelatin synthase or into γ-glutamyl-cysteine IAN through the action of two γ-glutamyltranspeptidases 1 and 3 [
2
]. Both intermediates lead to the IAN cysteine conjugate. The last steps of this biosynthesis pathway are under the control of a
CYP71B15
(
PHYTOALEXIN DEFICIENT 3
,
PAD 3
) gene encoding a multifunctional enzyme which forms camalexin via dihydrocamalexic acid (
Figure 3
).
4. Regulation Networks
Phytoalexin biosynthesis is up- or downregulated by expression of many endogenous molecules such as phytohormones (jasmonic acid, salicylic acid, ethylene, auxins, abscisic acid, cytokinins and to a lesser extent gibberellins), transcriptional regulators, defense-related genes, phosphorylation relays and cascades [
1
,
2
].
Regulatory mechanisms of phytoalexin biosynthesis also depend on the nature of the infecting pathogen as well as the nature of the induced phytoalexin itself. For example, in the Arabidopsis-
Alternaria brassicicola
interaction, accumulation of camalexin was reported to be independent from jasmonic acid (JA) [
40
,
41
] though JA was involved in the regulatory signaling pathways of this phytoalexin in Arabidopsis plants challenged with the fungal pathogen
Botrytis cinerea
[
42
]. Similarly, existence of JA-dependent and independent pathways in the modulation of diterpenoid phytoalexins in the interaction between rice and the fungal agent
Magnaporthe oryzae
was clearly evidenced by the use of rice mutants [
43
]. These mutants lacking a functional allene oxide cyclase required for JA production were impaired in momilactone accumulation upon fungal infection whereas phytocassane production was not altered.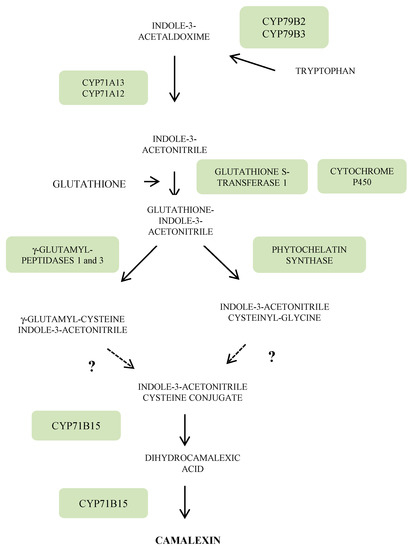 Figure 3.
Biosynthetic pathway from tryptophan to camalexin (adapted from [
2
]).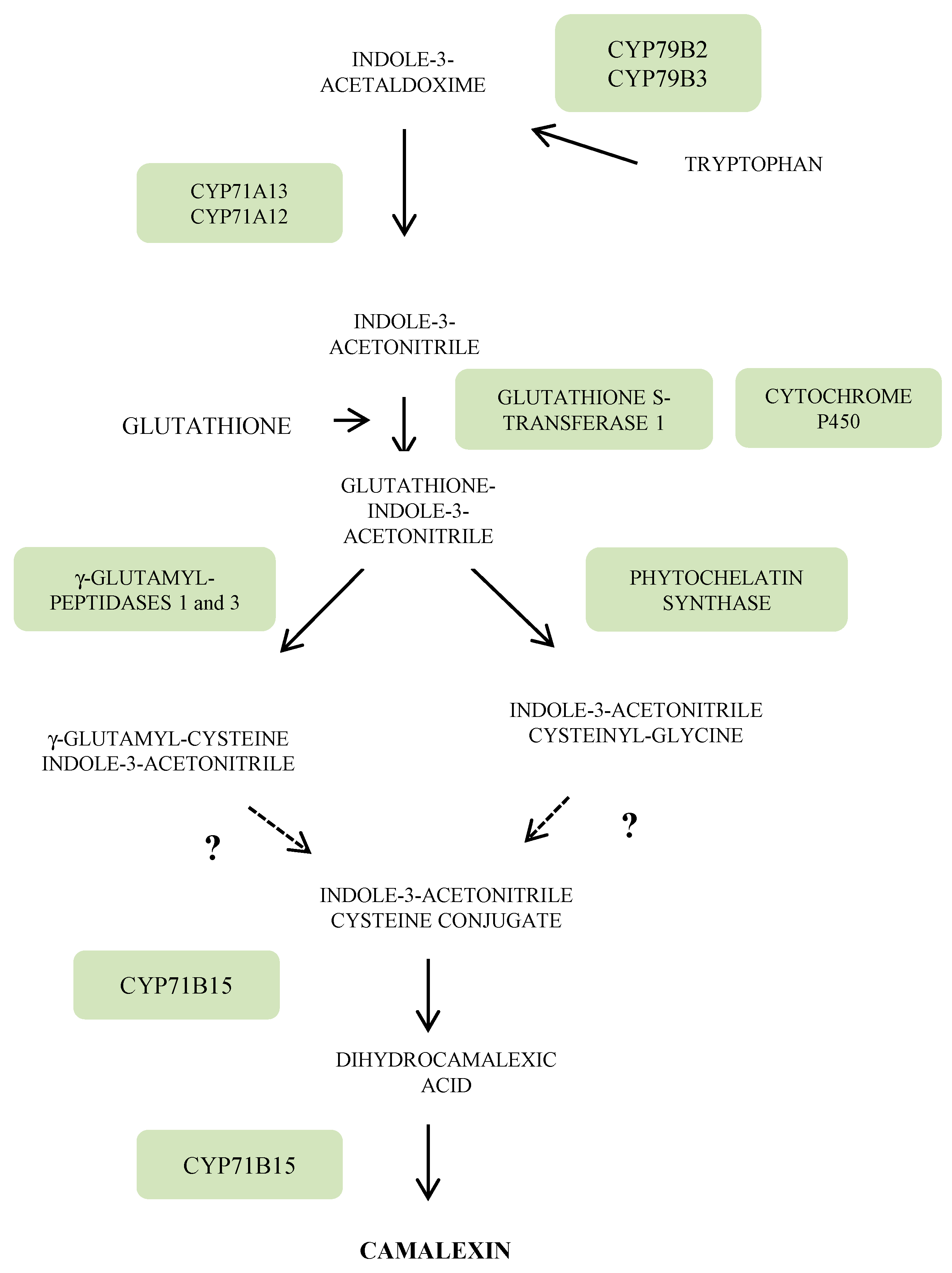 Besides, regulation of camalexin production in
Arabidopsis
is controlled by either salicylic acid (SA)-independent [
44
,
45
] or SA-dependent signaling pathways [
46
]. Indeed, biosynthesis of this phytoalexin was also found to be lower in SA-induction deficient mutants of
Arabidopsis
with impaired production of ethylene upon bacterial infection by
Pseudomonas syringae
[
47
].
Other phytohormones have been involved in the regulatory mechanisms of phytoalexin biosynthesis. Auxins and abscisic acid (ABA) generally appear to negatively regulate phytoalexin production [
1
]. Suppression of auxin signaling has recently been shown to increase the resistance of Arabidopsis to biotrophic pathogens and to redirect phytoalexin metabolism [
48
]. The biosynthesis of numerous phytoalexins is downregulated by ABA. For example, synthesis of kievitone in bean [
49
], synthesis of glyceollin in soybean [
50
,
51
] and production of rishitin and lubimin in potato [
52
] are all decreased by ABA. Tobacco mutants deficient in ABA exhibit twice as much capsidiol as wild-type plants [
53
]. In contrast, cytokinin overexpression was shown to enhance resistance of tobacco to
P. syringae
[
54
]. This increased resistance correlated well with the up-regulated synthesis of two phytoalexins, capsidiol and scopoletin.
Mitogen-Activated Protein Kinases (MAPKs) have been involved in the induction of camalexin accumulation in Arabidopsis plants upon treatment with Microbe-Associated Molecular Patterns (MAMPs) [
12
]. Specifically two MAP kinases, MPK3 and MPK6 take part in the up-regulation of numerous enzymes of the camalexin biosynthetic route. For example, expression of the CYP71B15 gene, which encodes the multifunctional enzyme acting at the end of the pathway showed a 400-fold increase upon overexpression of these two MAPKs [
12
]. In Arabidopsis
mpk3
/
mpk6
double mutants, camalexin production was completely abolished concomitantly with an increased susceptibility to
B. cinerea
.
Protein phosphorylation-induced phytoalexin production is also under the control of cell calcium transfers which in turn are decoded and transmitted by a toolkit of calcium binding proteins [
1
]. Several families of calcium sensors are indeed involved in the phytoalexin regulation networks. For instance, overexpression of two genes encoding a calcineurin B-like protein-interacting protein kinase in rice was found to induce two phytoalexin classes, phytocassanes and momilactones upon MAMP treatment [
55
].
Other regulators of phytoalexin biosynthesis have been identified [
1
]. Overexpression of Rac proteins in rice induced disease resistance to bacterial blight together with a 19- to 180-fold increase in the accumulation of the rice phytoalexin momilactone A [
56
]. Production of this phytoalexin is also controlled by selenium-binding protein homologues as shown in the interaction between rice and both the rice blast fungus and the rice bacterial blight [
57
]. Overexpression of microbial virulence factors belonging to the Nep1-like protein family in
Arabidopsis
was associated with a strong transcriptional activation of genes involved in the camalexin route [
58
]. Various sugars (sucrose, glucose and fructose) acting as endogenous signals, have been reported to regulate the biosynthesis and accumulation of some phytoalexins [
59
]. Finally, overexpression of non-expressor of pathogenesis-related genes-1 which play a critical role in the systemic acquired resistance was reported to induce the biosynthesis of the cotton phytoalexin gossypol [
60
]. Knowledge of the regulatory mechanisms of phytoalexin biosynthesis thus paves the way for metabolic engineering of plants for disease resistance (see
Section 6
).
5. Biological Activity against Microorganisms
Are phytoalexins biologically active compounds? Do phytoalexins show antibacterial activities? Over 70 years after their discovery, the actual role of phytoalexins in plant defense mechanisms is still debated. Phytoalexins are considerably less toxic than chemical fungicides. Lack of activity of isoflavonoid phytoalexins was indeed reported in comparison to classic fungicides like benomyl and mancozeb [
61
]. Effective doses of phytoalexins generally fall within orders of magnitude 10
−5
to 10
−4
M [
62
,
63
]. Phytoalexin fungitoxicity is clearly evidenced by the inhibition of germ-tube elongation, radial mycelial growth and/or mycelia dry weight increase, as best illustrated by the action of resveratrol on
B. cinerea
, the causal agent for gray mold in grapevine [
63
,
64
]. Phytoalexin antifungal activity can considerably vary from one compound to another. For example, Hasegawa
et al
., show that the rice phytoalexin sakuranetin displays a higher activity against the blast fungus than does another rice phytoalexin, momilactone A, both
in vivo
and
in vitro
[
65
].
Phytoalexins may also exert some effects on the cytological, morphological and physiological characteristics of fungal cells. The activity of four phytoalexins from the Solanaceae family (rishitin, phytuberin, anhydro-β-rotunol and solavetivone) on three
Phytophthora
species resulted in loss of motility of the zoospores, rounding-up of the cells associated with some level of swelling, cytoplasmic granulation and bursting of the cell membrane [
66
]. The two latter are very general features of the action of phytoalexins on fungal cells ([
63
,
64
,
67
] and references therein). The extensive membrane damage occurring after fungal exposure to phytoalexins is reflected in substantial leakage of electrolytes and metabolites [
68
]. However, it has been observed that despite the presence of wyerone acid or resveratrol, surviving
B. cinerea
fungal cells could produce secondary and to a lesser extent tertiary germ tubes suggesting that some sort of escape from phytoalexin damage could take place [
63
,
69
]. Asymetric growth of the germ tube resulting in the production of "curved-germ tubes" has also been observed in
B. cinerea
conidia treated with sub-lethal doses of resveratrol [
63
]. This cytological abnormality suggests that stilbenic compounds may interact with tubulin polymerization, the mode of action of many synthetic fungicides and anticancer agents [
70
]. Moreover, phytoalexins may affect glucose uptake by fungal cells as reported in the interactions between phaseollin or kievitone/and
Rhizoctonia solani
[
68
]. Observations of
B. cinerea
conidia showed a complete disorganization of mitochondria and disruption of the plasma membrane upon treatment with the stilbene phytoalexins, resveratrol and pterostilbene [
63
,
64
,
67
]. Pterostilbene especially led to a rapid and complete cessation of respiration in
B. cinerea
conidia which can be explained by its activity as an uncoupling agent of electron transport and phosphorylation [
67
]. Camalexin has recently been involved in the induction of fungal apoptotic programmed cell death in
B. cinerea
[
71
]. The efficaciousness
in vivo
of some phytoalexins, namely the coumarin phytoalexin, scopoletin on the reduction of green mold symptoms caused by
Penicillium digitatum
on oranges was shown [
72
]. In the same way, phenolic phytoalexins (resveratrol, scopoletin, scoparone and umbelliferone) were shown to significantly inhibit the growth of
Penicillium expansum
and patulin accumulation in apples [
73
]. To increase the fungitoxicity of phytoalexins, design and synthesis of more active phytoalexin derivatives is needed [
74
,
75
].
Beside their antifungal activity, phytoalexins possess some antibacterial activity. Rishitin for instance decreased the viability of cells of
Erwinia atroseptica
by around 100% at a dose of 360 μg/L [
76
]. Resveratrol also exerts some activity against numerous bacteria affecting humans:
Chlamydia
,
Helicobacter
,
Staphylococcus
,
Enterococcus
,
Pseudomonas
and
Neisseria
([
14
] and references therein). It is thus clear that phytoalexins exhibit toxicity across much of the biological spectrum, prokaryotic and eukaryotic.
6. Engineering of Phytoalexins and Role in Plant Defense Mechanisms
7. Fungal Metabolism and Transporters
8. Role of Phytoalexins in Human Health
9. Concluding Remarks
Works on phytoalexins from diverse chemical families have generated a lot of data regarding basic aspects of plant defenses and their regulatory mechanisms. As a result, engineering of phytoalexins has arisen as a new area in the development of useful approaches to disease control. Nonetheless, while a variety of genetic transfers were carried out in order to investigate the potential of stilbene and flavonoid phytoalexin biosynthetic genes in conferring disease resistance, strategies focusing on the other phytoalexin chemical families did not [
1
].
Some studies have attempted to determine the actual concentration and the nature of phytoalexins directly in plant tissues in response to invading microorganisms using spectroscopic methods [
129
,
130
]. However, our general knowledge remains limited by the difficulty to analyse the events occurring under natural conditions between the plant and the pathogen.
On the other hand, the potential value of several phytoalexins on a therapeutic point of view has made their large-scale production a necessity. Engineering yeast and bacteria, may represent valuable means for the production of phytoalexins at an industrial scale [
14
,
131
]. However, their tailoring is needed as they do not possess the genes encoding phytoalexin biosynthesis. Another approach is large-scale production of phytoalexins using plant cell suspensions in bioreactors. Some experiments are underway to optimize stilbene phytoalexin production in bioreactors [
132
,
133
].
Although considerable work has already been done on phytoalexins, the ways in which they act against microorganisms and the mechanisms the latter have developed to counteract their action are still poorly understood keeping this subject an active field of research even after over 70 years.
Abbreviation
IFS

2-hydroxy isoflavanone synthase;

DMI

7,2'-dihydroxy-4'-methoxy-isoflavanol;

DMDI

7,2'-dihydroxy-4',5'-methylenedioxy-isoflavanol;

HMM

6α-hydroxymaackiain 3-

O

-methyltransferase

HI4'OMT: SAM:

2,7,4'-trihydroxy-isoflavanone 4'-

O

-methyltransferase;

STS

stilbene synthase;

CHS

chalcone synthase.
Author Contributions
Philippe Jeandet wrote the paper. Marie-Alice Deville edited the whole manuscript. Aziz Aziz, Stephan Dorey and Sylvain Cordelier checked the regulatory and molecular engineering sections. Claire Hébrard and Jérôme Crouzet wrote the ABC transporter section.
Conflicts of Interest
The authors declare no conflict of interest.
© 2014 by the authors. Licensee MDPI, Basel, Switzerland. This article is an open access article distributed under the terms and conditions of the Creative Commons Attribution license ( http://creativecommons.org/licenses/by/4.0/).