Journal Browser
►

▼

Journal Browser
Conferences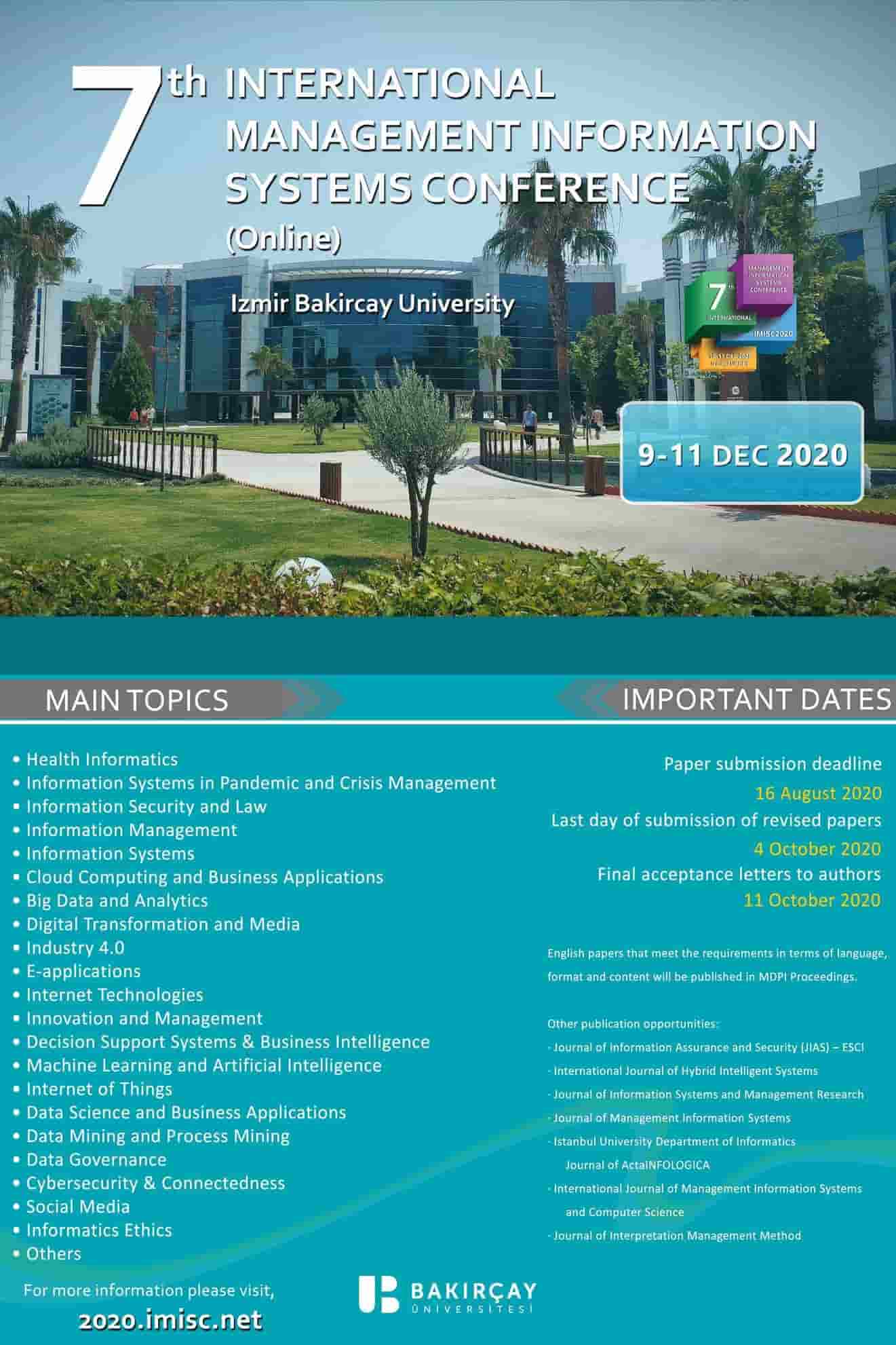 7th International Management Information Systems Conference (IMISC2020) will be held online by Izmir Bakircay University on 9–11 December 2020. We would like to invite all academicians working in the field of Management Information Systems and related disciplines, researchers and practitioners working in public, private sector, NGOs and research centers to participate in our conference with their scientific contributions or as a listener. This year, because of Covid-19's impacts on our daily lives, businesses and society and Bakırcay University's primary scientific focus areas, the conference theme has been declared as Health Informatics and Analytics. However, the conference is open to scientific studies from all areas of MIS and informatics.
Prospective authors are invited to submit their original full papers, which have not been submitted (or published) previously or are not under review for publication in other conferences or journals. All paper reviews will be double blind and at least three reviewers including the international ones will review the submitted papers. A paper must have at least two favorable reviews for acceptance. Quality papers to be selected will be proposed for publication in various journals and media. Papers can be submitted either in Turkish or English and the accepted papers must be presented in the written languages.
Conference Topics
General topics are listed below. However, works in MIS and other fields of informatics that are not mentioned in the list will also be evaluated.
Information Security and Law
Information Management
Information Systems
Cloud Computing and Business Applications
Big Data and Analytics
Digital Transformation and Media
Industry 4.0
E-applications
Internet Technologies
Innovation and Management
Decision Support Systems & Business Intelligence
Machine Learning and Artificial Intelligence
Internet of Things
Data Science and Business Applications
Data Mining and Process Mining
Data Governance
Cybersecurity & Connectedness
Social Media
Health Informatics
Information Systems in Pandemic and Crisis Management
Important Dates
Conference days: 10-11 Dec. 2020
Paper submission deadline: 16 Aug. 2020
Notification of the evaluation results to authors: 20 Sep. 2020
Last day of submission of updated papers: 4 Oct. 2020
Paper acceptance letters to authors: 11 Oct. 2020
Deadline of early registration: 18 Oct. 2020
Deadline of Authors registration: 8 Nov. 2020
Announcements of detailed conference program: 10 Nov. 2020
PhD Consortium & Young Academics' Day: 9 Dec. 2020
Post Conference Virtual Tour: 12 Dec. 2020
For more details please visit the web site (https://2020.imisc.net) or contact us by email ([email protected]).