Conferences
Upcoming MDPI Conferences (1)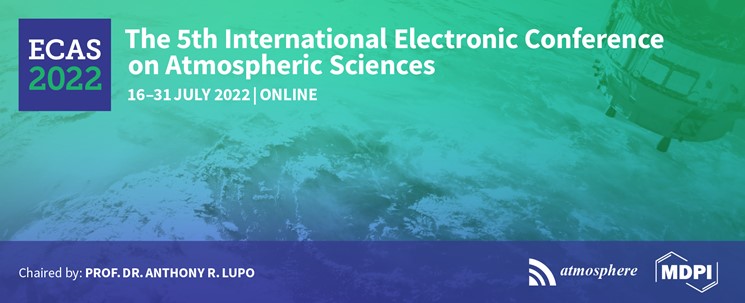 16–31 July 2022
Meet Us Online at the 5th International Electronic Conference on Atmospheric Sciences (ECAS 2022), 16–31 July 2022
Online
We cordially invite you to participate in the 5th International Electronic Conference on Atmospheric Sciences. We are pleased that this conference has already reached its fifth iteration, and we hope to continue its success. We acknowledge that sharing our work face-to-face with our colleagues is preferred; however, the continuing COVID-19 crisis has forced many conferences online during the last year. Technology is continuously improving the virtual experience and we hope to take advantage of the latest developments in order to create a quality online meeting. Furthermore, the virtual experience allows us to stretch our conference budgets and increase our interactions. Additionally, last year we experimented with two live presentation sessions, which were well-received.
For the fifth International Electronic Conference on Atmospheric Sciences, the range of topics will remain more general, but we would be open to subject areas which have a thematic topic of importance. Over the last few decades, great strides have been made in all general areas of atmospheric science. We have seen the proliferation of remote sensing technologies and techniques for their use in research and forecasting. We have seen advances in the understanding of synoptic and dynamic meteorology which have improved weather forecasting. Advances in the capabilities of atmospheric modelling as well as increases in computing power have enhanced our understanding of atmospheric behaviors on all scales of time and space. Additionally, there have been discoveries related to the behavior of smaller-scale systems, especially those that interact with human activity, health, and economics. These have inspired warning techniques to inform people about the potential effects of these events. The increased understanding of interannual and interdecadal variability in climate has also led to the development of long-range forecasting and projection. In conclusion, this conference will be organized around the following general and related themes which correspond to the Atmosphere journal:
Aerosols;
Air Quality;
Air Quality and Human Health;
Atmospheric Techniques, Instruments, and Modeling;
Biometeorology;
Climatology;
Meteorology;
Upper Atmosphere.
The conference will be completely free of charge, both to attend and for scholars to upload and present their latest work on the conference platform. The accepted proceedings papers are likely to be published as one dedicated volume in the MDPI Environmental Sciences Forum journal. The proceedings papers will be published free of charge. There will also be the opportunity to submit selected papers to the Special Issue in the journal Atmosphere (ISSN 2073-4433; impact factor: 2.686 (JCR 2020); 5-year impact factor: 2.848 (JCR 2020)) with a 20% discount on the article processing charge. ECAS 2022 will offer you the opportunity to participate in this international, scholarly conference without the concern or expenditure of travel — all you will require is your computer and access to the internet. We would like to invite you to attend this conference and present your latest work.
Important Dates:
Abstract Submission Deadline: 6 April 2022;
Notification of Acceptance: 20 April 2022;
Full Paper Submission Deadline: 18 May 2022;
Conference Date: 16-31 July 2022.
Atmosphere is indexed in Scopus, SCIE (IF = 2.686), Ei Compendex, GEOBASE,Inspec, and many other databases. Please visit the following website for more information: https://www.mdpi.com/journal/atmosphere.
Event Awards
In recognition of the support of the conference's esteemed authors and their outstanding scientific accomplishments, we are pleased to announce that the conference will provide one Best Paper Award and one Best Presentation Award.
For more information on ECAS 2022, please visit the conference website (https://ecas2022.sciforum.net/) or contact us by email ([email protected]).
Please do not hesitate to contact us if you have any questions, and we look forward to welcoming you to this exciting online conference.
Conference Secretariat
Atmosphere announces selected third-party conferences. In case you would like to announce your own event on the Atmosphere website, please fill out the following form to apply for the announcement of a conference or other academic event (seminar, workshop).
Upcoming Partner Conferences (0)
No conferences found for the selection.