Open Access This article is
freely available
re-usable
Article
A Triple Correlator of Radiation Intensities of a Multimode Semiconductor Laser
1
Institute of Solid State Physics (ISSP RAS), Moscow Region, 142432 Chernogolovka, Russia
2
Moscow Institute of Physics and Technology, Moscow Region, 141701 Dolgoprudny, Russia
*
Author to whom correspondence should be addressed.
Received: 20 September 2019 / Accepted: 19 November 2019 / Published: 11 December 2019
Abstract
:
In this work, temporal correlations of radiation intensities of a multimode Fabry-Perot (FP) semiconductor laser are studied. Second- and third-order intensity correlation functions are measured both for the multimode FP laser and a pulsed Ti: Sapphire (TiSp) laser. Triple correlators of the latter demonstrate an ordinary product of double correlators (the classic case). The behavior of the multimode laser is more complex and can indicate the quantum nature of optical field correlations. We follow a specific phenomenological formula for calculation of the triple temporal correlator.
Keywords:
intensity correlation functions; quantum correlations; triple correlators; multimode semiconductor laser
Author Contributions
Conceptualization, M.L.; methodology, M.L.; software, A.D.; validation, M.L., O.M., and A.P.; formal analysis, A.D., A.P., and O.M.; investigation, M.L. and A.D.; resources, M.L.; data curation, M.L. and A.P.; writing—original draft preparation, M.L.; writing—review and editing, M.L. and A.P.; visualization, M.L., A.D., and A.P.; supervision, M.L.; project administration, M.L.; funding acquisition, M.L.
Funding
This research was funded by the Russian Foundation for Basic Research, grant number 17-02-00002.
Acknowledgments
The authors would like to thank G.B.L. for helpful discussions.
Conflicts of Interest
The authors declare no conflict of interest.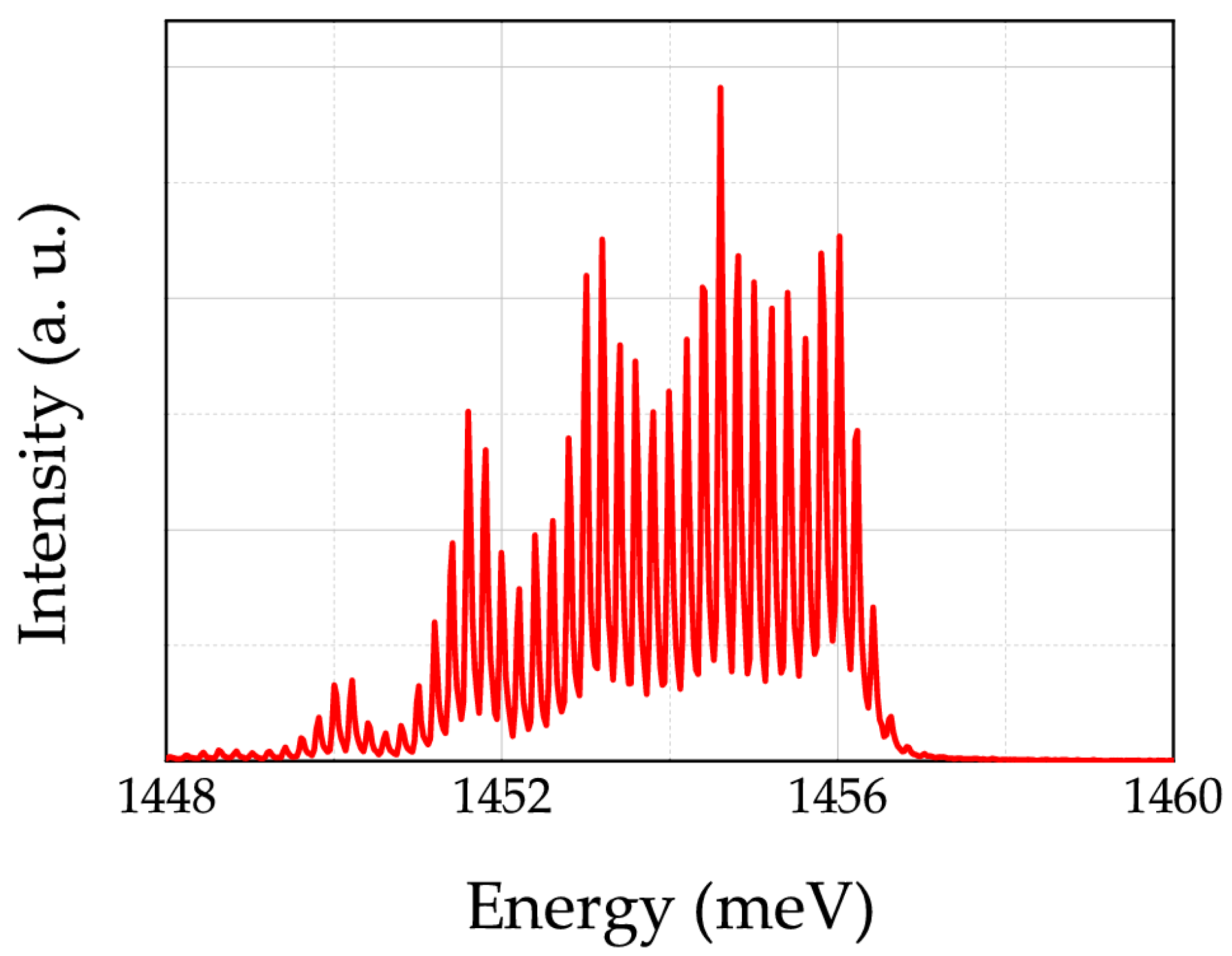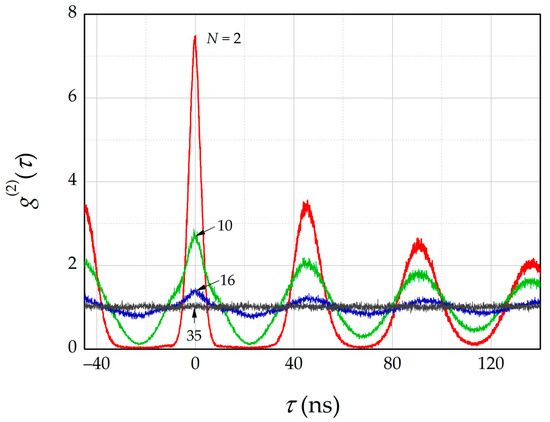 Figure 2.
The intensity correlation functions
g
(2)
obtained by an ordinary Hanbury Brown and Twiss (HBT) setup.
N
is the number of simultaneously detected longitudinal modes shown in
Figure 1
.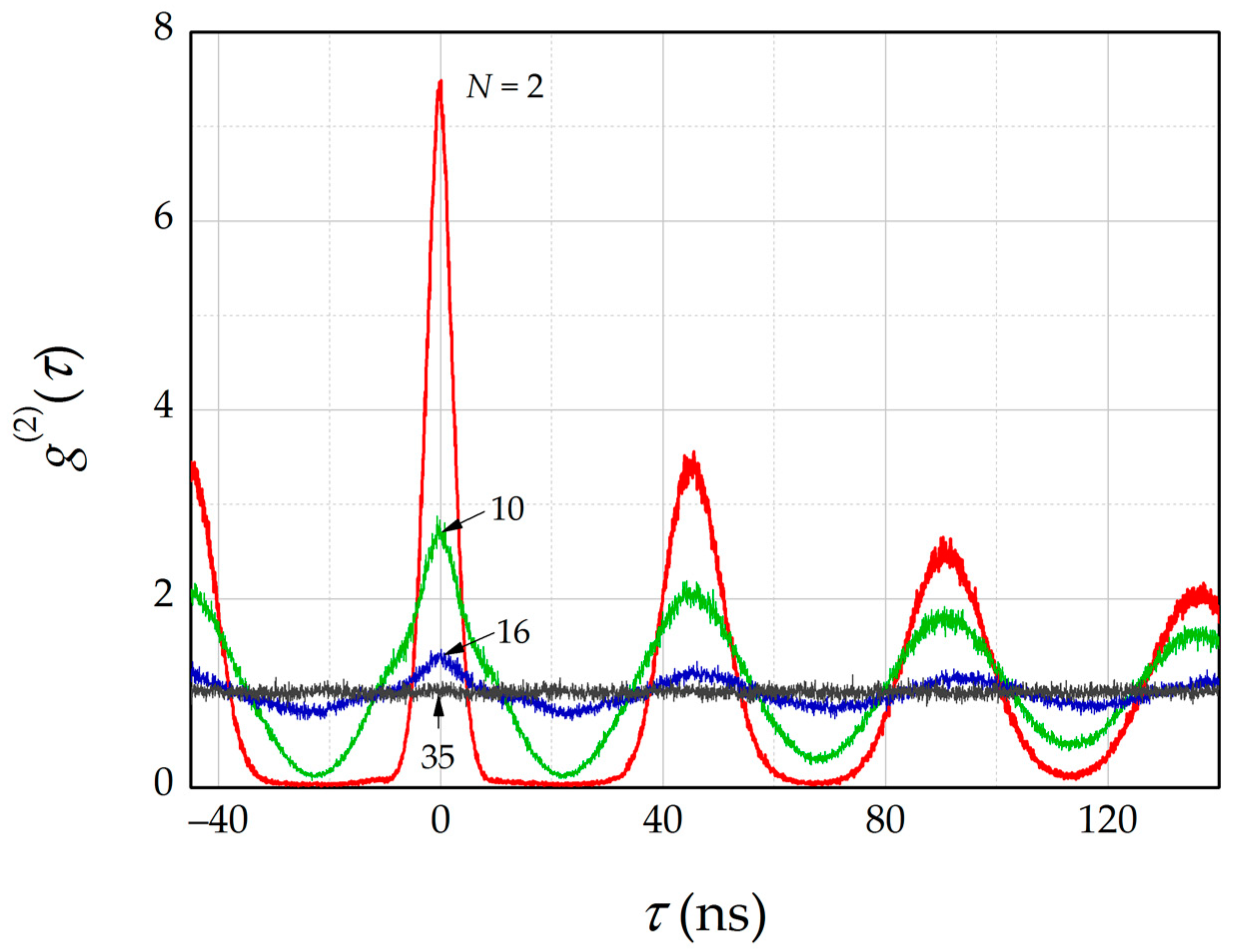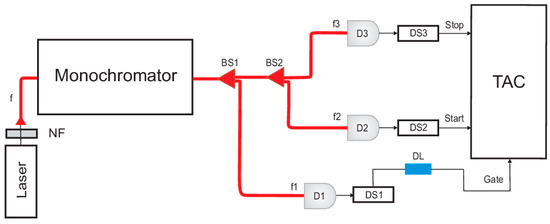 Figure 3. Schematic of the experimental setup. BS1 and BS2 are fiber-Y-splitters. f, f1, f2, and f3 are optical fibers. NF is a neutral density filter. D1, D2, and D3 are single photon detectors (silicon avalanche photodiodes). DS1, DS2, and DS3 are discriminators. DL is a delay line; TAC (ORTEC) is a time-to amplitude converter which measures the time interval between pulses to its Start and Stop inputs and generates an analog output pulse proportional to the measured time.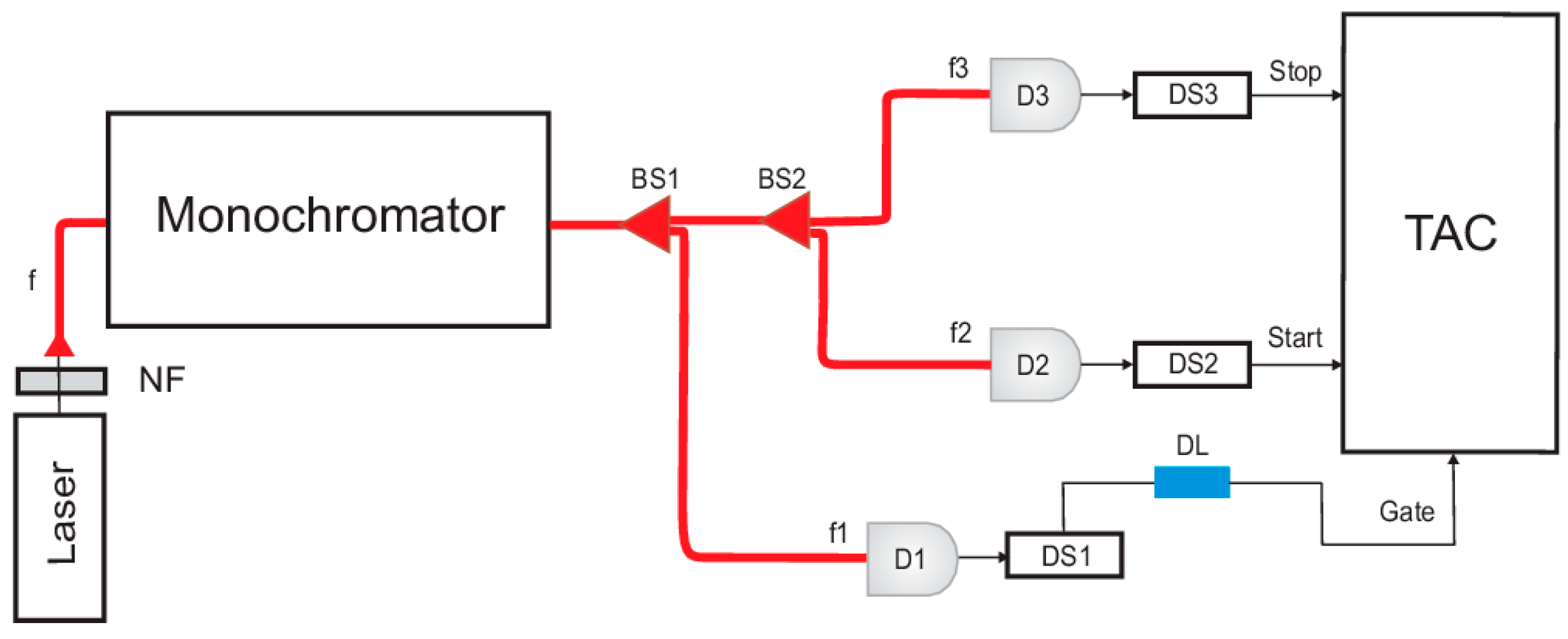 Figure 4.
(
a
) The double correlator
G
(2)
(
τ
) as a function of delay
τ
and (
b–d
) the triple correlator
G
(3)
(
τ
) at different values of
Δ
. The double peak shape of the laser line was a result of an apparatus function.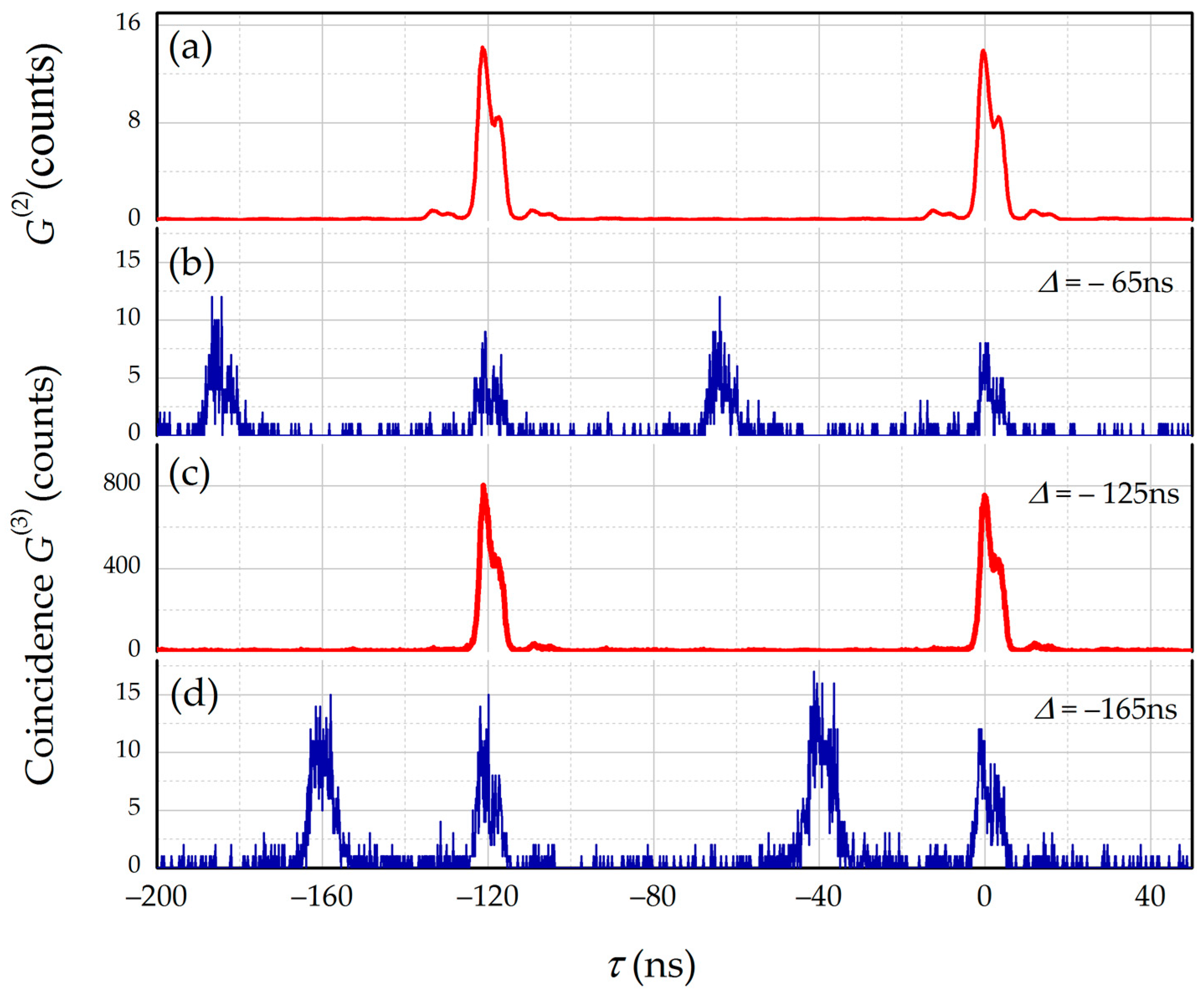 Figure 5.
The normalized triple correlator
g
(3)
as a function of delay
τ
(blue lines) at different time shifts of the gate pulse
∆
and the
g
(2)
(
τ
) correlator (red lines). (
a–c
) correspond to three different values of
∆
.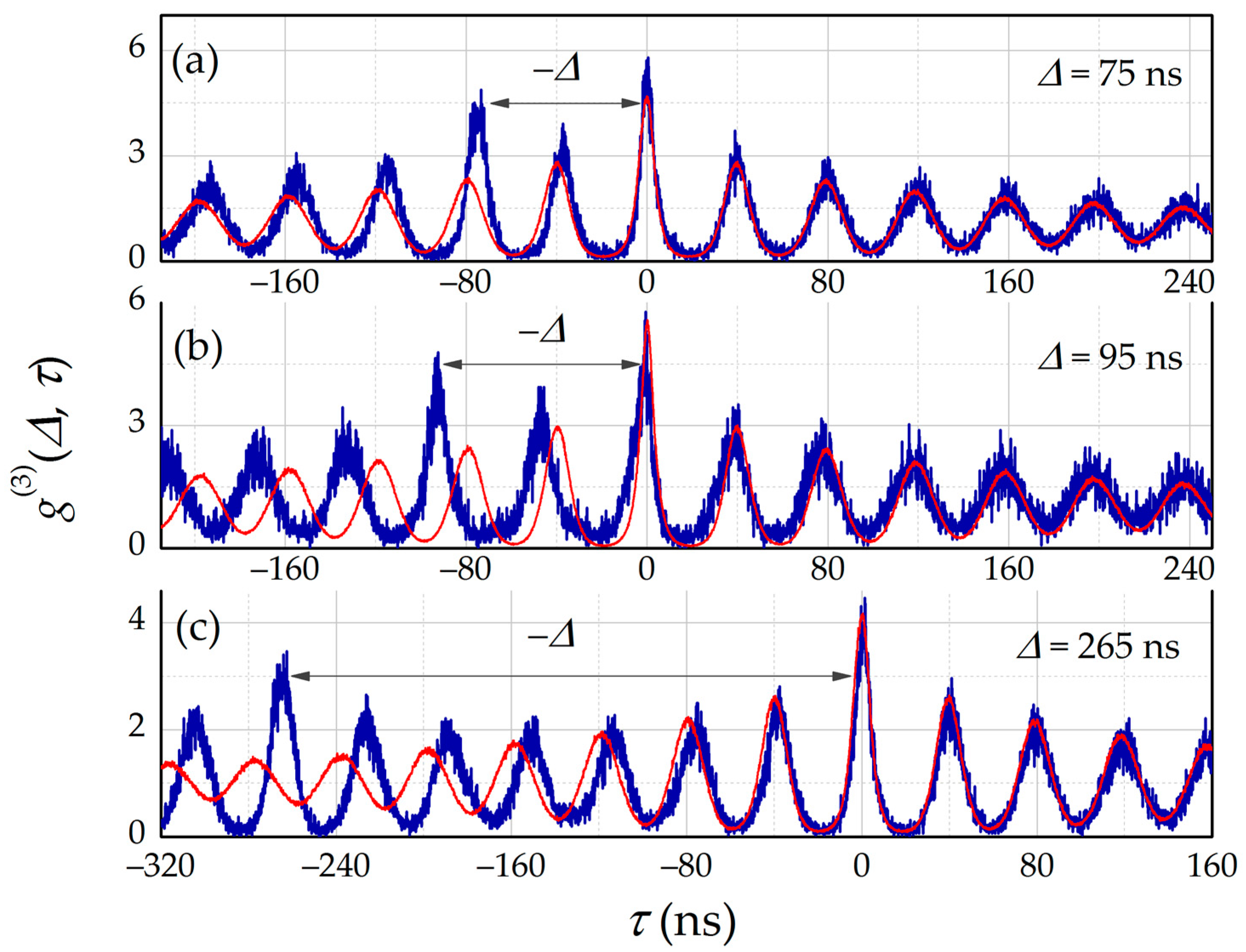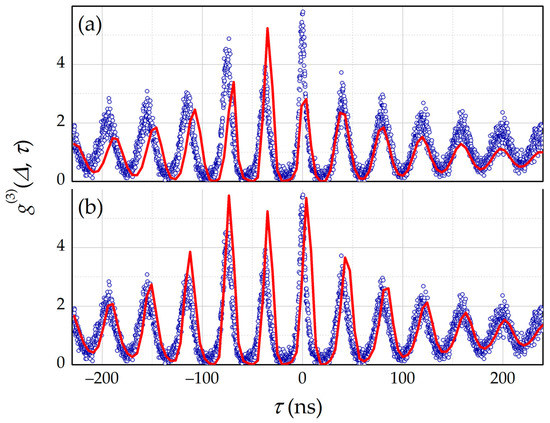 Figure 6.
The approximation of a
g
(3)
correlator using the specific phenomenological formula in [
12
]: (
a
) with no Θ-function and (
b
) including the Θ-function. The blue symbols are the experimental data and the red solid lines are the fittings. The experimental value
∆
= 75 ns.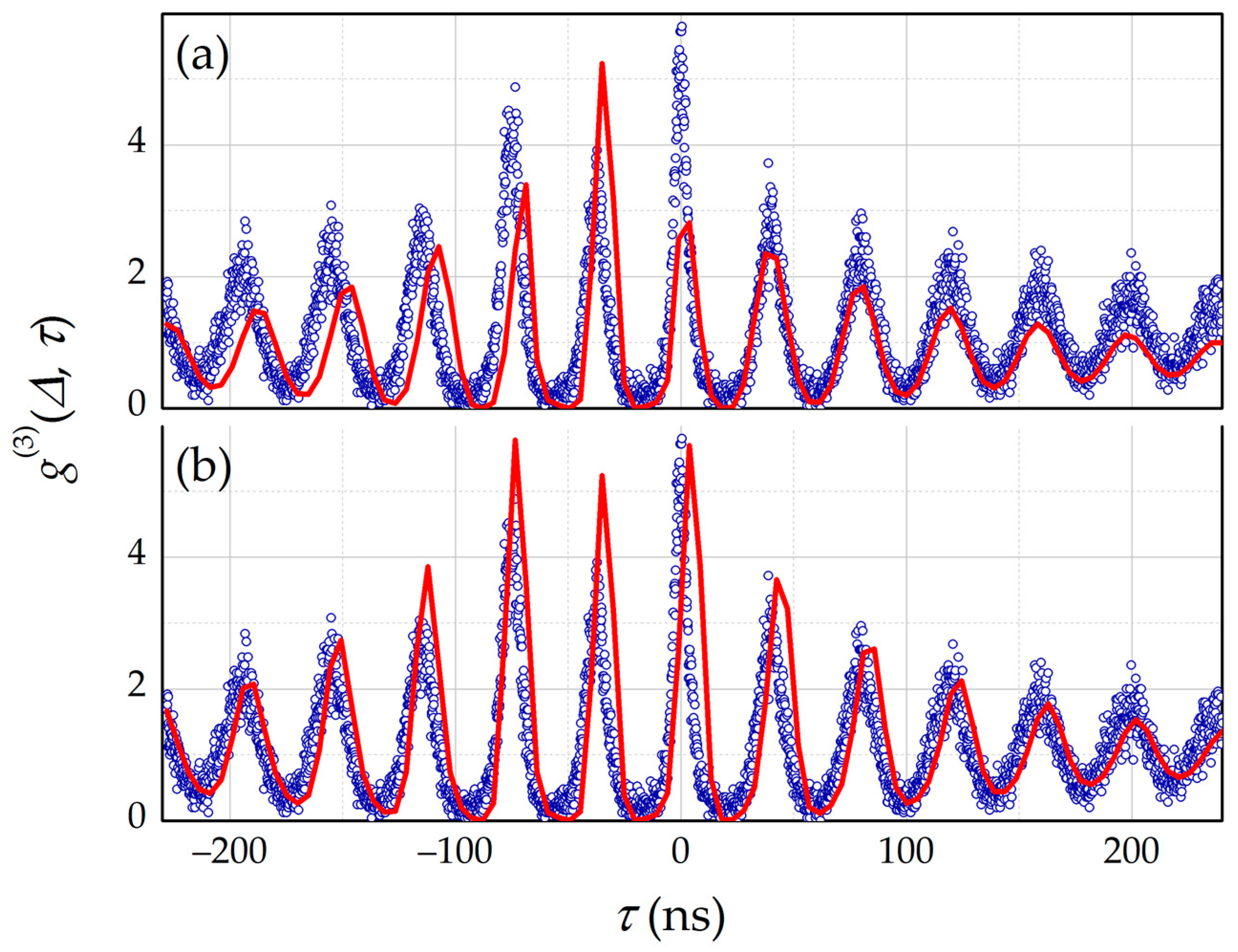 © 2019 by the authors. Licensee MDPI, Basel, Switzerland. This article is an open access article distributed under the terms and conditions of the Creative Commons Attribution (CC BY) license (http://creativecommons.org/licenses/by/4.0/).