The Multifactorial Etiopathogeneses Interplay of Inflammatory Bowel Disease: An Overview
1
Meharry Medical College School of Medicine, Department of Biochemistry, Cancer Biology, Neuroscience and Pharmacology, Nashville, TN 37208, USA
2
Vanderbilt University School of Medicine, Department of Surgery, Colon and Rectal Surgery, Nashville, TN 37232, USA
3
The American Society of Colon and Rectal Surgeons (ASCRS), Arlington Heights, IL 60005, USA
4
The American Gastroenterological Association (AGA), Bethesda, MD 20814, USA
5
Vanderbilt-Ingram Cancer Center (VICC), Vanderbilt University Medical Center, Nashville, TN 37232, USA
Received: 18 September 2018 / Revised: 9 October 2018 / Accepted: 12 October 2018 / Published: 18 October 2018
Abstract
The gastrointestinal system where inflammatory bowel disease occurs is central to the immune system where the innate and the adaptive/acquired immune systems are balanced in interactions with gut microbes under homeostasis conditions. This article overviews the high-throughput research screening on multifactorial interplay between genetic risk factors, the intestinal microbiota, urbanization, modernization, Westernization, the environmental influences and immune responses in the etiopathogenesis of inflammatory bowel disease in humans. Inflammatory bowel disease is an expensive multifactorial debilitating disease that affects thousands new people annually worldwide with no known etiology or cure. The conservative therapeutics focus on the established pathology where the immune dysfunction and gut injury have already happened but do not preclude or delay the progression. Inflammatory bowel disease is evolving globally and has become a global emergence disease. It is largely known to be a disease in industrial-urbanized societies attributed to modernization and Westernized lifestyle associated with environmental factors to genetically susceptible individuals with determined failure to process certain commensal antigens. In the developing nations, increasing incidence and prevalence of inflammatory bowel disease (IBD) has been associated with rapid urbanization, modernization and Westernization of the population. In summary, there are identified multiple associations to host exposures potentiating the landscape risk hazards of inflammatory bowel disease trigger, that include: Western life-style and diet, host genetics, altered innate and/or acquired/adaptive host immune responses, early-life microbiota exposure, change in microbiome symbiotic relationship (dysbiosis/dysbacteriosis), pollution, changing hygiene status, socioeconomic status and several other environmental factors have long-standing effects/influence tolerance. The ongoing multipronged robotic studies on gut microbiota composition disparate patterns between the rural vs. urban locations may help elucidate and better understand the contribution of microbiome disciplines/ecology and evolutionary biology in potentially protecting against the development of inflammatory bowel disease.
View Full-Text
►

▼

Figures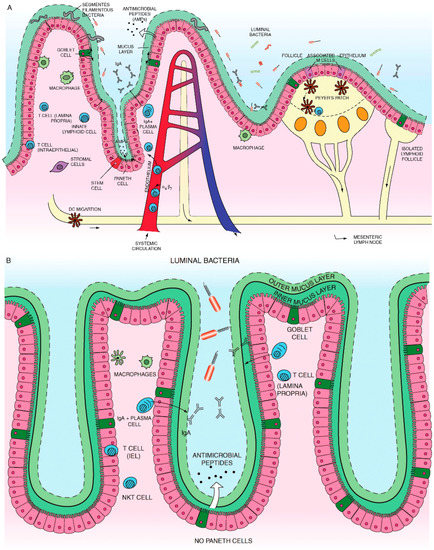 Figure 1
This is an open access article distributed under the
Creative Commons Attribution License
which permits unrestricted use, distribution, and reproduction in any medium, provided the original work is properly cited (CC BY 4.0).

Share & Cite This Article
MDPI and ACS Style
M'Koma, A.E. The Multifactorial Etiopathogeneses Interplay of Inflammatory Bowel Disease: An Overview. Gastrointest. Disord. 2019, 1, 75-105.
Comments
[Return to top]