Ice-Templating for the Elaboration of Oxygen Permeation Asymmetric Tubular Membrane with Radial Oriented Porosity
Instituto de Tecnología Química (Universitat Politècnica de València – Consejo Superior de Investigaciones Científicas), Av. Naranjos s/n, E-46022 Valencia, Spain
*
Author to whom correspondence should be addressed.
Received: 6 February 2019 / Revised: 5 March 2019 / Accepted: 28 March 2019 / Published: 2 April 2019
An original asymmetric tubular membrane for oxygen production applications was manufactured in a two-step process. A 3 mol% Y
2
O
3
stabilized ZrO
2
(3YSZ) porous tubular support was manufactured by the freeze-casting technique, offering a hierarchical and radial-oriented porosity of about 15 µm in width, separated by fully densified walls of about 2 µm thick, suggesting low pressure drop and boosted gas transport. The external surface of the support was successively dip-coated to get a Ce
0.8
Gd
0.2
O
2−δ
– 5mol%Co (CGO-Co) interlayer of 80 µm in thickness and an outer dense layer of La
0.6
Sr
0.4
Co
0.2
Fe
0.8
O
3−δ
(LSCF) with a thickness of 30 µm. The whole tubular membrane presents both uniform geometric characteristics and microstructure all along its length. Chemical reactivity between each layer was studied by coupling X-Ray Diffraction (XRD) analysis and Energy Dispersive X-Ray spectroscopy (EDX) mapping at each step of the manufacturing process. Cation interdiffusion between different phases was discarded, confirming the compatibility of this tri-layer asymmetric ceramic membrane for oxygen production purposes. For the first time, a freeze-cast tubular membrane has been evaluated for oxygen permeation, exhibiting a value of 0.31 mL·min
−1
·cm
−2
at 1000 °C under air and argon as feed and sweep gases, respectively. Finally, under the same conditions and increasing the oxygen partial pressure to get pure oxygen as feed, the oxygen permeation reached 1.07 mL·min
−1
·cm
−2
.
View Full-Text
►

▼

Show Figures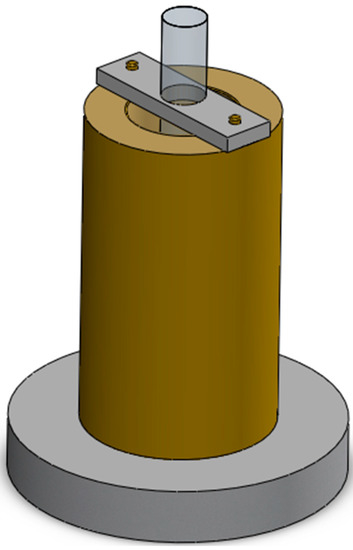 Figure 1
This is an open access article distributed under the
Creative Commons Attribution License
which permits unrestricted use, distribution, and reproduction in any medium, provided the original work is properly cited

MDPI and ACS Style
Gaudillere, C.; Garcia-Fayos, J.; Plaza, J.; Serra, J.M. Ice-Templating for the Elaboration of Oxygen Permeation Asymmetric Tubular Membrane with Radial Oriented Porosity. Ceramics 2019, 2, 246-259.
Show more citation formats
Show less citations formats