Influence of a Bleaching Agent on the Color Stability of Indirect Composite Resins Immersed in Dyes
Department of Dental Materials and Prosthodontics, Aracatuba Dental School, Sao Paulo State University (UNESP), Aracatuba, Sao Paulo 16015-050, Brazil
*
Author to whom correspondence should be addressed.
Received: 31 January 2019 / Revised: 25 March 2019 / Accepted: 26 March 2019 / Published: 1 April 2019
This study aimed to evaluate the effect of a bleaching agent on the color of extrinsically pigmented indirect composite resins. Samples of five resins (Adoro, Resilab, Cristobal, Sinfony, Epricord) were manufactured and divided into five groups: red wine, coffee, orange juice, Coca-Cola, and artificial saliva (control). The stained samples were immersed in a 38% hydrogen peroxide solution for 30 min per week, over three weeks. Color readings were performed at the initial state (L0), after 21 days of dye immersion (ΔE1, L1), and after 7 (ΔE2, L2), 14 (ΔE3, L3), and 21 days (ΔE4, L4) of bleach immersion. Data were subjected to ANOVA and Tukey's honestly significant difference (HSD) test (α = 0.05). The color alteration was greater in ΔE1, regardless of color solution, indicating extrinsic pigmentation. The Resilab group exhibited greater ΔE1 values than the other resins. The bleaching agent promoted bleaching action on the surfaces of the materials studied, removing the previously impregnated pigments.
View Full-Text
►

▼

Show Figures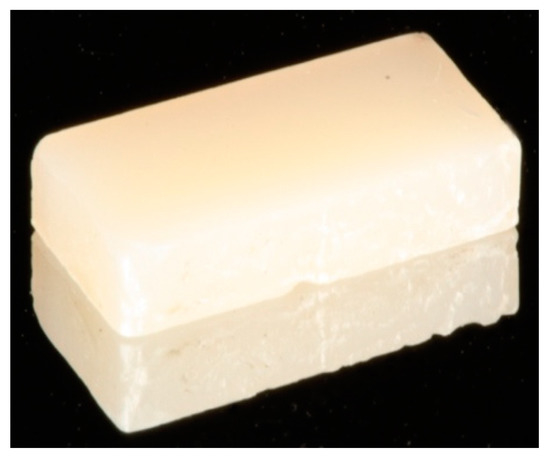 Figure 1
This is an open access article distributed under the
Creative Commons Attribution License
which permits unrestricted use, distribution, and reproduction in any medium, provided the original work is properly cited

MDPI and ACS Style
dos Santos, D.M.; da Silva, E.V.F.; Mendonça, J.B.; Cetrangolo, D.; Caxias, F.P.; Goiato, M.C. Influence of a Bleaching Agent on the Color Stability of Indirect Composite Resins Immersed in Dyes. Ceramics 2019, 2, 235-245.
Show more citation formats
Show less citations formats