Open Access This article is
freely available
re-usable
Article
Multispectral, Aerial Disease Detection for Myrtle Rust (
Austropuccinia psidii
) on a Lemon Myrtle Plantation
1
Biodiversity, Ecology and Evolution of Plants, Institute of Plant Science and Microbiology, University of Hamburg, 22609 Hamburg, Germany
2
Department of Biological Sciences, Macquarie University, Sydney, NSW 2109, Australia
3
Joint Remote Sensing Research Program, School of Earth and Environmental Sciences, University of Queensland, Brisbane, QLD 4072, Australia
4
Forest Science, Department of Primary Industries - Forestry, Parramatta, NSW 2150, Australia
5
Occupational Hygiene, Environment and Chemistry Centre, Simtars, Redbank, QLD 4301, Australia
*
Author to whom correspondence should be addressed.
Received: 1 February 2019 / Accepted: 1 March 2019 / Published: 7 March 2019
Abstract
:
Disease management in agriculture often assumes that pathogens are spread homogeneously across crops. In practice, pathogens can manifest in patches. Currently, disease detection is predominantly carried out by human assessors, which can be slow and expensive. A remote sensing approach holds promise. Current satellite sensors are not suitable to spatially resolve individual plants or lack temporal resolution to monitor pathogenesis. Here, we used multispectral imaging and unmanned aerial systems (UAS) to explore whether myrtle rust (
Austropuccinia psidii
) could be detected on a lemon myrtle (
Backhousia citriodora
) plantation. Multispectral aerial imagery was collected from fungicide treated and untreated tree canopies, the fungicide being used to control myrtle rust. Spectral vegetation indices and single spectral bands were used to train a random forest classifier. Treated and untreated trees could be classified with high accuracy (95%). Important predictors for the classifier were the near-infrared (NIR) and red edge (RE) spectral band. Taking some limitations into account, that are discussedherein, our work suggests potential for mapping myrtle rust-related symptoms from aerial multispectral images. Similar studies could focus on pinpointing disease hotspots to adjust management strategies and to feed epidemiological models.
Keywords:
disease detection; drones; plant disease; precision agriculture; random forest; remote sensing; rust fungus; shadow; UAS
3. Results
3.1. Multispectral Reflectance Signatures
The extraction of pixel numerical values from the aerial imagery and their transformation into spectral reflectance yielded spectral signatures of each class (shadow = SHD, treated = TR, untreated = UN) which were averaged and plotted (
Figure 3
). The reflectance signatures of each class could be clearly differentiated from each other by the naked eye. The camera that was used in our study could only capture spectral reflectance in broad bands (
Figure 3
B, G, R, RE, NIR). Clear differences in reflectance can be observed in the green band, red-edge band and near-infrared band.
3.2. Classification
The random forest classification, discriminating between spectral signatures from fungicide-treated and untreated lemon myrtle trees, resulted in an overall accuracy of test data of 95% (
Table 2
). Evaluating the class "Shadow" from the perspective of a person sampling the reference data, 1202 pixels were extracted from trees and were assigned to the class "Shadow" (
Table 2
—Reference, columns) but of those only 1158 were actually belonging to the class "Shadow." The classifier slightly disagreed with our observation and suggested that 14 shadow pixels should have been labelled as "Treated" and 30 as "Untreated" (Producer Accuracy = 96.3%, columns). When changing this to the perspective of the classifier (
Table 2
—Prediction, rows), the model considered 1201 pixels as being the class "Shadow." However, from those pixels we initially labelled 19 belonging to the class "Treated" and 24 to the class "Untreated." In 96.4% of cases our labels confirmed the prediction for that class (User Accuracy). When evaluating the remaining classes, the agreement between our labels and the classifier's predictions was high from both perspectives. Mixing treated and untreated pixels with shadow pixels (east-facing tree sides,
Figure 1
) lowered the classification accuracy by 11% (S3) as shadow areas are much darker than sample areas from sunlit canopies. When shadows were excluded, the classification accuracy slightly increased to 96.2% (S4).
To emphasize the high accuracy of our prediction, we applied our model to an aerial image of the experimental site to predict whether a pixel could be classified as being a shadow, a treated or untreated lemon myrtle tree canopy. We created a risk map, using the orthophoto where all ground pixels were removed (point cloud T, see Materials and Methods 2.2 Image processing), that could be used to pinpoint areas of potential incidence of myrtle rust (
Figure 4
).
3.3. Important Classification Features
We aimed to assess the importance of the spectral bands (blue = B, green = G, red = R, red-edge = RE and near-infrared = NIR) and the vegetation indices (NDVI, SIPI, ARI, G/R) for the classification. The importance is given in absolute values, as provided by the selection algorithm, and as normalized, relative values between 0 and 1 (
Table 3
). As for spectral bands, the RE (
Table 3
—Rank 1) and NIR (
Table 3
—Rank 2) showed high relative importance for the classification. By visually assessing the spectral reflectance signatures (
Figure 3
), the G band (Rank 6) seems to be more important than the R band (Rank 3). However, our algorithm selected the R band to be more relevant for the classification. The most important index, the simple G/R ratio, ranked 4th place. Mixing treated and untreated pixels with shadow pixels changed the ranking of relevant features (S5). Only slight changes could be observed in the first three ranks (NIR, GR and RE). The R band was far less important now (Rank 8). When shadows were not part of the classification (S6), the R band did not change in importance (Rank 8). The first two ranks were occupied by the NIR and GR predictor. The ARI slightly increased in importance (Rank 3 instead of 5). Overall, the NIR, GR and RE predictor always ranked among the top four.
4. Discussion
In recent years, the rust fungus
Austropuccinia psidii
has caused tremendous damage globally and especially in Australia, where it is affecting plant industries and native vegetation [
18
]. Just recently, in 2017,
A. psidii
was detected in New Zealand and it is now threatening naïve Myrtaceae populations important for industries and ecosystems in New Zealand [
18
,
45
]. While the extent of damage in Australia has been projected [
17
], it can be assumed that all or most Myrtaceae species in New Zealand are also at risk and the impacts could be devastating [
46
]. Developing a rapid measure to detect and monitor the impact of
A. psidii
on plantations could make it possible to optimize management strategies.
5. Conclusions
By using an unmanned aerial system (UAS) and a multispectral camera, we were able to discriminate fungicide treated and untreated lemon myrtle trees at canopy-level with high accuracy (95%). Our study revealed multispectral wavebands (red-edge and near-infrared) and spectral vegetation indices (e.g., green/red ratio) as being relevant for an accurate classification. As those relevant features are known to be good predictors for general stress detection in plants it seems likely that our selected variables are valid. However, they are unlikely to be specific for
A. psidii
and only useful when other stress causing agents can be excluded by suitable management strategies. Our experiment was performed in a plantation where no other damage agents are known and management strategies are aimed at optimal plant growth. Thus, our identified spectral stress indicators are likely to be associated with
A. psidii
. For future experiments, we recommend the use of hyperspectral sensors, as the detection of symptoms while they are still imperceptible to visual screening may be a worthwhile goal. Additionally, the estimation of disease severity, the discrimination of biotic and abiotic stress and the differentiation among diseases might be valuable research objectives. In all these cases, hyperspectral sensors are more suitable as they reflect physiological and structural changes caused by pathogens on a finer spectral scale than multispectral sensors. Eventually, the inclusion of thermal, fluorescence and plant biochemical/physiological parameters can be recommended as such data could potentially be linked with
A. psidii
infections.
Supplementary Materials
The following material is available online at
https://www.mdpi.com/2504-446X/3/1/25/s1
, S1: S1_cloudcover.mov; S2: S2_Agisoft_PhotoScan_Log.txt; S3: S3_mixshadows_errormat.docx; S4: S4_noshadows_errormat.docx; S5: S5_mixshadows_features.docx; S6: S6_noshadows_features.docx.
Author Contributions
Conceptualization, J.O., I.J.W. and R.H.J.H.; Methodology, J.O., I.J.W. and R.H.J.H.; Formal Analysis, R.H.J.H.; Investigation, R.H.J.H.; Resources, R.H.J.H., D.T.; Data Curation, R.H.J.H.; Writing—Original Draft Preparation, R.H.J.H; Writing—Review & Editing, J.O., I.J.W., R.H.J.H., P.S., A.J.C. and D.T.; Visualization, R.H.J.H.; Supervision, J.O., I.J.W. and A.J.C.; Project Administration, R.H.J.H; Funding Acquisition, R.H.J.H. In addition, all authors approve the submitted version; and agree to be personally accountable for the submitted contributions and further ensure that questions related to the accuracy or integrity of any part of the work, even ones in which the author was not personally involved, are appropriately investigated, resolved, and documented in the literature.
Funding
R.H.J.H. was funded by the Macquarie University Research Excellence Scholarship.
Acknowledgments
The authors thank Gary Mazzorana from Australian Rainforest Products for access to his plantation. We also thank Emily Lancaster for access to her experimental setup.
Conflicts of Interest
The authors declare no conflict of interest.
Figure 1. Aerial view of the experimental setup. For each of the three classes (TR = treated, UN = untreated, SHD = shadow) eight equally sized polygons were drawn and representatively distributed across the lemon myrtle trees. In our analysis, these circular areas were used to sample pixels from each class. These pixel samples were used to train our random forest classification model. UN = brown/orange, TR = green, SHD = black.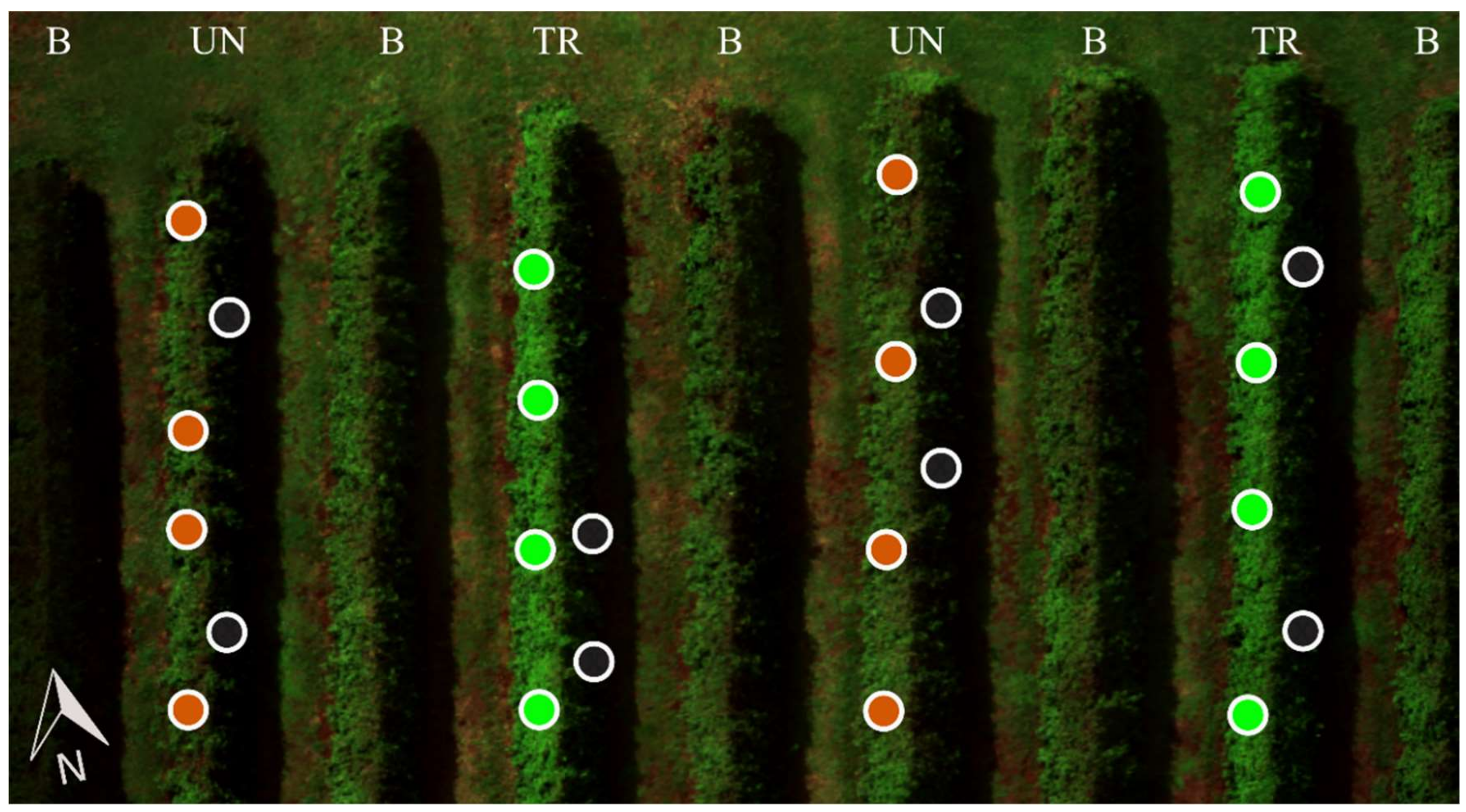 Figure 2. The sampled lemon myrtle trees (A) are grown in rows on the plantation. Trees without fungicide treatment can show various symptoms depending on the phase of pathogenesis. The upper right image (B) shows treated mature leaves that are not actively infected and thus show only old necrotic lesions caused by infections when those leaves were still young. Examples of active infections are found in image (C) and (D) where yellow urediniospores cause symptoms on untreated younger leaves. Surrounding those infections sites, red halos can be observed.
Figure 3. Reflectance signatures derived from our aerial imagery for each lemon myrtle tree class present on the ground (Shadow = SHD, Treated = TR and Untreated = UN). Colored areas are indicating broad spectral bands that can be captured by the utilized Micasense RedEdge 3 camera.
Figure 4.
Experimental site from an aerial view. Each fungicide treated (TR) row of trees was separated by a buffer row (B) from untreated (UN) trees. Buffer rows were interspersed to avoid unintentional fungicide treatment of untreated trees. All trees have been colored according to the predictions of our classification model. Treated rows are expected to be healthy (green) and were mostly predicted as such. Rows without fungicide treatment are likely to be infected (orange) and were also predicted with high accuracy. East-facing shadows (black; compare
Figure 1
) were added to the prediction to avoid confusion between shadows of treated trees and untreated trees. Shadows were also predicted with high accuracy.

Table 1. Spectral vegetation indices included as predictor variables in our classification models. NIR = near-infrared, R = red, B = blue, G = green, RE = red-edge.
| Spectral Vegetation Index (SVI) | SVI Abbreviation | Formula | Reference |
| --- | --- | --- | --- |
| Normalized Difference Vegetation Index | NDVI | | [37] |
| Structure Insensitive Pigment Index | SIPI | | [35] |
| Anthocyanin Reflectance Index | ARI | | [30] |
| Green/Red Simple Ratio Index | G/R | | [13] |

Table 2. Classification metrics for the classification when shadows were included as a separate class. The lower right cell contains the overall accuracy (95.0%). Class specific accuracies can be found in the lower marginal row (producer accuracy, PA) and outer right marginal column (user accuracy, UA). Values shown in diagonal cells contain correctly classified pixel samples for each class and the total number of pixel samples (3608).
Error Matrix
Reference
Shadow
Treated
Untreated
Total
UA
Prediction
Shadow
1158
19
24
1201
96.4%
Treated
14
1128
37
1179
95.7%
Untreated
30
56
1142
1228
93.0%
Total
1202
1203
1203
3608
PA
96.3%
93.8%
94.9%
95.0%

Table 3. Important predictors for the classification when shadows were included as a separate class. The absolute and relative importance is provided. The first row indicates the overall rank for each predictor.
| Rank | 1 | 2 | 3 | 4 | 5 | 6 | 7 | 8 | 9 |
| --- | --- | --- | --- | --- | --- | --- | --- | --- | --- |
| Band | RE | NIR | R | G/R | ARI | G | NDVI | B | SIPI |
| Abs. Imp. | 0.3 | 0.26 | 0.13 | 0.13 | 0.11 | 0.09 | 0.09 | 0.07 | 0.04 |
| Rel. Imp. | 1 | 0.85 | 0.36 | 0.34 | 0.26 | 0.21 | 0.17 | 0.13 | 0 |

© 2019 by the authors. Licensee MDPI, Basel, Switzerland. This article is an open access article distributed under the terms and conditions of the Creative Commons Attribution (CC BY) license (http://creativecommons.org/licenses/by/4.0/).