Evidence of West Nile Virus (WNV) Circulation in Wild Birds and WNV RNA Negativity in Mosquitoes of the Danube Delta Biosphere Reserve, Romania, 2016
1
Institute of Infectology, Friedrich-Loeffler-Institut, Südufer 10, 17943 Insel Riems, Germany
2
Faculty of Veterinary Medicine, University of Belgrade, Bul. oslobodjenja 18, 11000 Belgrade, Serbia
3
Faculty of Veterinary Medicine, University of Agricultural Sciences and Veterinary Medicine Iaşi, Aleea Mihail Sadoveanu 3, 700490 Iaşi, Romania
4
Danube Delta National Institute for Research and Development, Strada Babadag 165, 820112 Tulcea, Romania
5
Cantacuzino National Medico-Military Institute for Research and Development, Splaiul Independenţei 103, 05096 Bucharest, Romania
6
Scientific Veterinary Institute of Serbia Belgrade, Vojvode Toze 14, 11000 Belgrade, Serbia
7
National Centre for Vector Entomology, Institute of Parasitology, Vetsuisse Faculty, University of Zürich, Winterthurerstrasse 266a, 8057 Zürich, Switzerland
8
Department of Biology, University of Greifswald, Domstrasse 11, 17489 Greifswald, Germany
9
Faculty for Agriculture, University of Novi Sad, Trg Dositeja Obradovića 8, 21000 Novi Sad, Serbia
*
Author to whom correspondence should be addressed.
‡
SCOPES AMSAR training group: Andrei Cimpan 3, Lavinia Ciucă 3, Aleksandar Cojkić 2, Vladimir Drašković 2, Miloje Djurić 2, Uroš Glavinić 2, Maria Larisa Ivanescu 3, Mihaela Kavran 9, Andrei Lupu 3, Raluca Mindru 3, Daniela Porea 3,4, Oliver Radanović 9, Marko Ristanić 2, Constantin Roman 3, Ljubodrag Stanišić 2, Nemanja Zdravković 2 and Slavica Vaselek 9.
Received: 8 July 2019 / Revised: 16 August 2019 / Accepted: 19 August 2019 / Published: 21 August 2019
West Nile virus (WNV) is a zoonotic flavivirus whose transmission cycle in nature includes wild birds as amplifying hosts and ornithophilic mosquito vectors. Bridge vectors can transmit WNV to mammal species potentially causing West Nile Fever. Wild bird migration is a mode of WNV introduction into new areas. The Danube Delta Biosphere Reserve (DDBR) is a major stopover of wild birds migrating between Europe and Africa. The aim of this study was to investigate the presence of WNV in the DDBR during the 2016 transmission season in wild birds and mosquitoes. Blood from 68 wild birds (nine different species) trapped at four different locations was analyzed by competitive ELISA and Virus Neutralization Test (VNT), revealing positive results in 8/68 (11.8%) of the wild birds by ELISA of which six samples (three from juvenile birds) were confirmed seropositive by VNT. Mosquitoes (
n
= 6523, 5 genera) were trapped with CDC Mini Light traps at two locations and in one location resting mosquitoes were caught. The presence of WNV RNA was tested in 134 pools by reverse transcription quantitative PCR (RT-qPCR). None of the pools was positive for WNV-specific RNA. Based on the obtained results, WNV was circulating in the DDBR during 2016.
View Full-Text
►

▼

Show Figures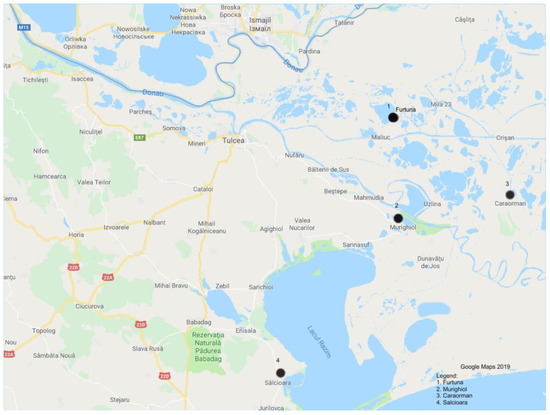 Figure 1
This is an open access article distributed under the
Creative Commons Attribution License
which permits unrestricted use, distribution, and reproduction in any medium, provided the original work is properly cited

MDPI and ACS Style
Vasić, A.; Oșlobanu, L.E.; Marinov, M.; Crivei, L.A.; Rățoi, I.A.; Aniță, A.; Aniță, D.; Doroșencu, A.; Alexe, V.; Răileanu, Ș.; Simeunović, P.; Raileanu, C.; Falcuța, E.; Prioteasa, F.L.; Bojkovski, J.; Pavlović, I.; Mathis, A.; Tews, B.A.; Savuţa, G.; Veronesi, E.; Silaghi, C.; the SCOPES AMSAR training group. Evidence of West Nile Virus (WNV) Circulation in Wild Birds and WNV RNA Negativity in Mosquitoes of the Danube Delta Biosphere Reserve, Romania, 2016. Trop. Med. Infect. Dis. 2019, 4, 116.
Show more citation formats
Show less citations formats
Note that from the first issue of 2016, MDPI journals use article numbers instead of page numbers. See further details
here
.