Open Access This article is
freely available
re-usable
Review
An Overview of Participatory Design Applied to Physical and Digital Product Interaction for Older People
Wolfson College, University of Cambridge, Cambridge CB3 9BB, UK
*
Author to whom correspondence should be addressed.
Received: 14 October 2018 / Accepted: 12 November 2018 / Published: 14 November 2018
Abstract
:
An understanding of the need for user-centred and participatory design continues to gain universal momentum both in academia and industry. It is essential this momentum is maintained as the population changes and technology develops. The contribution of this work draws on research from different disciplines to provide the design community with new knowledge and an awareness of the diversity of user needs, particularly the needs and skills of older people. A collection of usability and accessibility guidelines are referenced in terms of their applicability toward designing interfaces and interaction for an ageing population, in conjunction with results from studies that highlight the extent to which familiarity and successful interaction with contemporary products decreases according to age and prior experience, and identifies the problems users experience during interaction with technology. The hope is that more widespread awareness of this knowledge will encourage greater understanding and assist in the development of better design methods and better on- and offline products and tools for those of any age, but particularly those within an increasingly ageing demographic.
Keywords:
user-centred design; ageing; accessibility; product design; design theory; inclusive and participatory design; design methodology; technology; user; design
1. Introduction
In 2010, the UK population consisted of 10 M people over the age of 65, and this is predicted to rise to 15.5 M by 2030 and to 19 M by 2050 [
1
]. It is also predicted that by 2066, half a million people in the UK will be over the age of 100 [
2
]. Whilst ageing has traditionally been associated with a decrease in mobility and social interaction, the rise in Internet use and "ubiquitous connectedness" [
3
] may have the potential to mitigate some of the detrimental physical and psychological effects that are associated with ageing, such as isolation, access to good nutrition, leisure, and other activities.
However, research suggests that older adults are less likely than younger adults to use technology in general, computers, and the World Wide Web [
4
]. Literature also suggests that the way in which young people interact with technology differs from those over the age of 25 [
5
,
6
]. This "generational effect" coined by Freudenthal refers to younger individuals being capable of interacting more effectively with new technology [
7
]. Indeed, younger people appear more adept at creating accurate mental models of product interaction and acquiring new and relevant knowledge through experiential learning [
8
]. Increasing opportunities for social interaction can have positive effects upon individual health and physical and psychological well-being [
9
], and with more of us spending increasing amounts of time online, designing interactions that encourage and cater more effectively for older users is well justified. A recent European study on Internet use indicated that, on average, 49% of users above the age of 50 accessed the Internet, but that there was a wide variation across countries associated with numerous factors including previous experience of computers and technology in the workplace [
10
]. Therefore, if we are to improve the physical and digital product experience for older users, we need to understand in greater detail how their prior experience and knowledge affect interaction and develop greater awareness of the variation in their physical and cognitive capabilities.
2. Older People and Design
For the purposes of this research, older people are defined as those of 60 years of age and above, following Tanner and Harris's observation that "…research studies involving older people usually adopt a chronological definition of old age; for example, selecting samples of people who are over the age of 60 or 65" (p. 9) [
11
]. Although declines in health and in mental and physical function are more likely in old age, these are by no means inevitable [
12
]. Whilst there is a correlation between age and morbidity, increasing numbers in their 80's and 90's live in good health, with active lifestyles, and a ready ability to continue to work, suggesting that poor or declining health is not necessarily a direct consequence of older age and that there is distinct heterogeneity in the older population [
13
]. Older adults, then, are a most diverse demographic group, encompassing a wide range of health and ability states. Goodman-Deane et al. suggest that designers must comprehend the diversity of this group and that the inclusion of older users within the design process is crucial [
14
]. Indeed, many of the older participants that were involved in the research reported were actively engaged in their communities with busy social lives, being members of committees, charity volunteers, or involved in care duties with grandchildren or spouses.
This reinforces the notion that older adults are not necessarily dependent, lonely, isolated, or incapable. However, discussions with older participants demonstrated that many wished to maintain independent, community-based, active lifestyles, but that technology does not always facilitate or enhance such activity [
15
,
16
]. Further, research has shown that older people's interactional performance has been compromised, intentionally or otherwise, by design and decisions within the design process [
17
]. The goals of usability and inclusive designers are to create interactive technologies that are enjoyable, pleasurable, motivating, satisfying, and easy to use for the largest possible population, and should not be to the detriment of the performance of any subgroups. As success is largely dependent upon users' perception and acceptance of technology and their level of engagement with it [
18
], greater understanding of older people and the diversity they represent is imperative.
2.1. Older Users and the Design of Physical Products
2.2. Older Users and the Design of Digital Interactions
3. Involving Older People in the Design Process
A survey of the UK design industry in 2010 reinforced concerns regarding a lack of diversity within the design community, revealing that the average UK designer was male, white, and 38 years old, with only 7% coming from ethnic minority backgrounds [
37
]. Historically, the design community has been accused of failing to understand and engage with distinct user groups, preferring to design from their personal experience and capability:
If I can do this, then so will all the users of the product I am designing
. Such an approach may alienate the user base as a lack of user understanding will be transferred into products that become unsatisfactory, unappealing, and unusable to users. Failing to engage with users or user groups in this manner misses a commercial design opportunity and an opportunity to design products that satisfy needs in a market-leading way [
38
].
3.1. Involving Users in Physical Product Development
With the primary goal being to gain insight into human behaviour, attitudes, experience, and knowledge applied during interaction, a combination of both a quantitative, scientific approach and the application of more qualitative, ethnographic techniques has the potential to yield the most valuable data [
17
]. Multidisciplinary research that bridges cognitive theory, psychology, design, manufacturing, and engineering provides us with possibly the best approach to enhancing our understanding of humans' unique needs and capabilities, and the best chance of designing products, systems, or services that are more appropriate, usable, and accessible.
Although there is some debate regarding the best approach to take to design for older users, the gold standard of user-centred design is generally accepted as the involvement of a representative selection of real users in design and development from the start of the process. This is reflected in the belief that all people have something to offer at every stage of the design process [
39
]. This is an idea reflected in the following model of Participatory Design (
Figure 1
).
According to Schulz et al., the development of successful technology requires teams that not only include clinicians, social and behavioral scientists, and policy experts, but also include engineers, human factors specialists, computer scientists, designers, and informaticists [
25
]. The Participatory Design Group emphasised in the above model encapsulates everyone involved in the design process—the user, the client, the clinician, the engineer, the designer, the manufacturer—offering everyone the opportunity to feed in at every stage to ensure all aspects are considered as the process begins and develops. Whilst optimal, it may not be practicable for everyone to sit around the same metaphorical design table at the same time. Regardless, it is imperative that good dialogue is maintained between participants and stakeholders, and that all input is considered and acknowledged. Thus, everyone—and particularly the widest range of users or potential users available—can and should have the opportunity to feed into determining the initial requirements specification and analysis, providing feedback as prototypical design solutions are developed, and assisting in the evaluation and feedback processes in order to arrive at a finalised design solution. At the very least, this will satisfy the need identified. At best, it will do so in a way that will make it a market leader and a product capable of capitalising on commercial opportunity by differentiating itself from competition on account of exceeding user requirements and doing so in a way that positively engages users. Such approaches help practitioners to more accurately capture the needs of the end users in the context of use [
40
,
41
] and ensures the enhancement of interaction for all users and particularly older users that, as shown, have been disenfranchised in the past [
17
]. It should be stressed, however, that there is no reason to restrict such approaches to the design of physical products alone as they are equally applicable to any technology development; on-or-offline, physical or digital.
3.2. Involving Users in Digital and Online Design
5. Conclusions
Whilst product designers in industry are typically constrained in terms of time and budget that frequently prevent them from consulting with end users [
63
], the potential return on such investment cannot be overstated. Inclusive design is viewed as an approach that aims to optimise the creation of interfaces, artefacts, and products that are accessible to as many users as possible, while minimising the cognitive and physical effort involved [
64
,
65
]. Therefore, not only do such user-centred approaches have the potential to reduce subsequent (re)development costs, they also contribute toward the deployment of technology that is more usable, understandable, and intuitive to a larger market from the start [
38
]. The intention of this work is to highlight that increasing the consideration of the users' full range of skills and capabilities and the differences across the generations will not only improve interaction for an ageing population but improve interaction for all users of physical and digital products. Ultimately, there is a golden opportunity to improve product interaction, irrespective of age, experience, or cognitive or physical capability, and this, we suggest, is what should drive future design.
5.1. How Might Older People Benefit?
User perception of products and interaction are often based upon the user's prior experience of other similar products. If the design of the artefact misleads them or their ideas about its manipulation, based solely upon the design of the artefact itself, do not transfer well, it is likely to result in poor performance and product abandonment. If as we age there is a tendency to reduce our interaction with products, the more that can be done to facilitate successful and enjoyable interaction when older users do interact, the likelier we are to encourage users to continue to engage with our products for longer. Incorporating design features that resonate not only with younger but older users increases the likelihood of successful interaction and a positive perception of the product by all users.
It has been argued that technological, economic, and social changes have increased social isolation, and that assistive technologies for the elderly have overlooked this issue [
16
]. However, technologies can be designed to provide increased social connectivity and assist users to communicate inside and outside the home. Integrating connectivity into the design maintains access to social networks and encourages physical and virtual interaction.
Maintaining personal identity is a key facet in terms of mental well-being, and an aspect of personal identity is derived from individuals understanding their position within a group or network. Technologies designed with enhanced understanding of users' needs and requirements may help older users to establish a sense of normality and motivate them to explore new avenues of interest and engage in new activities. This provides mental and physical stimulation and can enhance individuals' self-belief and foster renewed confidence in their on- and offline capabilities.
By understanding in greater detail the information that individuals bring to product interaction, and the diversity of their prior experience and capability as well as the information interaction necessitates they acquire, designers can utilise this knowledge in the creation of designs that fit more effectively and more immediately into the users' existing knowledge base. This then improves intuitive interaction, accessibility, and usability, as users are able to operate at a more unconscious, automatic, and skilled-based level [
66
].
The Consideration Framework shown in
Figure 3
places the user at the centre of the process and mirrors the aim to heighten product engagement by following the traditional principles of user-centred and participatory design.
The framework reminds us that user input should be sought at each and every stage of the design process, and that users play a central role. Toward the periphery and to the right are some of the humanistic elements to be considered, and toward the left, concepts that we suggest designers address before embarking upon research and design activities involving older adults.
5.2. Closing Remarks
The idea that user-centred and participatory design ensures a better end product fit continues to gain universal momentum. Whilst academia has long expounded the benefits of user consideration, industry acceptance grows apace as the realisation that strategically involving users within the design process equates to greater adoption and engagement out of the box. This, in turn, results in significantly reduced development costs, higher rates of uptake, and a more immediate return on investment. We would do well to remember that unlike younger generations, older individuals interact at a more conscious level and consider the effects of their behaviour throughout interaction.
Older adults are also less familiar with contemporary technologies and are therefore disadvantaged in terms of the mental models of interaction they have to draw on or make inferences from. If they are to realise the benefits afforded to them in terms of increased online engagement and social interaction, both on- and offline product design must cater to these and other aspects of the aging population. Only in this way will we, as inclusive designers, ensure improvements not only in interaction but in the ongoing quality of life of older individuals.
Author Contributions
C.W. and K.C. conceived the original concept to provide a collaborative review, and develop the methodology; C.W. and K.C. were responsible for the visualisations and writing of the original draft; C.W. managed the administration, final review and editing; all authors approved the final manuscript.
Funding
This research received no external funding.
Conflicts of Interest
The authors declare no conflict of interest.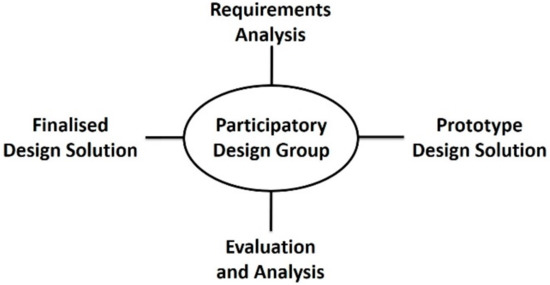 Figure 1.
Participatory Design interaction within the Design Process [
15
].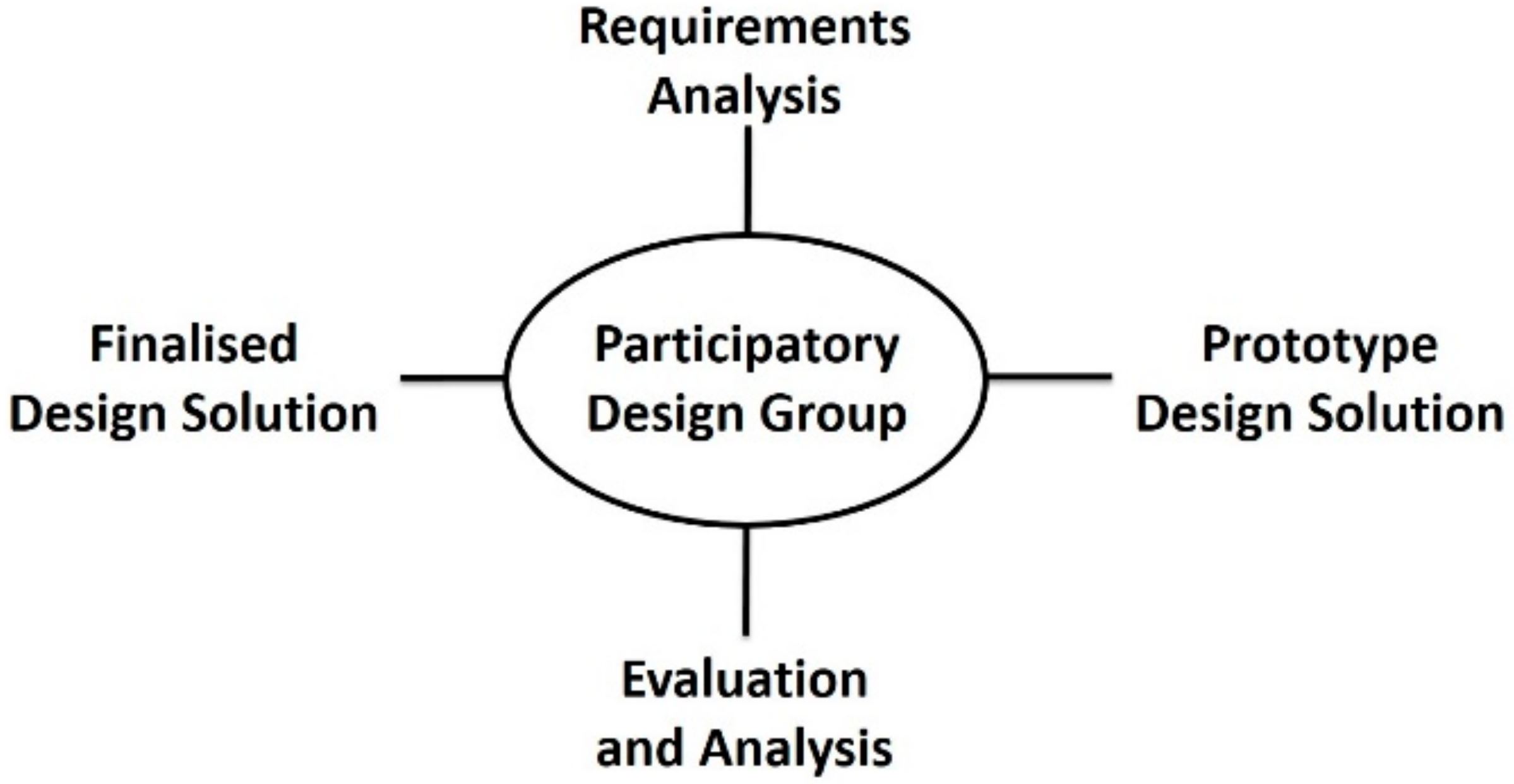 Table 1.
Internet use by age group; percent in the EU27 member states [
30
].
| Internet Usage | 16–24 Year Olds | 55–74 Year Olds |
| --- | --- | --- |
| Use the Internet on average at least once a week | 90 | 37 |
| Send or receive email | 90 | 85 |
| Post to chat sites, blogs, or social networking sites | 80 | 20 |
| Use the Internet for phone or video calls | 35 | 20 |
| Use the Internet to read news and newspapers | 45 | 50 |
| Use the Internet for learning | 80 | 35 |
| Search for information on courses | 50 | 20 |
| Follow e-learning courses | 10 | 5 |

© 2018 by the authors. Licensee MDPI, Basel, Switzerland. This article is an open access article distributed under the terms and conditions of the Creative Commons Attribution (CC BY) license (http://creativecommons.org/licenses/by/4.0/).