Open Access This article is
freely available
re-usable
Article
Catch My Drift: Elevating Situation Awareness for Highly Automated Driving with an Explanatory Windshield Display User Interface
†
Chair of Human-Machine Communication, TUM Department of Electrical and Computer Engineering, Technical University of Munich, Arcisstr. 21, 80333 München, Germany
†
This paper is an extended version of our paper published in Adjunct Proceedings of the 17th IEEE International Symposium on Mixed and Augmented Reality (ISMAR), Munich, Germany, 16–20 October 2018.

Received: 6 August 2018 / Accepted: 8 October 2018 / Published: 11 October 2018
Abstract
:
Broad access to automated cars (ACs) that can reliably and unconditionally drive in all environments is still some years away. Urban areas pose a particular challenge to ACs, since even perfectly reliable systems may be forced to execute sudden reactive driving maneuvers in hard-to-predict hazardous situations. This may negatively surprise the driver, possibly causing discomfort, anxiety or loss of trust, which might be a risk for the acceptance of the technology in general. To counter this, we suggest an explanatory windshield display interface with augmented reality (AR) elements to support driver situation awareness (SA). It provides the driver with information about the car's perceptive capabilities and driving decisions. We created a prototype in a human-centered approach and implemented the interface in a mixed-reality driving simulation. We conducted a user study to assess its influence on driver SA. We collected objective SA scores and self-ratings, both of which yielded a significant improvement with our interface in good (medium effect) and in bad (large effect) visibility conditions. We conclude that explanatory AR interfaces could be a viable measure against unwarranted driver discomfort and loss of trust in critical urban situations by elevating SA.
Keywords:
autonomous driving; situation awareness; augmented reality; mixed reality; windshield display; head-up display; user interface; human-centered design; technology acceptance
1. Introduction
The contribution of this article is as follows: we present a suggestion for an explanatory WSD interface with AR elements informing the driver about the AC's perceptive capabilities and driving decisions. We focus on urban environments with high potential for unpredictable situations possibly discomforting to the driver. We account for this scenario by providing diverse UI elements for typical aspects of urban traffic. We present our WSD UI prototype that was designed in a human-centered approach and implemented as part of a custom mixed-reality (MR) driving simulation. We further present simulated urban driving scenarios we implemented to be experienced by users in automated drives in combination with the WSD UI. We describe and discuss the process and results of a user study conducted to evaluate the impact of the UI on driver SA in critical urban AD scenarios.
2. Background
2.1. Driving Automation Levels, Technology Acceptance and Situation Awareness
2.2. User Interfaces for Automated Cars
3. Design of the Prototype
In this section, we present our human-centered design approach for the creation of a prototype for the explanatory WSD UI. We then introduce the resulting prototype which has been built as a module of a custom driving simulation that executes in a CAVE-like (Cave Automatic Virtual Environment) [
45
] MR environment. The WSD UI combines screen-fixed information visualization elements with world-registered AR overlays. The latter benefit from the large visual space available on the windshield and are not as restricted as the discussed previous approaches in terms of information amount and complexity.
3.1. Human-Centered Design Approach
Half of the participants stated they would feel the least safe with an AC in urban areas (47.1% in 50 kph-areas, 3.9% in 30 kph-areas), which is in line with our reasoning to use an urban environment to provoke critical situations. Surprisingly, 29.4% considered freeways least safe with only 15.7% choosing rural roads. We assume that for many people not familiar with the artificial intelligence background of ACs, the suitability of the environment for AD (e.g., predictable driving situations, one-way traffic) is a less important factor compared to the speed limit or average speed on the respective type of road. While urban scenarios are probably more obvious to have unpredictable hazards and situations, the distinction between non-urban environments can be more subtle. Two participants did not give any answer fitting the categories.
3.2. Prototype of an Explanatory Windshield Display Interface for Automated Cars
In the current prototype, these augmentations are not yet simulated to visually appear on the virtual plane of the WSD but are directly displayed on or near the objects they are highlighting in the world space, thus appearing in the depth of the highlighted objects in the stereoscopic simulation environment. We accepted this deviation from a more accurate WSD simulation in favor of faster prototyping. As can be seen from the screenshots and item descriptions, some elements (b,c,e) are superimposed on the road surface (at places that correspond to their intended meaning) while others (a,d) are highlighting static or moving objects in the traffic environment, including other vehicles, pedestrians and certain objects.
4. Methods
To test our proposed WSD interface, we conducted a user study and collected data for evaluation of driver SA. In this section, we first present the urban driving scenarios we implemented as a basis for the study. We then introduce in detail the participants, lab setup, experimental design and procedure of the user study including data collection methods.
4.1. Urban Driving Situations
To be able to explore the influence of the WSD interface on the actual SA of drivers, we first needed to create suitable scenarios for AD in an urban environment. Our 3D city model has been created via a procedural modeling tool. It features large main and narrow side roads with many three-way and four-way intersections and height differences. Our AD scenarios have been structured into four distinct, exclusive routes within this environment, such that no place is visited twice throughout the routes. This is to keep the driver from anticipating traffic events. In order to create typical urban situations with hazards, additional necessary objects were placed and simulated, including other vehicles (parking or driving), pedestrians (partly with animals) and infrastructure like road signs and traffic lights. The user's AC travels these routes via fixed waypoints, i.e., the path through the streets but also the specific lanes and turning maneuvers that the AC takes are predefined. All routes are following a predetermined, reproducible timeline, such that movements of the user car as well as all other traffic objects and events occur in always the same fashion and are synchronized between each other. The total driving duration of each route is approximately three minutes. The critical driving situations had to be selected and implemented carefully, considering
what
will appear
where
and
when
in the scene. We targeted such situations that require sudden and potentially incomprehensible reactions from the vehicle. However, it was necessary to carefully design the timings in order to make hazards neither too obvious to miss nor too difficult to recognize for humans.
Table 2
shows descriptions of the basics of the driving situations we implemented.
Figure 3
gives exemplary visual overviews of two of the situation types described in the table. Additional explanations have been added in the figure, e.g., to clarify driving or walking directions. Boxes replace pedestrians for better visibility.
One to two instances of each situation were placed on the different routes while taking care that the situations remain comparable regarding properties and difficulty. To get a more realistic urban scene, we placed additional non-threat elements (decoys) into every situation, like pedestrians and other traffic (examples visible in
Figure 3
). We also placed such elements in between the actual hazard situations, so that drivers cannot easily distinguish idle phases from upcoming events. Unusual cases like debris or an accident site were only used once per route. More common situations like objects moving in front of the car were reused in different forms, e.g., a child chasing a football or a dog crossing against the red light. To reduce development effort, pedestrians and dogs were visualized by textured 2D sprites that were merely translated (no walking animations) when crossing a street. All AI cars were instances of a small set of 3D models with some additional variation by applying diverse coloring. They started at predetermined times on predetermined routes to provoke situations. To that end, some of them were intentionally designed to ignore traffic regulations (e.g., speed limit, red lights) or show erratic behavior (e.g., swerving, dangerous overtaking). The order of occurrences between the different situation types from
Table 2
was designed to be different between all routes, so that upcoming hazards cannot be anticipated from previous experience on another route.
4.2. User Study
To evaluate our prototype for an explanatory WSD UI, we carried out a user study to collect both subjective and objective data regarding driver SA. Furthermore, we evaluated specific properties of the WSD interface. In this section, we present the details regarding the study, including participants and apparatus, the experimental design, the data collection and the main study procedure.
5. Results
In this section, we present the results extracted from the study data. This includes the objective SA scores from the SAGAT-like probes and subjective ratings from the pre-test, inter-test and post-test questionnaires. We also present a correlation analysis between objective and self-rated SA.
6. Discussion
Regarding our main hypotheses, we were able to show a significantly greater SA score (both objective and self-assessed) when using our proposed WSD interface as opposed to having only the basic elements (speed and navigation info). While we anticipated this especially in the low visibility conditions (fog), it was not equally clear that the interface would have enough impact in clear weather. While we can only make safe assessments about the performance in our custom-made driving situations, we hope this is a promising indicator for the usefulness of explanatory UIs in AD in general. Being out-of-the-loop is generally a disadvantage for awareness in automated systems [
9
] and urban scenarios are prone to provoke data overload and attentional tunneling, all of which negatively impact SA. We tried to recreate these same problems by giving our scenarios enough non-threat objects and potential distractions. We believe that the results indicate that an interface like our WSD UI and in particular the world-registered AR overlays can help in reducing these factors.
We anticipated that, with the WSD UI, the information conveyed to the driver might be enough to retain a driver SA under bad visibility conditions similar to that under clear weather. In line with this assumption, the null hypothesis of zero difference between weather conditions could not be rejected. However, comparing the objective SA differences, we were not able to confirm with significance that deterioration from good to bad visibility was lower with our WSD UI than without it. Despite that, the same test on SA self-ratings yielded a significantly less worsened SA from good to bad visibility. If we consider the technology acceptance factors discussed in the background section like perceived usefulness or perceived safety, we believe that a merely subjective effect of the UI can also be beneficial. This should especially apply when we assume availability of highly reliable AD and over-reliance is no critical issue. Results from the inter-test and post-test questionnaires also seem to support that there is a positive influence on perceived safety, stress, trust, comfort and helpfulness for awareness.
The correlation analysis yielded that the accumulated self-rated SA has a medium-sized correlation with the overall SA scores. This is roughly in line with our expectations since subjective ratings may be prone to under- or over-estimation and further influences like desirability bias or memory bias. Correlations also reveal that self-ratings were generally weakly correlated when
WSD
was
On
. This can be an indication for desirability bias or a general tendency of the interface to lead to overestimation. However, as stated above, a merely subjective effect can be a desirable outcome for AD use cases. We consider the self-ratings not as a highly valid replacement of objective scores but as an individual line of evaluation. The correlation analysis further implies that participants judged their comprehension of scenes more realistically than their perception and projection. In particular, perceived perception seems to deviate from SA scores when the WSD UI was used.
So far, we deliberately refrained from providing a multi-modal combination of feedback and did not yet augment the visuals of the explanatory UI with auditory or vibrotactile output. The reason is that we first wanted to establish whether the explanatory UI's feedback on the visual channel provides the means to support driver SA at all. Since auditory and vibrotactile signals are more restricted concerning the communication of more complex information, we regarded visual as the primary modality for this work. As mentioned in the background, however, existing work especially from the domain of semi-automated driving hints at the importance of multi-modal feedback [
35
,
36
]. We believe that auditory and vibrotactile output may play a role in different forms when combined with an explanatory UI. For instance, if we regard the explanatory UI as a permanent feature which only appears situationally, then sound or seat vibrations might be a way to alert the driver that there is now explanatory information available for the current situation. Different priorities for sound, voice or vibrations could indicate for the driver how critical the AC judges the situation to be. Alternatively, these modalities may be used to guide driver attention to certain areas of the WSD UI (and the environment) and give an early hint as to the nature of the current situation, thus allowing a driver to grasp more quickly the potential hazards or challenges that the automated system detected.
6.1. Limitations
Our approach suffers from some limitations. Despite the immersiveness of a head-tracked stereoscopic virtual environment, realistic levels for feelings of anxiety and safety or danger can not be reached in the lab. Consequently, ratings for perceived safety, comfort or trust can be expected to produce generally higher results than a comparable field study. While the critical urban scenarios we focused on are extremely difficult to stage in a real-world setup, a high-fidelity dynamic driving simulator with motion systems may be the best compromise to achieve higher validity. Additionally, it may be possible to incorporate mood induction procedures (MIPs) [
54
] in a driving study. For instance, the examiner could try to induce anxiety or stress by letting participants write about experiences they vividly remember and are related to such emotions [
55
]. This may, however, prolong a study procedure considerably, so careful study design is required to prevent undesired influences, e.g., from fatigue.
Despite the lack of dynamic motion, multiple participants stated during the study that they actually felt like sitting on a moving chair, probably due to the virtual chassis lean movements they experienced in our simulation. The effect was possibly perceived stronger due to us operating in a head-tracked environment. This is also the cause for another potential limitation. Even though none of our participants made any extreme body movements exceeding regular upper body leaning, the individual perspectives due to off-center projection can facilitate or complicate perception. For instance, a participant leaning to the left might see an object that is otherwise blocked by the A-pillar. We accepted this drawback in favor of the immersion benefit of a head-tracked environment. We also tried to reduce the implications by our initial perspective calibration described in the study procedure. In future studies, it may be beneficial to additionally evaluate all head movements and try to determine if there is a correlation with performance in certain situations or tasks. It would then be possible to revise such parts and minimize the effect of varying driver head movements. Lastly, it can be expected that visibility of the WSD in reality would depend more strongly on changes of the background (environmental conditions) than in the simulator, introducing an additional influencing factor.
Another problem is the arrangement of the critical urban driving situations. To the best of our knowledge, there are no widely used standard situations that would cover our requirements, i.e., situations that are unforeseeable even for highly reliable automated systems, so that last-minute reactive maneuvers are inevitable. We therefore resorted to implementing custom situations. This brings several disadvantages: adjusting the properties of each scene in a way that allows for conducting well-balanced tasks (SA tests) is difficult. For valid results, the situations must not be too far-fetched or artificial. However, situations that are intuitively easy to comprehend would be irrelevant to our use case. Questions that are not humanly possible to answer correctly without the additional help of our WSD interface would bias the results and lead to unwarranted claims. We tried to keep the balance in each driving situation to get as close to the middle ground as possible. Internal tests during development with a small number of people led to repeated revisions. However, perfectly balanced driving scenarios will require a considerable effort of research in their own right.
Regarding our four distinct autonomously driven routes, we were not able to perfectly balance all types of driving situations equally between the routes. In the ideal case, every route would have the exact same number of each type of driving situation and with exactly the same setup. This would result in an equal amount of SA probe questions and better comparability of success rates. Additionally, situation-dependent evaluations would become possible. However, we partially focused on making each route somewhat unique in the sense that participants would not be able to anticipate certain events by factors like the visible street layout or surrounding pedestrian density. The downside was a small imbalance between the routes. By the amount of samples and counterbalancing, we hope to have made this factor negligible. A similar issue concerns the distribution of SA probe items among the three Endsley SA stages. For each route, the distribution was approximately 50% perception questions and 25% each for comprehension and projection, which means that perception had roughly double the influence on our objective SA scores. If an evaluation of SA test scores for individual stages is desired, there should be more items in general on each route and ideally a balanced distribution. It may be desirable in further studies to forgo the concept of a connected, seamless route in a larger urban environment in favor of isolated driving situation modules. This would facilitate the creation of comparable, homogenous sets of situations that can be combined and customized in different variants. This may be helpful when analyzing different types of situations (and UI elements) in isolation.
7. Conclusions and Future Work
The immediate goal of this work was the support of driver SA in ACs with an explanatory WSD UI with AR elements. We assumed availability of highly reliable ACs for urban environments and WSD technology for visual output. We targeted urban driving situations provoking instant and surprising reactive driving maneuvers from the AC. In a human-centered design approach, we determined general user requirements and evaluated feature suggestions. We then implemented a simulation of an explanatory WSD UI which combines screen-fixed information and world-registered AR elements. A user study was conducted on custom-made urban AD routes containing multiple types of critical situations. SA scores were measured with SAGAT-like online freeze probes and route-specific SA test questions. We additionally collected SA self-ratings and UX-related subjective feedback. We could show that our proposed WSD UI significantly improved driver SA scores and self-assessments. We could also show that SA self-ratings deteriorate significantly less from good to bad visibility with the WSD UI. The same did not apply to SA test scores. Additional questionnaire results showed improvements for perceived safety, stress and trust when driving with the WSD UI.
We conclude that an explanatory WSD UI with AR elements for ACs is a useful tool to increase driver SA in urban environments. It has potential to positively influence acceptance-related factors like perceived safety. AC reliability might be conveyed to end users in a hands-on experience instead of merely presenting test mile statistics. In our opinion, it may be feasible in the future to confront skeptics or doubtful adopters with real-world test drives, using explanatory UIs to reduce reservations. Such an interface could be offered as an unobtrusive optional feature with special focus on the first experiences of potential adopters. It might also serve as a tool for monitoring reliability in shared and public ACs. In terms of UI design, we suggest avoiding extreme visual clutter in accordance with users' requirements and to put emphasis on temporally visible world-registered augmentations.
Our results encourage us to conduct further work in multiple directions. First, more research can be done on the UI itself. So far, we intentionally focused on the visual channel only to assess our UI elements' impact in isolation. However, it is to be expected that a final integrated system would rely on multi-modal feedback and thus combine auditory signals and possibly vibrotactile output with an explanatory WSD UI. We discussed in the background section that these channels do not lend themselves to quickly convey complex information, but, together with explanatory visuals, they might provide e.g., reactivation of a distracted driver and immediate guidance to the relevant visual UI elements (and relevant parts of the environment). Additionally, the visual elements themselves need more refinement in future work. The various elements may be assessed repeatedly one-by-one on different types of traffic situations to determine when which elements are really needed and how they might be improved. Furthermore, our UI so far was concentrated on urban situations in a German traffic infrastructure. There may be situations in other contexts that are not yet taken into account. For instance, it is legal in most parts of the USA to turn right on red lights if no road sign to the contrary is given, whereas this is not allowed without special signs in EU countries. For foreign visitors who might be using public/shared ACs, such a driving behavior may seem reckless and uncomfortable.
While we believe that our results on improving driver SA give a good indication that using the system may also enable positive effects on acceptance of AD and trust in ACs, we did not yet examine these far-reaching effects at great depth in this work. Results from our few questionnaire items on perceived safety or trust seem promising, but should be considered with care. We believe that these aspects, being much more subjective than SA, are more influenced by external factors missing in our lab environment (e.g., sense of danger) and thus would be better suited to be evaluated in a future study on trust and acceptance in a high-fidelity environment. One approach may also be to apply strategies for inducing feelings like anxiety or stress [
55
] as mentioned in the discussion. An ideal yet expensive case may be a field study in a constrained, but realistic traffic environment. While we discussed trust and acceptance to a certain extent in the Introduction and Background, they were not at the core of the study and results presented in this work. A follow-up study on these aspects should thus provide a considerably deeper focus on established models of acceptance and trust.
Supplementary Materials
The following are available online at
https://www.mdpi.com/2414-4088/2/4/71/s1
, Video S1: Recording of the driving simulation showing the WSD UI in exemplary driving situations, Documents S2: Questionnaires used in the human-centered design phase and in the main user study (pre-test, inter-test, post-test and SA test questionnaires).
Author Contributions
Conceptualization, P.L. and G.R.; Methodology, P.L.; Software, P.L. and T.-Y.L.; Validation, P.L. and G.R.; Formal Analysis, P.L.; Investigation, P.L. and T.-Y.L.; Resources, P.L., T.-Y.L. and G.R.; Writing—Original Draft Preparation, P.L.; Writing—Review and Editing, P.L. and G.R.; Visualization, P.L. and T.-Y.L.; Supervision, G.R.
Funding
This research received no external funding.
Acknowledgments
The authors would like to thank all the participants of the human-centered design process and the main user study.
Conflicts of Interest
The authors declare no conflict of interest.
Abbreviations
The following abbreviations are used in this manuscript:
| | |
| --- | --- |
| AC | Automated Cars (here: SAE level 4–5 [21]) |
| AD | Autonomous Driving |
| AR | Augmented Reality |
| CAVE | Cave Automatic Virtual Environment |
| CTAM | Car Technology Acceptance Model |
| ERTRAC | European Road Transport Research Advisory Council |
| ES | Effect Size |
| FOV | Field of View |
| HUD | Head-Up Display |
| MIP | Mood Induction Procedure |
| MR | Mixed Reality |
| NASA-TLX | NASA Task Load Index |
| RSME | Rating Scale Mental Effort |
| SA | Situation Awareness |
| SAE | Society of Automotive Engineers |
| TAM | Technology Acceptance Model |
| TOR | Take-Over Request |
| UEQ | User Experience Questionnaire |
| UI | User Interface |
| UTAUT | Unified Theory of Acceptance and Use of Technology |
| UX | User Experience |
| V2I | Vehicle to Infrastructure |
| VIS | Visibility (here: independent variable in study) |
| WSD | Windshield Display (also used as independent variable in study) |

Figure 1.
Selected questionnaire items in our human-centered design approach. After item
Q3
, participants were introduced to the concept of an explanatory windshield display user interface. The dashed line marks related items that allow comparison before and after users knew the UI concept.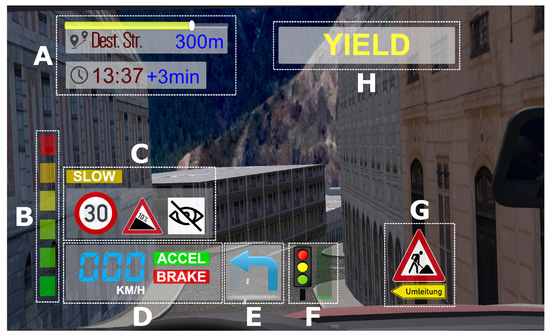 Figure 2. All screen-fixed elements of the WSD interface. Dynamic elements are showing example content not necessarily applying to the depicted driving scene, best viewed in color.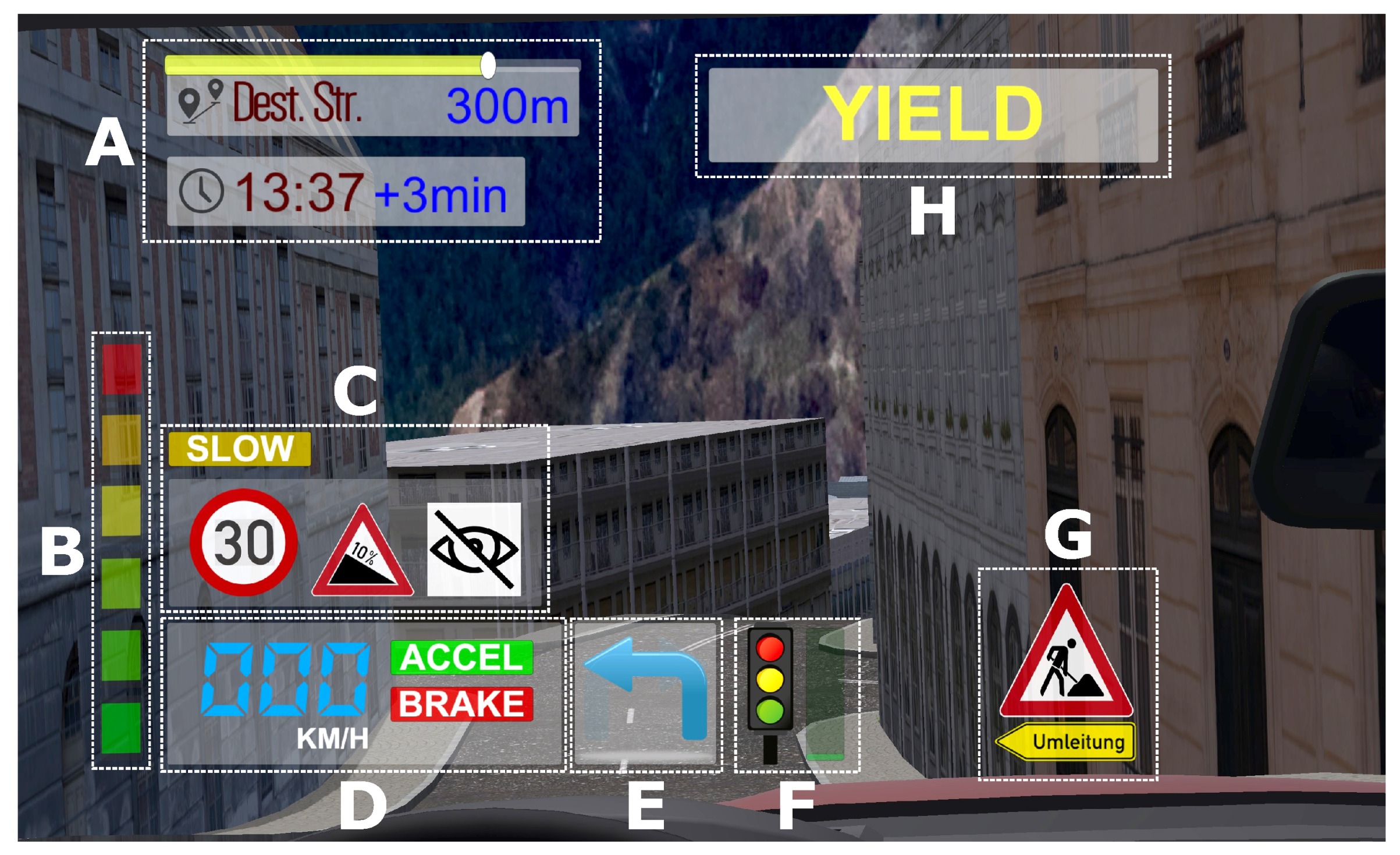 Figure 3.
Top-down view on exemplary driving situations from
Table 2
. (
Left
) a
standing traffic hazard
with one car pulling out late from a parking spot in front of the approaching AC, forcing it into full braking; (
Right
) an
imminent head-on collision
case with a child emerging from cover to cross the road. Decoys provide additional stimuli for a more realistic scene, best viewed in color.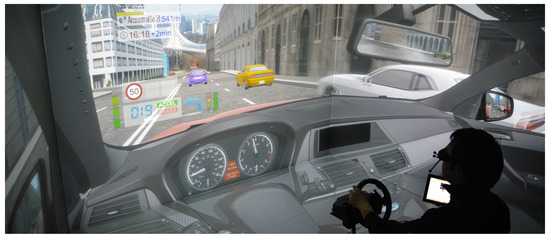 Figure 4. The basic study setup of our driving simulation in the MR environment. The driver is seated in front of the (ineffective) steering wheel. Rendered in 2D for better visibility, best viewed in color.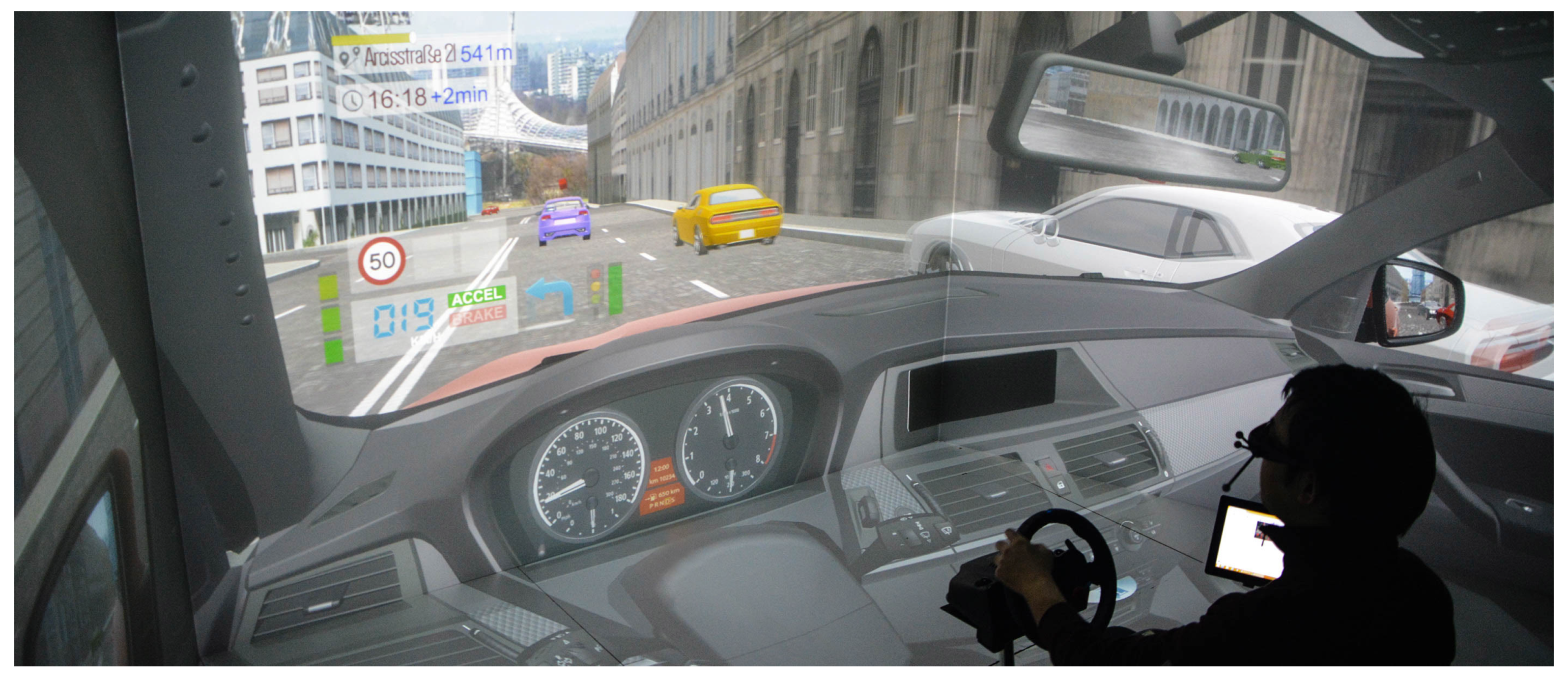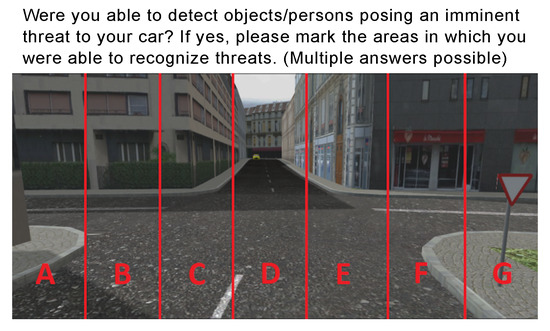 Figure 5. Example question of one of the four SA test questionnaires. Participants had to answer during a SAGAT-like freeze probe.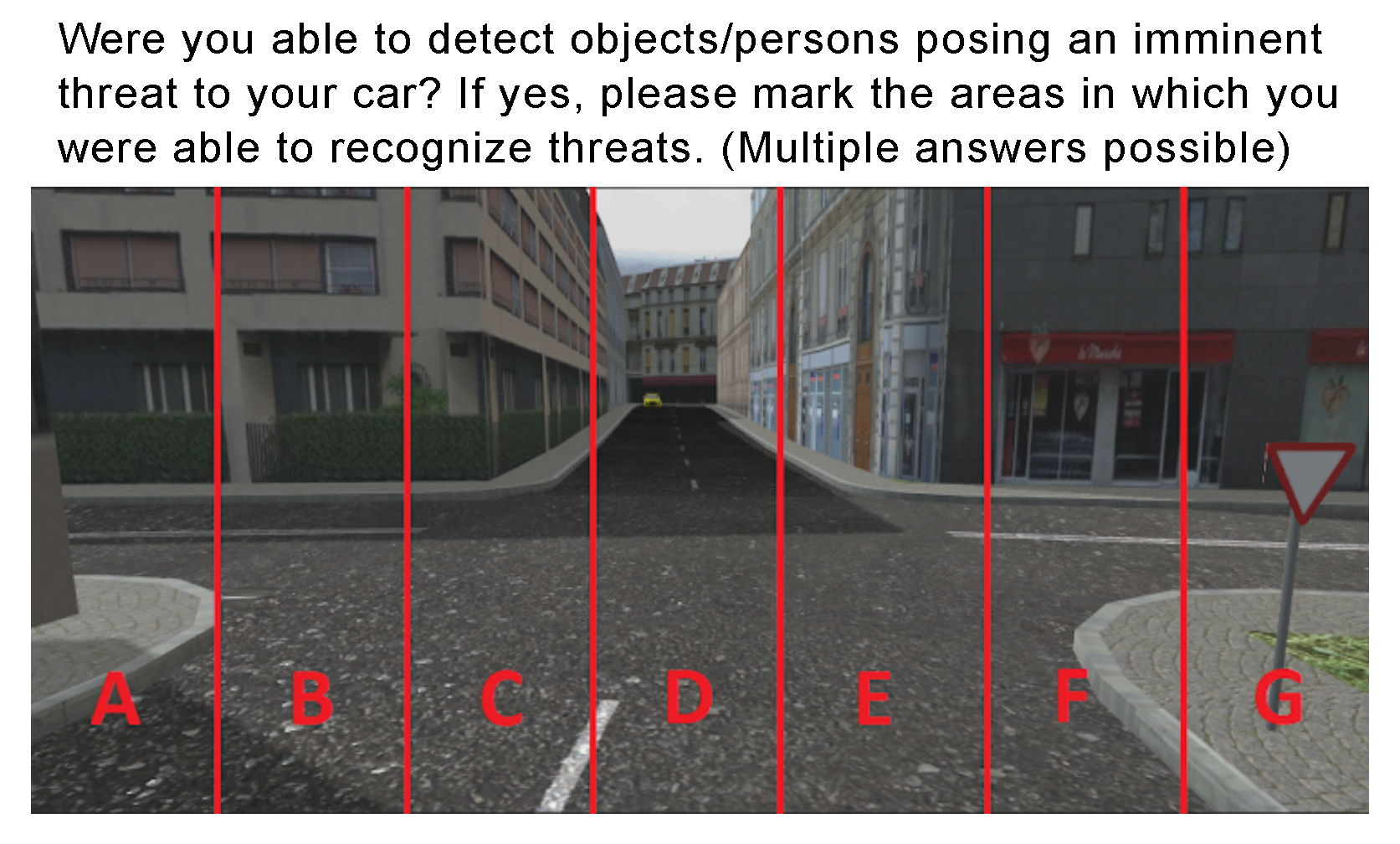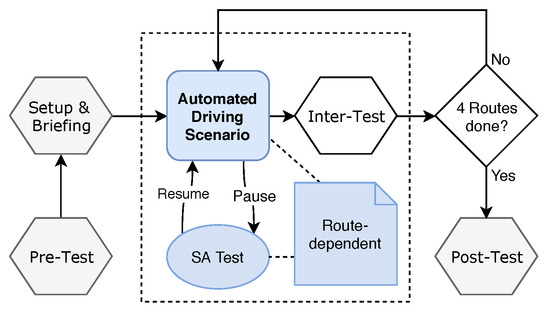 Figure 6. The study process: each participant completed the cycle of automated driving scenario and inter-test four times in a balanced scheme, thus experiencing each of the routes and main conditions.

Figure 7.
Results from the pre-test opinions given before the detailed briefing about the main study tasks. Participants were (textually and visually) introduced to the concept of explanatory UIs after
A4
. The dashed line marks items that allow pre-post comparison regarding introduction of the UI concept.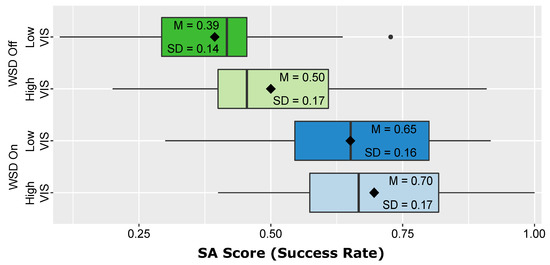 Figure 8. Results for the objective SA scores collected with the SAGAT-like freeze probes. Score numbers correspond to success rates regarding the SA test questions.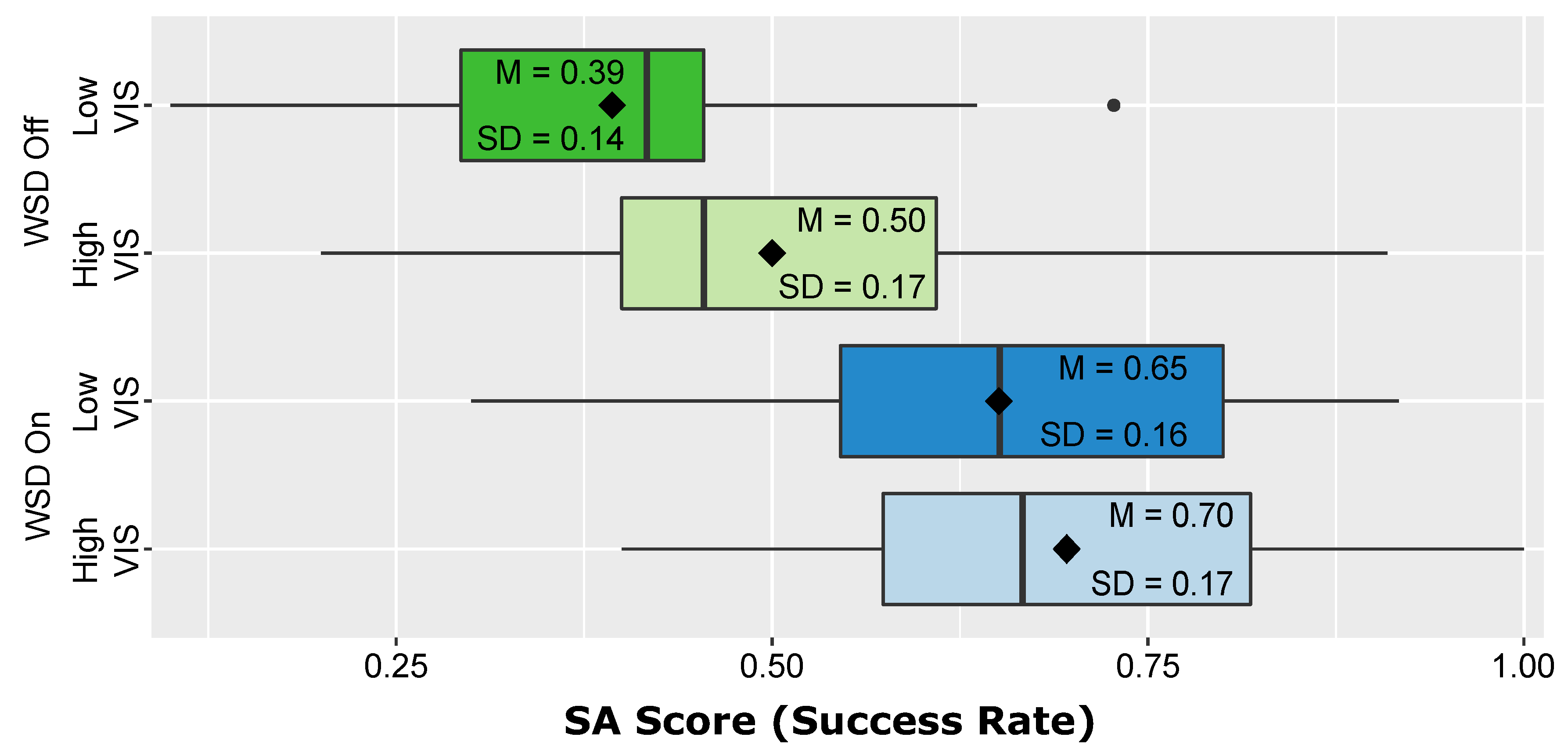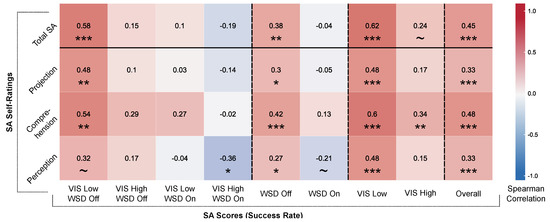 Figure 9. Matrix showing correlations between SA self-ratings and our SAGAT-like SA tests. Cells are labeled and color-coded with Spearman's rank correlation coefficient values. Significant correlations are indicated as follows: ***: , **: , *: , ~.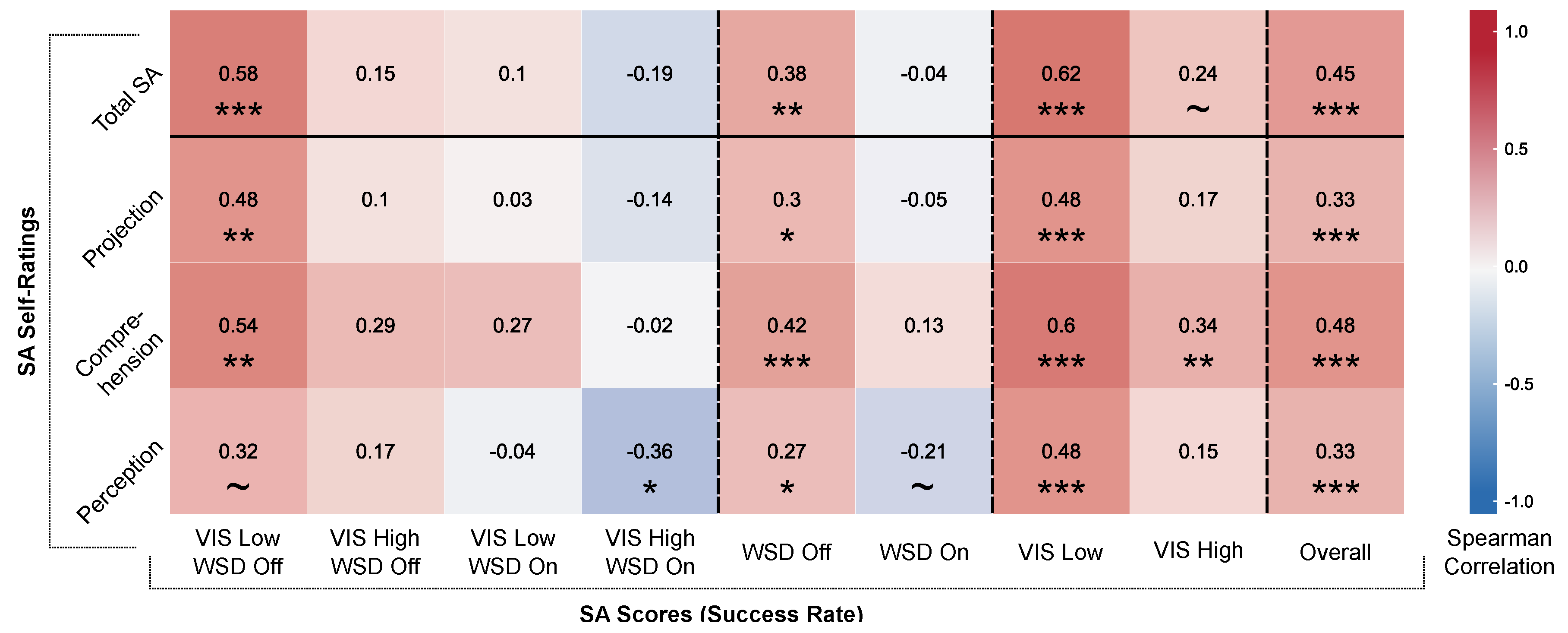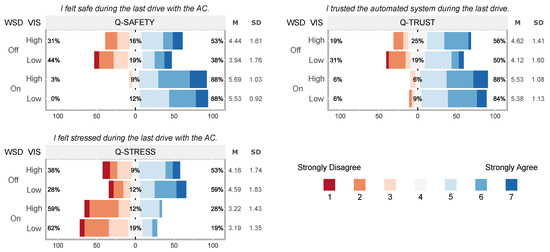 Figure 10. Subjective results from the inter-test questionnaire regarding feelings of safety, stress and trust under the different main conditions. Participants were encouraged to envision a comparable real-world experience of their last simulated lab drive before answering.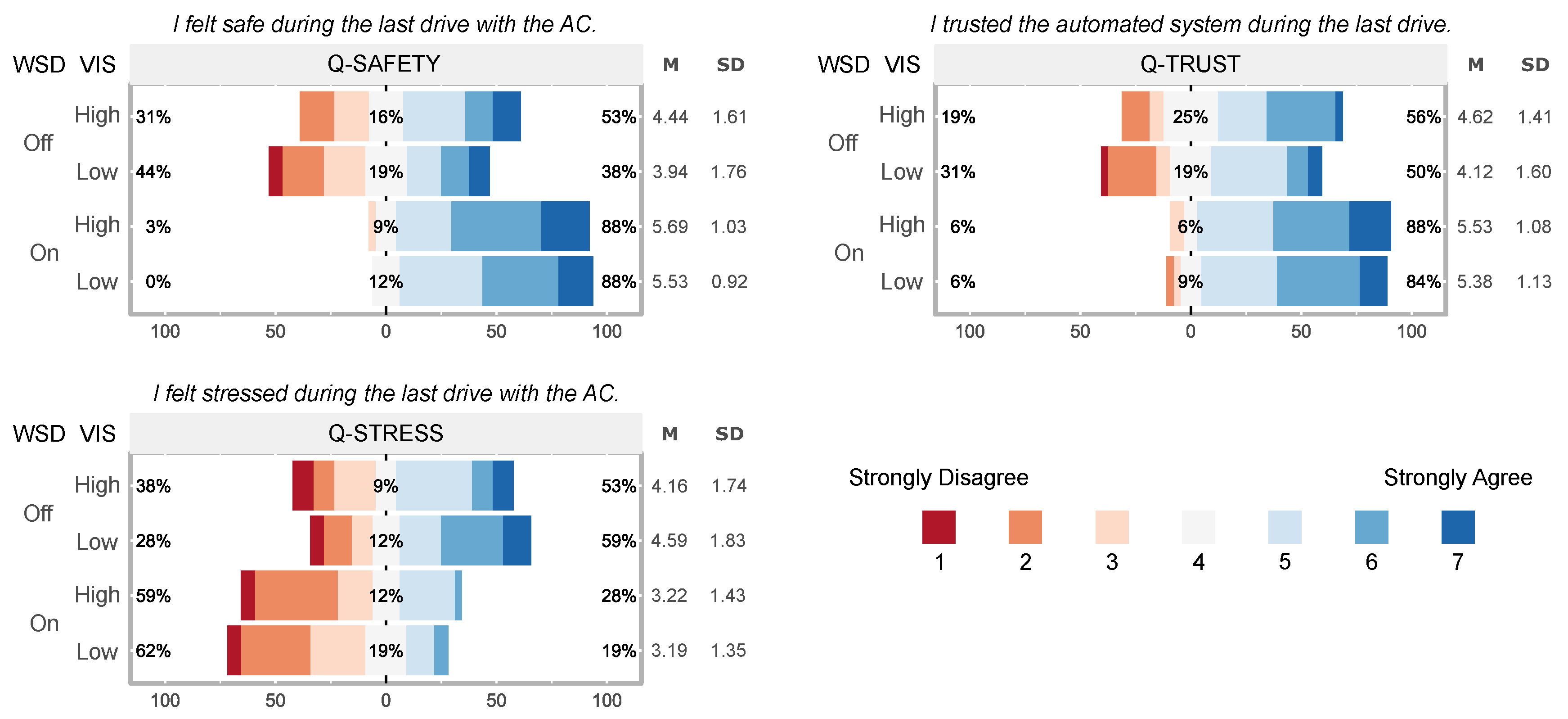 Figure 11. Results for the post-test questionnaire items (statements shortened in figure), which targeted general opinions and user experience regarding the WSD UI after executing all of the study tasks.


Table 1. An overview of the implemented AR elements with example visualizations and descriptions for each type or use case. For better visibility, screen-fixed elements are hidden, best viewed in color.
Visual Example
AR Element Description
(a) Threat and warning markers
Colored object outlines warning drivers of potential hazards on or beside the road. Warnings for possible threats are given as yellow markers. Direct threats in the vehicle's path are marked in red. In case of an imminent threat, other display elements are temporarily hidden to guide attention to the position of the hazard.
(b) Oncoming traffic indicators
Superimposed on the road when the automated car approaches an intersection. Red arrows indicate from where oncoming traffic is detected. Their current distance is roughly indicated by the amount of arrowheads (up to 3). It allows drivers to notice approaching cars without leaning or head-turning.
(c) Brake and stopping bar
A stopping bar is superimposed on the road whenever it comes to a situation in which the vehicle must brake hard due to unforeseen circumstances. It indicates where the car is expected to stop completely. It may reassure drivers by giving a point of reference for safe stopping but could also facilitate grasping the cause of the situation.
(d) Moving object markers
Rotating cubic markers are overlayed above moving objects when relevant to driving decisions. For example, dangerous drivers ignoring the right of way may be highlighted by a red cube. Yellow is used for unusual behavior (e.g., in picture (c) above). A car classified as safe (e.g., yielding) might be marked in green to reassure the driver.
(e) Road sign overlay
Yield, priority or stop road signs in front of intersections are superimposed on a large scale onto the road surface. For the yield/stop signs, the position of the overlay also marks where the car may need to stop. Priority signs might reassure drivers in cases where the automated car is not waiting to yield.

Table 2. The implemented urban driving situations. Some occur multiple times per route in different locations with certain variations as described in the table.
| Basic Situation Description | Properties and Variations |
| --- | --- |
| Cross-traffic in intersections | Speed violations by other cars, obstructed view |
| Oncoming traffic (intersections & straights) | Dangerous overtaking by other cars, obstructed view |
| Rule-ignoring traffic | Cars ignoring priority or traffic lights |
| Standing traffic hazards | Car pulling out of parking spot, obstructed pedestrians |
| Unplanned detours | Construction site, accident site |
| Imminent head-on collision | Crossing children or dogs, thrown balls |
| Forced braking | Unusual preceding car behavior, obstacles |
| Debris on road | Fallen road signs, balls, car parts |

Table 3.
Results of the Wilcoxon–Pratt signed-rank tests for SA scores, grouped by visibility conditions (VIS) and windshield display conditions (WSD). Effect size (ES) is given as Hedges' g with bias correction (g) and interpreted with Cohen's thresholds (, , ) [
52
].
VIS
High
Low
High
Low
High
Low
WSD
On
Off
On
Off
On
Off
Mean
0.70
0.50
0.65
0.39
0.70
0.65
0.50
0.39
SD
0.17
0.17
0.16
0.14
0.17
0.16
0.17
0.14
p
<0.001
<0.001
0.172
0.022
Z
3.53
4.55
1.37
2.29
g*
0.74
1.13
0.21
0.43
ES
Medium
Large
Small
Small

Table 4.
Results of the Wilcoxon–Pratt signed-rank tests for SA self-ratings. Results are grouped by Endsley's SA levels. Total SA score equals the sum of all three self-ratings with offset correction of . The upper section compares trials with and without WSD interface; the lower section compares runs with bad and good visibility levels. Effect size (ES) is given as Hedges' g with bias correction for small samples (g) and interpreted with thresholds (, , , ) of Cohen and Rosenthal [
52
,
53
].
n = 32
Perception
Comprehension
Projection
Total SA (1–19)
VIS
High
Low
High
Low
High
Low
High
Low
On
Off
On
Off
On
Off
On
Off
On
Off
On
Off
On
Off
On
Off
Mean
5.25
4.16
4.75
3.25
5.53
4.50
5.56
3.78
4.97
4.03
5.06
3.25
13.75
10.69
13.38
8.28
SD
1.16
1.39
1.08
1.44
1.16
1.59
1.24
1.52
1.23
1.51
1.13
1.46
2.99
3.87
2.80
3.64
p
0.001
<0.001
0.007
<0.001
0.008
<0.001
0.002
<0.001
Z
3.23
4.73
2.69
4.40
2.63
4.22
3.12
4.89
g
0.54
1.24
0.49
1.10
0.48
1.03
0.59
1.49
ES
Medium
Large
Small
Large
Small
Large
Medium
Very Large
WSD
On
Off
On
Off
On
Off
On
Off
VIS
High
Low
High
Low
High
Low
High
Low
High
Low
High
Low
High
Low
High
Low
p
0.022
0.004
0.845
0.016
0.521
0.006
0.390
0.002
Z
2.29
2.86
0.20
2.41
0.64
2.74
0.86
3.04
g
0.38
0.53
0.02
0.46
0.08
0.53
0.13
0.61
ES
Small
Medium
Trivial
Small
Trivial
Medium
Trivial
Medium

© 2018 by the authors. Licensee MDPI, Basel, Switzerland. This article is an open access article distributed under the terms and conditions of the Creative Commons Attribution (CC BY) license (http://creativecommons.org/licenses/by/4.0/).