An Effective Protocol for Proteome Analysis of Medaka (
Oryzias latipes

) after Acute Exposure to Ionizing Radiation

1

Complex Carbohydrate Research Center, The University of Georgia, Athens, GA 30602, USA

2

Department of Biology, Wingate University, Wingate, NC 28174, USA

3

Exact Sciences Laboratories, 145 E Badger Rd Suite 100, Madison, WI 53713, USA

4

Savannah River Ecology Laboratory, The University of Georgia, Aiken, SC 29802, USA

*

Author to whom correspondence should be addressed.

Received: 11 June 2019 / Revised: 16 July 2019 / Accepted: 26 July 2019 / Published: 30 July 2019
Abstract
All terrestrial organisms are subject to evolutionary pressures associated with natural sources of ionizing radiation (IR). The legacy of human-induced IR associated with energy, weapons production, medicine, and research has changed the distribution and magnitude of these evolutionary pressures. To date, no study has systematically examined the effects of environmentally relevant doses of radiation exposure across an organismal proteome. This void in knowledge has been due, in part, to technological deficiencies that have hampered quantifiable environmentally relevant IR doses and sensitive detection of proteomic responses. Here, we describe a protocol that addresses both needs, combining quantifiable IR delivery with a reliable method to yield proteomic comparisons of control and irradiated Medaka fish. Exposures were conducted at the Savannah River Ecology Laboratory (SREL, in Aiken, SC), where fish were subsequently dissected into three tissue sets (carcasses, organs and intestines) and frozen until analysis. Tissue proteins were extracted, resolved by Sodium Dodecyl Sulfate-Polyacrylamide Gel Electrophoresis (SDS-PAGE), and each sample lane was divided into ten equal portions. Following in-gel tryptic digestion, peptides released from each gel portion were identified and quantified by Liquid Chromatography-Mass Spectrometry (LC-MS/MS) to obtain the most complete, comparative study to date of proteomic responses to environmentally relevant doses of IR. This method provides a simple approach for use in ongoing epidemiologic studies of chronic exposure to environmentally relevant levels of IR and should also serve well in physiological, developmental, and toxicological studies.
View Full-Text
►

▼

Figures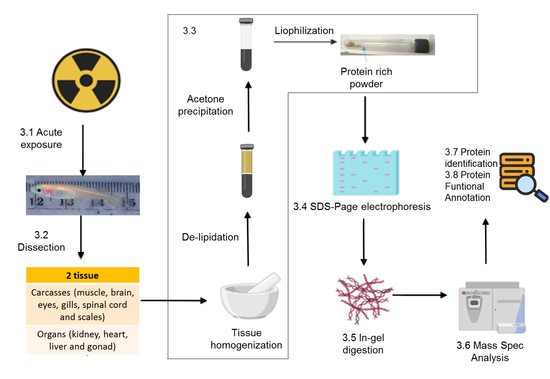 Graphical abstract
This is an open access article distributed under the
Creative Commons Attribution License
which permits unrestricted use, distribution, and reproduction in any medium, provided the original work is properly cited (CC BY 4.0).

Share & Cite This Article
MDPI and ACS Style
Pérez-Gélvez, Y.; Unger, S.; Gutiérrez-Sánchez, G.; Bridger, R.; Rhodes, O.E., Jr.; Bergmann, C. An Effective Protocol for Proteome Analysis of Medaka (Oryzias latipes) after Acute Exposure to Ionizing Radiation. Methods Protoc. 2019, 2, 66.
Note that from the first issue of 2016, MDPI journals use article numbers instead of page numbers. See further details here.
Comments
[Return to top]