Open Access This article is
freely available
re-usable
Review
The DIVER Microscope for Imaging in Scattering Media
1
Laboratory for Fluorescence Dynamics, Department of Biomedical Engineering, University of California Irvine, Irvine, CA 92697, USA
2
Departamento de Fisiopatología, Hospital de Clínicas, Facultad de Medicina, Universidad de la República-Uruguay, Montevideo 11400, Uruguay
*
Author to whom correspondence should be addressed.
Received: 11 May 2019 / Accepted: 19 June 2019 / Published: 21 June 2019
Abstract
:
We describe an advanced DIVER (Deep Imaging Via Emission Recovery) detection system for two-photon fluorescence microscopy that allows imaging in multiple scattering media, including biological tissues, up to a depth of a few mm with micron resolution. This detection system is more sensitive to low level light signals than conventional epi-detection used in two-photon fluorescence microscopes. The DIVER detector efficiently collects scattered emission photons from a wide area of turbid samples at almost any entrance angle in a 2π spherical angle. Using an epi-detection scheme only photons coming from a relatively small area of a sample and at narrow acceptance angle can be detected. The transmission geometry of the DIVER imaging system makes it exceptionally suitable for Second and Third Harmonic Generation (SHG, THG) signal detection. It also has in-depth fluorescence lifetime imaging (FLIM) capability. Using special optical filters with sin-cos spectral response, hyperspectral analysis of images acquired in-depth in scattering media can be performed. The system was successfully employed in imaging of various biological tissues. The DIVER detector can be plugged into a standard microscope stage and used as an external detector with upright commercial two-photon microscopes.
Keywords:
non-linear microscopy; hyperspectral imaging; FLIM; scattering media; fluorescence
2. Materials and Methods
Tissue samples, such as mouse brain, rat lungs, mouse bone, liver, kidney, sciatic nerve, adipose tissue or bacteria were generously provided by various research laboratories and researchers working at Laboratory for Fluorescence Dynamics (LFD) on other projects.
Cyan and Green plastic filters (Amazon, color filters, cat# B016Q0BA6A) were used as cosine and sine filters in hyperspectral imaging experiments.
Data acquisition and analysis was performed using the Globals for Images-SimFCS software by G-Soft Inc. (Champaign, IL-USA).
Samples are placed directly on the top window of the DIVER detector. A drop of water is used to fill the air gap between the sample and detector window to reduce reflections; for the same reason a drop of index matching microscope oil is used to fill the gap between the PMT and the bottom window of the chamber. Matching index of refraction in the optical path from a sample surface to the PMT window maximizes photon transmission, which otherwise significantly decreases due to reflections on interfaces. This approach is especially important for efficient collection of scattered emission photons that are propagating at various directions and angles. If there is an air gap between optical elements, photons arriving at critical angle will be lost due to total internal reflection.
This simple detector construction has proven to be very efficient for collection of scattered emission photons from a wide area of sample surface and practically at any entrance angle in a 2pi solid angle. This feature significantly enhances detector sensitivity when compared with an epi-detection scheme, where most of emitted surface photons are lost, especially when imaging in scattering media.
3. Results
3.1. Imaging in Scattering Media: the DIVER Versus Epi-Detector
With increase of imaging depth in scattering samples the performance of DIVER detector was better than the epi-detector; moreover, at certain depths, images can be acquired only with the DIVER detector. This imaging depth dependence is more pronounced in stronger scattering samples. For transparent samples the DIVER detector also performs slightly better with imaging depth increase, due to the fact that the microscope objective focal point moves toward the DIVER detector. This aspect in turn increases the effective Numerical Aperture of the DIVER detector, while for the epi-detector it remains the same.
3.3. Hyperspectral Imaging Using Two Filters
4. Discussion
We have shown that the DIVER detector, which is simple to construct, may significantly improve the imaging depth in turbid samples. The DIVER detector utilizes two main principles: (1) use of wide area detector that allows collecting scattered emission photons from a wide surface area of a turbid sample; (2) the refraction index is matched in the optical path sample-PMT window to minimize signal attenuation due to reflections on optical interfaces. Implementation of these two principles allows harvesting emission photons much more efficiently than with an epi-detector. The DIVER detector becomes more sensitive than the epi-detector to low level signals with an increase in imaging depth and at certain depths scattering samples could be imaged only using the DIVER detector.
The transmission geometry of the DIVER detector obviously leads to some limitations for its use, because emission photons, induced from one side of a sample, have to travel to other side of a sample to reach the detector. If a sample has strong absorption, these photons will be attenuated and not detected. However, for most biological tissues the absorption coefficient is low and emission photons are mainly attenuated due to scattering, rather than absorption. In this case they still have a chance to reach an opposite surface of a sample and be detected. It was shown that in multiple scattering media attenuation by scattering is linear with the distance, while in clear media the signal decays proportionally to the square of the distance [
9
,
41
]. For this reason, at certain depths the scattering may even "boost" the signal. We have shown that in the absence of strong absorption, scattering samples even of few cm thick can be imaged using the DIVER detector.
On the other hand, the transmission geometry is very useful for SHG and THG imaging, because induced SHG and THG photons are directed toward the detector. This fact and the DIVER detector ability to collect scattered photons from a wide sample area make it orders of magnitude more sensitive for Harmonic Generation Imaging in turbid samples than an epi-detector [
8
]. Moreover, THG imaging is easily available with the DIVER detector using conventional Ti:Sapphire lasers for excitation, while with epi-detectors it will require special long-wavelength lasers or microscope optics for Ultraviolet (UV) range.
We also demonstrated that using inexpensive plastic cyan-green filters we can obtain spectral phasors of samples and use them for hyperspectral image analysis. We note that there are no adjustable parameters involved in the procedure and the only information needed is the transmission of filters in the region of sensitivity of the detector. Fluorescence collected after passing through a strongly scattering media gives the same position of the spectral phasor as for transparent material. This hyperspectral imaging method using sin-cos filters is not specific for the DIVER detector and can be used potentially with any microscope and detector, however application to scattering media makes it a very useful addition to the DIVER system.
Currently we are working on implementation of other, "perfect" sin-cos interference filters for hyperspectral imaging, as well as using adaptive optics technique to correct the point spread function distortion by turbid media and achieve higher imaging depths.
5. Patents
Enrico Gratton, Alexander Dvornikov, Viera Crosignani. Apparatus and Method for Light Emission Detection for In-Depth Imaging of Turbid Media. U.S. Pat. 8692998.
Author Contributions
Conceptualization, A.D., L.M. and E.G.; software, E.G.; formal analysis, A.D. and L.M.; investigation, A.D. and L.M.; writing—original draft preparation, A.D. and L.M.; writing—review and editing, E.G.; visualization, A.D. and L.M.
Funding
This research was funded by NIH P50 GM076516. NIH P41-GM103540 grants.
Acknowledgments
The authors are indebted to Arturo Briva, Moshe Levi, Suman Ranjit, Rupsa Datta, Arunima Bhattacharjee for providing some of the samples and figures. LM was partially supported as a full time professor at the Universidad de la República-Uruguay.
Conflicts of Interest
The authors declare no conflict of interest.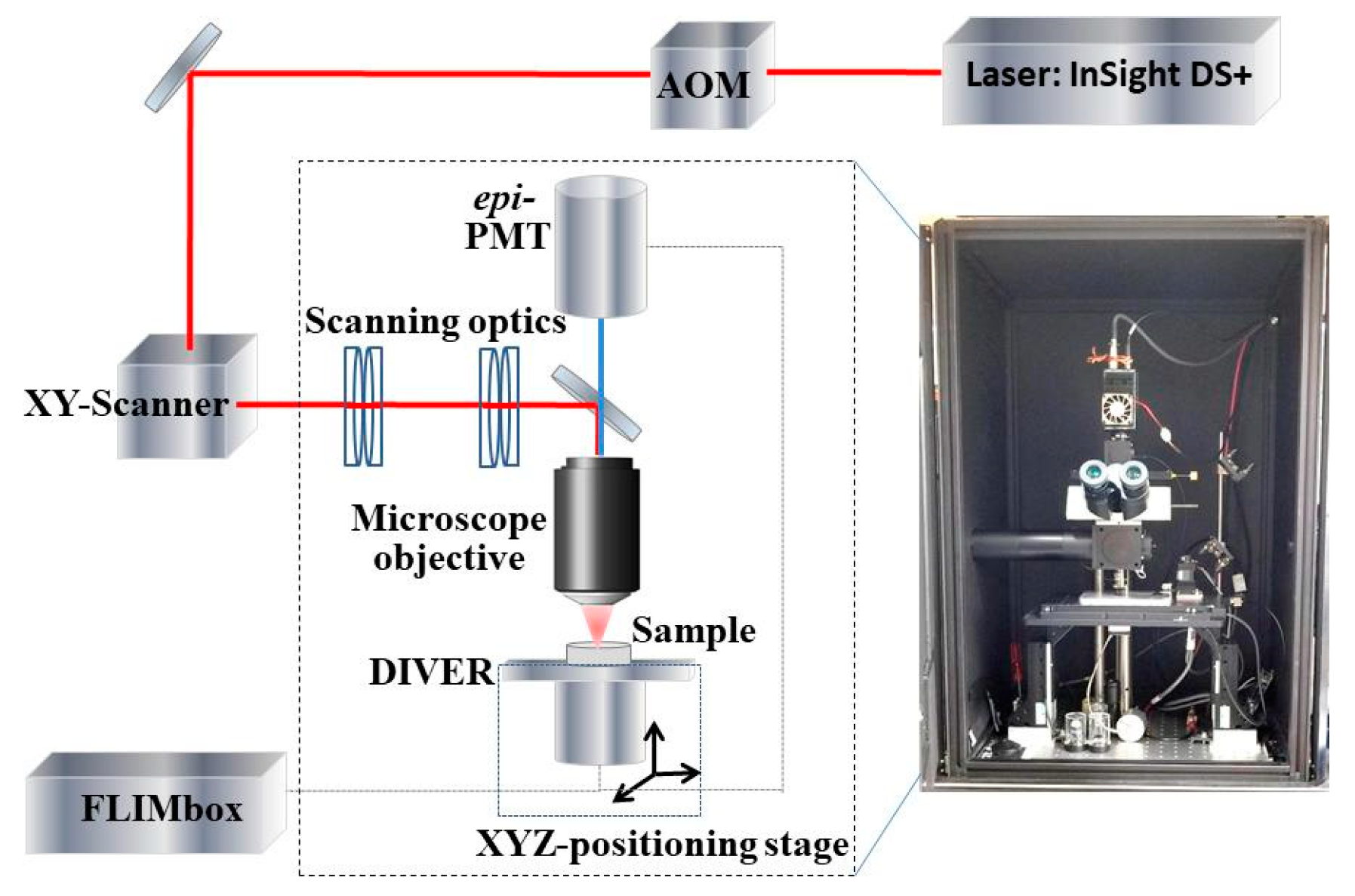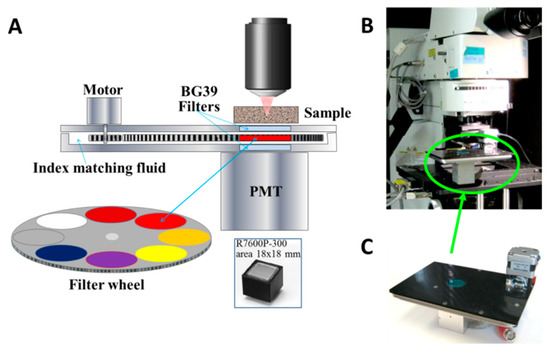 Figure 2. (A) The DIVER detector construction. (B) Picture of the commercial Olympus BX61 microscope with the DIVER detector. (C) Picture of the DIVER detector that can be plugged in the microscope stage.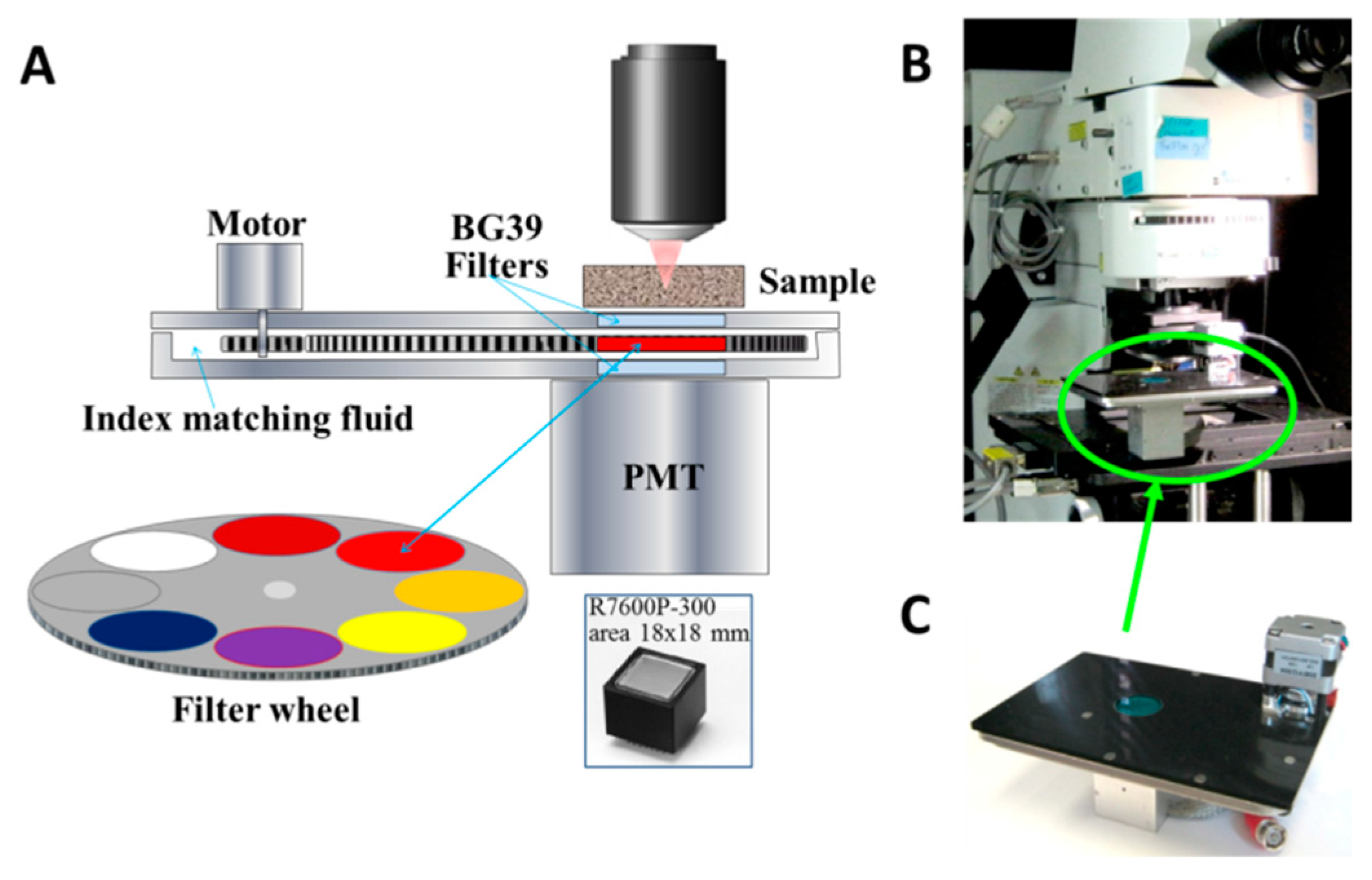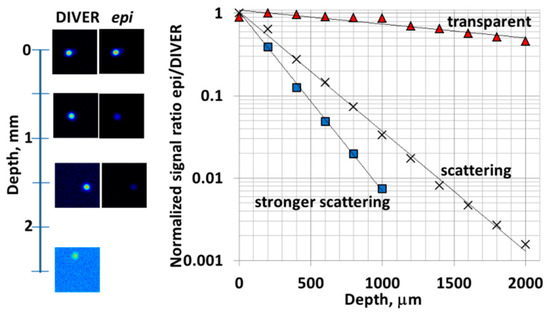 Figure 3. Comparison of the DIVER and the epi-detector efficiency. Images of fluorescent beads in scattering sample (left) and dependence of epi- to DIVER detector signals ratio on imaging depth (right). Samples measured: transparent (no TiO2 particles added); scattering (scattering coefficient μs = 3.5 mm−1); stronger scattering (μs = 10 mm−1).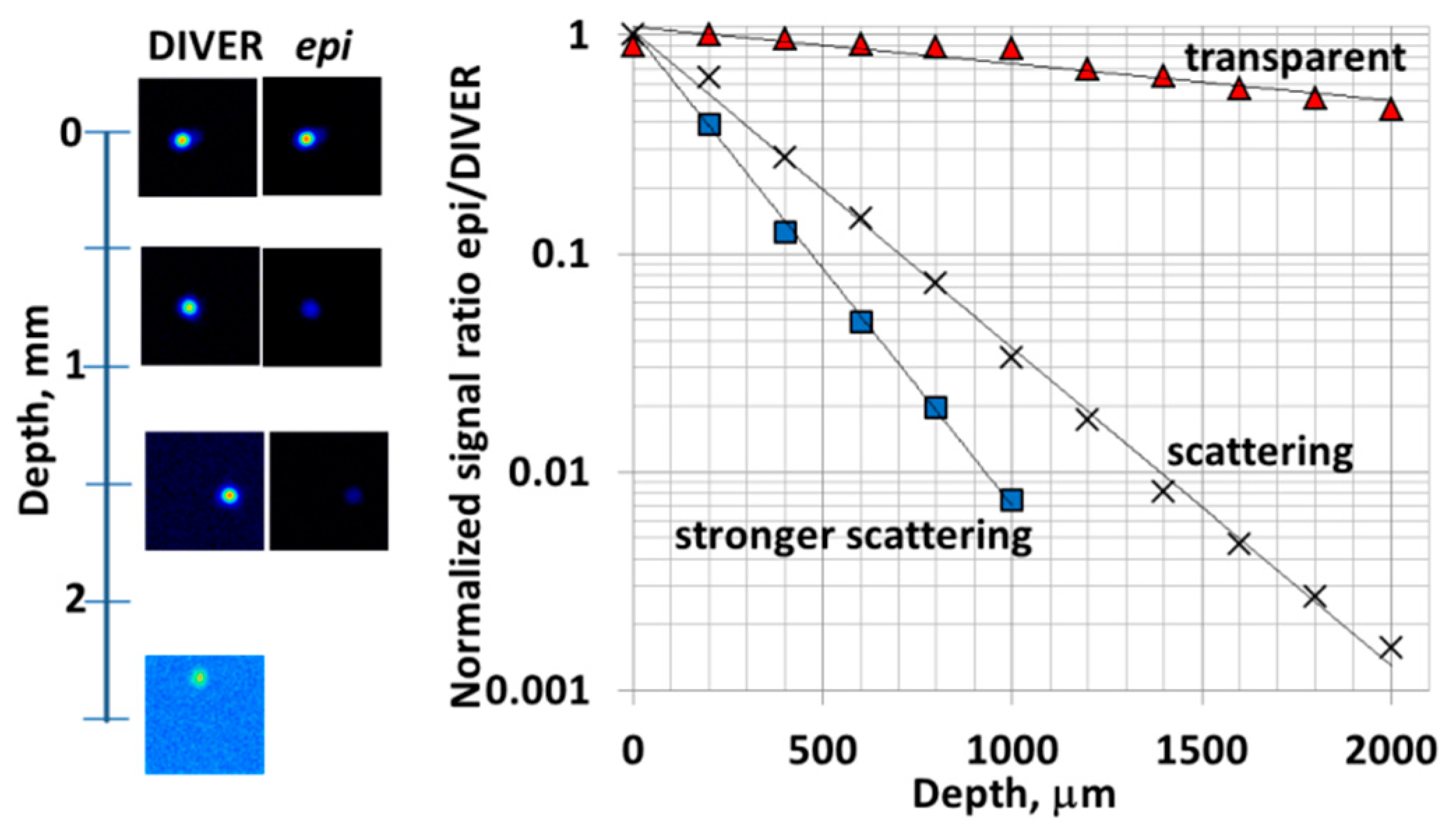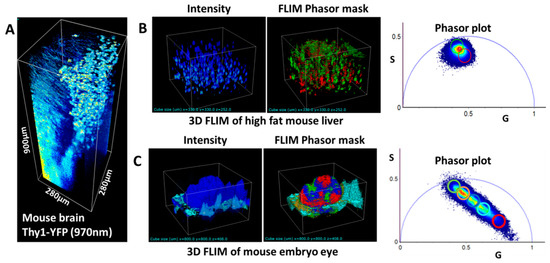 Figure 4. (A) 3D reconstitution of a brain section of a transgenic mouse expressing Thy-1-YFP-16 as a marker of neurons. (B) 3D intensity and fluorescence lifetime imaging (FLIM) images of autofluorescence from liver tissue of a mouse under high fat diet. The phasor plot allows isolation of different lipids (green and red cursors). (C) 3D intensity and FLIM images of a GFP expressing mouse embryo eye. The cursor selections used at the phasor plot enable isolation of different features, such as collagen layers, GFP cells etc., due to lifetime heterogeneities, which cannot be seen in an intensity image.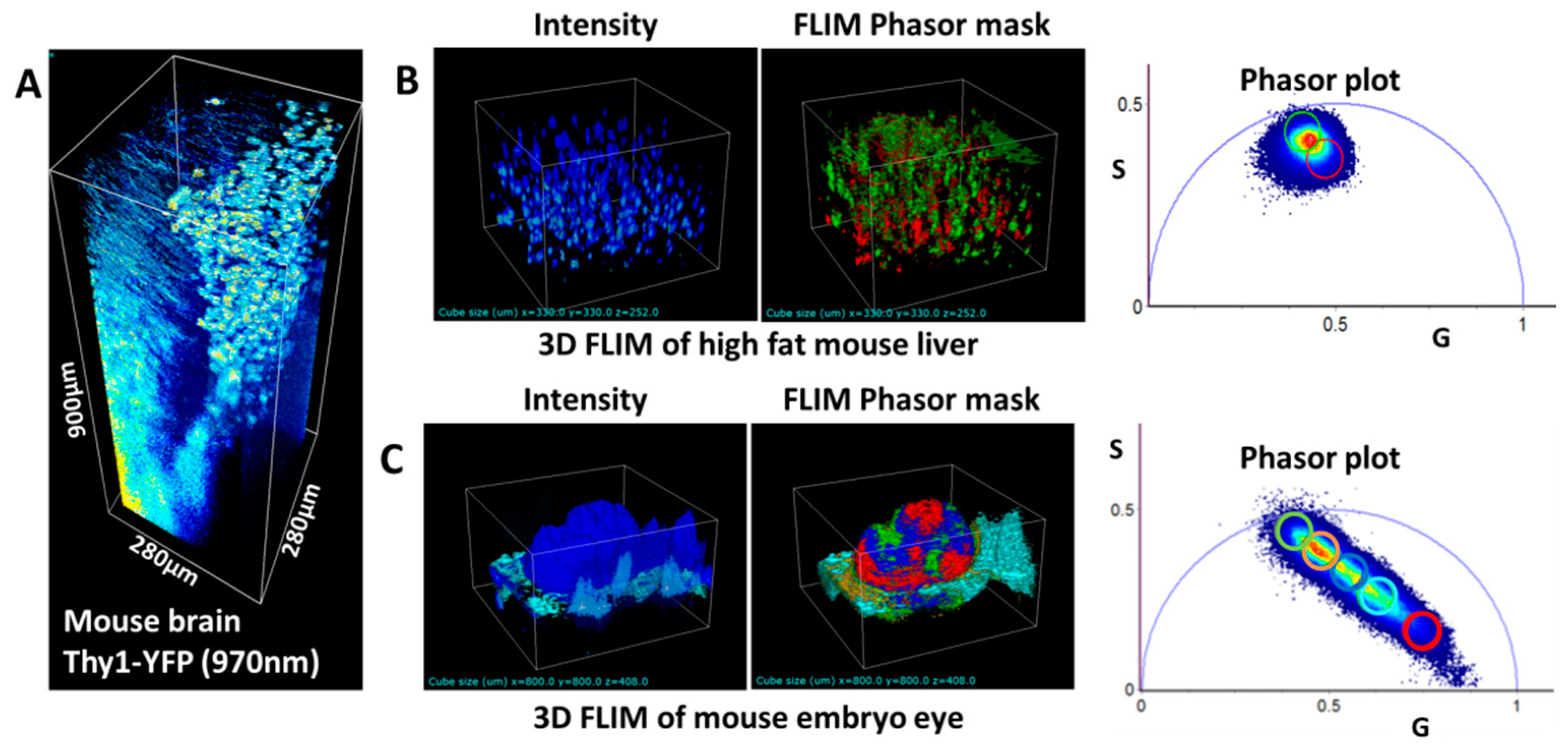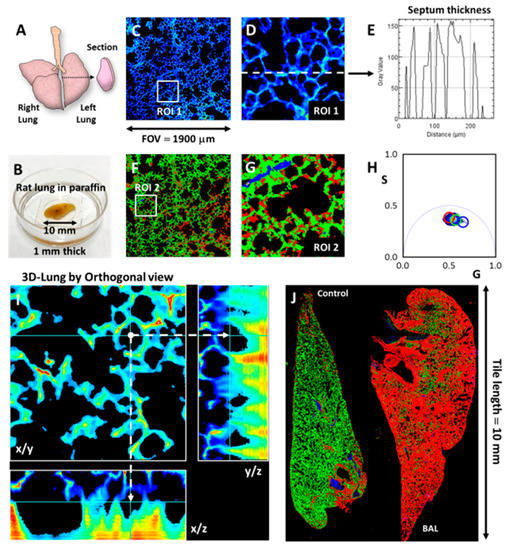 Figure 5. FLIM-Phasor Lung analysis of NADH autofluorescence. (A) Illustration of a rat lung and the region from where the section for paraffin inclusion was obtained. (B) Picture of the rat lung section included in paraffin and placed in the dish for imaging. (C) Large field of view (FOV) FLIM image of lung using Zeiss ECPlan-NEOFLUAR 10x/0.3 objective. The region of interest (ROI 1) is the region shown in section D. (D) The dashed line is showing the profile of intensity to quantify the septum thickness. (E) Septum thickness plot. (F) Pseudocolor image generated by the cursor selection at the phasor plot in H. (G) Zoom in of the ROI 2 in (F). (H) FLIM-Phasor plot. The cursors select different lifetimes. (I) Orthogonal views of the lung 3D image. The arrows indicate an alveolus. (J) Pseudocolor images of control and injured rat lungs by broncho-alveolar lavage. The colors indicate differences in the lifetime.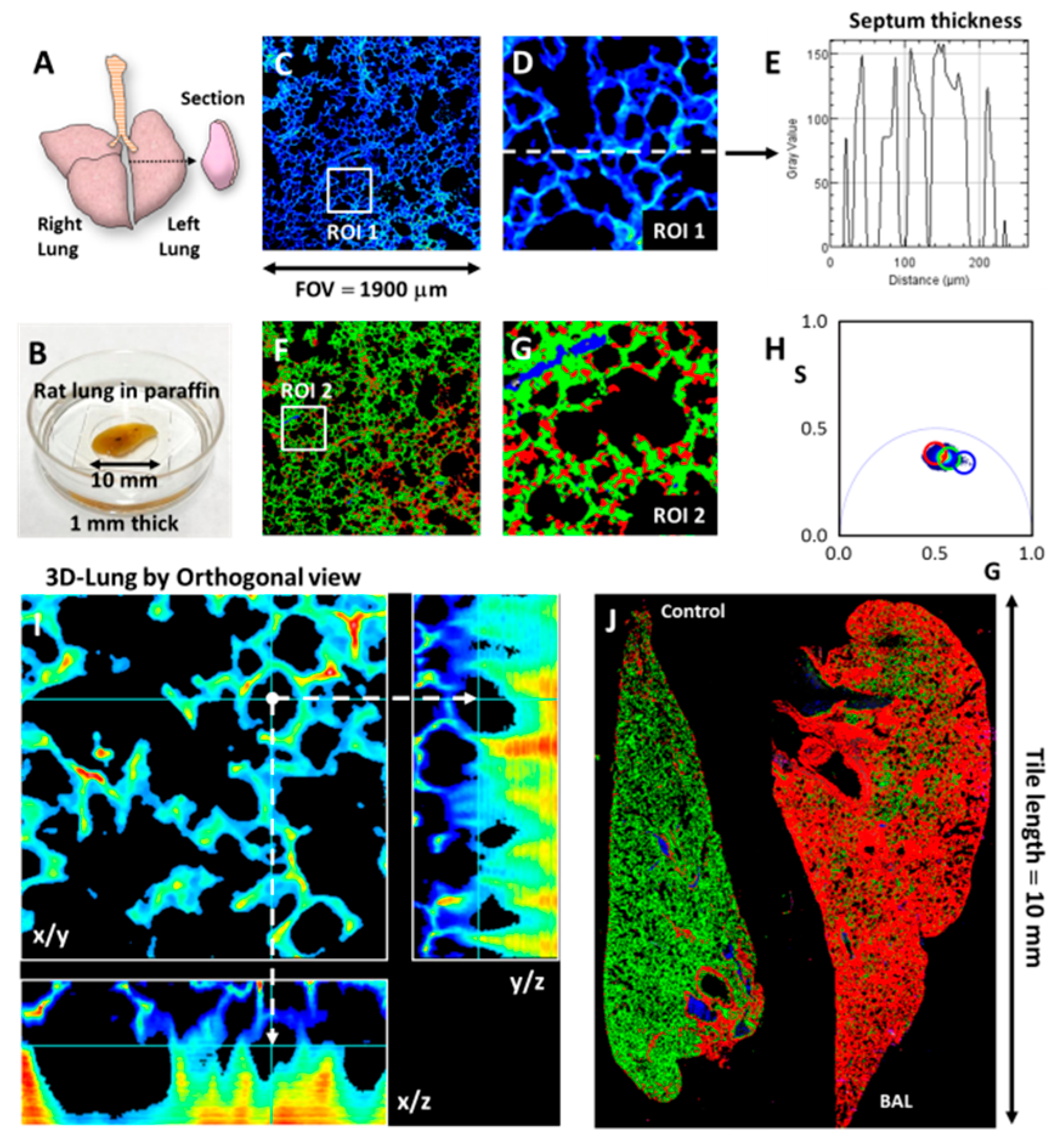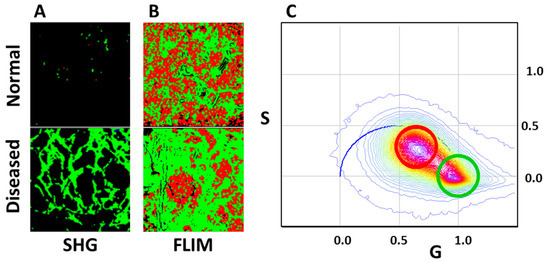 Figure 6. Second Harmonic Generation (SHG) (A) and FLIM (B) images of normal and diseased kidney samples imaged with the DIVER detector. FLIM images are colored according to cursors in the phasor plot (C).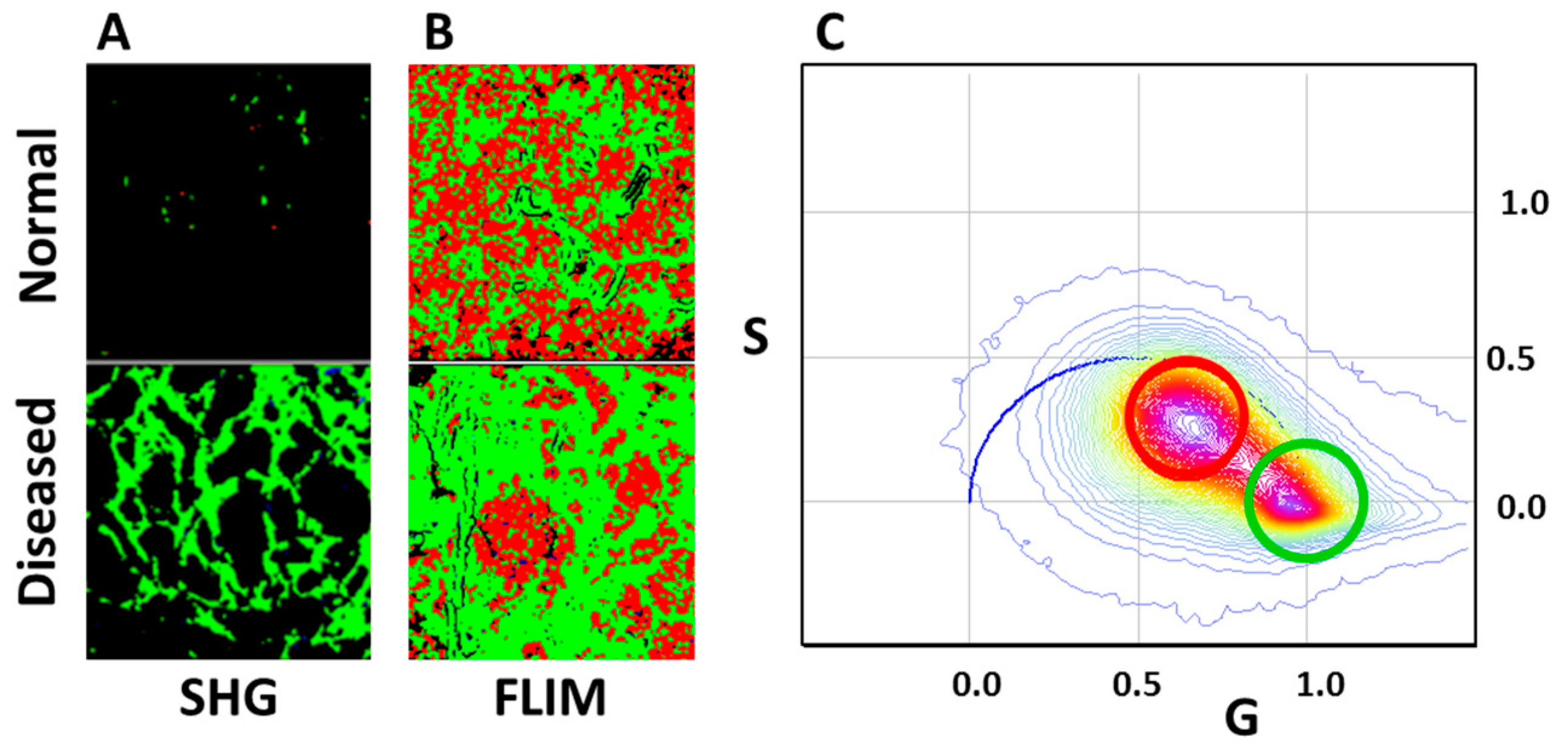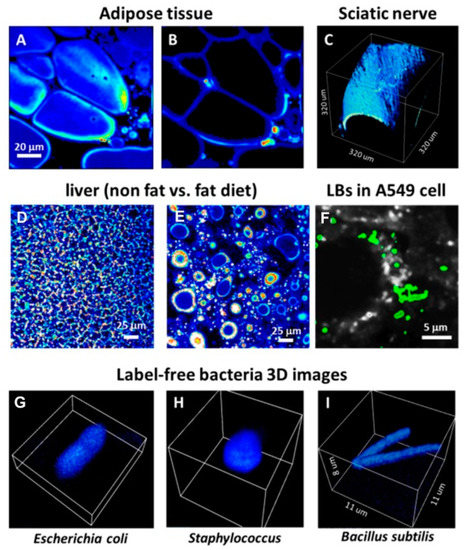 Figure 7. Third Harmonic Generation (THG) images. (A) Cell membranes and (B) interfaces between cells in adipose tissue. (C) 3D image of a mouse sciatic nerve. (D) and (E) lipids deposition in liver from non-fat or fat diet mouse respectively. (F) Overlap of THG signal (green) and NADH autofluorescence from in vivo A549 cells. The green structures refer to lamellar bodies (LBs). (G–I) 3D-THG images of various bacteria.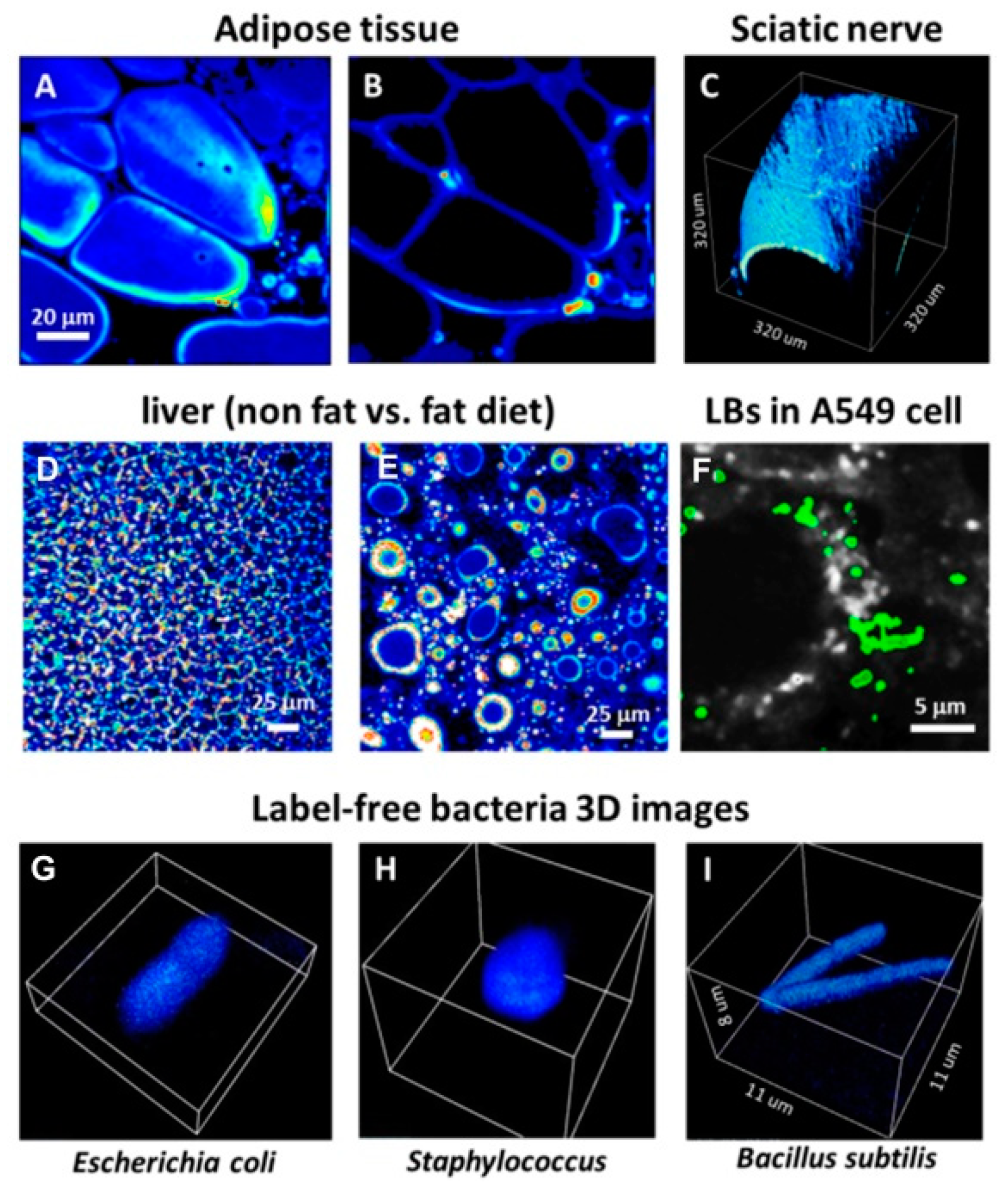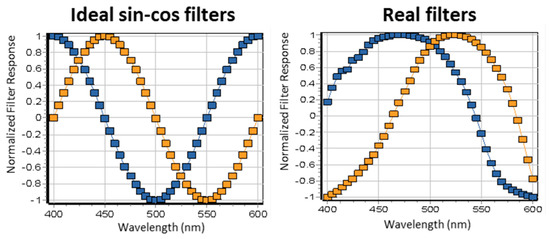 Figure 8. Ideal (A) and real (B) sin-cos filters response after normalization and shifting to give the range of the cosine and sine function.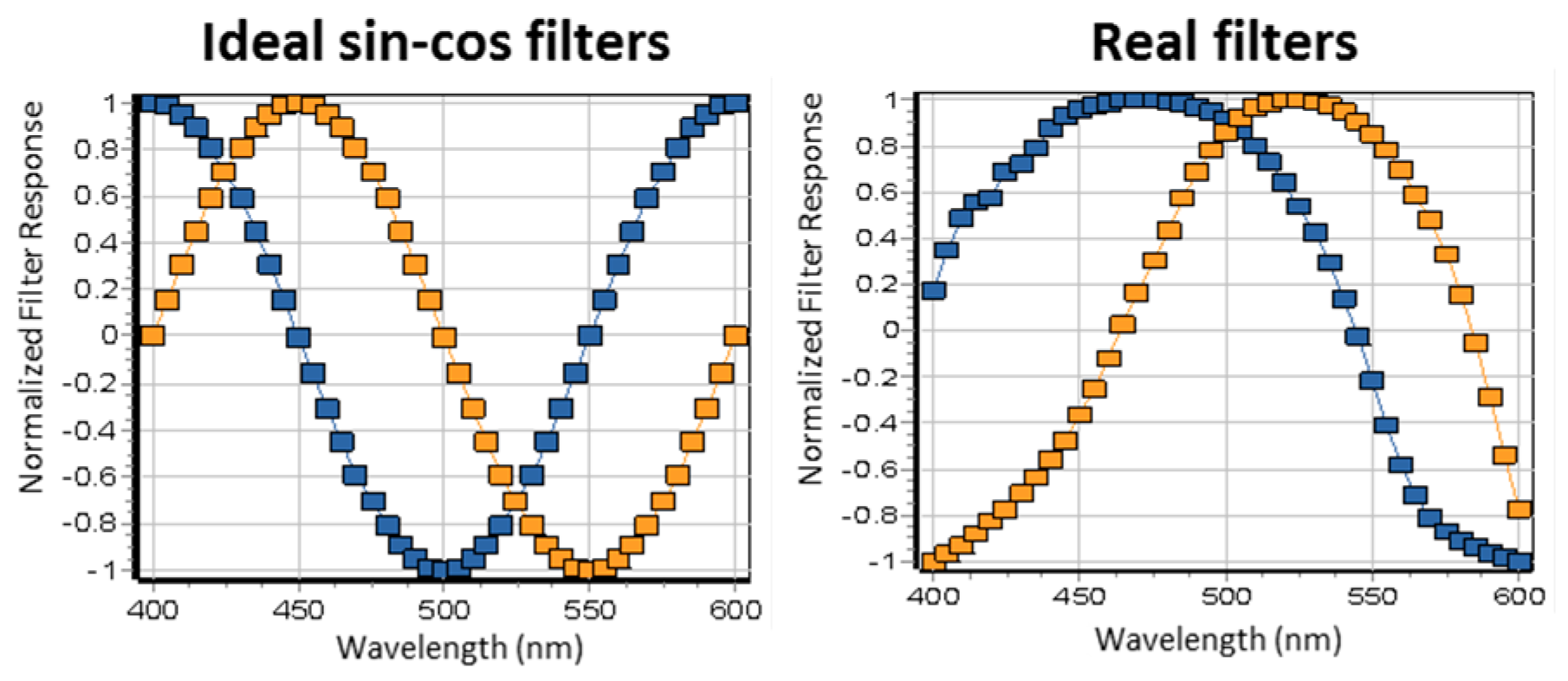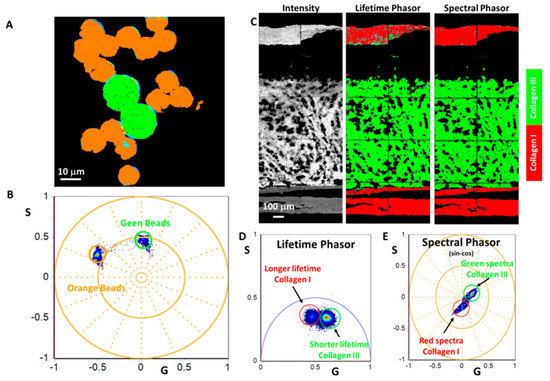 Figure 9. Application of hyperspectral imaging using the sin-cos filters and the spectral phasor transformation. (A) 15 μm Yellow-Green and 10 μm Orange fluorescent beads in a highly scattering matrix. (B) Spectral phasor plot of beads in (A): using orange and green cursors it is possible to separate different types of beads. (C) Images of mouse femur bone. (D) FLIM phasor. (E) Spectral phasor acquired with sin-cos filters. Both FLIM and spectral phasors allow identifying areas with different kind of collagens (I and III).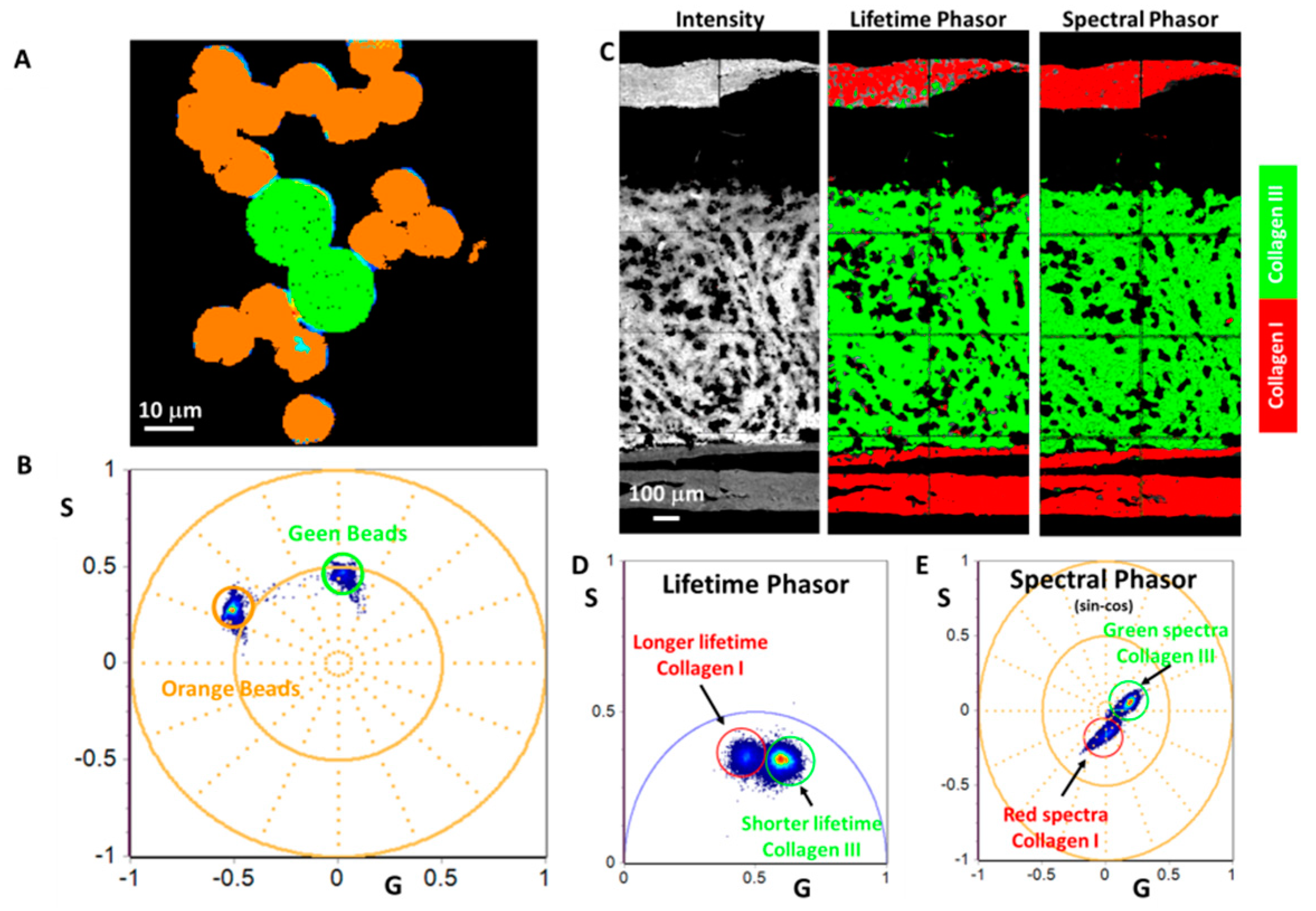 © 2019 by the authors. Licensee MDPI, Basel, Switzerland. This article is an open access article distributed under the terms and conditions of the Creative Commons Attribution (CC BY) license (http://creativecommons.org/licenses/by/4.0/).