Optimized Nuclear Pellet Method for Extracting Next-Generation Sequencing Quality Genomic DNA from Fresh Leaf Tissue
1
Department of Life and Food Sciences, Graduate School of Science and Technology, Niigata University, Niigata 950-2181, Japan
2
Agronomy Division, Bangladesh Rice Research Institute, Gazipur-1701, Bangladesh
3
Institute of Science and Technology, Niigata University, Niigata 950-2181, Japan
*
Author to whom correspondence should be addressed.
Received: 13 March 2019 / Revised: 20 June 2019 / Accepted: 21 June 2019 / Published: 25 June 2019
Next-generation sequencing (NGS) is a revolutionary advancement allowing large-scale discovery of functional molecular markers that has many applications, including plant breeding. High-quality genomic DNA (gDNA) is a prerequisite for successful NGS library preparation and sequencing; however, few reliable protocols to obtain such plant gDNA exist. A previously reported nuclear pellet (NP) method enables extraction of high-yielding gDNA from fresh leaf tissue of maize (
Zea mays
L.), but the quality does not meet the stringent requirements of NGS. In this study, we optimized the NP method for whole-genome sequencing of rice (
Oryza sativa
L.) through the integration of simple purification steps. The optimized NP method relied on initial nucleus enrichment, cell lysis, extraction, and subsequent gDNA purification buffers. The purification steps used proteinase K, RNase A, phenol/chloroform/isoamyl alcohol (25:24:1), and chloroform/isoamyl alcohol (24:1) treatments for protein digestion and RNA, protein, and phenol removal, respectively. Our data suggest that this optimized NP method allowed extraction of consistently high-yielding and high-quality undegraded gDNA without contamination by protein and RNA. Moreover, the extracted gDNA fulfilled the quality metrics of NGS library preparation for the Illumina HiSeq X Ten platform by the TruSeq DNA PCR-Free Library Prep Kit (Illumina). We provide a reliable step-by-step guide to the extraction of high-quality gDNA from fresh leaf tissues of rice for molecular biologists with limited resources.
View Full-Text
►

▼

Show Figures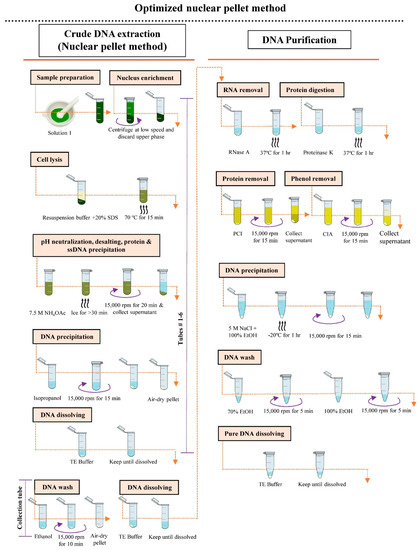 Figure 1
This is an open access article distributed under the
Creative Commons Attribution License
which permits unrestricted use, distribution, and reproduction in any medium, provided the original work is properly cited

MDPI and ACS Style
Rana, M.M.; Aycan, M.; Takamatsu, T.; Kaneko, K.; Mitsui, T.; Itoh, K. Optimized Nuclear Pellet Method for Extracting Next-Generation Sequencing Quality Genomic DNA from Fresh Leaf Tissue. Methods Protoc. 2019, 2, 54.
Show more citation formats
Show less citations formats
Note that from the first issue of 2016, MDPI journals use article numbers instead of page numbers. See further details
here
.