Open Access This article is
freely available
re-usable
Review
Newborn and Infant Hearing Screening Facing Globally Growing Numbers of People Suffering from Disabling Hearing Loss
1
Department of Phoniatrics and Pediatric Audiology, Clinic of Otorhinolaryngology, Head and Neck Surgery, Ruhr-University of Bochum, St. Elisabeth-Hospital, Bleichstr. 16, 44787 Bochum, Germany
2
Blindness, Deafness Prevention, Disability and Rehabilitation Unit, Department for Management of Noncommunicable Diseases, Disability, Violence and Injury Prevention, World Health Organization, 20 Avenue Appia, 1211 Geneva 27, Switzerland
3
Department of Physiology and Pathology of Hearing, National Research Centre for Audiology and Hearing Rehabilitation, 123 Leninsky ave, Moscow 117513, Russia
4
WHO Collaborating Center for the Prevention of Deafness and Hearing Impairment, Nanjing Medical University, Nanjing 210029, China
5
National Center for Hearing Assessment and Management, Utah State University, 2615 Old Main Hill, Logan, UT 84322, USA
*
Author to whom correspondence should be addressed.
Received: 15 September 2018 / Accepted: 9 January 2019 / Published: 18 January 2019
Abstract
:
Recent prevalence estimates indicate that in 2015 almost half a billion people—about 6.8% of the world's population—had disabling hearing loss and that prevalence numbers will further increase. The World Health Organization (WHO) currently estimates that at least 34 million children under the age of 15 have disabling hearing loss. Based on a 2012 WHO report, approximately 7.5 million of these children were under the age of 5 years. This review article focuses on the importance of high-quality newborn and infant hearing screening (NIHS) programs as one strategy to ameliorate disabling hearing loss as a global health problem. Two WHO resolutions regarding the prevention of deafness and hearing loss have been adopted urging member states to implement screening programs for early identification of ear diseases and hearing loss in babies and young children. The effectiveness of these programs depends on factors such as governmental mandates and guidance; presence of a national committee with involvement of professionals, industries, and stakeholders; central oversight of hearing screening; clear definition of target parameters; presence of tracking systems with bi-directional data transfer from screening devices to screening centers; accessibility of pediatric audiological services and rehabilitation programs; using telemedicine where connectivity is available; and the opportunity for case discussions in professional excellence circles with boards of experts. There is a lack of such programs in middle- and low-income countries, but even in high-income countries there is potential for improvement. Facing the still growing burden of disabling hearing loss around the world, there is a need to invest in national, high-quality NIHS programs.
Keywords:
hearing loss; children; newborn hearing screening; neonatal hearing screening; infant hearing screening
2. Prevention of Childhood Hearing Loss
According to recent WHO estimates, more than 60% of hearing loss in children could be prevented—75% in middle- and lower-middle-income countries, 49% in high-income regions [
18
] (
Figure 2
). The difference between middle- and lower-middle-income countries in the proportion of hearing loss due to preventable causes is most probably due to a higher incidence of infections, such as congenital cytomegalovirus infections, in lower-middle-income countries, as well as fewer programs to support maternal and child health in lower-income countries compared to higher-income ones. As shown in
Figure 2
, about one third of cases of preventable infant hearing loss have infectious causes, such as rubella and meningitis, and an additional 4% are caused by the use of ototoxic medication. Birth complications, in particular hypoxemia, low birthweight, neonatal hyperbilirubinemia, and prematurity account for 17% of preventable hearing loss [
18
].
Effective strategies for preventing hearing loss include reducing the incidence of infections such as rubella, meningitis, cytomegalovirus, mumps, measles, and otitis through immunization, hygienic measures, timely medical and surgical treatment, mother and child health programs, and reductions in the use of ototoxic agents [
18
]. For example, the risk of a cochlear injury from ototoxic antibiotic medications with aminoglycosides in the fetal, neonatal, and infant periods is especially high, depending on application, dosage, previous aminoglycoside treatment, kidney function, pre-injury of the inner ear (e.g., by syndromes or asphyxia), presence of anemia, familial and individual sensitivity, age, environmental noise, and combination with other ototoxic or nephrotoxic medication [
23
]. Furthermore, there are indications that the treatment of babies with aminoglycosides in noisy neonatal care units may lead to hair cell damage and hearing loss [
24
]. Some mitochondrial DNA mutations also increase the risk of an aminoglycoside-induced hearing loss [
25
]. All these factors have to be considered before using these ototoxic antibiotics in neonatal care. As another example, the incidence of congenital cytomegalovirus infections can be reduced by counselling expectant mothers about the importance of frequent handwashing and avoiding contact with the child's saliva, urine, and nasal secretions.
3. Relevance and Principles of Newborn Hearing Screening
4. Newborn and Infant Hearing Screening as Part of a National Plan on Ear and Hearing Care
To improve the situation of people with permanent hearing loss, countries should have a strategic plan that takes into consideration the demographic profile, requirements, and resources of the country. A manual on planning and monitoring of national strategies for ear and hearing care as published by the WHO [
21
] outlines strategies for the successful implementation of NIHS programs. It recommends advocacy as the first step, in other words, activities to raise awareness among politicians, health care professionals, funding providers, and the general public to get a political commitment and to mobilize the resources required. The WHO further recommends that member states establish national programs of ear and hearing health under the guidance of their ministries of health. WHO also recommends that a national ear and hearing health coordinator should chair a national committee for ear and hearing health. The committee should include all groups of professionals who deal with ear and hearing care as well as other key stakeholders.
The national committee should address, and possibly create task forces to deal with issues such as technology, training, infrastructure, equipment, finance, and advocacy. It should also guide, organize, supervise, and monitor the NIHS program. As part of this effort, relevant tools, standard operating procedures, and information materials should be developed. The standard operating procedures should include how, where, and when babies with a positive screening test should be referred [
21
]. Procedural criteria need to be specified about how many repetitions of a test still count as primary screening, and whether and how often babies should be re-screened. Periodic (quarterly, semi-annual, or annual) process indicators such as the number and distribution of neonates and infants screened for ear diseases and hearing loss (total and per 100,000 population) should be defined to monitor and evaluate the NIHS program [
21
].
If a comprehensive newborn hearing screening program is not yet operational, a situation analysis of needs and resources, as well as a strengths, weaknesses, opportunities, and threats (SWOT) analysis, should be performed, optimally by using the Ear and Hearing Care Situation Analysis Tool of the WHO [
20
]. This tool includes items that assess the situation of the NIHS, for example: Is there a government-led infant hearing screening program? Who leads the program? Which parts of the country or areas are covered by it? What percentage of the population is covered by the program? If there is no program, is there any government-led neonatal or infant screening program for congenital diseases? Is the NIHS program a stand-alone program or part of a broader activity? The tool also asks for a more general analysis that includes, for example, the allocation of a budget for ear and hearing care in the ministry of health, the provision of ear and hearing care services by the government, the private sector and nongovernmental organizations that provide hearing health care, the embedding of ear and hearing care in the public health sector, and whether there is a system of personal child health records [
20
].
5. Further Actions Regarding NIHS Programs
If not already done, all countries should establish national committees for ear and hearing health, including a newborn hearing screening program. A part of this program should include the prevention of neonatal hearing loss as mentioned above and described in the WHO publication on childhood hearing loss [
18
].
For situations where primary prevention of permanent infant hearing loss is not possible, NIHS programs can be an effective secondary prevention strategy that ensures detection and treatment of childhood hearing loss as early as possible. Early intervention using a family-centered, multidisciplinary approach that includes audiological, medical, therapeutic, rehabilitative, and pedagogical components and focuses on the importance of the family for child health can often prevent hearing loss from becoming disabling in its nature.
The 2017 WHO resolution calls for the preparation of a World Report on Ear and Hearing based on the best available scientific evidence. The resolution also urges member states "…to collect high-quality population-based data on ear diseases and hearing loss in order to develop evidence-based strategies and policies" [
22
]. Hence, ministries of health and national committees should regularly collect data about the current situation of ear and hearing care in the country and the status of hearing screening programs. Data collection may be difficult in countries with regional instead of national newborn hearing screening programs because the coverage and quality of the NIHS programs may differ between the various regions, states, or provinces. Such problems may be more severe in countries where only limited newborn hearing screening is being done–predominantly in hospital-based pilot projects, or in time-limited NIHS studies as have been done in several African countries such as Nigeria and Algeria [
39
].
6. Suggestions for Moving Forward
7. Conclusions
The growing prevalence of disabling hearing loss and the associated increase in the global burden of hearing loss call for action that includes the implementation and improvement of NIHS programs. Such programs should be part of national programs for ear and hearing care. Regular and standardized data collection is necessary to better understand what is being accomplished and how to improve program effectiveness. Newborn hearing screening and follow-up treatment has been shown to be an excellent investment of resources. Nevertheless, adequate funding and resource allocation for these programs is needed, in particular for screening centers which provide tracking of babies and program monitoring. The foundation of a global alliance on hearing as proposed by the WHO could support the implementation, standardization, and supervision of national screening programs. We agree with the concluding sentences of Wilson et al. [
7
]: "The burden of hearing loss is higher than ever and is growing largely unabated. However, the capacity to prevent and treat hearing loss is growing as well. Economies are improving…; costs for prevention can be stunningly low; an unprecedented potential exists for reducing the costs for treatments... Now is a highly propitious time to tackle the burden with full force. The opportunities have never been greater, and the need has never been greater."
Funding
This research received no external funding.
Conflicts of Interest
The authors declare no conflict of interest.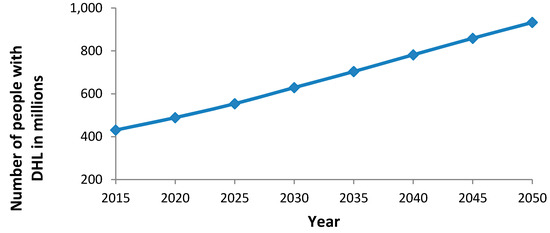 Figure 1.
Global increase (estimated and projected) of number of people with disabling hearing loss (modified according to [
1
]).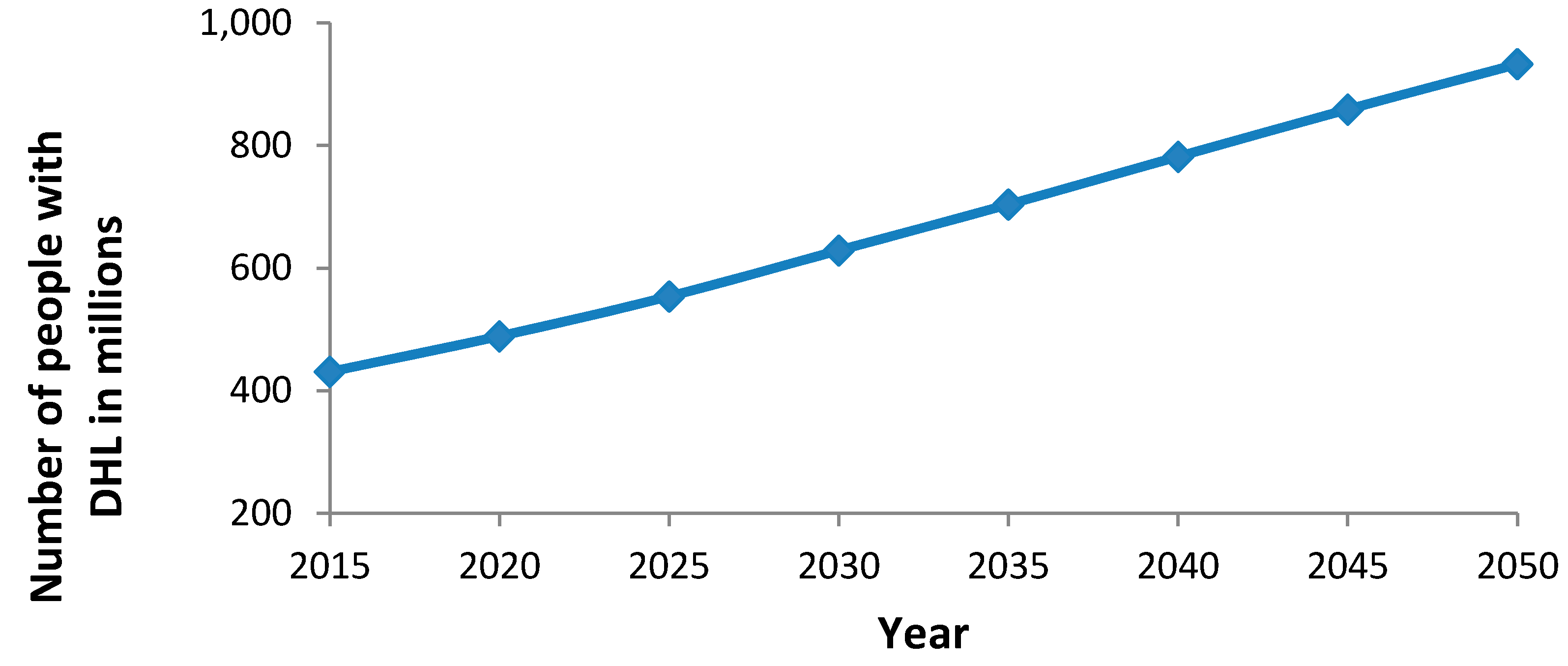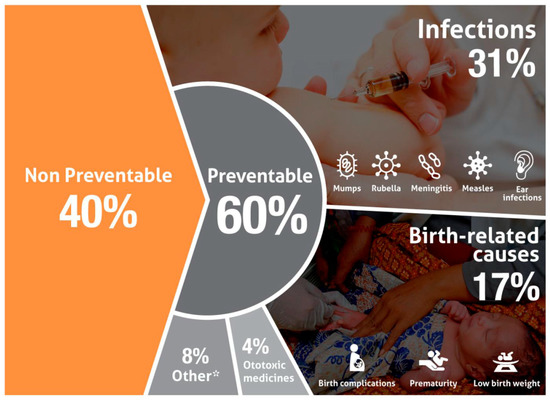 Figure 2.
Causes of preventable hearing loss. Other causes include congenital non-genetic malformations and other maternal prenatal causes (from: [
18
]).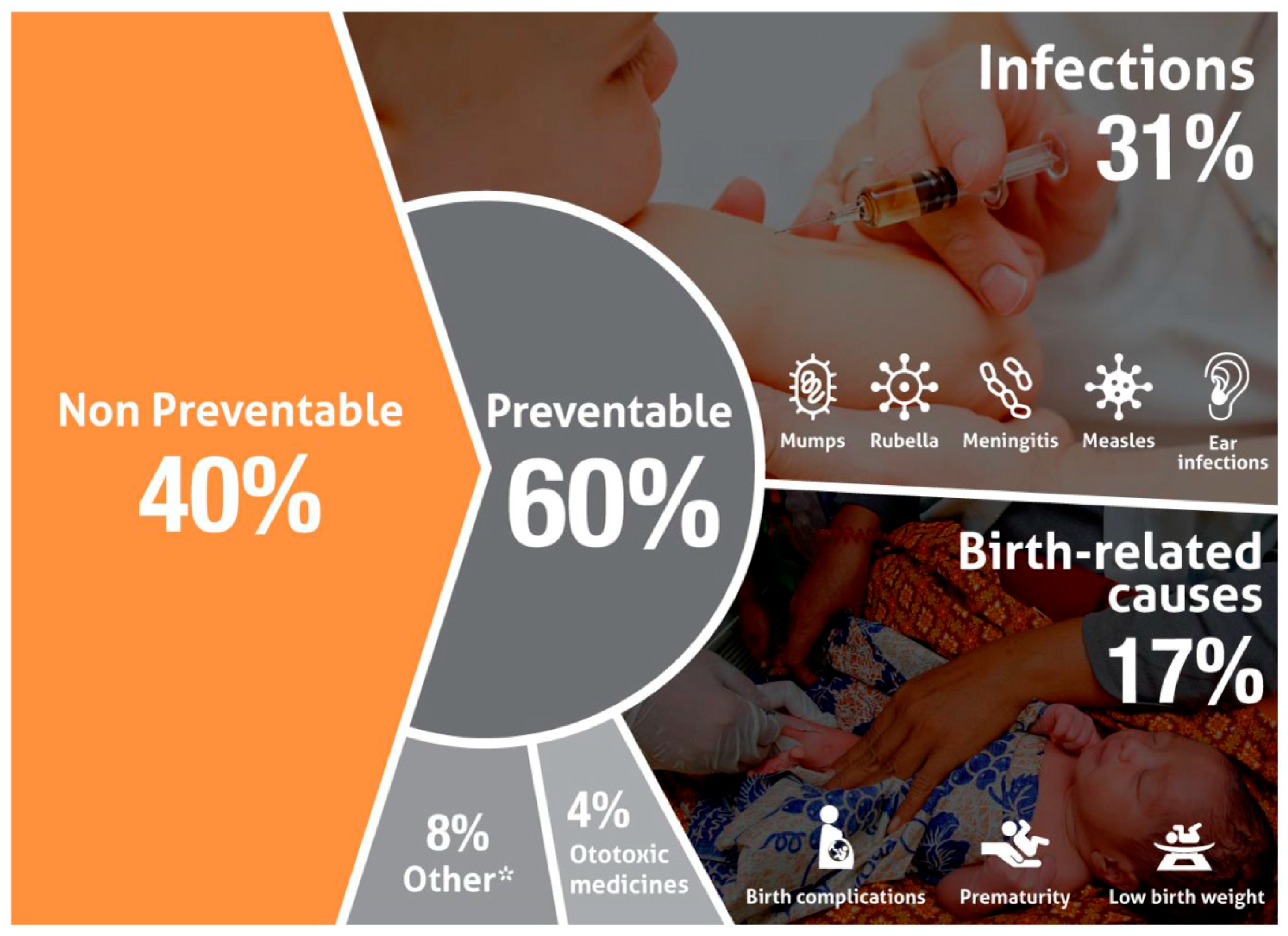 © 2019 by the authors. Licensee MDPI, Basel, Switzerland. This article is an open access article distributed under the terms and conditions of the Creative Commons Attribution (CC BY) license (http://creativecommons.org/licenses/by/4.0/).