Open Access This article is
freely available
re-usable
Article
Social Structure and Aristocratic Representation—Red Wax Seal Usage in Hungary in the 15th c
Institute of History, University of Debrecen, 4032 Debrecen, Hungary
*
Author to whom correspondence should be addressed.
Received: 17 September 2018 / Accepted: 18 October 2018 / Published: 22 October 2018
Abstract
:
One might perceive the Middle Ages as an era of certain rights and privileges. Social stratification or the conformation of a group's identity were all established around privileges in the Kingdom of Hungary. In the medieval period, as opposed to a modern state, the most important constructors of a group's identity were privileges. When members of a social group bear identical prerogatives, that group can be recognized as an order or estate. The ecclesiastic order existed side-by-side with the noble estate. In possession of political power were strictly those who were at the top of the strongly hierarchical system. However, in the Kingdom of Hungary, the significance of the ecclesiastical order was dwarfed by the importance of landed nobility. Some five percent of the population was of nobles, who also held political power. Until the end of the 15th century, the members of this stratum were equal in law. Only distinctions in financial situation can be noticed during the 14th and 15th centuries. The first law differentiating the rights within nobility was enacted by the national assembly, the diet of Wladislaus II (1490–1516), in 1498. Only from then on can we speak of gentry and aristocracy. This almost two-century-long process can be observed by examining a representational tool, the usage of red wax in seals. Upon studying medieval Hungarian history, we must use all sources available due to their rapid destruction, hence examining seal usage to explain aristocratic representation. In this paper, we briefly summarize the social structure of medieval Hungary and its traditions in seal usage, and present several unique seals. Our goal is to highlight some connections that historiography would benefit from, to provide new data, and to arouse the interest of a broad spectrum of audiences in Hungarian social history.
Keywords:
Kingdom of Hungary; social structure; nobility; red wax; aristocracy
Author Contributions
Conceptualization, Á.N. and B.A.B.; Resources, Á.N.; Writing-Original Draft Preparation, Á.N.; Writing-Review & Editing, B.A.B.
Funding
This article is supported by the Hungarian Academy of Sciences—University of Debrecen 'Lendület' Research Group "Hungary in Medieval Europe".
Acknowledgments
The authors wish to thank the staff of certain archives, who helped a lot in research and kindly provided photos.
Conflicts of Interest
The authors declare no conflict of interest.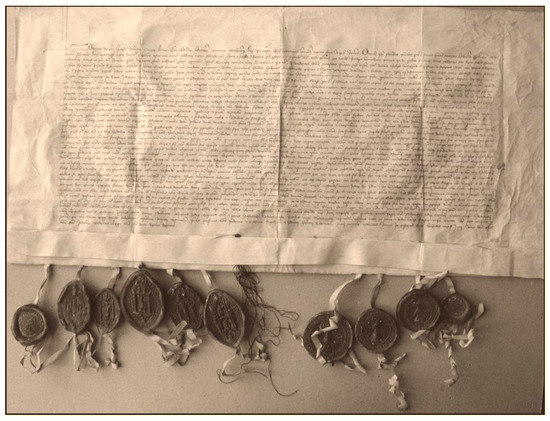 Figure 1.
The diploma issued by Louis the Great (1342–1382) and certain chief dignitaries, strengthening the king's authority over Raguza/Dubrovnik and, together with the envoys of the city, determining the city's obligations and privileges. The king gained authority over Raguza, according to the 18 February 1358 Treaty of Zadar. Visegrád, 27 May 1358. Državni arhiv Dubrovnik, 7. 3. Diplomata et acta 14. st., pp. 34. (
Lővei and Takács 2014, p. 132
).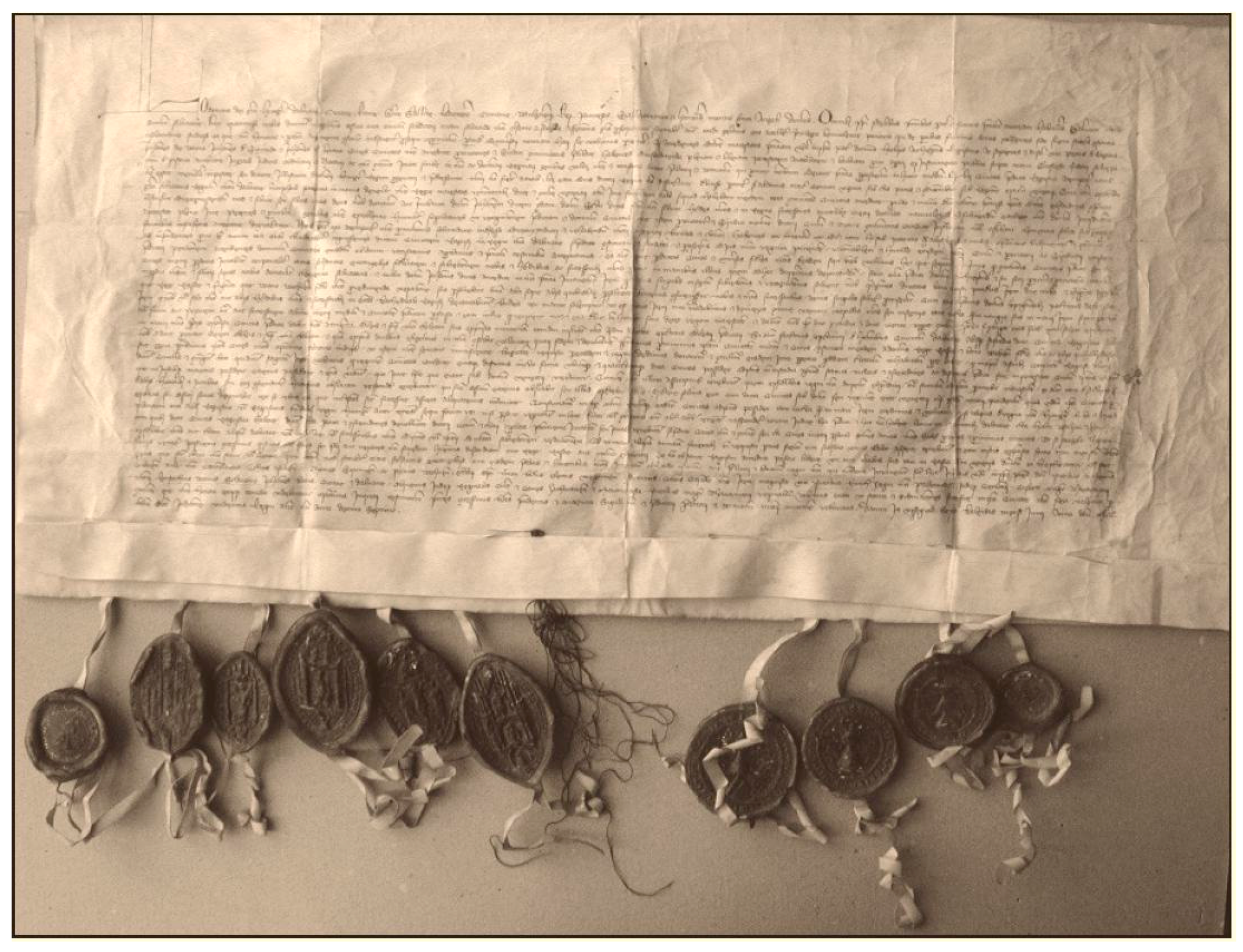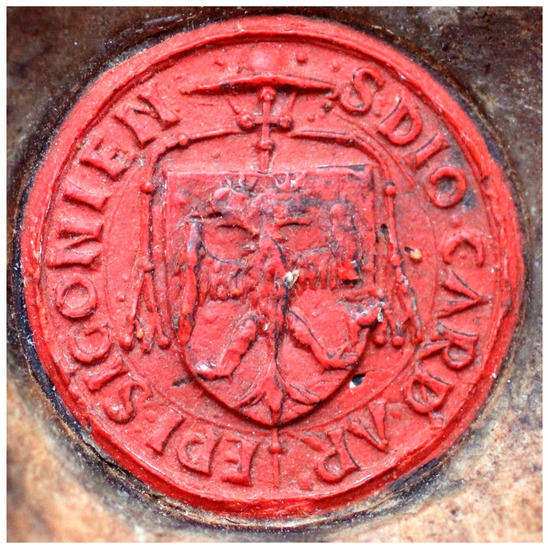 Figure 2.
The seal of Cardinal Denis Szécsi, Archbishop of Esztergom, 1447. Haus-, Hof- und Staatsarchiv, Wien, Allgemeine Urkundenreihe 1447. VIII. 1. (
Memoria Hungariae 2015, 21097.
).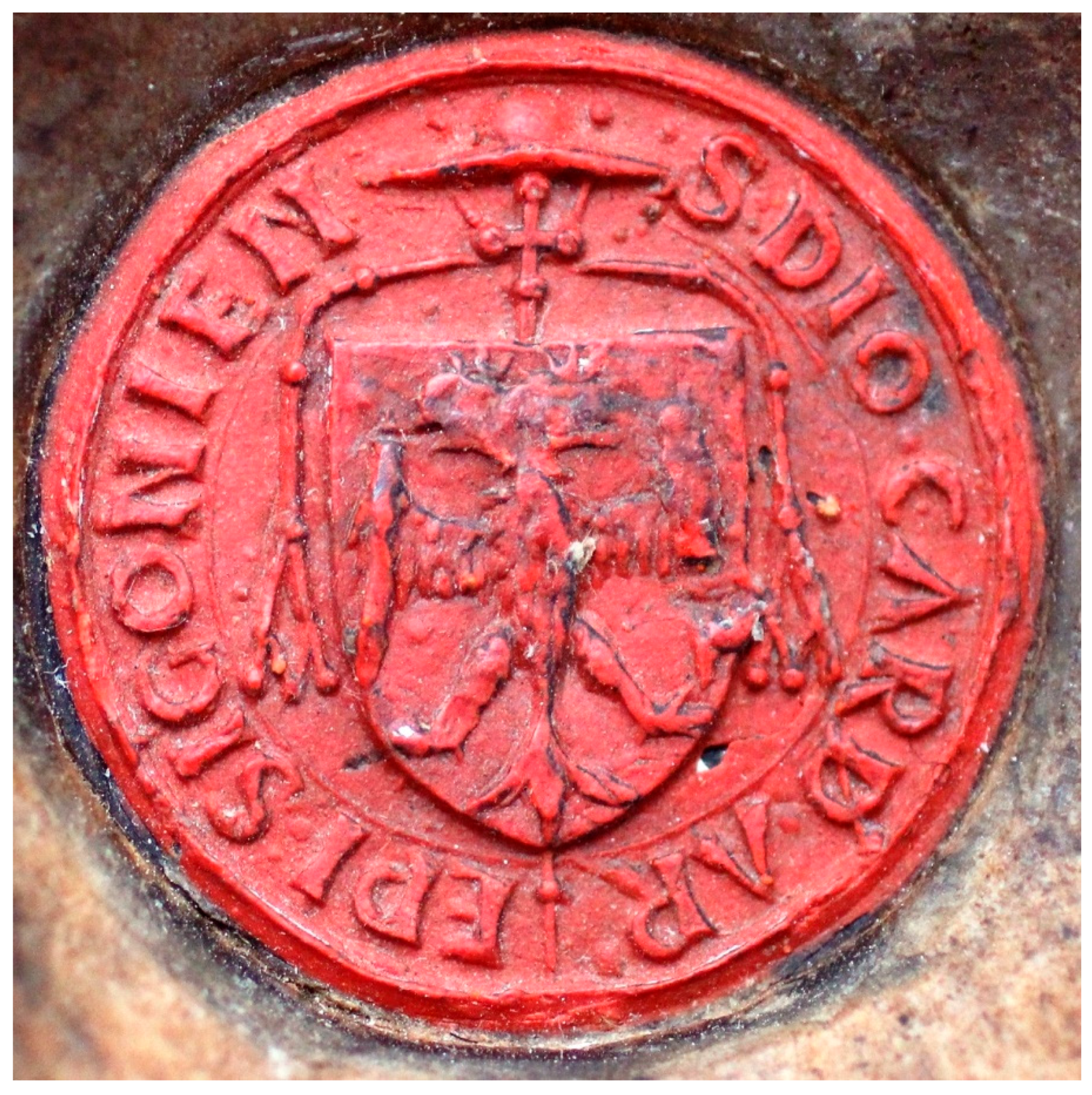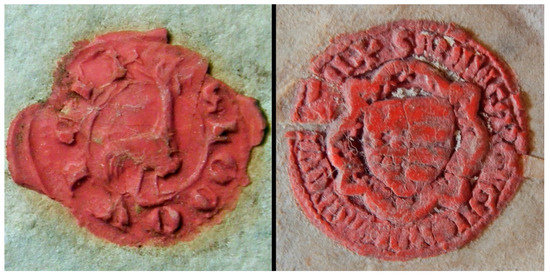 Figure 3. Signet ring seal of Louis the Great from 1360 (left side). Archiv mesta Košice, Archivum Secretum, "T" Jesznei, Nr. 26. The secret seal of Queen Mary of Hungary from 1387 (right side). Štátny archív v Prešove, Archive of the Drugeth family of Homonna, Nr. 14.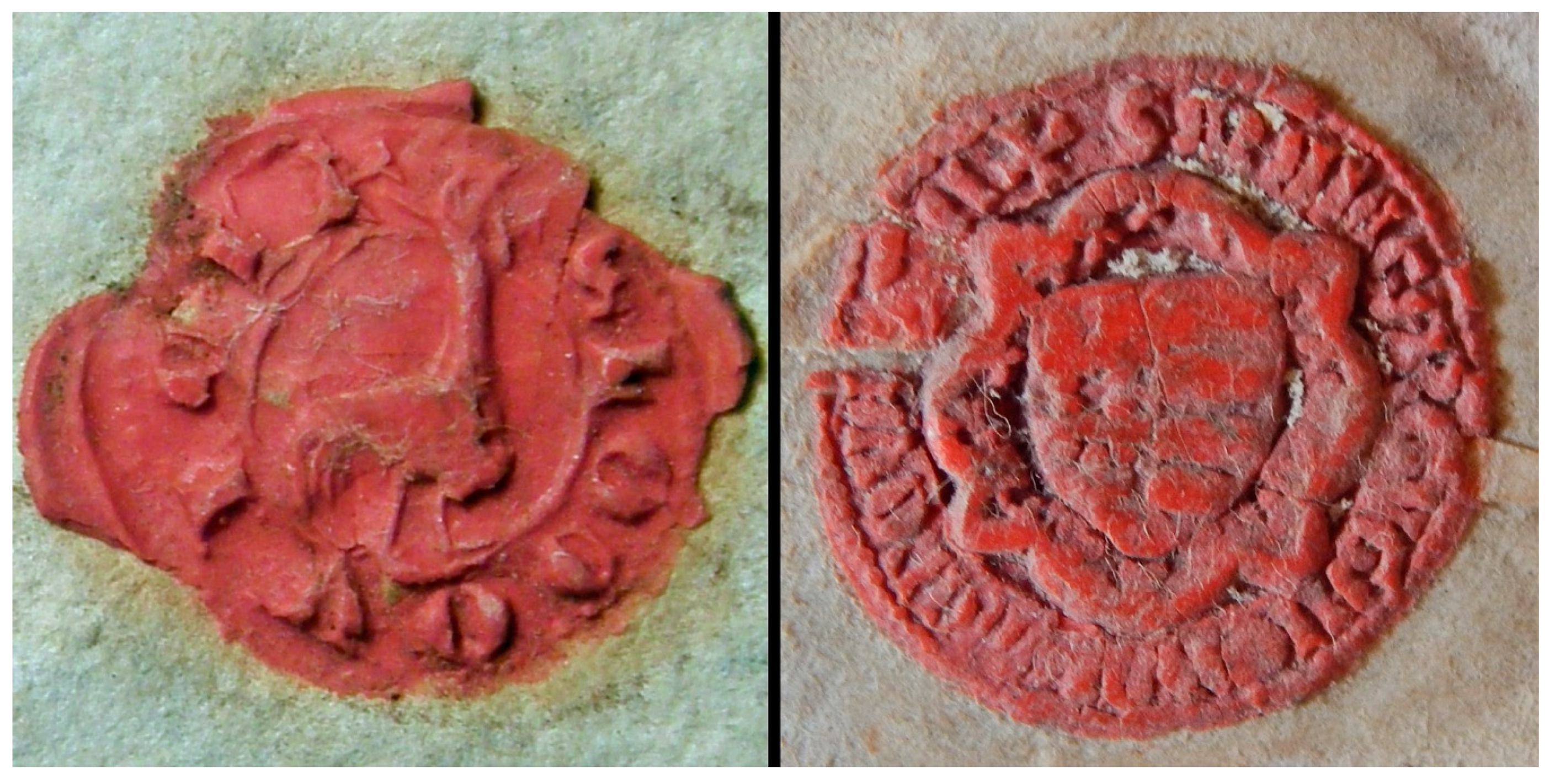 Figure 4. The seal of the national council from 1446 (left side). Archiv mesta Košice, Archivum Secretum "B" Privilegium, Nr. 32. The seal of Đurađ Branković, Serbian despot from 1439 (right side) MNL OL DL 2009, 39 290.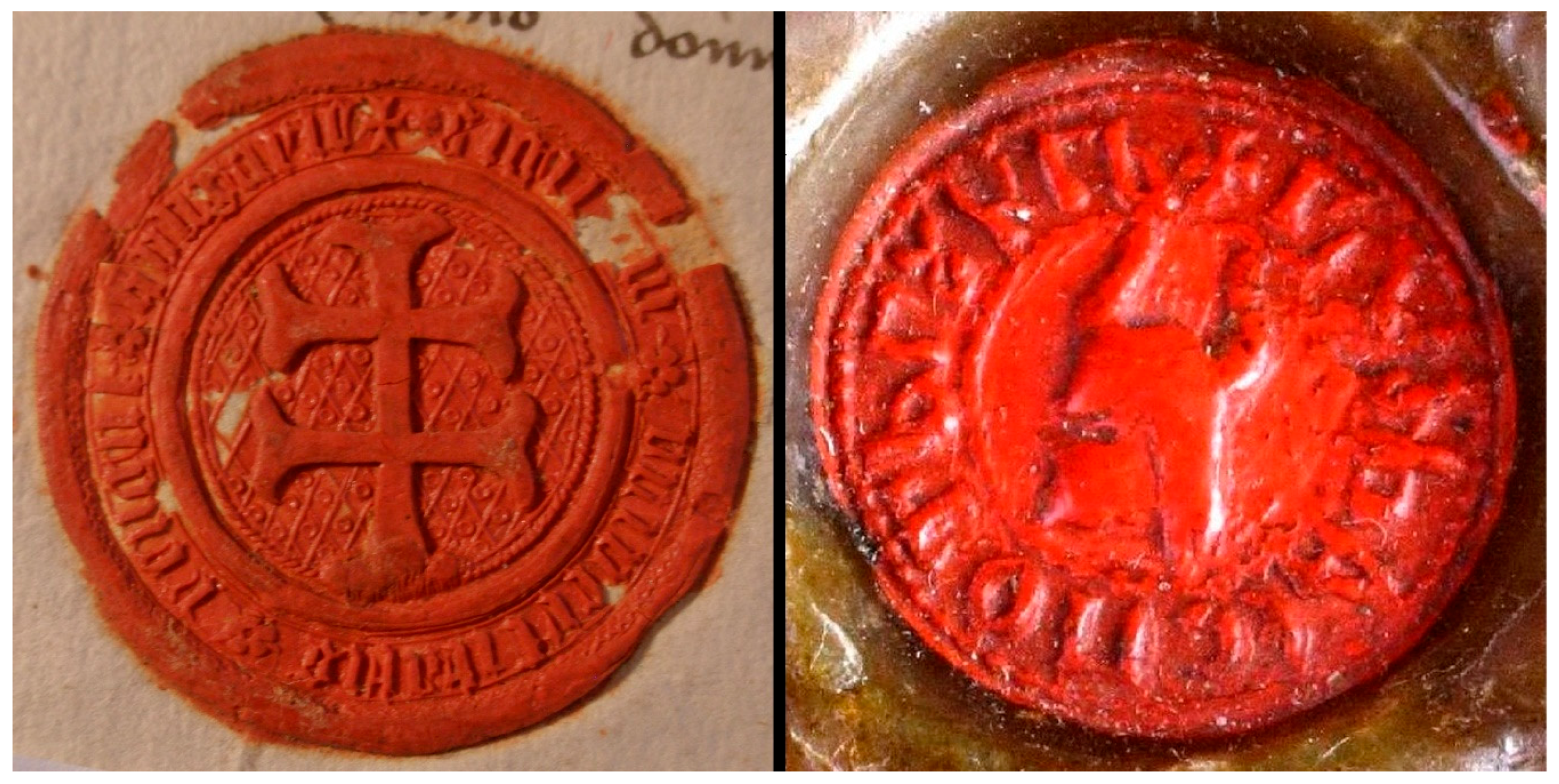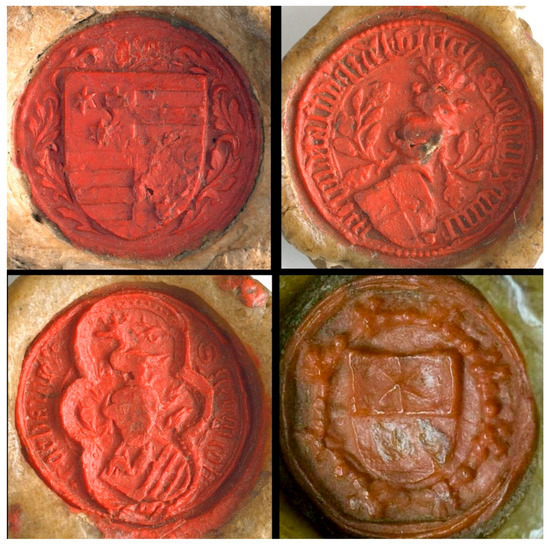 Figure 5.
Seals of Ulrich, count of Cillei/Cilli/Celje (
top-left corner
), John Kórógyi, count of Castell (
top-right corner
), and Gregory Korbáviai, count of Korbávia (Krbava,
bottom-left corner
) from 1440. Archiwum Główne Akt Dawnych Zbior Doc. Perg. Nr. 5574. (
Memoria Hungariae 2015, 11342., 11344., 11345.
). The seal of Stephen Frangepán/Frankopan, count of Veglia/Krk, Zengg/Senj and Modrus/Modruš (
bottom-right corner
) from 1451 (
MNL OL DL 2009, 33 986.
).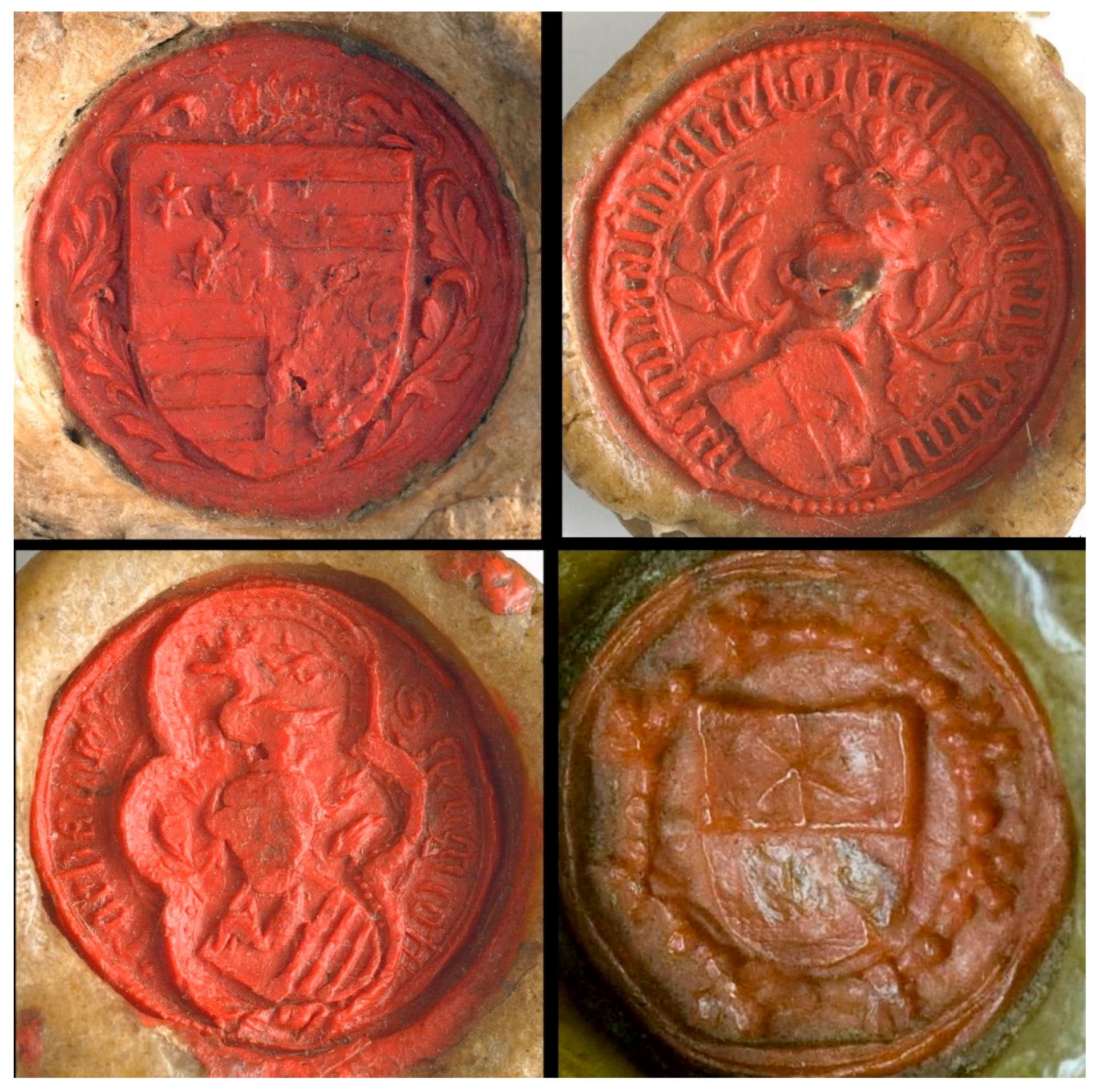 Figure 6. The seal of Matkó/Matthias Tallóci/Talovac, count of Cetina from 1442 (left side). Haus-, Hof- und Staatsarchiv, Allgemeine Urkundenreihe 1442. VIII. 16. The seals of John Hunyadi and his elder son, Ladislaus count of Beszterce/Bistritz/Bistrița from 1456 (middle and right side). Archiv Republike Slovenije SI AS Nr. 4567.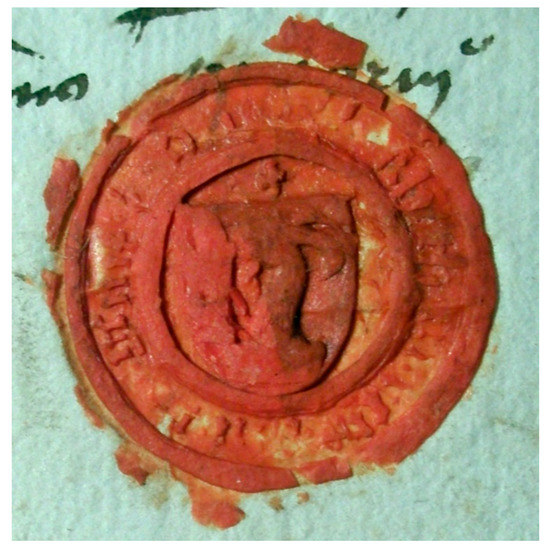 Figure 7. The seal of Queen Mother Elizabeth Szilágyi, from 1462. Archiv mesta Košice, Archivum Secretum, "F" Tellonium Nr. 63.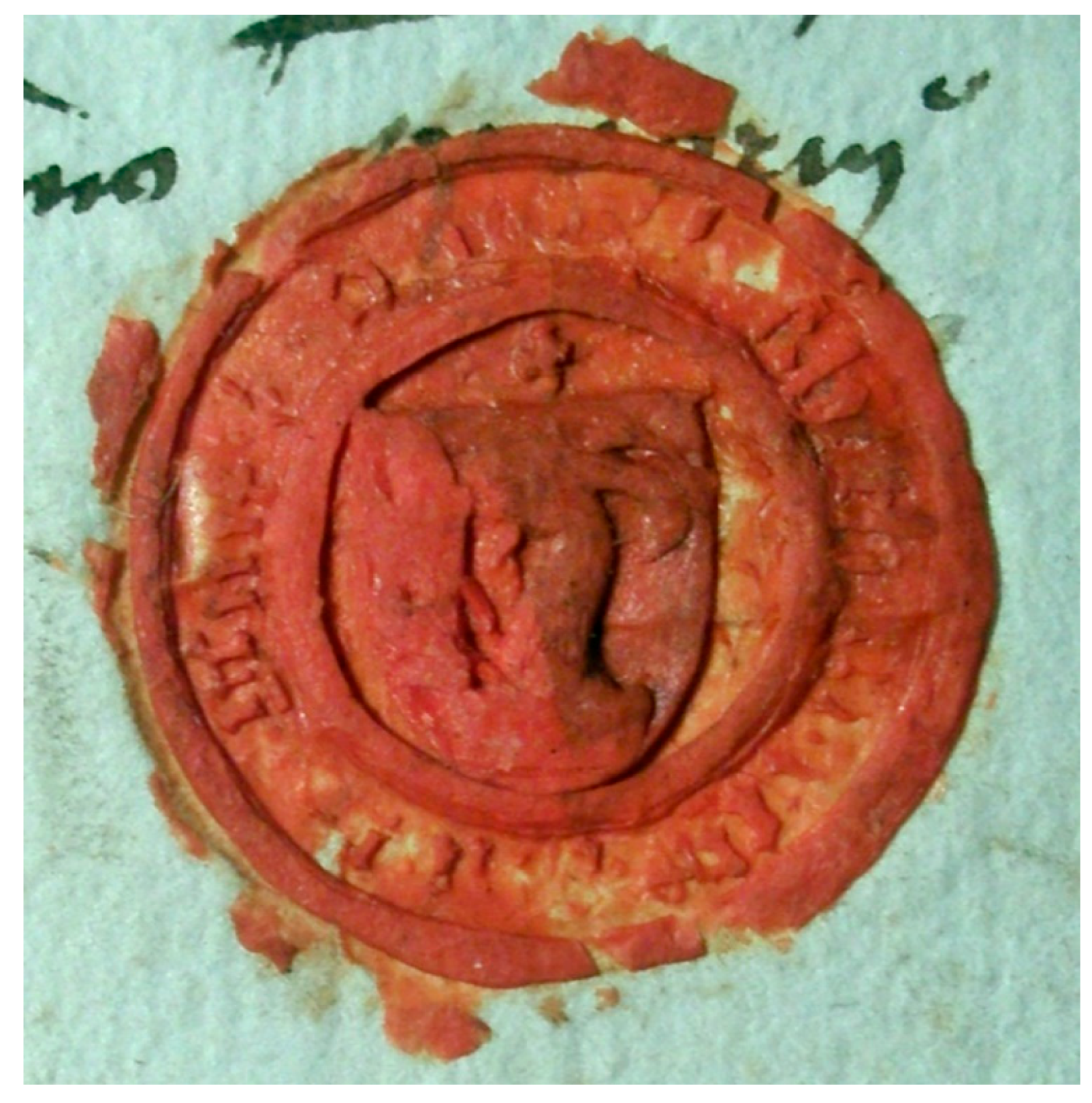 Figure 8. Seals from the letter of the dignitaries dispatched to the city of Kassa/Kaschau/Košice after the death of King Matthias in 1490. Archiv mesta Košice, Archivum Secretum, "F" Tellonium Nr. 102.


© 2018 by the authors. Licensee MDPI, Basel, Switzerland. This article is an open access article distributed under the terms and conditions of the Creative Commons Attribution (CC BY) license (http://creativecommons.org/licenses/by/4.0/).