Modelling the Effect of Zero-Field Splitting on the 1H, 13C and 29Si Chemical Shifts of Lanthanide and Actinide Compounds
School of Chemistry, The University of Manchester, Manchester M13 9PL, UK
*
Author to whom correspondence should be addressed.
Received: 30 September 2018 / Revised: 17 December 2018 / Accepted: 20 December 2018 / Published: 11 January 2019
Abstract
The prediction of paramagnetic NMR (pNMR) chemical shifts in molecules containing heavy atoms presents a significant challenge to computational quantum chemistry. The importance of meeting this challenge lies in the central role that NMR plays in the structural characterisation of chemical systems. Hence there is a need for reliable assignment and prediction of chemical shifts. In a previous study [
Trends in Physical Chemistry
, 17, 25–57, (2017)] we looked at the computation of pNMR chemical shifts in lanthanide and actinide complexes using a spin Hamiltonian approach. In that study we were principally concerned with molecules with
S
= 1/2 ground states. In the present work we extend that study by looking at the effect of zero field splitting (ZFS) for six complexes with
S
= 3/2 ground states. It is shown that the inclusion of ZFS can produce substantial shifts in the predicted chemical shifts. The computations presented are typically sufficient to enable assignment of experimental spectra. However for one case, in which the peaks are closely clustered, the inclusion of ZFS re-orders the chemical shifts making assignment quite difficult. We also observe, and echo, the previously reported importance of including the paramagnetic spin-orbit hyperfine interaction for
C and
Si atoms, when these are directly bound to a heavy element and thus subject to heavy-atom-light-atom effects. The necessary computations are very demanding, and more work is needed to find theoretical and computational approaches that simplify the evaluation of this term. We discuss the computation of each term required in the spin Hamiltonian. The systems we study in this work are restricted to a single heavy atom ion (one Nd(III) and five U(III) complexes), but typify some of the computational complexity encountered in lanthanide and actinide containing molecules.
View Full-Text
►

▼

Figures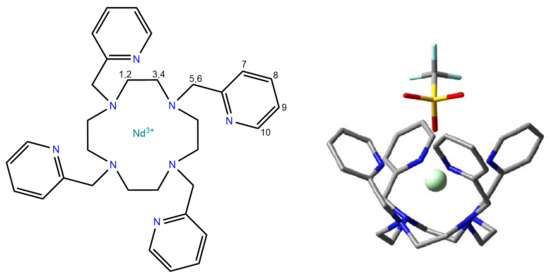 Figure 1
This is an open access article distributed under the
Creative Commons Attribution License
which permits unrestricted use, distribution, and reproduction in any medium, provided the original work is properly cited (CC BY 4.0).

Share & Cite This Article
MDPI and ACS Style
Lloyd, A.W.; Moylan, H.M.; McDouall, J.J.W. Modelling the Effect of Zero-Field Splitting on the 1H, 13C and 29Si Chemical Shifts of Lanthanide and Actinide Compounds. Magnetochemistry 2019, 5, 3.
Note that from the first issue of 2016, MDPI journals use article numbers instead of page numbers. See further details here.
Related Articles
Comments
[Return to top]