rDEER: A Modified DEER Sequence for Distance Measurements Using Shaped Pulses
Department of Chemical and Biological Physics, Weizmann Institute of Science, 76100 Rehovot, Israel
*
Authors to whom correspondence should be addressed.
Received: 30 December 2018 / Revised: 15 February 2019 / Accepted: 22 February 2019 / Published: 8 March 2019
Abstract
The DEER (double electron-electron resonance, also called PELDOR) experiment, which probes the dipolar interaction between two spins and thus reveals distance information, is an important tool for structural studies. In recent years, shaped pump pulses have become a valuable addition to the DEER experiment. Shaped pulses offer an increased excitation bandwidth and the possibility to precisely adjust pulse parameters, which is beneficial especially for demanding biological samples. We have noticed that on our home built W-band spectrometer, the dead-time free 4-pulse DEER sequence with chirped pump pulses suffers from distortions at the end of the DEER trace. Although minor, these are crucial for Gd(III)-Gd(III) DEER where the modulation depth is on the order of a few percent. Here we present a modified DEER sequence—referred to as reversed DEER (rDEER)—that circumvents the coherence pathway which gives rise to the distortion. We compare the rDEER (with two chirped pump pulses) performance values to regular 4-pulse DEER with one monochromatic as well as two chirped pulses and investigate the source of the distortion. We demonstrate the applicability and effectivity of rDEER on three systems, ubiquitin labeled with Gd(III)-DOTA-maleimide (DOTA, 1,4,7,10-Tetraazacyclododecane-1,4,7,10-tetraacetic acid) or with Gd(III)-DO3A (DO3A, 1,4,7,10-Tetraazacyclododecane-1,4,7-triyl) triacetic acid) and the multidrug transporter MdfA, labeled with a Gd(III)-C2 tag, and report an increase in the signal-to-noise ratio in the range of 3 to 7 when comparing the rDEER with two chirped pump pulses to standard 4-pulse DEER.
View Full-Text
►

▼

Figures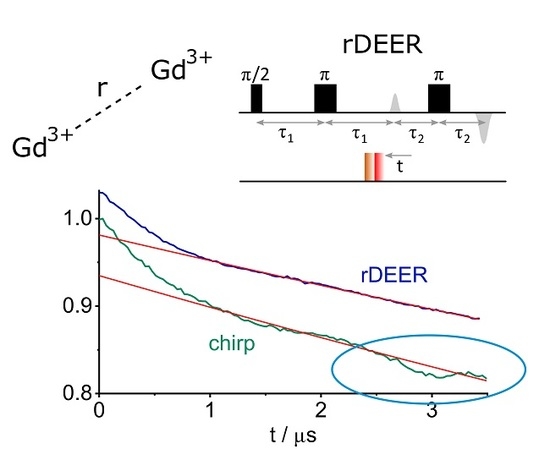 Graphical abstract
This is an open access article distributed under the
Creative Commons Attribution License
which permits unrestricted use, distribution, and reproduction in any medium, provided the original work is properly cited (CC BY 4.0).

Share & Cite This Article
MDPI and ACS Style
Bahrenberg, T.; Yang, Y.; Goldfarb, D.; Feintuch, A. rDEER: A Modified DEER Sequence for Distance Measurements Using Shaped Pulses. Magnetochemistry 2019, 5, 20.
Note that from the first issue of 2016, MDPI journals use article numbers instead of page numbers. See further details here.
Related Articles
Comments
[Return to top]