Spin Cross-Over (SCO) Complex Based on Unsymmetrical Functionalized Triazacyclononane Ligand: Structural Characterization and Magnetic Properties
1
University of Western Brittany, CNRS, CEMCA, 6 Avenue Le Gorgeu, C.S. 93837-29238 Brest Cedex 3, France
2
Faculté des Sciences, Université Mouloud Mammeri de Tizi-Ouzou (UMTO), 15000 Tizi Ouzou, Algeria
3
Instituto de Ciencia Molecular (ICMol), Departamento de Química Inorgánica, Universidad de Valencia, C/Catedrático José Beltrán 2, 46980 Paterna, Spain
*
Author to whom correspondence should be addressed.
Received: 21 December 2018 / Revised: 23 February 2019 / Accepted: 25 February 2019 / Published: 7 March 2019
Abstract
The unsymmetrical ligand 1-(2-aminophenyl)-4,7-bis(pyridin-2-ylmethyl)-1,4,7-triazacyclononane (L6) has been prepared and characterized by NMR spectroscopy. The L6 ligand is based on the triazamacrocycle (tacn) ring that is functionalized by two flexible 2-pyridylmethyl and one rigid 2-aminophenyl groups. Reaction of this ligand with Fe(ClO
4
)
2
·xH
2
O led to the complex [Fe(L6)](ClO
4
)
2
(
1
), which was characterized as the first Fe(II) complex based on the unsymmetrical
N
-functionalized tacn ligand. The crystal structure revealed a discrete monomeric [FeL6]
2+
entity in which the unsymmetrical N-functionalized triazacyclononane molecule (L6) acts as hexadentate ligand. As observed in the few parent examples that are based on the symmetrical
N
-functionalized tacn ligands, the triazacyclononane ring is facially coordinated and the N-donor atoms of the three functional groups (two pyridine and one aniline groups) are disposed in the same side of the tacn ring, leading to a distorted FeN
6
environment. The magnetic studies of
1
revealed the presence of an incomplete spin crossover (SCO) transition above 425 K, whose progress would be prevented by a very exothermic thermal decomposition at
ca
. 472 K, as shown by thermogravimetric and DSC measurements.
View Full-Text
►

▼

Figures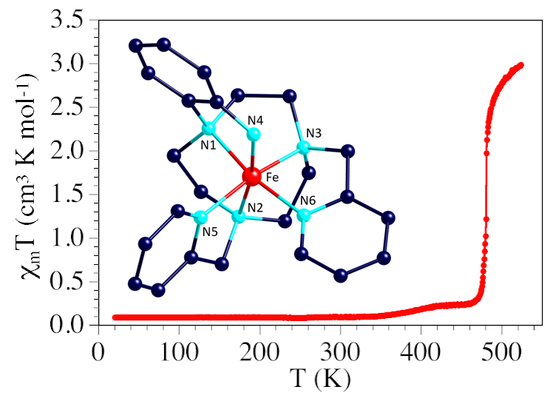 Graphical abstract
This is an open access article distributed under the
Creative Commons Attribution License
which permits unrestricted use, distribution, and reproduction in any medium, provided the original work is properly cited (CC BY 4.0).

Share & Cite This Article
MDPI and ACS Style
Halit, M.; Roger, M.; Patinec, V.; Yefsah, S.; Gómez-García, C.J.; Triki, S. Spin Cross-Over (SCO) Complex Based on Unsymmetrical Functionalized Triazacyclononane Ligand: Structural Characterization and Magnetic Properties. Magnetochemistry 2019, 5, 19.
Note that from the first issue of 2016, MDPI journals use article numbers instead of page numbers. See further details here.
Related Articles
Comments
[Return to top]