DFT Protocol for EPR Prediction of Paramagnetic Cu(II) Complexes and Application to Protein Binding Sites
1
Departament de Química, Universitat Autònoma de Barcelona, 08193 Cerdanyola del Vallés, Barcelona, Spain
2
Dipartimento di Chimica e Farmacia, Università di Sassari, Via Vienna 2, I-07100 Sassari, Italy
*
Author to whom correspondence should be addressed.
Received: 26 October 2018 / Revised: 20 November 2018 / Accepted: 21 November 2018 / Published: 3 December 2018
Abstract
With the aim to provide a general protocol to interpret electron paramagnetic resonance (EPR) spectra of paramagnetic copper(II) coordination compounds, density functional theory (DFT) calculations of spin Hamiltonian parameters
g
and
A
for fourteen Cu(II) complexes with different charges, donor sets, and geometry were carried out using ORCA software. The performance of eleven functionals was tested, and on the basis of the mean absolute percent deviation (MAPD) and standard deviation (SD), the ranking of the functionals for
Az
is: B3LYP > B3PW91 ~ B3P86 > PBE0 > CAM-B3LYP > TPSSh > BH and HLYP > B2PLYP > MPW1PW91 > ω-B97x-D >> M06; and for
gz
is: PBE0 > BH and HLYP > B2PLYP > ω-B97x-D > B3PW91~B3LYP~B3P86 > CAM-B3LYP > TPSSh~MPW1PW91 >> M06. With B3LYP the MAPD with respect to
is 8.6% with a SD of 4.2%, while with PBE0 the MAPD with respect to
is 2.9% with a SD of 1.1%. The results of the validation confirm the fundamental role of the second order spin-orbit contribution to
Az
. The computational procedure was applied to predict the values of
gz
and
Az
of the adducts formed by Cu(II) with albumin and two fragments of prion protein, 106–126 and 180–193.
View Full-Text
►

▼

Figures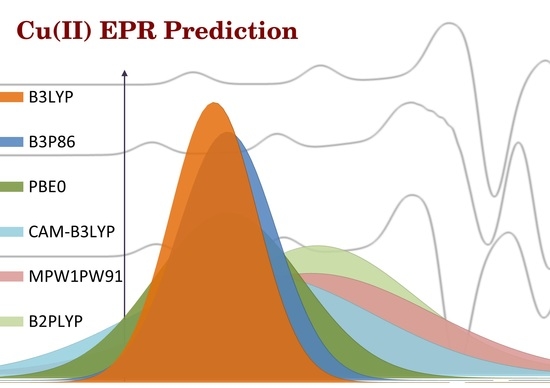 Graphical abstract
This is an open access article distributed under the
Creative Commons Attribution License
which permits unrestricted use, distribution, and reproduction in any medium, provided the original work is properly cited (CC BY 4.0).

Share & Cite This Article
MDPI and ACS Style
Sciortino, G.; Lubinu, G.; Maréchal, J.-D.; Garribba, E. DFT Protocol for EPR Prediction of Paramagnetic Cu(II) Complexes and Application to Protein Binding Sites. Magnetochemistry 2018, 4, 55.
Note that from the first issue of 2016, MDPI journals use article numbers instead of page numbers. See further details here.
Related Articles
Comments
[Return to top]