Open Access This article is
freely available
re-usable
Case Report
MicroRNAs as Appropriate Discriminators in Non-Specific Alpha-Fetoprotein (AFP) Elevation in Testicular Germ Cell Tumor Patients
1
Division of Oncology, Medical University of Graz, 8036 Graz, Austria
2
Department of Urology, Medical University of Graz, 8036 Graz, Austria
3
Division of Oncology and Research Unit for Non-Coding RNA and Genome Editing, Medical University of Graz, 8036 Graz, Austria
*
Author to whom correspondence should be addressed.
Received: 23 October 2019 / Accepted: 28 December 2019 / Published: 1 January 2020
Abstract
:
Testicular germ cell tumors (TGCTs) are the most commonly diagnosed malignancies in younger men. The monitoring of disease course and recurrence is supported by traditional tumor markers, including α-fetoprotein (AFP). AFP is physiologically synthesized in the liver and can be detected at increased levels in testicular cancer patients as well as under other benign liver diseases, which have been reported as a misleading cause of interpretation of TGCTs clinical course. A cluster of stem cell-associated microRNAs has been reported to outperform traditional tumor markers in newly diagnosed TGCTs, but the value of these microRNAs to differentiate between specific and unspecific AFP elevations, has never been reported. We report here a patient with chronic hepatitis B and normal liver related blood values presenting with a surgically removed primary TGCT and elevated AFP levels. Clinical staging revealed a suspect retroperitoneal metastatic lymph node together with other risk factors and first line treatment with PEB chemotherapy was administered. During curative treatment significantly rising AFP levels led to the assumption of chemo-resistant disease, mandating the initiation of salvage chemotherapy and surgical removal of the putative lymph node metastases. The AFP levels continuously decreased with the interruption of chemotherapeutic agents, indicating a chemotherapy-induced liver toxicity on the basis of pre-existing liver disease. MiR-371a-3p serum levels were not detectable in serum samples with elevated AFP levels. In conclusion, miR-371a-3p may be a reliable biomarker to differentiate between non-specific AFP elevations in TGCTs patients.
Keywords:
testicular germ cell tumor; AFP; microRNA
Author Contributions
Conceptualization: M.P., G.H., and T.B.; Methodology: A.T. and A.L.L., Validation: A.T. and A.L.L.; Writing—Original Draft preparation, A.L.L. and P.P.; Writing—Review and Editing: A.L.L., P.P., G.H., D.A.B., A.T., T.B., and M.P.; Visualization: P.P.; Supervision, M.P. and T.B.; Project administration: M.P. All authors have read and agreed to the published version of the manuscript.
Funding
This research received no external funding.
Conflicts of Interest
The authors declare no conflict of interest.
Abbreviations
| | |
| --- | --- |
| TGCT | Testicular germ cell tumors |
| IGCCCG | International Germ Cell Cancer Consensus Group |
| AFP | Alpha-fetoprotein |
| TGCT | Testicular germ cell tumors |
| LDH | Lactate dehydrogenase |
| PEB | Cisplatin, etoposide, and bleomycine |
| PCT | Polychemotherapy |
| TIP | Paclitaxel, ifosfamide, and cisplatin |
| HBs | Hepatitis B surface |
| CASH | Chemotherapy-associated steatohepatitis |

Figure 1. Overview of the treatment timeline including biopsies, clinical re-evaluation and follow up. (PCT = polychemotherapy; PEB = cisplatin, etoposide, and bleomycin; TIP = paclitaxel, ifosfamide and cisplatin).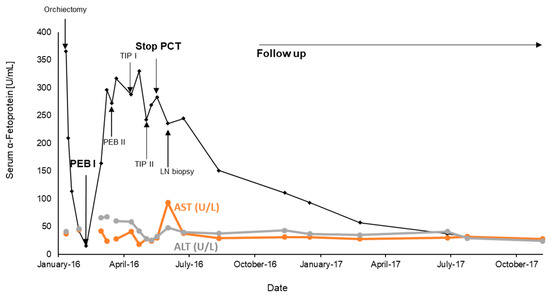 Figure 2. Serum levels of α-Fetoprotein and liver enzymes (AST and ALT) during treatment and further development after finishing of chemotherapy including follow-up (PCT = polychemotherapy; PEB = cisplatin, etoposide, bleomycin; TIP = paclitaxel, ifosfamide, cisplatin; LN = lymph node).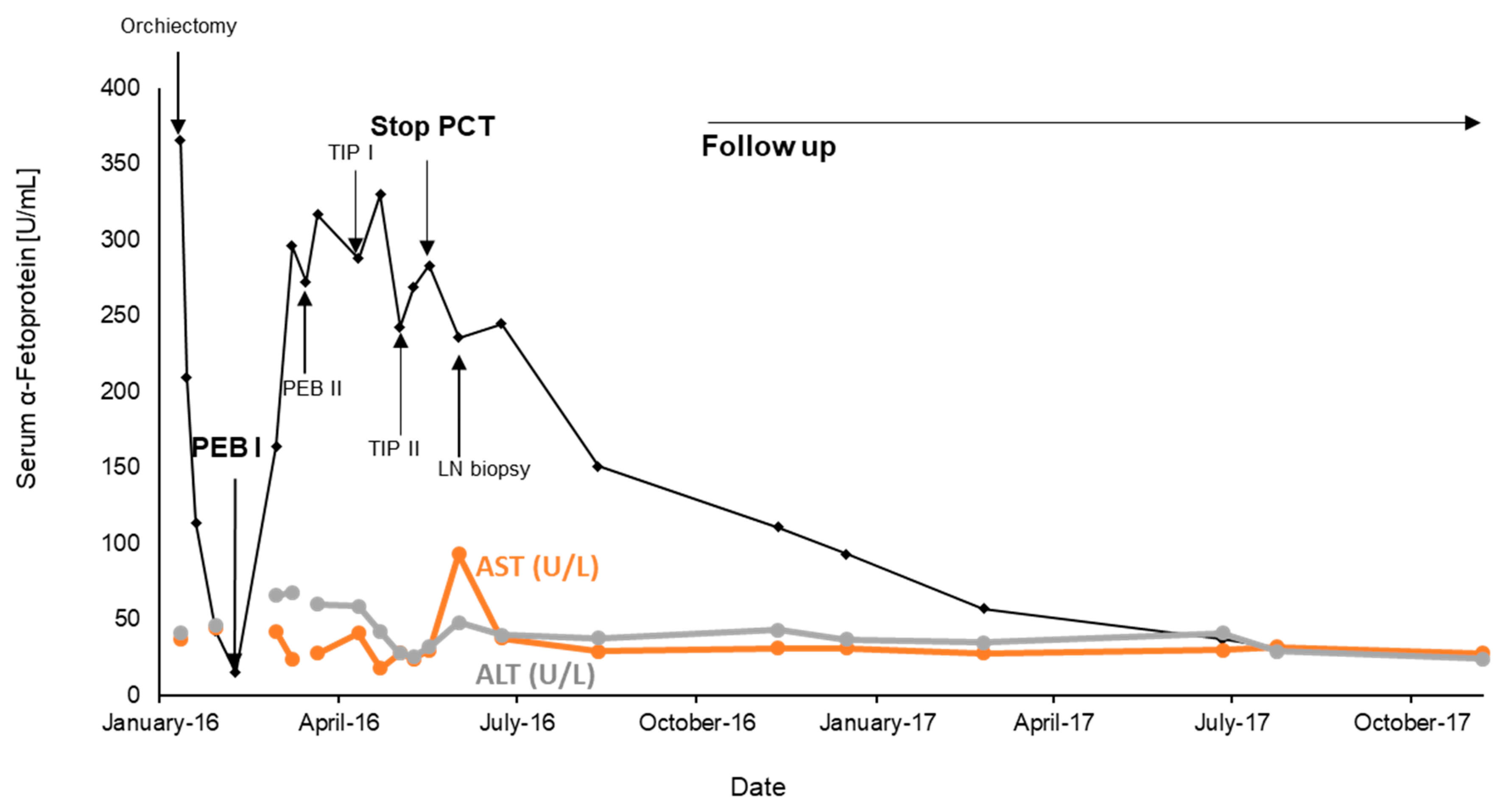 © 2020 by the authors. Licensee MDPI, Basel, Switzerland. This article is an open access article distributed under the terms and conditions of the Creative Commons Attribution (CC BY) license (http://creativecommons.org/licenses/by/4.0/).