Multifunctional miR-155 Pathway in Avian Oncogenic Virus-Induced Neoplastic Diseases
1
Avian Oncogenic Viruses, The Pirbright Institute and the UK-China Centre of Excellence for Research on Avian Diseases, Pirbright, Ash Road, Guildford, Surrey GU24 0NF, UK
2
Department of Zoology, University of Oxford, 11a Mansfield Road, Oxford OX1 3SZ, United Kingdom.
*
Author to whom correspondence should be addressed.
Received: 14 December 2018 / Revised: 2 March 2019 / Accepted: 8 March 2019 / Published: 13 March 2019
Abstract
MicroRNAs (miRNAs) are small noncoding RNAs that fine-tune the responses of the cell by modulating the cell transcriptome and gene expression. MicroRNA 155 (miR-155) is a conserved multifunctional miRNA involved in multiple roles including the modulation of the immune responses. When deregulated, miR-155 can also contribute to cancer as has been demonstrated in several human malignancies such as diffuse large B cell lymphoma, chronic lymphocytic leukemia, as well as in Epstein–Barr virus (EBV)-induced B cell transformation. Avian oncogenic viruses such as Marek's disease virus (MDV), avian leukosis virus (ALV), and reticuloendotheliosis virus (REV) that account for more than 90% of cancers in avian species, also make use of the miR-155 pathway during oncogenesis. While oncogenic retroviruses, such as ALV, activate miR-155 by insertional activation, acutely transforming retroviruses use transduced oncogenes such as v-
rel
to upregulate miR-155 expression. MDV on the other hand, encodes a functional miR-155 ortholog mdv1-miR-M4, similar to the miR-155 ortholog kshv-miR-K11 present in Kaposi's sarcoma-associated herpesvirus (KSHV). We have shown that mdv1-miR-M4 is critical for the induction of MDV-induced lymphomas further demonstrating the oncogenic potential of miR-155 pathway in cancers irrespective of the diverse etiology. In this review, we discuss on our current understanding of miR-155 function in virus-induced lymphomas focusing primarily on avian oncogenic viruses.
View Full-Text
►

▼

Figures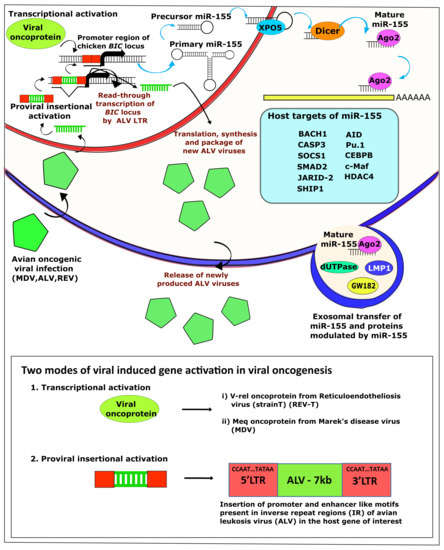 Figure 1
This is an open access article distributed under the
Creative Commons Attribution License
which permits unrestricted use, distribution, and reproduction in any medium, provided the original work is properly cited (CC BY 4.0).

Share & Cite This Article
MDPI and ACS Style
Bondada, M.S.; Yao, Y.; Nair, V. Multifunctional miR-155 Pathway in Avian Oncogenic Virus-Induced Neoplastic Diseases. Non-Coding RNA 2019, 5, 24.
Note that from the first issue of 2016, MDPI journals use article numbers instead of page numbers. See further details here.
Related Articles
Comments
[Return to top]