Evolutionary Implications of the microRNA- and piRNA Complement of
Lepidodermella squamata

(Gastrotricha)

1

Science for Life Laboratory, Department of Molecular Biosciences, The Wenner-Gren Institute, Stockholm University, S-10691 Stockholm, Sweden

2

Functional Genomics Unit, Institut Pasteur de Montevideo, Montevideo 11400, Uruguay

3

Nuclear Research Center, Faculty of Science, Universidad de la República, Montevideo 11400, Uruguay

4

Departamento de Bioquímica y Biología Molecular, Facultad de Ciencias Biológicas, Universidad de Concepción, Casilla 160_C, Concepción 3349001, Chile

5

Sars International Centre for Marine Molecular Biology, University of Bergen, 5006 Bergen, Norway

6

Research group Frontiers in Evolutionary Zoology, Natural History Museum, University of Oslo, 0318 Oslo, Norway

*

Author to whom correspondence should be addressed.

Received: 21 December 2018 / Revised: 15 February 2019 / Accepted: 19 February 2019 / Published: 22 February 2019
Abstract
Gastrotrichs—'hairy bellies'—are microscopic free-living animals inhabiting marine and freshwater habitats. Based on morphological and early molecular analyses, gastrotrichs were placed close to nematodes, but recent phylogenomic analyses have suggested their close relationship to flatworms (Platyhelminthes) within Spiralia. Small non-coding RNA data on e.g., microRNAs (miRNAs) and PIWI-interacting RNAs (piRNA) may help to resolve this long-standing question. MiRNAs are short post-transcriptional gene regulators that together with piRNAs play key roles in development. In a 'multi-omics' approach we here used small-RNA sequencing, available transcriptome and genomic data to unravel the miRNA- and piRNA complements along with the RNAi (RNA interference) protein machinery of
Lepidodermella squamata
(Gastrotricha, Chaetonotida). We identified 52 miRNA genes representing 35 highly conserved miRNA families specific to Eumetazoa, Bilateria, Protostomia, and Spiralia, respectively, with overall high similarities to platyhelminth miRNA complements. In addition, we found four large piRNA clusters that also resemble flatworm piRNAs but not those earlier described for nematodes. Congruently, transcriptomic annotation revealed that the
Lepidodermella
protein machinery is highly similar to flatworms, too. Taken together, miRNA, piRNA, and protein data support a close relationship of gastrotrichs and flatworms.
View Full-Text
►

▼

Figures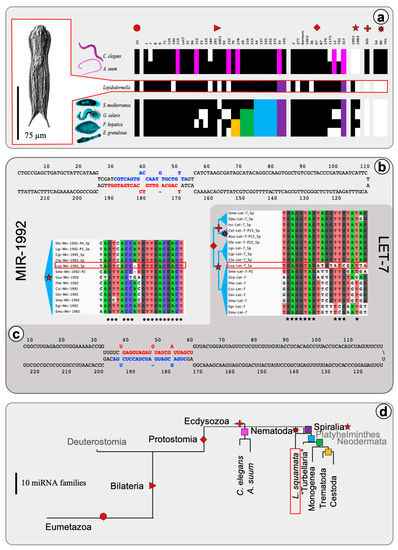 Figure 1
This is an open access article distributed under the
Creative Commons Attribution License
which permits unrestricted use, distribution, and reproduction in any medium, provided the original work is properly cited (CC BY 4.0).

Share & Cite This Article
MDPI and ACS Style
Fromm, B.; Tosar, J.P.; Aguilera, F.; Friedländer, M.R.; Bachmann, L.; Hejnol, A. Evolutionary Implications of the microRNA- and piRNA Complement of Lepidodermella squamata (Gastrotricha). Non-Coding RNA 2019, 5, 19.
Note that from the first issue of 2016, MDPI journals use article numbers instead of page numbers. See further details here.
Related Articles
Comments
[Return to top]