Non-Coding RNAs in Breast Cancer: Intracellular and Intercellular Communication
Department of Biochemistry & Molecular Genetics, University of Louisville School of Medicine, Louisville, KY 40292, USA
Received: 29 October 2018 / Revised: 29 November 2018 / Accepted: 4 December 2018 / Published: 12 December 2018
Full-Text
|
PDF
[2858 KB, uploaded 12 December 2018]
|
|

Review Reports
Abstract
Non-coding RNAs (ncRNAs) are regulators of intracellular and intercellular signaling in breast cancer. ncRNAs modulate intracellular signaling to control diverse cellular processes, including levels and activity of estrogen receptor α (ERα), proliferation, invasion, migration, apoptosis, and stemness. In addition, ncRNAs can be packaged into exosomes to provide intercellular communication by the transmission of microRNAs (miRNAs) and long non-coding RNAs (lncRNAs) to cells locally or systemically. This review provides an overview of the biogenesis and roles of ncRNAs: small nucleolar RNA (snRNA), circular RNAs (circRNAs), PIWI-interacting RNAs (piRNAs), miRNAs, and lncRNAs in breast cancer. Since more is known about the miRNAs and lncRNAs that are expressed in breast tumors, their established targets as oncogenic drivers and tumor suppressors will be reviewed. The focus is on miRNAs and lncRNAs identified in breast tumors, since a number of ncRNAs identified in breast cancer cells are not dysregulated in breast tumors. The identity and putative function of selected lncRNAs increased: nuclear paraspeckle assembly transcript 1 (
NEAT1
), metastasis-associated lung adenocarcinoma transcript 1 (
MALAT1
), steroid receptor RNA activator 1 (
SRA1
), colon cancer associated transcript 2 (
CCAT2
), colorectal neoplasia differentially expressed (
CRNDE
), myocardial infarction associated transcript (
MIAT
), and long intergenic non-protein coding RNA, Regulator of Reprogramming (
LINC-ROR
); and decreased levels of maternally-expressed 3 (
MEG3
) in breast tumors have been observed as well. miRNAs and lncRNAs are considered targets of therapeutic intervention in breast cancer, but further work is needed to bring the promise of regulating their activities to clinical use.
View Full-Text
►

▼

Figures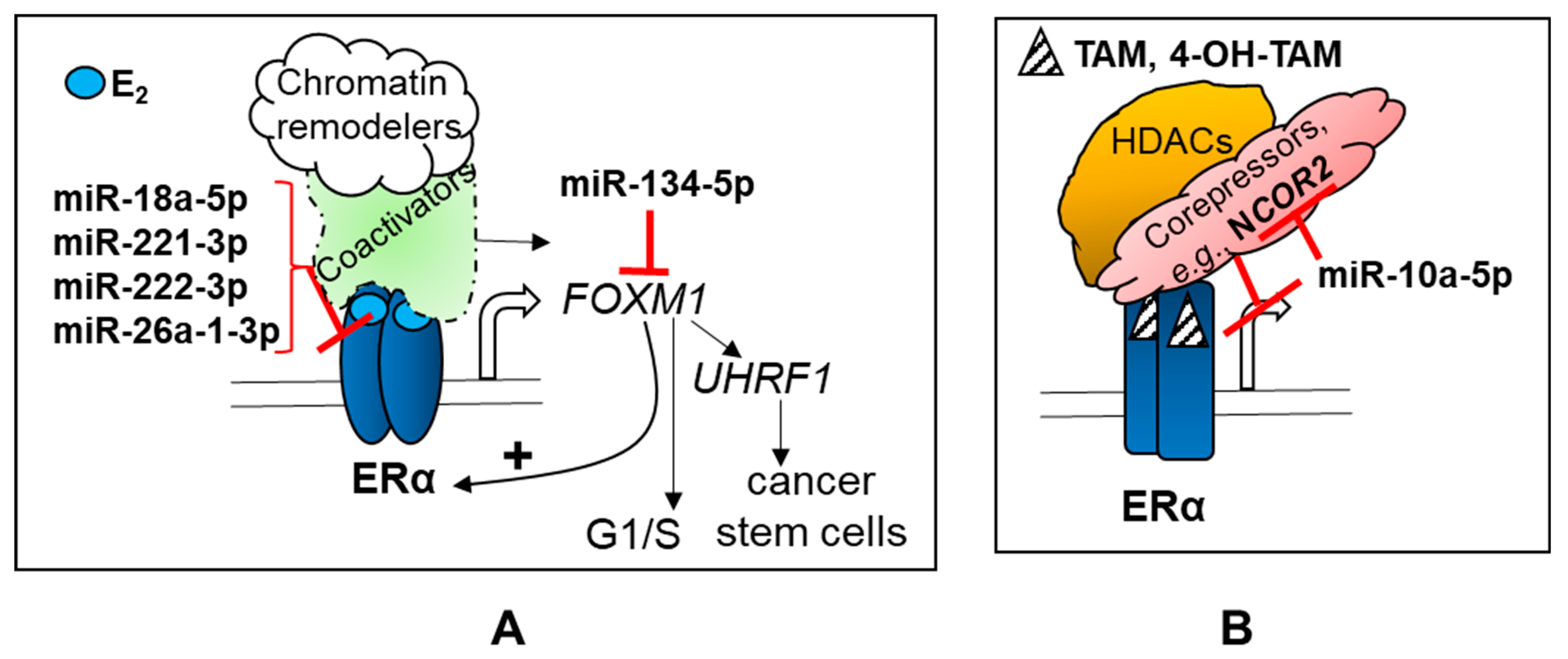 Figure 1
This is an open access article distributed under the
Creative Commons Attribution License
which permits unrestricted use, distribution, and reproduction in any medium, provided the original work is properly cited (CC BY 4.0).

Share & Cite This Article
MDPI and ACS Style
Klinge, C.M. Non-Coding RNAs in Breast Cancer: Intracellular and Intercellular Communication. Non-Coding RNA 2018, 4, 40.
Note that from the first issue of 2016, MDPI journals use article numbers instead of page numbers. See further details here.
Related Articles
Comments
[Return to top]