Vesiculated Long Non-Coding RNAs: Offshore Packages Deciphering Trans-Regulation between Cells, Cancer Progression and Resistance to Therapies
Department of Pathology and Forensic Medicine, Ribeirão Preto Medical School, University of São Paulo, Av. Bandeirantes 3900, Ribeirão Preto 14049-900, Brazil
*
Author to whom correspondence should be addressed.
Academic Editor: George A. Calin
Received: 19 December 2016 / Revised: 10 February 2017 / Accepted: 16 February 2017 / Published: 23 February 2017
Abstract
Extracellular vesicles (EVs) are nanosized vesicles secreted from virtually all cell types and are thought to transport proteins, lipids and nucleic acids including non-coding RNAs (ncRNAs) between cells. Since, ncRNAs are central to transcriptional regulation during developmental processes; eukaryotes might have evolved novel means of post-transcriptional regulation by trans-locating ncRNAs between cells. EV-mediated transportation of regulatory elements provides a novel source of trans-regulation between cells. In the last decade, studies were mainly focused on microRNAs; however, functions of long ncRNA (lncRNA) have been much less studied. Here, we review the regulatory roles of EV-linked ncRNAs, placing a particular focus on lncRNAs, how they can foster dictated patterns of trans-regulation in recipient cells. This refers to envisaging novel mechanisms of epigenetic regulation, cellular reprogramming and genomic instability elicited in recipient cells, ultimately permitting the generation of cancer initiating cell phenotypes, senescence and resistance to chemotherapies. Conversely, such trans-regulation may introduce RNA interference in recipient cancer cells causing the suppression of oncogenes and anti-apoptotic proteins; thus favoring tumor inhibition. Collectively, understanding these mechanisms could be of great value to EV-based RNA therapeutics achieved through gene manipulation within cancer cells, whereas the ncRNA content of EVs from cancer patients could serve as non-invasive source of diagnostic biomarkers and prognostic indicators in response to therapies.
View Full-Text
►

▼

Figures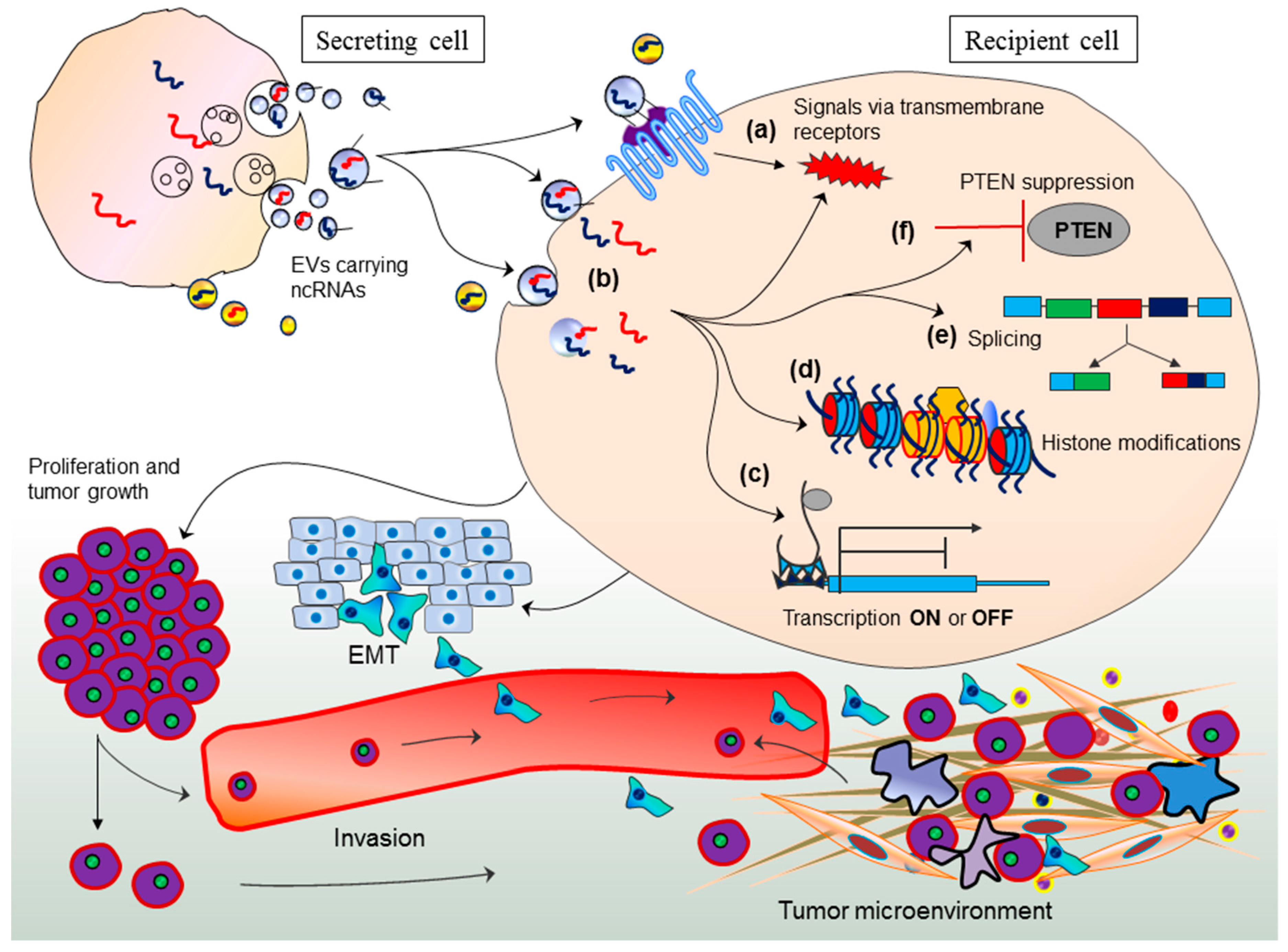 Figure 1
This is an open access article distributed under the
Creative Commons Attribution License
which permits unrestricted use, distribution, and reproduction in any medium, provided the original work is properly cited (CC BY 4.0).

Share & Cite This Article
MDPI and ACS Style
Fatima, F.; Nawaz, M. Vesiculated Long Non-Coding RNAs: Offshore Packages Deciphering Trans-Regulation between Cells, Cancer Progression and Resistance to Therapies. Non-Coding RNA 2017, 3, 10.
Note that from the first issue of 2016, MDPI journals use article numbers instead of page numbers. See further details here.
Related Articles
Comments
[Return to top]