Open Access This article is
freely available
re-usable
Review
Candida albicans
Hyphae: From Growth Initiation to Invasion
Fungal Pathogenesis Section, Laboratory of Clinical Immunology and Microbiology, National Institute of Allergy and Infectious Diseases (NIAID), National Institutes of Health (NIH), Bethesda, MD 20892, USA
Received: 13 December 2017 / Accepted: 10 January 2018 / Published: 11 January 2018
Abstract
:
Candida albicans
is a commensal resident of the human gastrointestinal and genital tracts. Under conditions such as dysbiosis, host immune perturbances, or the presence of catheters/implanted medical devices, the fungus may cause debilitating mucosal or fatal systemic infections. The ability of
C. albicans
to grow as long filamentous hyphae is critical for its pathogenic potential as it allows the fungus to invade the underlying substratum. In this brief review, I will outline the current understanding regarding the mechanistic regulation of hyphal growth and invasion in
C. albicans
.
Keywords:
Candida albicans
; hyphae; invasion
1. Introduction
The fungal hypha is a manifestation of anisotropic growth: a non-uniform cellular volume expansion along a polarized axis. In higher eukaryotes, the cell-types arising in this manner serve diverse roles in organismic life-style. For example, in plants, the sclerenchymic fibers provide structural support, while root hairs developed from the trichoblasts are critical for water absorption [
1
]. In animals, anisotropic expansion regulates the precise patterning in a developing tissue [
2
]. In fungi, anisotropic growth as hyphae, a trait proposed to be evolved from the flagellar protists upon terrestrial colonization, not only compensates for the motility loss but also functions in nutrient acquisition, niche colonization and mating [
3
,
4
]. In the human pathogenic fungus
Candida albicans
, hyphal growth is clinically relevant as it is a critical driver of pathogenesis in symptomatic mucosal infections such as oral thrush and vaginal candidiasis, as well as fatal systemic infections. In these infections, the infected tissues often contain invading hyphae and in agreement, the
C. albicans
hyphal-defective mutants show defects in their virulence [
5
,
6
,
7
,
8
]. Given the importance of hyphae in virulence, hyphal morphogenesis in
C. albicans
has been an area of rigorous investigation.
Fundamentally, hyphal growth requires symmetry breaking and establishment of a polarity axis along which anisotropic cellular expansion can occur. Upon establishment of the axis for anisotropic expansion, hyphal growth initiates with emergence of a germ-tube from the area marked by polarity landmarks [
9
,
10
,
11
,
12
,
13
]. The germ-tube then extends and grows exclusively via growth at the tip. The exclusive tip expansion requires a plastic cell-wall at the tip, with elastic cell-walls laterally. The hydrostatic-pressure driven cytoplasmic forces expand the plastic cell-wall at the tip and thus drive the hyphal growth. In agreement,
C. albicans
hyphal growth rate is substantially retarded in hypertonic media [
14
]. The cytoskeleton, on the other hand, maintains directional growth via directing the vesicular flow for tip expansion, without much contribution to the cell-wall expansion forces. Indeed, actin disruption in growing hyphae, although disrupts the hyphal growth, still leads to isotropic cell-wall expansion and hyphal tip swelling [
15
]. Moreover, concurrent to the tip-expansion, the
C. albicans
hyphae undergoes mitotic cell division without constriction at the mother- and daughter cell boundaries and cell separation, thus leading to parallel-walled hyphal formation [
8
,
16
]. Hyphal growth also leads to a hyphal-specific transcriptional program which paves the way towards upregulation of virulence-related processes, such as increased adherence, biofilm formation and cellular invasion [
17
,
18
]. In the sections below I will highlight the key findings which have provided invaluable insights into the molecular regulation of the hyphal growth, directionality maintenance and invasion.
2. Hyphal Initiation, Elongation and Directionality Maintenance
Acknowledgments
This work was supported by the funding from Division of Intramural Research (DIR) at NIAID/NIH. I would also like to acknowledge Aaron P. Mitchell, Frederick Lanni and Michail S. Lionakis for their support and guidance.
Conflicts of Interest
The author declares no conflict of interest.
Figure 1.
Schematic representation of
Candida albicans
hyphal growth and depiction of the major invasion mechanisms. (
A
) Distinct environmental cues signal hyphal initiation, where coordinated processes of Golgi polarization, cytoskeletal rearrangements, polarized exocytosis at the plastic tip, endocytosis and cell separation inhibition are responsible for efficient morphogenesis; (
B
) The
C. albicans
hyphae invade the substratum actively, using turgor-driven force/enzymatic substratum digestion or inducing its own endocytosis by the host cells. Detailed description of the key players and their regulatory control is described under the text.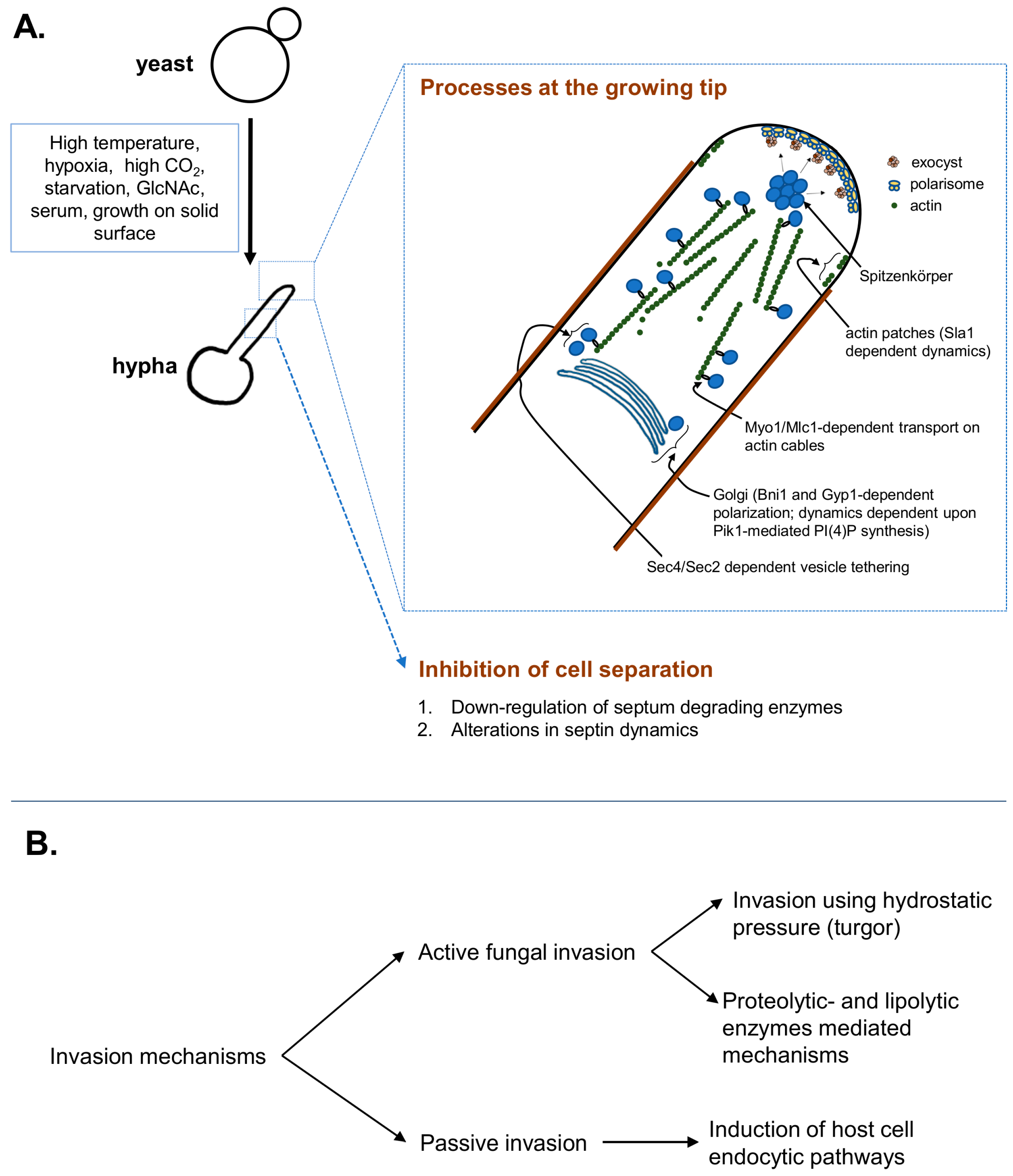 © 2018 by the author. Licensee MDPI, Basel, Switzerland. This article is an open access article distributed under the terms and conditions of the Creative Commons Attribution (CC BY) license (http://creativecommons.org/licenses/by/4.0/).