Open Access This article is
freely available
re-usable
Review
The Role of Non-Coding RNA in Congenital Heart Diseases
Cardiovascular Development Group, Department of Experimental Biology, University of Jaen, 23071 Jaen, Spain
*
Author to whom correspondence should be addressed.
Received: 26 February 2019 / Accepted: 26 March 2019 / Published: 1 April 2019
Abstract
:
Cardiovascular development is a complex developmental process starting with the formation of an early straight heart tube, followed by a rightward looping and the configuration of atrial and ventricular chambers. The subsequent step allows the separation of these cardiac chambers leading to the formation of a four-chambered organ. Impairment in any of these developmental processes invariably leads to cardiac defects. Importantly, our understanding of the developmental defects causing cardiac congenital heart diseases has largely increased over the last decades. The advent of the molecular era allowed to bridge morphogenetic with genetic defects and therefore our current understanding of the transcriptional regulation of cardiac morphogenesis has enormously increased. Moreover, the impact of environmental agents to genetic cascades has been demonstrated as well as of novel genomic mechanisms modulating gene regulation such as post-transcriptional regulatory mechanisms. Among post-transcriptional regulatory mechanisms, non-coding RNAs, including therein microRNAs and lncRNAs, are emerging to play pivotal roles. In this review, we summarize current knowledge on the functional role of non-coding RNAs in distinct congenital heart diseases, with particular emphasis on microRNAs and long non-coding RNAs.
Keywords:
non-coding RNA; microRNAs; lncRNAs; congenital heart disease
1. Introduction
In this review, we summarize current knowledge of the impact of non-coding RNAs in the development of distinct CHDs, with particular emphasis on the role of microRNAs and long-non-coding RNAs when available.
2. microRNAs and Cardiac Congenital Heart Diseases
microRNAs are small (22–24 nucleotides in length) non-coding RNAs that modulate protein function by binding to target messenger RNA, resulting in repression of protein translation and/or mRNA degradation. Experimental cardiac-specific disruption of
DICER
, an RNase that is essential for microRNA processing and biosynthesis [
38
,
39
], leads to embryonic lethality within first four days after birth due to dilated cardiomyopathy in mice [
40
]. This study therefore highlights the importance of microRNAs during embryogenesis and cardiac development. Although
DICER
deletion revealed a crucial role for those small RNAs in cardiac development in vivo, no specific microRNA deletion has yet led to a fully penetrant lethal phenotype in mice, thus demonstrating complex microRNA actions of and plausible compensatory mechanisms. Nonetheless, an important number of microRNAs have been shown to play key roles in heart function [
41
,
42
,
43
,
44
,
45
,
46
,
47
,
48
] and the most relevant microRNA leading to CHDs is miR-1 [
41
,
47
]. miR-1 targets the cardiac transcription factor
HAND2
, which is involved in embryonic heart growth, as well as several other regulators of cardiac growth during development. Deletion of miR-1 in mice results in complex heart defects including VSDs. Surviving miR-1 deficient mice have conduction system defects and increased cardiomyocyte proliferation. Hence, miR-1 dysregulation might result in CHD in humans [
16
]. In addition to experimental evidence, microRNAs are attractive clinical biomarkers as they remain stable in blood, urine and other biological fluids and evade RNA degrading enzymes. In this context, Yu et al. [
49
] hypothesized, and Zhu et al. [
50
] demonstrated, that microRNAs in maternal serum are candidate biomarkers for prenatal detection of fetal CHD in early pregnancy. These authors identified four significantly up-regulated microRNAs (miR-19, miR-22, miR-29c and miR-375) in mothers carrying fetuses with CHD, being miR-19b and miR-29c significantly up-regulated in VSDs and all four microRNAs up-regulated in TOF. These results are very important because they suggest that specific microRNA might be associated to distinct types of CHD. In the following sections, we provide a systematic review of the current understanding of the functional role of microRNAs on the pathogenesis of cardiac CHD within the three major CHD subtypes, cyanotic heart disease, left-sided obstruction defects, and septation defects.
3. microRNAs in Cyanotic Heart Diseases
Cyanotic heart diseases encompass defects such as TGA, TOF, tricuspid atresia, pulmonary atresia, Ebstein's anomaly, DORV, PTA and total anomalous pulmonary venous connection. To date, involvement of microRNAs on these cardiac pathologies has only been described for TGA, TOF and DORV.
4. microRNAs in Left-Sided Cardiac Obstructions
Left-sided obstructive lesions, the second main type of CHD, include HLHS, mitral stenosis, aortic stenosis, aortic coarctation and IAA. To date, involvement of microRNAs in these cardiac pathologies have only been described for HLHS.
HLHS is defined as underdevelopment of the structures of the left side of the heart, which includes the mitral valve, left ventricle, aortic valve, and aortic arch. The absence of atrial communication in HLHS produces severe obstruction of pulmonary blood flow frequently causing vascular injury [
68
]. Despite the relatively low incidence, it is responsible for 23% of cardiac deaths occurring in the first week of life [
69
].
In a recent study by Sucharov et al. [
70
], the microRNA profile of the RV in HLHS patients was compared with the RV of non-failing hearts. A total of 93 microRNAs differentially regulated in HLHS hearts. In a mouse model, some of these microRNAs have been implicated in the fetal program during heart failure (miR-208) and in RV hypertrophy and failure (miR-30 and miR-378). Additionally, three microRNA species (miR-99a, miR-100 and miR-145a) were down regulated prior to or directly after stage 1 operation of Norwood procedure while values returned to control levels after stage 3 operation, demonstrating strong influence of altered blood flow conditions on microRNA expression. miR-137 and miR-145, which are down-regulated in the RV of HLHS patients, directly regulate the expression of
FOG-2
, a transcription factor that modulates the expression of
GATA-4
,
GATA-5
and
GATA-6
, essential players in cardiac development (
Figure 1
). In contrast, miR-204 is up-regulated in the hypertrophic RV of HLHS patients, similar to patients who suffer from hypertrophic cardiomyopathy. Thus, to date, our current understanding of the functional role of microRNAs in HLHS is still incipient and additional studies are required to dissect their function in HLHS.
5. microRNAs in Septal Defects
6. Long Non-Coding RNAs (lncRNAs) in Congenital Heart Diseases
7. Conclusions and Perspectives
Seminal studies have provided evidence that transcriptional regulation is pivotal for correct cardiovascular development and that, if impaired, congenital heart defects are prone to occur. In addition to transcriptional regulation of the developing cardiovascular system, increasing evidence demonstrates a substantial contribution of post-transcriptional mechanisms, such as those driven by non-coding RNAs. Experimental genetic manipulation of several microRNAs led to CHDs such as DORV and VSD highlighting the importance of these non-coding RNAs in cardiogenesis. Seminal studies in TGA patients were able to identify microRNAs as biomarkers supporting their use as predictive tools. Furthermore, a bulk of studies also demonstrate differential expression of microRNA associated to distinct CHD, such as TOF, HLHS and VSD, opening up the possibility that many more microRNAs will be instrumental in the occurrence of CHDs. Importantly, a comparison between those differentially expressed microRNAs identified in TOF, HLHS and VSD results in minimal overlap (
Figure 1
), suggesting that distinct microRNA molecular hallmark applies to each CHD. In other words, a distinct subset of microRNAs is involved in each CHD, supporting highly specific role from distinct microRNAs during cardiac development (
Figure 1
). While increasing evidence is emerging on the functional role of lncRNAs in cardiac development and disease, identification of the role of lncRNAs in CHDs is still incipient (
Figure 2
), in part because their complexity, both structurally and functionally. In next coming years, we will witness an explosion of studies that will support the increasing functional role of non-coding RNAs in the onset of CHDs.
Author Contributions
Resources, A.D. A.E.; Data Curation, A.D. D.F.; Writing-Original Draft Preparation, D.F.; Writing-Review & Editing, A.A. D.F.; Funding Acquisition, A.A. D.F.
Funding
This research was funded by Junta de Andalucia Regional Council, grant number [CTS-446] to A.A. and D.F.
Conflicts of Interest
The authors declare no conflict of interest.
Figure 1. Schematic representation of distinct microRNAs involved in TOF (Tetralogy of Fallot), HLHS (Hypoplastic Left Heart Syndrome) and VSD (Ventricular Septal Defect), as reported by distinct differential gene expression analyses. Observe that the majority of the differentially expressed microRNAs are associated to a single CHD entity and only 1.1% are shared among all three CHDs, i.e., miR-379 and miR-222.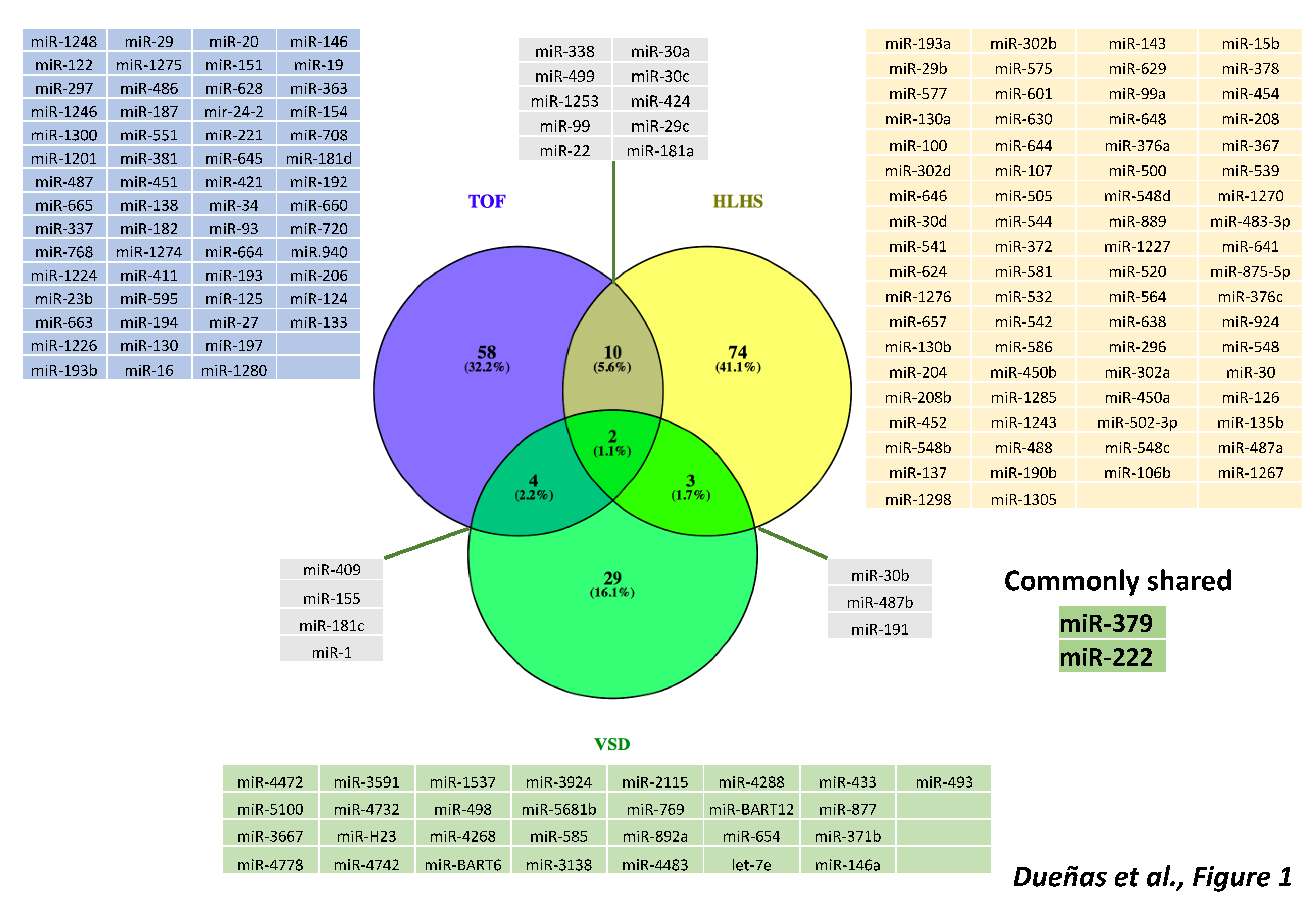 Figure 2. Schematic representation of distinct lncRNAs involved cardiac pathology, cardiomyocyte cell proliferation and repair and cardiac development, which might have functional contribution to CHD. At present, only a minor subset of lncRNAs have been associated to CHD, particularly HA117 in TOF and Hotair, Sngh6 and Malat1 in VSD.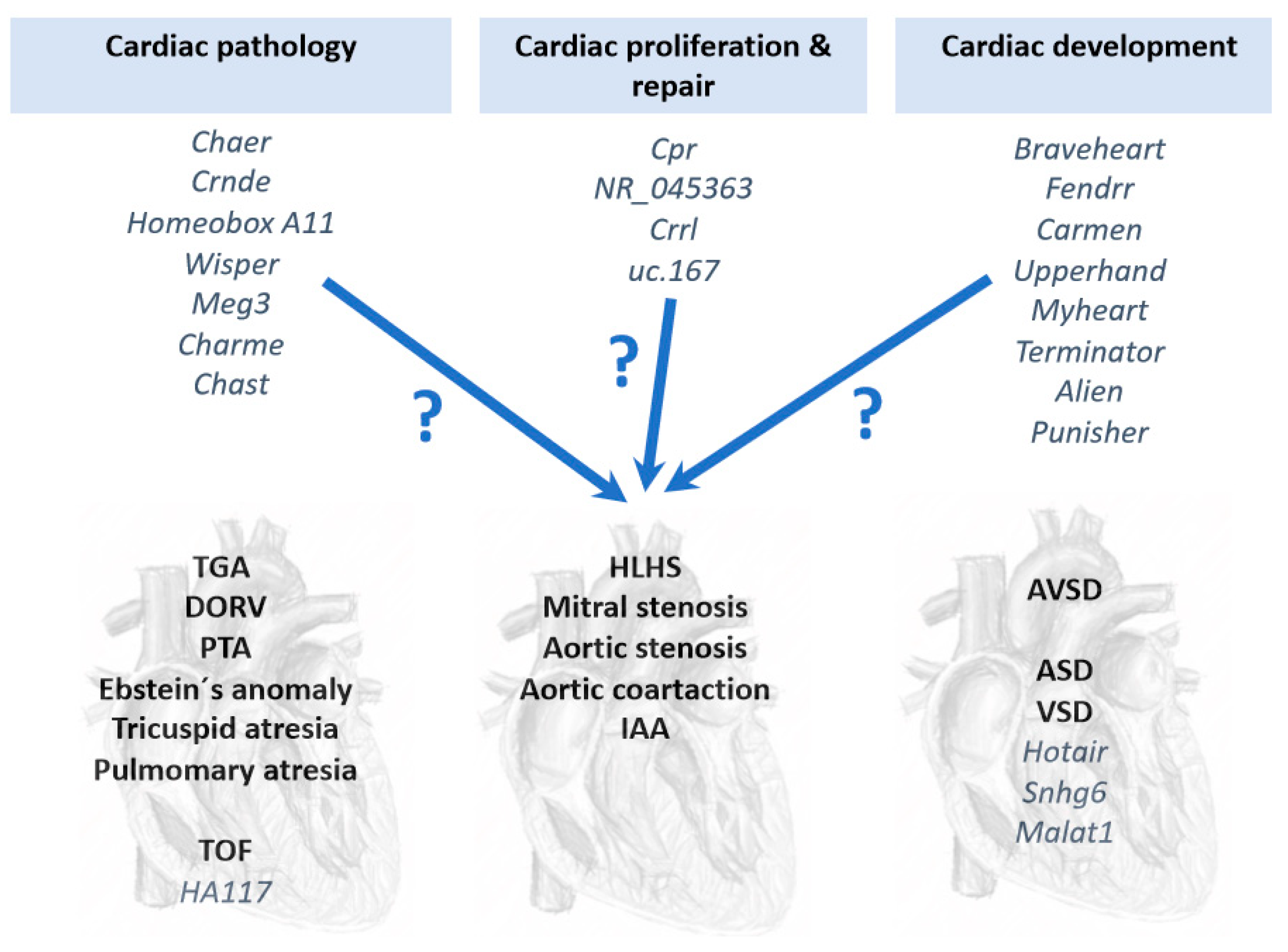 © 2019 by the authors. Licensee MDPI, Basel, Switzerland. This article is an open access article distributed under the terms and conditions of the Creative Commons Attribution (CC BY) license (http://creativecommons.org/licenses/by/4.0/).