Heat Stress Modulates Brain Monoamines and Their Metabolites Production in Broiler Chickens Co-Infected with
Clostridium perfringens

Type A and

Eimeria

spp.

Department of Pathology, School of Veterinary Medicine and Animal Science, University of São Paulo, Av. Prof. Dr. Orlando Marques de Paiva, 87, São Paulo 05508-900, Brazil

*

Author to whom correspondence should be addressed.

Received: 12 December 2018 / Revised: 30 December 2018 / Accepted: 3 January 2019 / Published: 9 January 2019
Abstract
Heat stress has been related to the impairment of behavioral and immunological parameters in broiler chickens. However, the literature is not clear on the involvement of neuroimmune interactions in a heat stress situation associated with bacterial and parasitic infections. The present study evaluated the production of monoamines and their metabolites in brain regions (rostral pallium, hypothalamus, brain stem, and midbrain) in broiler chickens submitted to chronic heat stress and/or infection and co-infection with
Eimeria
spp. and
Clostridium perfringens
type A. The heat stress and avian necrotic enteritis (NE) modulated the neurochemical profile of monoamines in different areas of the central nervous system, in particular, those related to the activity of the hypothalamus-hypophysis-adrenal (HPA) axis that is responsible for sickness behavior.
C. perfringens
and/or
Eimeria
infection, heat stress increased 5-hydroxytryptamine (5-HT), 4,4 dihydroxyphenylacetic acid (DOPAC), and DOPAC/dopamine (DA) in the rostral pallium; 3-methoxy-4-hydroxyphenylethylene glycol (MHPG), homovanillic acid (HVA), HVA/DA, DOPAC/DA, and 5-hydroxyindoleacetic acid (5-HIAA)/5-HT in the hypothalamus; MHPG, 5-HIAA/5-HT, DOPAC/DA, and HVA/DA in the midbrain; and MHPG, DOPAC, HVA, HVA/DA, DOPAC/DA, and 5-HIAA/5-HT in the brainstem. Heat stress decreased noradrenaline + norepinephrine (NOR + AD) in all brain regions analyzed; 5-HT in the hypothalamus, midbrain, and brainstem; and DA in the midbrain. The results also showed the existence and activity of the brain-gut axis in broiler chickens. The brain neurochemical profile and corticosterone production are consistent with those observed in chronic stressed mammals, in animals with sickness behavior, and an overloading of the HPA axis.
View Full-Text
►

▼

Figures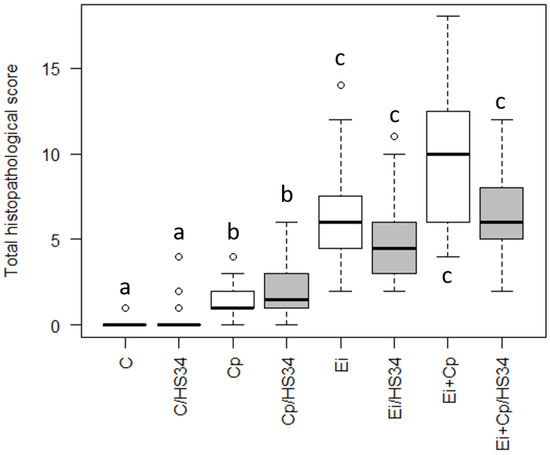 Figure 1
This is an open access article distributed under the
Creative Commons Attribution License
which permits unrestricted use, distribution, and reproduction in any medium, provided the original work is properly cited (CC BY 4.0).

Share & Cite This Article
MDPI and ACS Style
Calefi, A.S.; Fonseca, J.G.S.; Nunes, C.A.Q.; Lima, A.P.N.; Quinteiro-Filho, W.M.; Flório, J.C.; Zager, A.; Ferreira, A.J.P.; Palermo-Neto, J. Heat Stress Modulates Brain Monoamines and Their Metabolites Production in Broiler Chickens Co-Infected with Clostridium perfringens Type A and Eimeria spp.. Vet. Sci. 2019, 6, 4.
Note that from the first issue of 2016, MDPI journals use article numbers instead of page numbers. See further details here.
Related Articles
Comments
[Return to top]